---
This article was first published in November 2020. It was updated on 29 June 2023 to include the 2022 figures.
---
1. Lebanon – 22 per cent of the total population
Lebanon, with a population of 6.8 million, has taken in an estimated 1.2 million Syrian refugees over the past ten years. The exact number is uncertain, because the national authorities demanded that the UN refugee agency (UNHCR) stop the registration of new refugees in 2015. The authorities themselves claim that 1.5 million Syrian refugees are living in the country. However, due to the challenging living conditions in Lebanon, some refugees have tried to take the difficult and dangerous journey on to Europe.
Lebanon suffers from a lack of international will to share responsibility and is in a precarious economic situation. The country itself was ravaged by a civil war that lasted from 1975 until 1990. It is a densely populated country with a fragile political balance between different ethnic and religious groups.
Since 2019, the situation has gone from bad to worse, with large-scale popular protests eventually leading to the Prime Minister's resignation. Then, in 2020, Beirut was shaken by a huge explosion, which killed more than 200 people, injured more than 6,000 and left over 300,000 homeless.
Unemployment is sky-high. The country's currency has collapsed, reaching a historic low in May 2022, meaning much of the population is no longer able to afford the necessities of survival. On top of all this came the Covid-19 pandemic, followed by a rapid rise in food and energy prices as a result of the war in Ukraine.
Even before the latest increases, more than 50 per cent of the population live below the poverty line. For Syrian refugees, the figure is even higher, with 83 per cent living in extreme poverty.
Lebanon urgently needs the rest of the world to step up and help the country that has taken the greatest responsibility for helping displaced people.
---
Want more frequent updates on the global refugee situation? Subscribe to our newsletter.
---
2. Aruba – 16 per cent
Aruba is a former Dutch colony in the Caribbean, off the coast of Venezuela. The country has a population of just over 100,000. As a result of the crisis in neighbouring Venezuela, some 17,000 people have sought refuge in the small island state. Many more have attempted to reach Aruba but have been turned back.
Aruba still has close ties to the Netherlands, which also controls foreign and security policy. The people of Aruba have the right to obtain a Dutch passport, and the authorities in both Aruba and the Netherlands are afraid that this will attract a large number of refugees and migrants if they do not pursue a strict asylum policy.
Due to the fear of being deported, as well as the fact that registered asylum seekers in Aruba are not allowed to work, most refugees and migrants live in hiding from the authorities and make a living in the informal part of the economy. As a result, it is difficult to know exactly how many have fled to the island. The figure of 17,000 is the UN refugee agency's best estimate.
3. Curaçao – 14.2 per cent
Like Aruba, Curaçao is a former Dutch colony in the Caribbean. Conditions for Venezuelan refugees and migrants living here are just as difficult as on the neighbouring island.
Amnesty International has recently criticised the authorities in the country for detaining refugees and denying them protection.
4. Nauru – 9.1 per cent
This small island state has received boat refugees who were trying to get to Australia when Australian authorities refused to accept them. The UN refugee agency has been highly critical of the agreement Australia has made with Nauru and other countries and is concerned about the reprehensible conditions the refugees live under. Australia has now agreed to stop sending refugees to Nauru.
5. Jordan – 8.3 per cent
Jordan has received almost a million refugees in the last ten years. The vast majority were fleeing neighbouring Syria. While a small number have since decided to return to Syria or have been able to resettle in other countries, there are still some 660,000 Syrian refugees registered as living in Jordan today.
Over 80 per cent of Syrian refugees in Jordan live in urban centres where they face the challenge of finding sustainable work and affordable housing. Competition for limited employment opportunities can lead to tensions with the local population. The remaining 20 per cent of Syrian refugees live in one of the two refugee camps established by the Jordanian authorities and managed by the UN refugee agency.
Jordan also houses 2.4 million Palestinian refugees. These are people (and their descendants) who fled or were expelled from their country during the 1947-49 Palestine war and the Six Day War in 1967.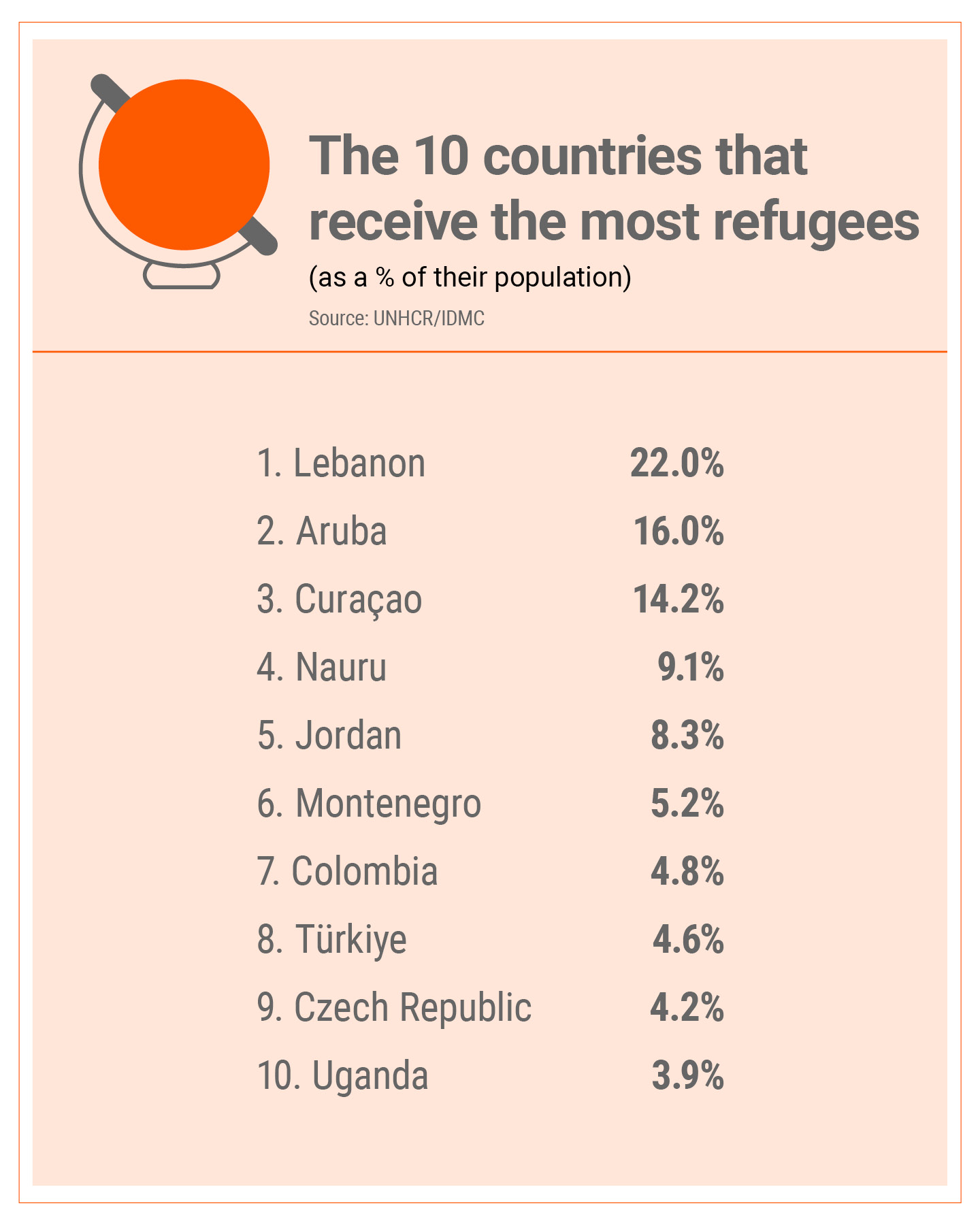 6. Montenegro – 5.2 per cent
Montenegro is one of Europe's youngest nations and only gained its independence in 2006. The country is not yet a member of the European Union, and is therefore not part of the EU's support mechanism for the reception of refugees. Nevertheless, Montenegro has received more refugees in relation to its population than any other European country in recent years.
When the war in Ukraine broke out, several million Ukrainians fled to European countries. Many settled in the countries bordering Ukraine. But Montenegro, a small country which is geographically remote from Ukraine, still received more refugees in relation to its population than any of Ukraine's neighbours.
The UN refugee agency has praised the authorities and people of Montenegro for the hospitality they have shown Ukrainian refugees. This positive attitude is one of the reasons why so many refugees have applied to Montenegro. There are close ties between these two Slavic peoples, who are also linguistically related. Paradoxically, relatively few Ukrainian refugees have received protection in Montenegro's neighbouring country Serbia.
7. Colombia – 4.8 per cent
Between 2018 and 2022, some 2.5 million Venezuelans fled to neighbouring Colombia. Only a minority have received formal refugee status, but the UN refugee agency emphasises that displaced Venezuelans need protection and supports the authorities in Colombia, which have granted Venezuelans a 10-year temporary residence permit.
The humanitarian conditions for refugees in Colombia are still difficult, in a country that itself has more than five million internally displaced people. Colombia has experienced prolonged conflict, despite the peace initiatives of recent years. The level of violence within the country is high and this also affects vulnerable people on the move.
8. Türkiye – 4.6 per cent
Türkiye has received more refugees than any other country since 2013 – as many as 4 million. Türkiye is a large and populous country and is better equipped to handle the challenge than, for example, Lebanon. Nevertheless, it is challenging to provide protection to such a large number of people within a short space of time.
Türkiye signed an agreement with the EU in 2016 that prevents refugees from moving on to Europe. This has had serious consequences for both the refugees who have made it to Greece and those who remain in Türkiye.
9. Czech Republic – 4.2 per cent
Until war broke out in Ukraine, there had been very few refugees in the Czech Republic. Indeed, the country had been one of the most reluctant in Europe to accept refugees from the Middle East and Africa. The opposition to accepting Muslim refugees was particularly strong.
This contrasts sharply with the hospitality that has since been shown to refugees from Ukraine. Unlike Poland, Hungary and Slovakia, the Czech Republic does not share a border with Ukraine. Nevertheless, it has accepted more refugees per capita than any of these countries. Only Montenegro has received more, relative to its population.
At the same time, opposition to Muslim refugees coming to the Czech Republic is intensifying. In 2022, border controls were introduced to prevent Syrian refugees from entering from Slovakia. Together with Hungary and Poland, the Czech Republic has refused to participate in the EU's scheme for the relocation of refugees from Greece and Italy. The European Commission is now threatening the three countries with punitive measures if they do not change their position.
10. Uganda – 3.9 per cent
Uganda has received almost 1.9 million refugees over the last ten years and is one of the largest recipients of refugees in the world. In recent years, Uganda has provided protection to many refugees from DR Congo and South Sudan, as well as people from Burundi, Somalia, Rwanda and several other countries. Uganda is a pioneer in integrating refugees and giving them full rights.
Other major recipient countries
In addition to the ten countries that have received the most refugees relative to their population, there are certain populous countries that have received a large number of refugees in the last 10 years.
The most significant of these are:
Germany – 2,517,000 refugees (3% of the total population)
Russia – 1,764,000 (1.2%)
Iran – 1,690,000 (1.9%)
Sudan – 1,285,000 (2.7%)
Poland – 972,000 (2.4%)
Peru – 955,000 (2.8%)
See also: A few countries take responsibility for most of the world's refugees
---
Note: The figures in the article include all those who have been granted individual protection or temporary collective protection, as well as groups defined by the UN refugee agency as being in a refugee-like situation without having been granted formal refugee status. Asylum seekers who are waiting to have their asylum application processed are not included. If asylum seekers had been included, Cyprus would have been among the top ten receiving countries, and Peru would have been even higher on the list.
This article was first published in November 2020. It was updated on 29 June 2023 to include the 2022 figures.
---
Want more frequent updates on the global refugee situation? Subscribe to our newsletter.
Read more about global displacement