Tensions between Moscow, Kyiv and the West have increased dramatically in recent weeks, raising the risk of renewed violence.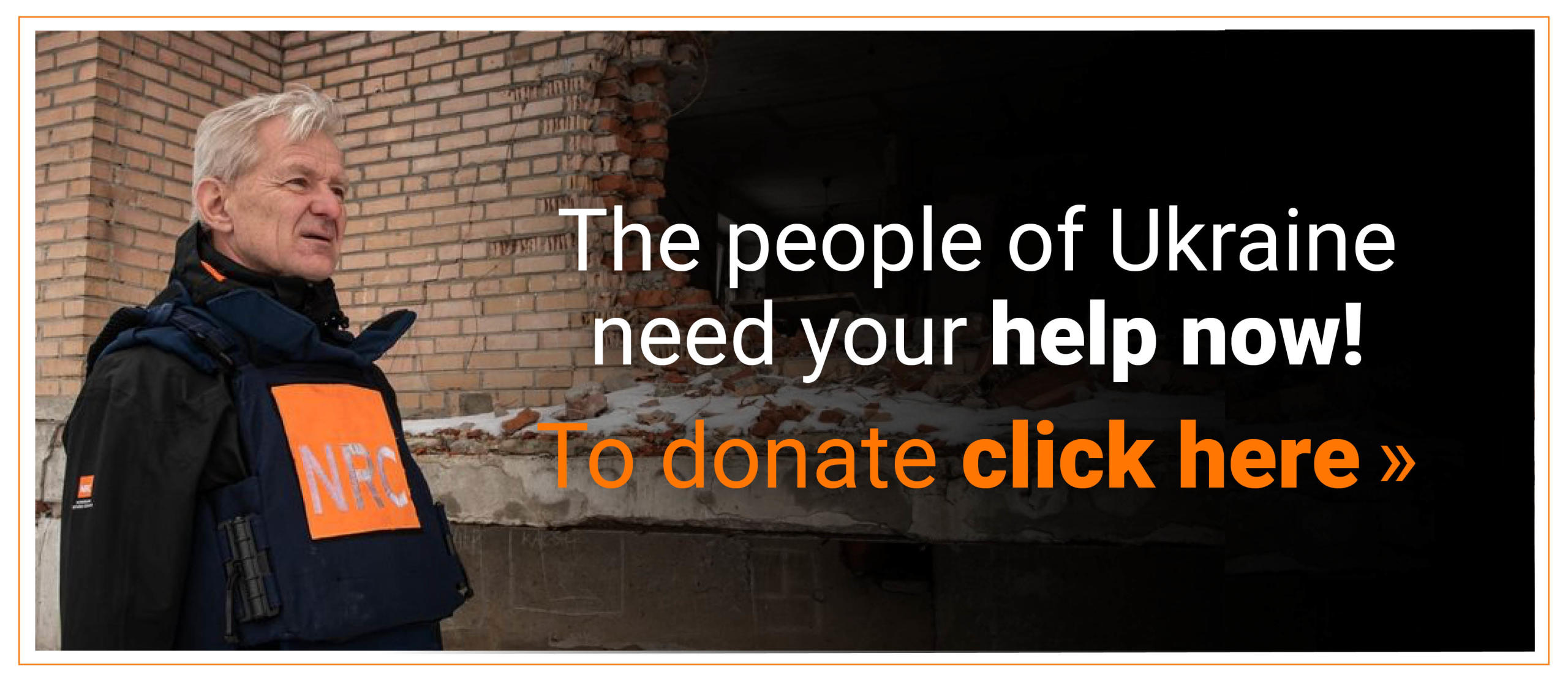 "The lives and safety of millions of people in eastern Ukraine hang in the balance as we wait for a political breakthrough to the current impasse. We must not underestimate the human suffering of renewed conflict – it would result in increased civilian casualties, massive displacement and soaring humanitarian needs," warns Jan Egeland, Secretary General of the Norwegian Refugee Council (NRC), on a visit to Ukraine this week.
According to Egeland, active hostilities would dramatically worsen the humanitarian situation, at a time when needs are already high after years of violence.
"Conflict escalation could lead to a devastating impact on already damaged civil infrastructure, further restricting peoples' movements and disrupting essential public services such as water, power, transport, markets and banking," he says.
NRC supports refugees and displaced people in over 30 countries around the world, including Ukraine. Support our work today.
Jan Egeland met with Mykola, 83. His home in the Donetsk region was substantially damaged by shelling in 2015 and 2016, with large parts of the roof destroyed and windows shattered. NRC has provided him with financial assistance so that he can install new windows and repair the roof.
Mykola is exhausted by the protracted conflict, and regularly hears the sound of shooting from his home. He fears a potential escalation, and that his home will once again be at the epicentre of the conflict.
Egeland also met with Natalia. She is volunteering as a paralegal with NRC, helping displaced and conflict-affected people in the city of Krasnohorivka to access their pensions and other social benefits.
"For more than two years I have not been able to cross the contact line to see my daughter and grandchild in the non-government-controlled area," she says. "Many people who had jobs on the other side have lost their jobs, because they cannot cross."
Egeland warns an escalation of the conflict will trigger massive new displacements, with displacement figures likely to at least double.
"In addition to the people living close to the so-called 'contact line', millions of people in the Donetsk and Luhansk regions would come under increased threat. Conflict would also reverse the significant improvements to the humanitarian situation that were achieved in 2021," Egeland says.
Here are ten things you should know about the crisis in Ukraine:
#1: The conflict in Ukraine is now in its eighth year. It continues to take a heavy toll on civilians, with more than five million people affected.
#2. The civilian death toll has topped 3,000, with over 7,000 people injured since 2014. Over 50,000 houses have been damaged or destroyed.
#3: Of the 2.9 million people in need of aid in 2022, 1.3 million are living in government-controlled areas and 1.6 million are living in non-government-controlled areas.
#4: The UN's Humanitarian Response Plan for 2022 calls for $190 million to assist 1.8 million people in need.
#5: Ukraine is the "oldest" humanitarian crisis in the world, as about three out of ten of people in need are elderly.
#6: The UN estimates that there are 854,000 internally displaced people in Ukraine (that is, people who have been forced to flee to another part of the country).
#7: Eastern Ukraine is divided by a 427-kilometre-long "contact line" separating government-controlled areas from non-government-controlled areas. The line has seven crossing points, but since March 2020, movement across the line has been significantly restricted. The number of crossings has decreased by over 90 per cent, from over 1.2 million per month before the Covid-19 pandemic to fewer than 100,000 per month today.
#8: Ukraine is one of the most mine-contaminated regions in the world. It ranks fifth in the world for civilian casualties as a result of landmines and explosive remnants of war, and in the top three for anti-vehicle landmine accidents. Almost 70 per cent of civilian casualties since July 2020 have been caused by landmines and explosive devices.
#9: The Covid-19 situation in Donetsk and Luhansk regions has become increasingly critical, with hospitals reported to be functioning at maximum capacity in government-controlled areas and overwhelmed in non-government-controlled areas. This is severely affecting the provision of other health services.
#10: NRC has been working in Ukraine since 2014, assisting over 700,000 people with food, shelter, water, sanitation, and legal aid. Like many others, NRC does not have access to non-government-controlled areas.