During the war of last summer, Abdel Monem and his family fled their house after the Israeli ground invasion and sought refuge with relatives and school shelters. When the ceasefire was announced on 26 August 2014, he returned to his neighborhood to find that his house had been completely destroyed by Israeli bulldozers, along with his only sources of livelihood- his olive field and goat farm. As there were no available apartments nearby to rent and while he needed to replant the field, Abdel Monem decided to build a small shack next to the rubble of his house made of metal plates and plastic sheets. Abdel Monem told NRC:
"What is left after your house is destroyed and you lose your livelihood? I tried to cope with whatever was available to build this shack and shelter my family until we can rebuild our house. We have been living in the shack for six months now, under very dire living conditions. We experienced the hot days of the summer and the freezing cold and rain of winter. There is no space for my children to study and this is significantly affecting their performance at school, after they were the best in their classes."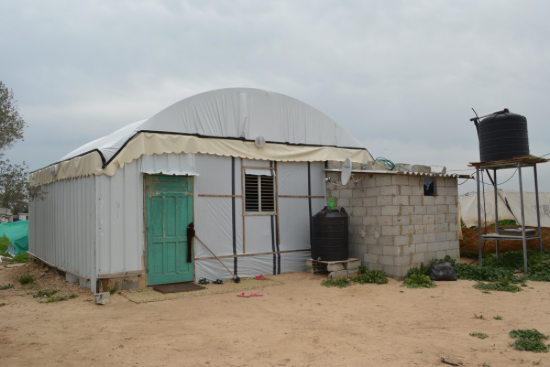 Abdel Monem Abu Hujair and his family live in a shack after his house was destroyed in the conflict summer 2014. Photo: NRC/Mazen Naim.
Abdel Monem's wife, Um Mohammed, bitterly stated:
"Is this what our lives have come into? Living in a shack after we invested all what we had to build a house? I am very depressed and feel unable to take care of my children. I used to help them with their studies; their performance at school is now deteriorating. I feel no hope for the future or reconstruction. I am afraid we will spend the rest of our lives in this shack, in suffering and despair."
Abdel Monem tried to be a little more optimistic, but the despair in his eyes was very telling, as he told NRC: "I think my house might be rebuilt in four or five years. For that to happen, I hope the world will see our living conditions and send money as soon as possible to have our houses rebuilt. However, I don't think there will be significant reconstruction with Israeli closures and blockade. Reconstruction also needs internal unity and a unified government in control of Gaza. I don't want my children to grow up displaced."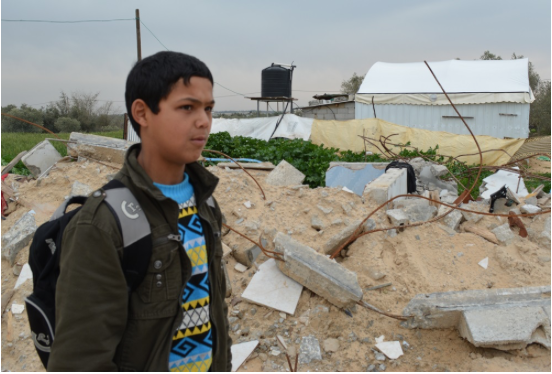 Mohammed Abu Hujair, 13 years old, looks at the rubble of his house and searches for belongings in the rubble every day after he comes home from school. Photo: NRC/Mazen Naim.
Abdel Monem also expressed his fears and apprehensions about the future and the possibility of another war to take place. Looking at the current political and security situation in Gaza, he stated that he might even be reluctant to rebuild his house even if he gets funding. He said that he does not want to build another house to see it destroyed again.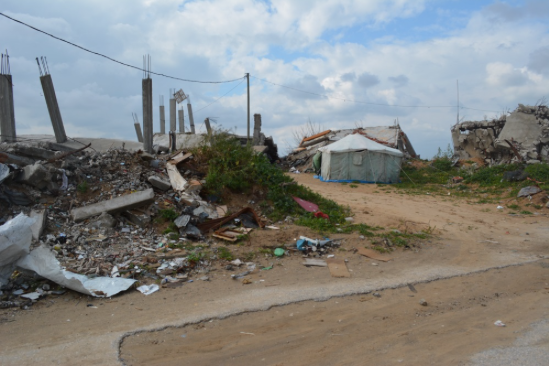 Displaced Palestinians are still living in dire humanitarian conditions waiting for reconstruction. Photo taken inJohr al Deek, East Central Gaza in February 2015. Photo:NRC/Mazen Naim.
The war in July and August 2014, named by Israel "Operation Protective Edge", left 140,000 damaged housing units. Over 100,000 Palestinians, 16,000 families, are still displaced, living under dire conditions in makeshift and school shelters not designed for long-term stay. A UN brokered mechanism for the entry of construction materials has been put into place, but is yet to deliver materials at the pace hoped for. To rebuild all the destroyed houses and buildings and meet the housing needs in Gaza, the Shelter Cluster, a coordination body led by NRC, estimates that an average of 440 truckloads of construction materials must enter the Gaza Strip per day for reconstruction to be accomplished in five years. The daily average of truckloads of materials for reconstruction entering Gaza in January 2015 was 22 truckloads/day. Under this slow pace, it will take decades and possibly even up to a century to rebuild Gaza.

Video: preparing homes for winter rains and cold
NRC provided 1,033 Palestinian households in Gaza with support to repair their homes against the winter rains and cold, after they were damaged during the Gaza war last summer. The program was funded by EU humanitarian aid (ECHO).