Climate change is, and will remain, the biggest existential threat to humanity for this generation and the next.

Jan Egeland, Secretary General of the Norwegian Refugee Council (NRC)
The climate crisis is a humanitarian problem. It amplifies and multiplies the risk of environmental degradation, conflict and displacement, leading to severe consequences for people already affected by these issues.
The majority of refugees and internally displaced people live in – or have already fled – climate hotspots, where severe floods, heatwaves and droughts challenge their very existence.
As a humanitarian organisation focused on protecting the rights of those forced to flee, NRC considers the climate crisis to be a top priority. A healthy and stable environment is vital to protecting people in the long term.
That's why we're working to make our operations and organisation more environmentally sustainable. Our commitment is underpinned by two aims:
reducing our environmental footprint
addressing the impact of climate change and environmental degradation on people who have been forced to flee
Greening the Orange
To turn our ambition into reality, we have launched the Greening the Orange* project, with generous support from the Grieg Foundation. This one-year project aims to set NRC on a path towards becoming a more environmentally sustainable organisation.
We have already taken some steps towards sustainability, from swapping diesel generators for solar panels in South Sudan and installing solar water pumps in Burkina Faso, to protecting the rainforest in Colombia. Our global provider of expertise, NORCAP, now has around 40 clean energy and climate experts working across the humanitarian, development and peace sectors.
Reducing NRC's environmental footprint
As a first step towards becoming carbon neutral, NRC conducted a baseline study of the main sources of emissions from our operations in 2019.**
This baseline data has helped us identify where change is necessary to reduce the environmental footprint of our operations.
Main sources of emissions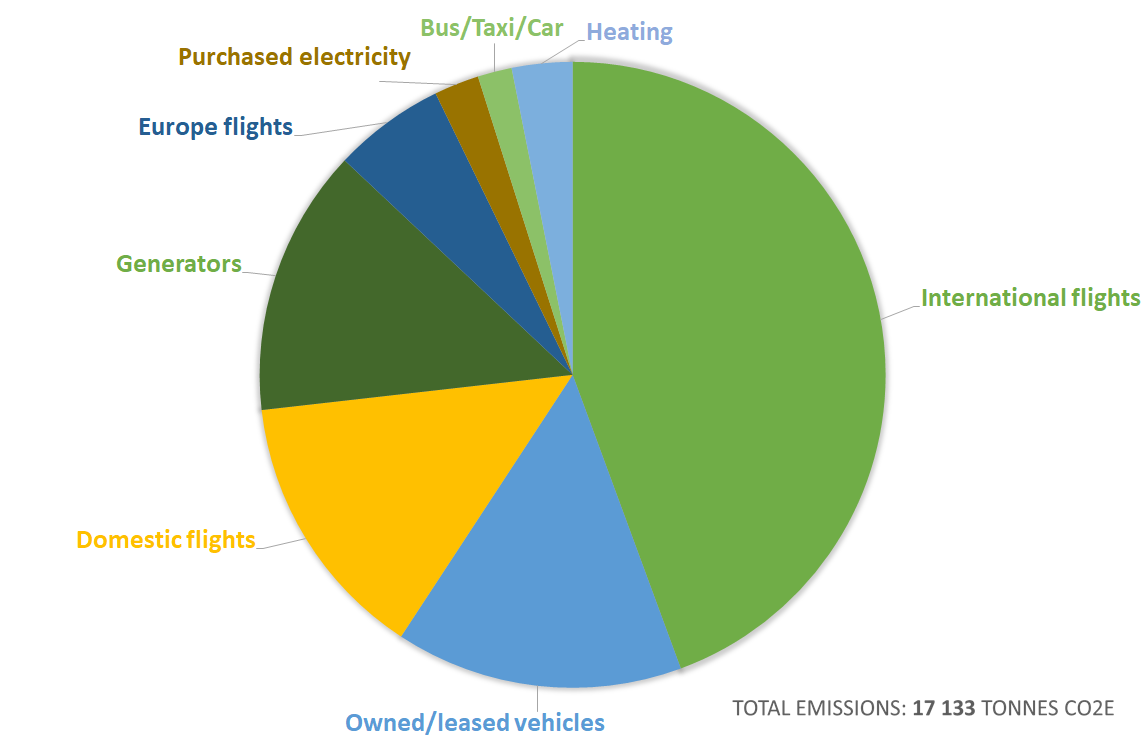 Using this baseline as a foundation, we will focus on significantly reducing our emissions, with an initial focus on flights and replacing diesel generators with clean energy. Waste management has been defined as another priority area and we will work to improve the implementation of environmental minimum standards in our programmes.
Finally, we aim to change our organisational culture, so that environmental impact becomes a factor in decision-making at all levels of the organisation.
Addressing the impact of climate change and environmental degradation on displacement-affected people
As climate change impacts the most vulnerable, we need to act. From renewable energy to regenerative agriculture, from binding carbon to sustainable livelihoods, we must develop assistance that is both effective and sustainable.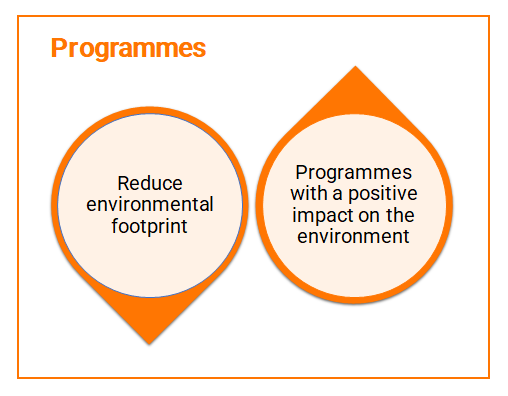 Building on our expertise, NRC will develop a new line of programming that focuses on supporting displacement-affected people to adapt to the impacts of climate change and environmental degradation. We will also explore projects that can both deliver humanitarian outcomes and bind carbon as a way to positively contribute towards our carbon footprint.
By carrying out frequent environmental surveys using cutting edge technologies, such as the Nexus Environmental Assessment Tool (NEAT+) app, we can measure our impact and focus on enhancing the sustainability of our programmes.
Sharing lessons
Sharing lessons from our process is an important part of the Greening the Orange project, and we aim to be transparent and share what we learn for the benefit of the wider humanitarian sector.
We invite partnerships across sectors – humanitarian and development organisations, the academic and private sectors, and others – to work with us to help improve how we work with displaced people affected by climate change and in reducing our environmental footprint.
---
* "Orange" in the term "Greening the Orange" refers to the colour of NRC's organisational logo.
** Due to a significant reduction in, for instance, the number of international flights in 2020 because of the pandemic, 2019 was chosen as a more representative year.