Since the consortium's creation in 2013, it has evolved to meet emerging needs quickly, establishing systems and partnerships that centre on communities and adapt to the changing context.
The multiprogramme, multidonor consortium has implemented over $232 million of funded activities since 2013. Our programmes balance early response to short-term humanitarian needs with the longer-term aim of building community and household resilience against the shocks that drive such needs. Today, BRCiS comprises nine national and international NGO members and leverages the technical expertise and resources of each partner.
Consortium Governance
With seven years of experience and learning as a team, the BRCiS consortium has robust governance systems and processes designed to allow transparent communication and fast decision-making. The partnership governance includes:
A memorandum of understanding
Well-established coordination groups
A strategic advisory group
A supporting consortium management unit
Government Coordination
The consortium closely coordinates decision-making processes, communication and monitoring with the Government of Somalia. BRCiS focal points in each federal member state are responsible for coordinating with state ministries.
At the national level, BRCiS is a key actor in the National Development Plan pillar structure and maintains regular engagement with the humanitarian cluster forums led by the United Nations Office for the Coordination of Humanitarian Affairs.
Additionally, the consortium contributes to supporting the Government on specific initiatives that directly align with important project outcomes. For example, it has a partnership with the Scaling Up Nutrition Somalia initiative and supports the Ministry of Planning, Investment and Economic Development on issues relating to coordination, social accountability and leadership.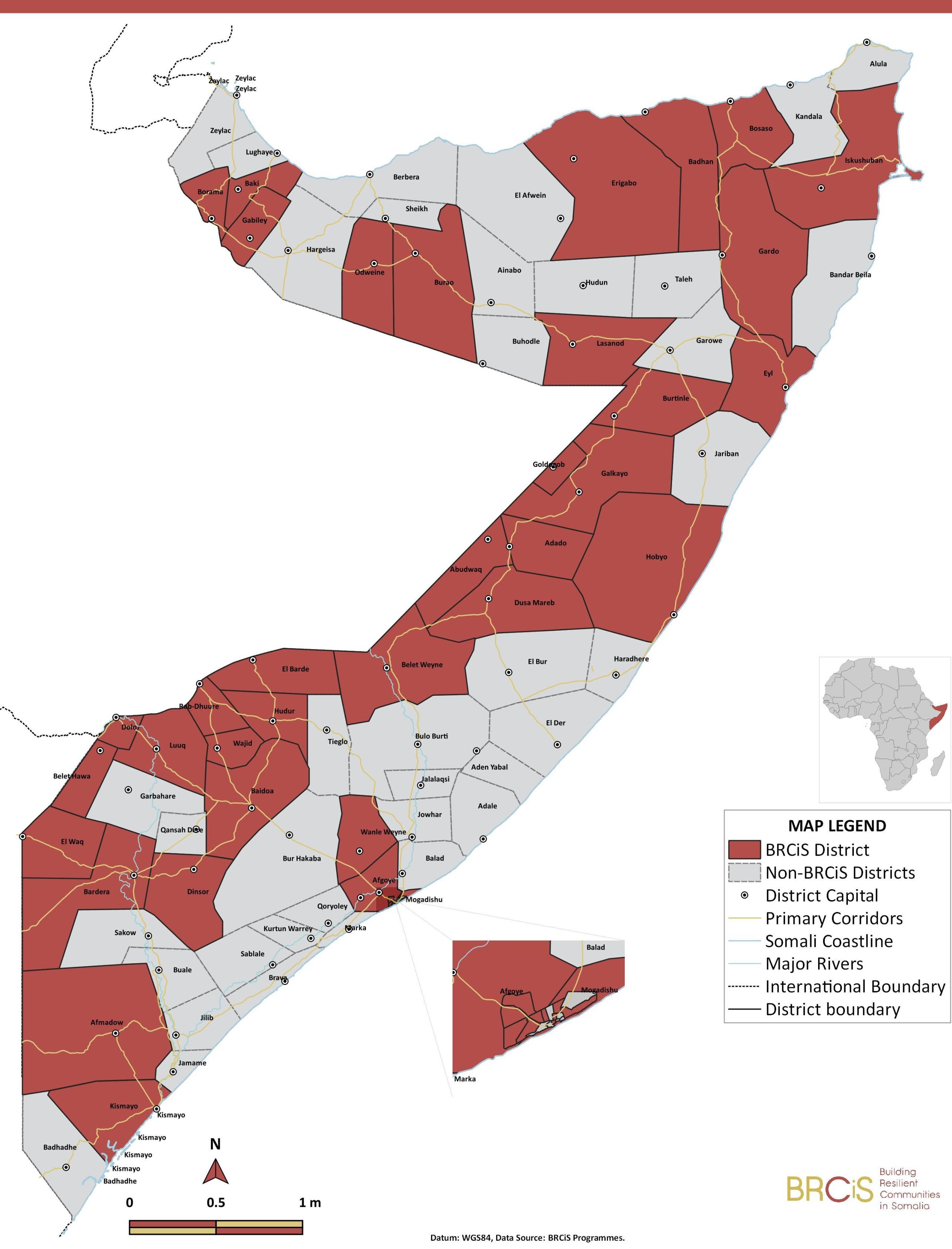 Footprint:
Operates in 34 districts and is present in all states.
Engaged more than 450 communities in resilience projects since 2013.
Reached more than 70,000 households with cash assistance at the height of the 2018 food security and nutrition crisis.
Reached more than 26,00 households with cash assistance in 2020 to mitigate the economic impact of Covid-19.
What we do
BRCiS seeks to build the resilience of households and communities with a focus on those that are most vulnerable and marginalised. BRCiS has invested significantly in ensuring that programming is driven by the communities, responsive to shocks and changes in the context, and focused on addressing underlying causes that hinder resilience.
Community engagement
Providing space for communities to speak openly on the issues that are important to them builds trust between beneficiaries and project implementers, opening the door to meaningful problem-solving. By building on these relationships, the consortium addresses important issues of marginalisation.
For example, BRCiS establishes and empowers community resilience committees to lead project implementation, play key roles in the early warning and early action systems and contribute to building local social accountability. Other community structures that complement the resilience committees include community animal health workers, health mobilisers and hygiene promoters.
Shock responsiveness
The consortium has established a robust early warning and early action framework with the objective of protecting the resilience gains of communities in the face of shocks and stresses. In 2019, BRCiS rolled out a pilot early warning indicator system that undertakes monthly data collection on 30 early warning indicators in target communities.
Shock-specific frameworks guide harmonised early response. When stresses reach certain thresholds, they trigger interventions that can be funded through internal re-programming, community contributions or, in case of larger needs, through the activation of a crisis modifier funding mechanism. The crisis modifier modality has successfully been activated three times since 2019 in response to drought, flooding and the socioeconomic impacts of Covid-19.
Livelihoods and markets
The BRCiS approach draws inspiration from the sustainable livelihoods framework, prioritising investment in human capital with a nutrition-sensitive lens. Within this framework, the consortium has developed approaches and solutions for different groups of concern and livelihoods, including riverine communities, agropastoralists, internally displaced people and urban poor.
Cash and voucher assistance is the preferred implementation modality, as it is beneficial to the local economy and enhances the dignity of individuals. For very vulnerable families, BRCiS uses safety nets and step-by-step approaches to empower family engagement in livelihoods activities and reach self-reliance gradually.
Basic services
Good health and nutrition are building blocks for increasing the resilience of Somali households and communities against shocks. Individuals who are well-nourished are more likely to:
Grow and develop properly
Experience less sickness
Achieve more at school
Earn more income
Have healthier children
For these reasons, our projects prioritise investments in health, nutrition, and water, sanitation and hygiene. These services are supported either through community approaches or through a network of fixed and mobile clinics that are closely coordinated by the Ministry of Health.
Resilience building FAQs and more