The BRCiS programme balances its response to short-term humanitarian needs with the longer-term aim of building community and household capacities to deal with the shocks that drive humanitarian needs in the first place. Its primary mandate is to help marginalized and vulnerable communities in building their own resilience.
In 2013, five international NGOs with long experience in Somalia – Cooperazione e Sviluppo (CESVI), Concern Worldwide (CWW), the Norwegian Refugee Council (NRC), the International Rescue Committee (IRC), and Save the Children International (SCI) – formed BRCiS to address Somalia Communities' long-term exposure to recurrent disasters and destitution. Today (as of 2020), the BRCiS membership has grown to six INGOs and 3 local NGOs.
BRCiS Approaches to resilience building
BRCiS defines resilience as the ability of people, households, communities, countries, and systems to mitigate, adapt to, and recover from natural or human-made disasters in a manner that reduces long-term vulnerability. The project design relies on the assumption that resilience outcomes will most efficiently be achieved by working very closely with participant communities with a flexible, multi-sector and multi-year project.
BRCiS works to increase the capacity of vulnerable communities in Somalia to resist and recover from recurrent climatic, conflict-induced, and economic shocks and stresses. The programme supports vulnerable and marginalised communities across Somalia through sustainable livelihood strategies which are in line with nation's long-term development goals, as outlined in the National Development Plan.
To achieve this, the Consortium pursues several objectives:
Delivers early action and response to localized shocks through safety nets and other strategies
Promotes and strengthens opportunities for sustainable livelihoods
Contributes to building improved social cohesion, governance and natural resource management
Provides integrated basic services in response to the most essential needs of target communities.


Adaptive Management
BRCiS critically evaluates what is working and what is not to inform key decisions and improve delivery. Adaptive management is a key strategy for the Consortium. BRCiS encourages its Members to have a learning and change culture, to ensure that there is ongoing adaptation based on real-time evidence and cross-agency learning. In addition, the Consortium invests to identify new and innovative ways of delivering assistance and strengthening resilience systems in Somalia.
In 2020, the challenge fund has been designed as an internal funding facility which challenges BRCiS Members to embrace adaptation/innovation in their current community engagements and community-led interventions, while laying the foundation for grassroots, Somali-led innovations and their scale-up in future BRCiS programming. Up to nine pilots will provide every member an opportunity to "growth-hack" a solution.
Shock Responsiveness
The Consortium established a robust Early Warning and Early Action framework, the objective of which is to protect the resilience gains of communities in the face of shocks and stresses. In 2019, BRCiS rolled out a pilot Community Early Warning System, which undertakes monthly data collection on 30 indicators. The data is available on a dashboard platform for decision-makers and informs programme adaptations and advocacy.
Shock-specific frameworks guide harmonized early action and early response. When thresholds are reached, interventions are triggered, which can either be funded through internal re-programming, community contributions, or in case of larger needs, through the activation of a crisis modifier funding mechanism. The crisis modifier modality was successfully activated three times since 2019, to respond to drought, flooding and socio-economic impact of Covid-19.
Partners
Consortium Members: Norwegian Refugee Council (NRC), Action Against Hunger, Candlelight, Concern Worldwide, CESVI, Gredo, International Rescue Committee (IRC), KAALO and Save the Children International.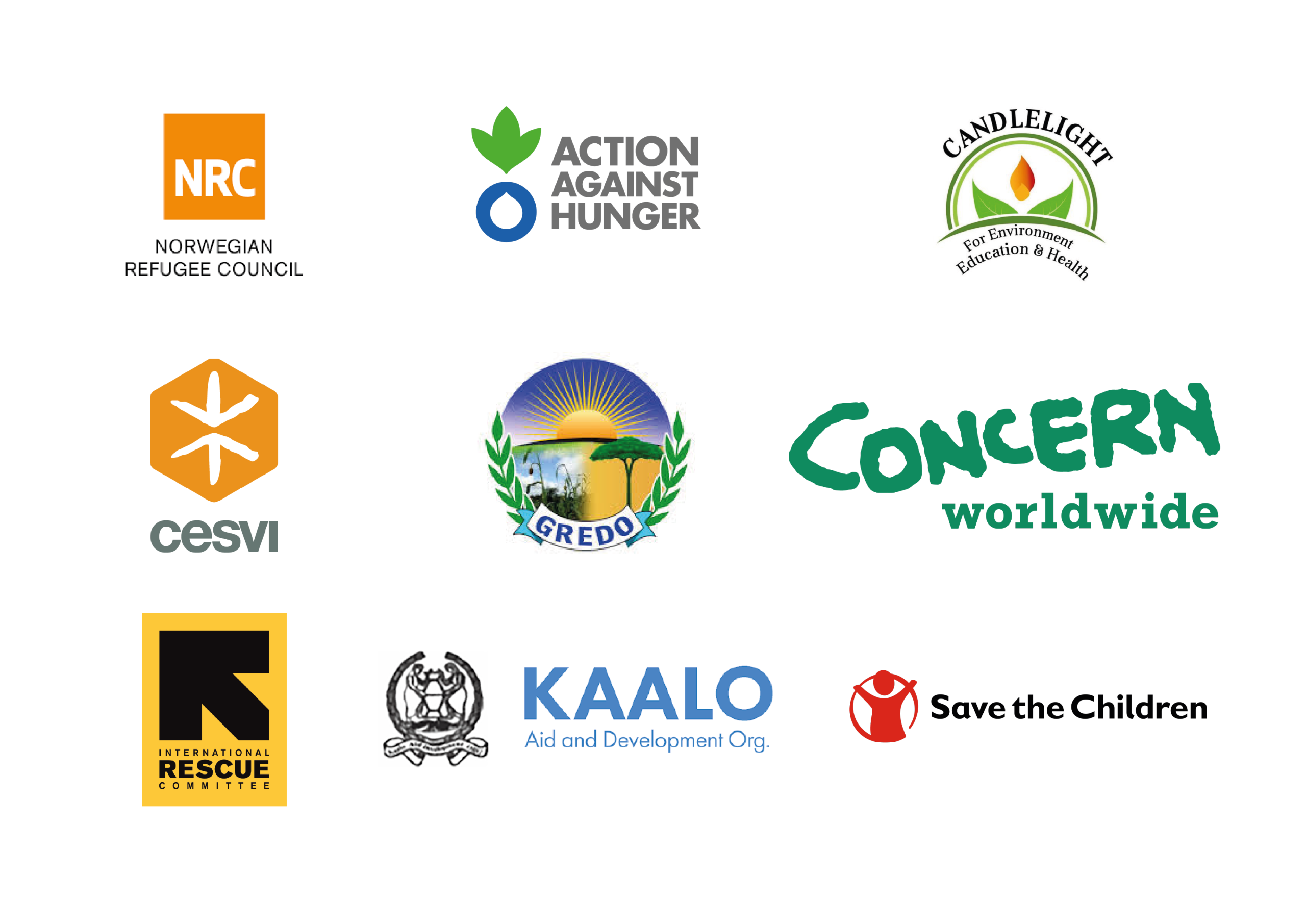 Resilience building FAQs and more
Balancing long-term goals and short-term emergency needs
Cutting across the 'Humanitarian – Development' spectrum, the BRCiS programme balances its response to short-term humanitarian needs with the longer-term aim of building community and household capacities to deal with the shocks and stresses that drive those humanitarian needs in the first place.
Thus, the project provides a continuum of humanitarian and rehabilitation/development assistance that improves the absorptive (short-term) and adaptive (medium- and long-term) capacities of communities and households. The nexus of the two results into transformation of the communities from cyclically vulnerable ones to ones having in-built capacities to handle shocks and stresses.
Robust Community engagement
Community engagement in BRCiS is inclusive of all groups present in the community and leverage existing local governance structures (formal and informal) to enhance their accountability to all groups and actors in the community. The programme is co-managed with participant communities through an interactive process of continuous adjustments of Community Action Plans.
This approach encourages community initiatives and contributions and nurtures local ideas and ultimately self-reliance. Through this process also, BRCiS encourages transformative participation that results in the empowerment of those involved and ultimately alters the cultural and social structures and institutions that lead to marginalization and exclusion. This requires trust and openness between communities and agencies and agency willingness and to flexibility to change. It requires a realistic timeframe for community and agency adaptation to change.
In bold terms, community participation is essential to BRCiS's success, as its starting point requires defining and understanding what being more resilient means to the people in a specific community. In order to achieve meaningful inclusion in the BRCiS programme, BRCiS aims to always collaborate, and ultimately empower the communities we engage with.
BRCiS employs the People First Impact Method (P-FIM) to guide programming with a practical way to hand decision-making back to the communities who we serve. Community engagement is a two-way process, in which communities lead in describing their challenges and opportunities, how they are addressing them and what additional support they require from agencies, government and other actors.
BRCiS Consortium in numbers:
Resilience: BRCiS supported more than 490 communities with resilience building projects.
Scale-Up capacities: During the 2017-2018 drought scale-up, BRCiS supported more than 70 000 families with cash assistance. In 2020, BRCiS' Covid-19 mitigation response reached 26,000 households, also through cash assistance among others.
BRCiS Governance
Building on 7-years of experience and learning as a team, the BRCiS Consortium has robust governance systems, structures and processes, which have been designed and adjusted to allow transparent communication and fast decision-making processes. BRCiS governance structures include Strategic Advisory Group (SAG) to oversee strategic decisions, Technical Working Group (TWG) to deal technical issues of program delivery, Field Focal Points (FFPs) for government coordination at state level and Consortium Management Unit (CMU) that sits within NRC and oversee fund management and reporting issues. As part of this system, the Consortium uses scorecards with measurable indicators to track the progress of Members and governance bodies against Consortium values and processes. This, for example, allows to measure the number of project adaptations based on evidence, the uptake of reporting tools and systems, as well as general compliance to donor contracts.
Resources

Links to resources from BRCiS
BRCiS donors
For more information, please contact
Perrine Piton
BRCiS Chief of Party
perrine.piton@nrc.no
+252 710442861
Or
Abdikarim Ali
BRCiS Communications and advocacy coordinator
abdikarim.mohamed@nrc.no
+252 63 4319330/ +252 619331117