In 2013, five international NGOs with long experience in Somalia – Cooperazione e Sviluppo (CESVI), Concern Worldwide (CWW), the Norwegian Refugee Council (NRC), the International Rescue Committee (IRC), and Save the Children International (SCI) – formed a Consortium to address Somalia Communities' long-term exposure to recurrent disasters and destitution.
The Consortium was named "Building Resilient Communities in Somalia", or BRCiS, and received financial support from the Government of the United Kingdom to target directly 30,100 households (around 210,700 individuals). The implementation of the programme started in November 2013 simultaneously in 99 communities spread across 7 regions.
In 2016, the European Union provided the Consortium with additional three years grant, which funding was channelled to four of the Consortium members. From this additional funding, 40 new communities were incorporated into the programme, while 12 of the initial communities had their resilience activities scaled up.
About the BRCiS Consortium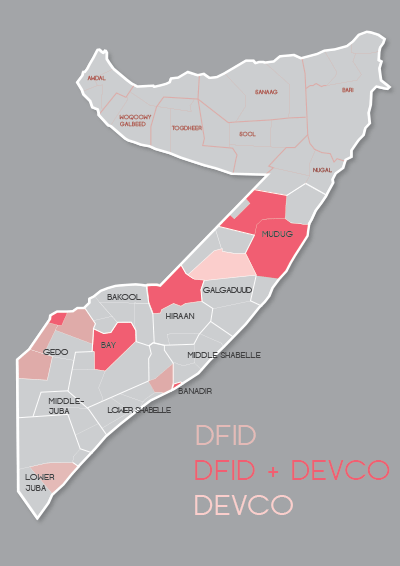 Overall Objective:
Improve the resilience of rural communities and IDP households in Somalia.
Partners:
Cesvi, Concern Worldwide, Norwegian Refugee Council (lead agency), International Rescue Commitee, Save the Children
Start Dates:
November 2013 (DFID), December 2015 (DEVCO)
Duration:
4 years (DFID), 3 years (DEVCO)
Locations:
22 districts of the southern and central Regions of Somalia

Balancing long-term goals and short-term emergency needs
Cutting across the 'Humanitarian – Development' spectrum, the BRCiS programme balances its response to short-term humanitarian needs with the longer-term aim of building community and household capacities to deal with the shocks and stresses that drive those humanitarian needs in the first place. Thus, the project provides a continuum of humanitarian and rehabilitation/development assistance that improves the absorptive (short-term) and adaptive (medium- and long-term) capacities of communities and households. The nexus of the two results into transformation of the communities from cyclically vulnerable ones to ones having in-built capacities to handle shocks and stresses.

For the Communities, with the Communities

Communities are the unit of reference in the BRCiS programme design. The outline of the communities are drawn according on the context and the local dynamics. It can be a stand-alone village, or a cluster of small settlements in a rural area. In a urban context, it can be part of a group of people who have been displaced for some time. It often includes members of both displaced and host communities. Finally, it can be a community defined by a common livelihood, be it fisheries, agro-pastoralism, pastoralism or other.
In any case, the communities are the first stakeholder of the project. They co-lead the design and the implementation of the activities and the long-term impact of the project is largely dependent on their commitment throughout the programme.
BRCiS donors
BRCiS members