Access to basic services in Libya has, unsurprisingly, suffered over the last ten years. The conflict, which started following an uprising in 2011, has left an estimated 1.3 million people in need of humanitarian assistance.
One of the worst-hit sectors is healthcare. Libya's health system was struggling even before the pandemic, and Covid-19 has only exacerbated the situation. Hospitals and clinics have been destroyed by the fighting. Water and electricity shortages in medical centres are common, reducing the quality of care. The system continues to be under-resourced.
When the pandemic reached Libya in 2020, Libyans were in the middle of an active conflict. However, a ceasefire agreement in October 2020 paved the way for a peace settlement.
Finally, in March this year, the warring parties reached an agreement. The Tripoli-based Government of National Accord (GNA) and the Libyan National Army (LNA) came together to form the Government of National Unity, offering hope of peace and future stability for the Libyan people.
The UN welcomed this development, calling it a "historic political milestone". But UN Special Envoy Jan Kubis has warned that much work needs to be done to improve living conditions and access to basic services for Libyans.
---
NRC works to support refugees and displaced people in over 30 countries around the world, including Libya. Support our work today
A million people with acute health needs
Despite these high-level political developments, the situation on the ground for ordinary Libyans remains largely unchanged. The Covid-19 pandemic has taken a massive toll. As of April 2021, Libya had registered more than 174,000 cases of coronavirus with around 2,900 deaths, amongst a population of almost 7 million people. However, due to a lack of testing capacity, the actual number of Covid-19 cases and deaths is likely to be much higher.
The Health Sector in Libya has estimated that more than a million people in Libya have acute health needs. Half of the health facilities that were operational in 2019 are no long functioning due to the security situation and lack of government funding.
Thirty-eight percent of migrants and internally displaced Libyans have reported facing challenges accessing healthcare. And while Libyans continue to face challenges accessing healthcare, the situation for the half a million migrants, refugees and asylum seekers is even more challenging.
There is a severe shortage of life-saving medicine and supplies. Médecins Sans Frontières (MSF) have expressed particular concern for vulnerable people with pre-existing conditions, internally displaced people, and migrants and refugees in detention centres and urban areas across Libya. These groups often live in overcrowded conditions with poor access to water and hygiene.
While the pandemic ravaged health systems around the globe, hospitals in Libya continued to be hit by shelling last year. For example, in April 2020, the 400-bed Al Khadra General Hospital near Tripoli was attacked and suffered damage.
How NRC and other organisations are helping
However, help is at hand. International humanitarian organisations and local groups like the Libyan Red Crescent are on the ground in Libya providing support to improve access to healthcare. The Norwegian Refugee Council (NRC) is one of the organisations helping to repair civilian infrastructure damaged by the conflict.
In December 2020, NRC began rehabilitating a medical centre in Abu Salim municipality near the Libyan capital, Tripoli.
The medical centre was up and running by the start of 2021 and now has the potential to serve up to 6,000 people in the surrounding area. Those benefitting from the new facility include vulnerable Libyans in the Tripoli area, as well as migrants and refugees from Syria and countries in Africa suffering from economic hardship and political turmoil.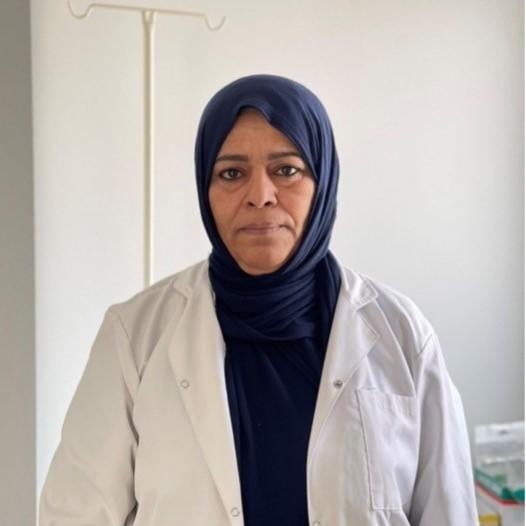 We visited the medical centre in April 2021 to speak to community members using the centre and frontline healthcare workers. One of the nurses, Rokaya, told us: "All nationalities are able to visit the clinic from this neighbourhood and from other neighbourhoods. The location of the clinic is very important – this area has no other health services."
The centre also addresses the affordability of healthcare in Libya. Omran, a 57-year-old woman who was a patient at the centre, said: "It's great that we can come to visit doctors and bring our children if they get sick without paying, especially during this tough time of the pandemic."
More to be done
Though the Abu Salim medical centre provides an important service, significant work needs to be done to rebuild the wider health system and combat the spread of Covid-19.
Zainab, a paediatrician working at the centre said: "We are working hard to improve the quality of services, but we still have a shortage of materials. We may have oxygen bottles, but they are still empty. We try our best to serve the patients with what little equipment we have."
---
Libya began its Covid-19 vaccination programme in April and has received about 250,000 vaccine doses to date, including about 57,000 allocated through COVAX, a global initiative aimed at equitable access to vaccines. This falls well short of the number needed to vaccinate Libya's almost 7 million citizens and migrants.
Furthermore, many health facilities – plagued by water and electricity cuts and shortages of healthcare workers, medical supplies and personal protective equipment – remain closed. This is hindering Libya's fight against the pandemic.
Libyans will look to their new government to address these and other daily concerns. Meanwhile, humanitarian organisations like NRC and others will continue to work with communities to help Libyans cope with the effects of ten years of continuous conflict.