She lives in a settlement for displaced people outside Kabul, Afghanistan's capital city. Fifteen people share her makeshift two-room home, including Shayista's daughter and her children.
Tipping many into hunger
More than three quarters of displaced and conflict-affected people surveyed by the Norwegian Refugee Council (NRC) for a new report told us that they had lost income since the start of the Covid-19 pandemic. The devastating economic impact is tipping many into hunger, homelessness and a deepening education crisis.
"The world's most vulnerable communities are in a dangerous downward spiral. Already forced from their homes by violence, often with limited rights to work and access to government services, they are being pushed towards catastrophe by the economic impact of the pandemic," says Jan Egeland, Secretary General of NRC.
The new report, Downward Spiral, is based on detailed research and needs assessments in 14 countries, and includes a survey of 1,400 people affected by conflict and displacement in Afghanistan, Colombia, Iraq, Kenya, Libya, Mali, Uganda and Venezuela. Here are the main findings.
Five ways that Covid-19 is affecting displaced people financially
#1: Lost jobs and income
Three out of four displaced people told us they had lost a job or income from work since March. Nearly a third of them have had to borrow more money than before the pandemic.
Some displaced people receive money from family members abroad to help them survive, but now nearly two thirds say they are receiving less of this vital lifeline than before.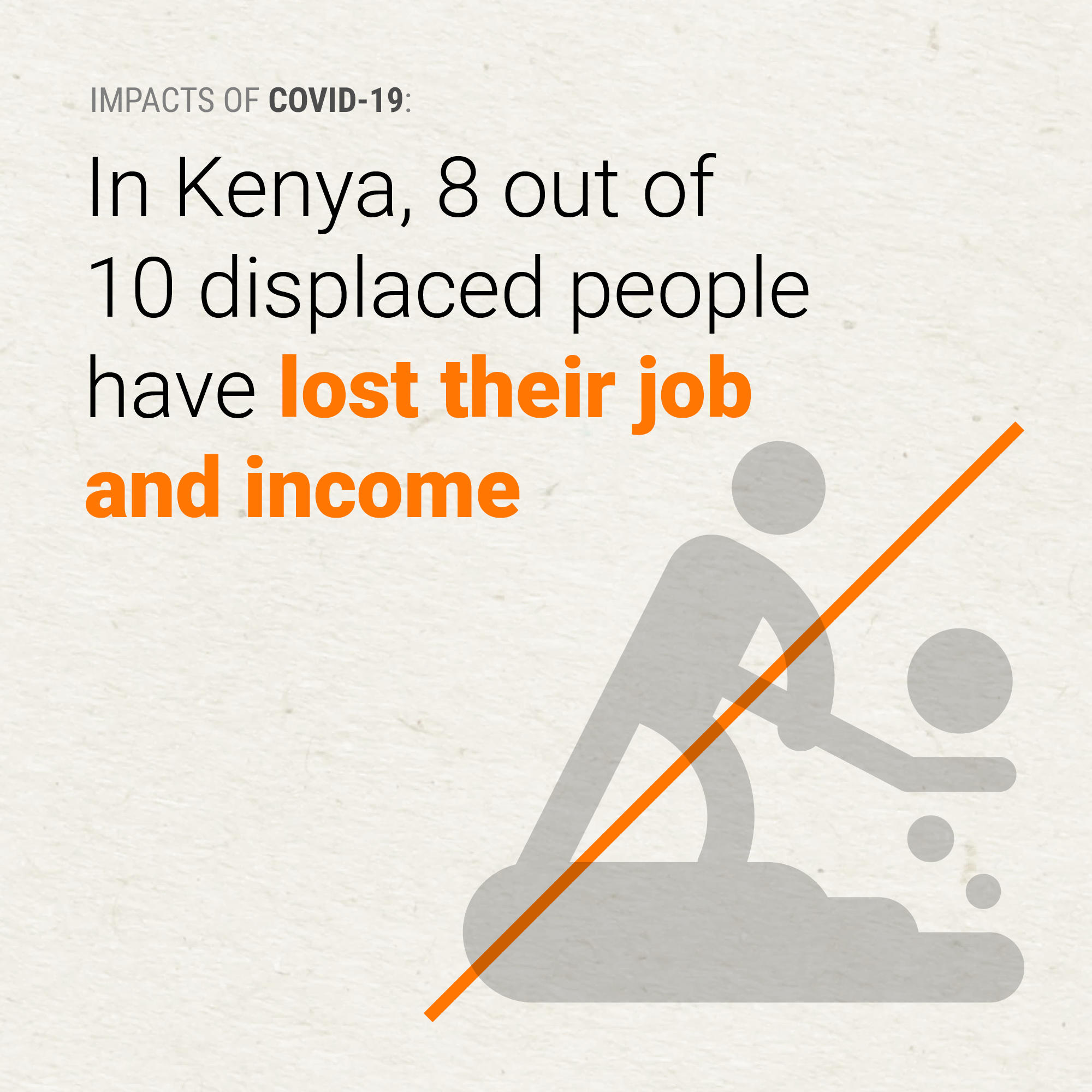 #2: Decline in aid
Since the start of the Covid-19 pandemic, many countries have been under lockdowns, and humanitarian organisations have been operating under strict restrictions. As a result, 28 per cent of survey respondents reported receiving less assistance from NGOs or governments since March.
Less than seven per cent of respondents stated that they had received more assistance during the same period.
#3: Hunger
Even prior to the Covid-19 crisis, many displaced people and host communities were facing worrying levels of food insecurity. Now, nearly three quarters of respondents have had to cut the number of meals for their family since the pandemic started.
Read also this story from Colombia.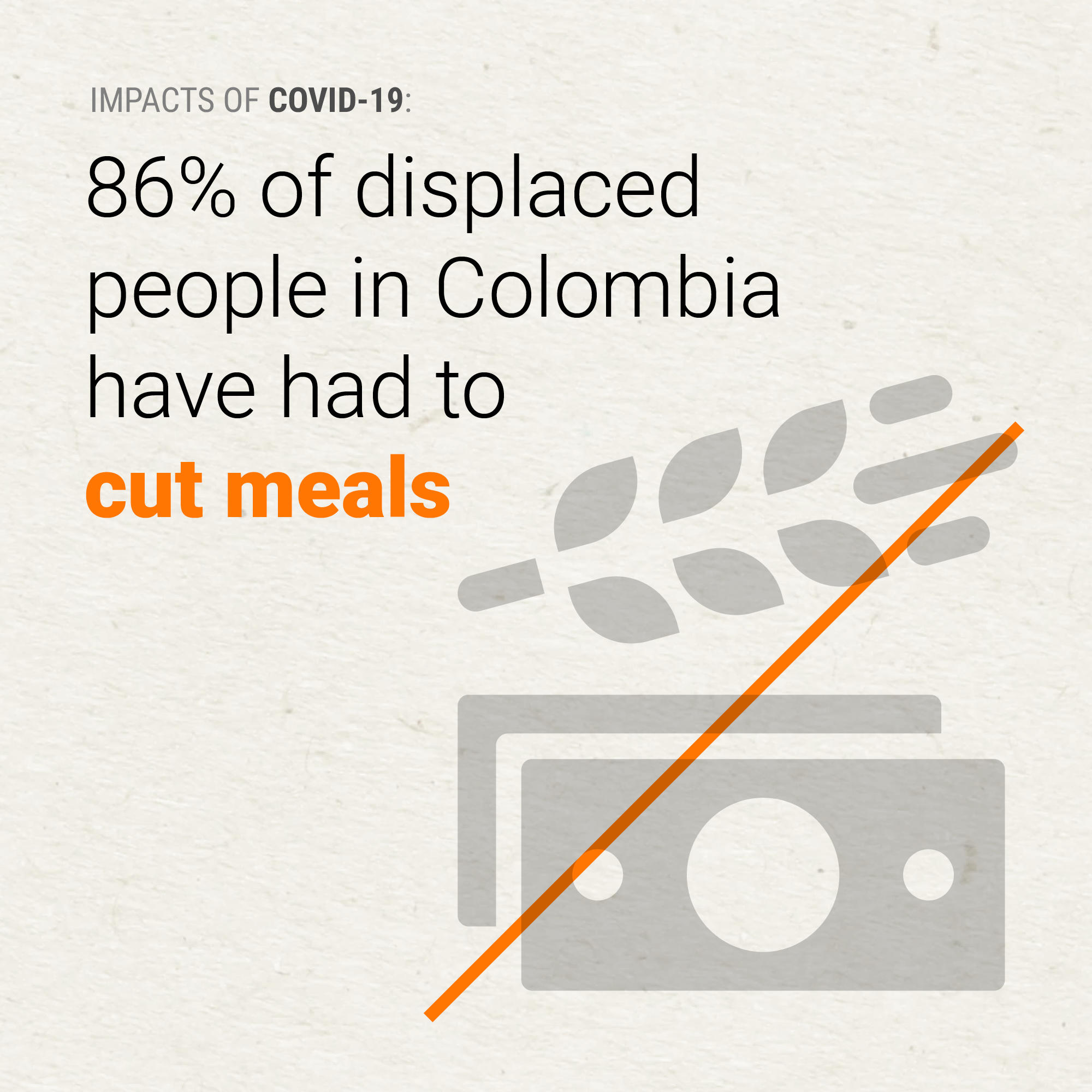 #4: Forced to move
Loss of income is also having a massive impact on people's ability to secure housing. More than 7 out of 10 of respondents stated that they were struggling to pay rent and other basic housing costs, and 68 per cent said they were likely to move elsewhere because of a lack of work or income.
Almost half followed this up to say that they had been evicted from their homes since the start of the Covid-19 pandemic.
#5: Education at risk
Lockdowns and school closures in response to the Covid-19 pandemic have led to the largest disruption of education in history, affecting nearly 1.6 billion learners in over 190 countries, according to the UN. This has had a particular impact on those living in poor or rural areas, girls, people with disabilities and those who have been forced to flee their homes.
This is echoed by NRC's experience in conflict-affected countries. In Afghanistan, for example, NRC found that children from poor communities have limited access to remote learning tools such as the internet, smart phones, or even electricity.
This is how we are helping children get through the pandemic.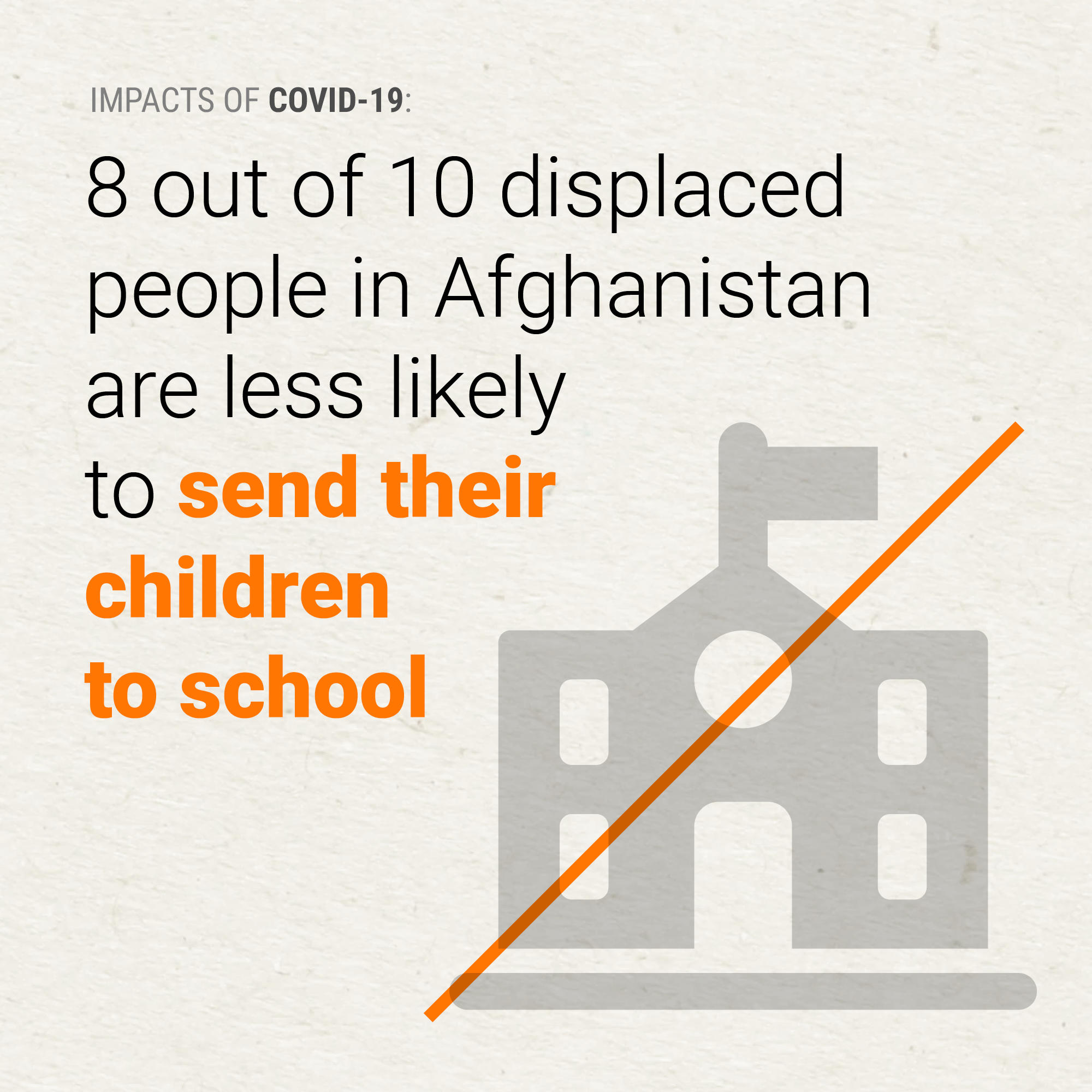 Moreover, NRC research shows that the economic impacts of Covid-19, and the strain on family income, make it more likely that these children will not return to school. Of those we surveyed who had children, three quarters said that because of their economic situation they were less likely to send them to school.