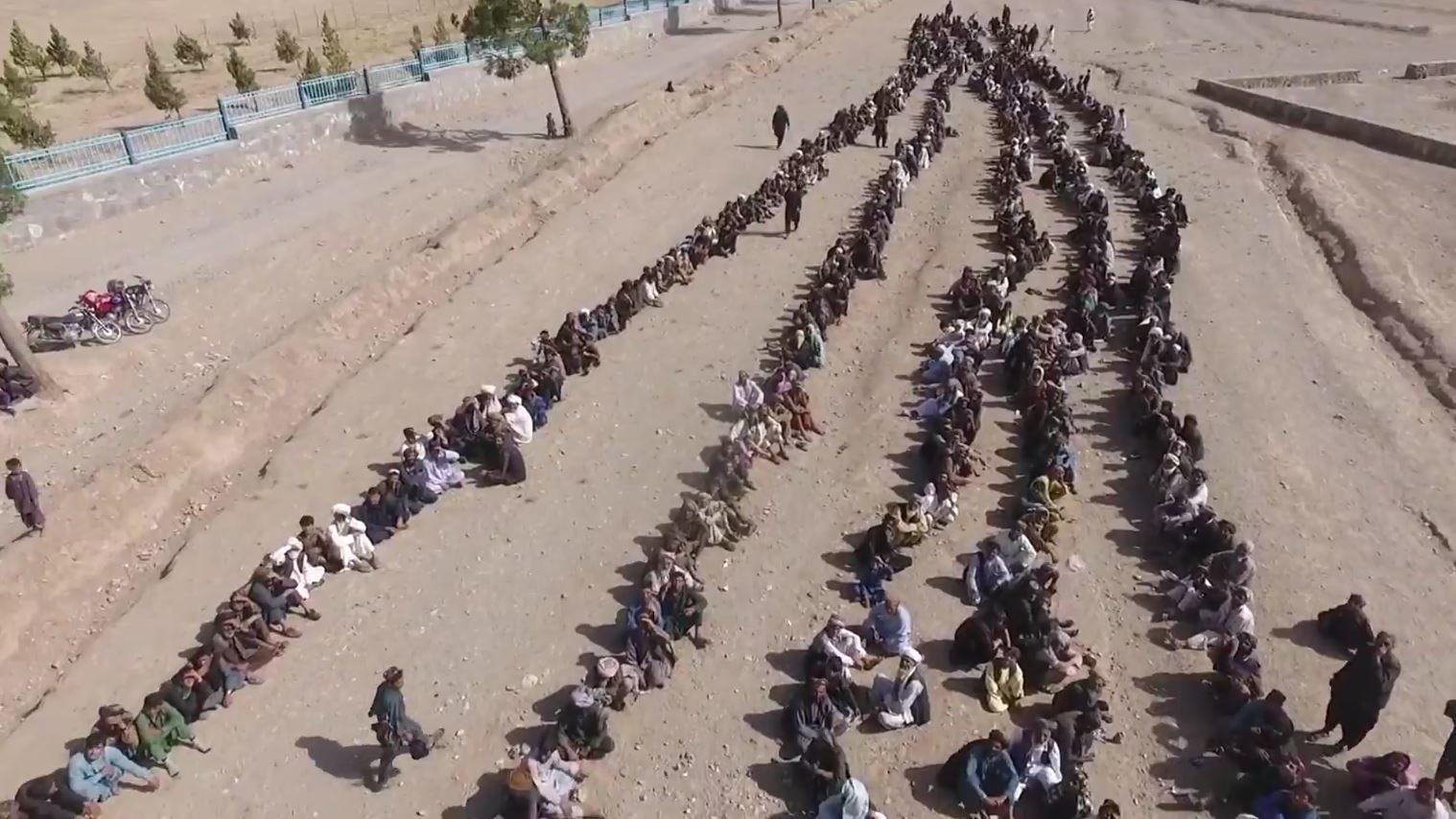 The UN has predicted that over two million people are expected to become severely food insecure in the coming period.
The West Region of conflict-stricken Afghanistan has been hardest hit by the drought, and over 60,000 people have been displaced to Herat and Badghis provinces, as a result. Families that fled to Herat are living in dire conditions in makeshift shelters, where they are exposed to the scorching sun and summer temperatures of over 40 degrees Celsius. Many families are subsisting on a single meal a day. Many get by on just bread and water.
Herat has become the closest refuge for about 60,000 people, who have been displaced from their homes due to the drought. Conflict has also prompted many to flee their homes to the relative safety of province. Over 1,700 civilians were killed in Afghanistan during the first half of 2018, according to the UN Assistance Mission in Afghanistan (UNAMA). It is the highest recorded number, compared to the same periods for the past decade. The combination of drought and conflict has made tens of thousands of families destitute. They live amid precarity and with few long term prospects or means of regaining stability.
Among the most vulnerable are women and children. Many of the children show visible signs of malnutrition and illness, including skin diseases and eye infections due to dust and the hot weather.
Ayesha Halima is one of thousands of such children, who fled her home for Herat. Leaning against the wall of a distribution center, she patiently awaits her next meal, as her mother moves through the growing crowd to get their rationed supplies.
The lack of sufficient nutrition is visible in the pallid faces of children like Soraya Hawa Gul and Fatima Pari Gul, who have become neighbours in Herat. They bake bread together in a clay oven in the open air. The mothers make about ten loaves of bread a day, which they wash down with boiled water or tea.
"We cook together because we share a bag of flour," said Hawa Gul. "Neither of us could afford a bag of flour alone. We have spent all the money we had and have taken many loans from relatives."
Given such meagre resources, the unconditional cash grants from the Norwegian Refugee Council (NRC), funded by the European Civil Protection and Humanitarian Aid Operations (ECHO), have become life lines for tens of thousands of the impoverished households.
Despite the rapidly deployed assistance, drinking water, food and medical supplies are falling short.
The blazing temperatures are testing the endurance of those who are in the internally displaced people (IDP) settlements. Many people are suffering from dehydration, with children and older IDPs particularly susceptible. With few water resources around, drinking water is a prized commodity in the settlements.
"We can't get enough water to drink or to clean ourselves and our clothes," displaced Afghans in Herat told staff of the Norwegian Refugee Council. "There hasn't been any change to our life situation. We fled our homes because there was no water and it is the same here. At least we a had shelter back home in Badghis."
With illnesses such as diarrhea, skin diseases and eye infections on the rise, many children are in need of comprehensive medical care. One-year-old Ahmad Mohammed has diarrhea, and a skin and eye infection. He lives in a makeshift shelter with his family after they were forced to leave their home in Badghis province.
"It's been 70 nights since we arrived. My children and my wife are all sick, and I don't have the money to buy them enough food or medicine," Mohammed's father Ziauddin told NRC.
Shelter is another pressing issue, with families residing in makeshift shelters for the time being. While protection from the scorching sun and the high summer temperatures are the present concern, staying warm and winterisation of homes will become a need, if they remain displaced into the winter months.
But, despite the challenges, women like 57 year old Khanim Gul, who have been displaced several times, show remarkable resilience. Gul was forced to leave her family behind in Badghis. "This isn't the first year we are suffering from drought. Last year we had almost nothing on the table. This is the fifth tent that I am setting up – the heavy wind keeps tearing it apart," she said.
Amid the struggles of daily survival, protection has been scant, with women and girls facing heightened risks of harassment and gender-based violence. In the absence of regular schooling and safe spaces where they can grow, learn and play, children are more prone to child labour and child marriage.
Amid scarce resources and lack of livelihood opportunities, including daily labour, many of the displaced men in Herat, try to travel to Iran in search of work.
With regular wages a far fetched notion for most of the displaced populations, Karim is counting his blessings these days. With loans from family members, he has set up a vegetable stall and sell onions and potatoes to the rest of the displaced community near his tent in Herat.
For thousands of families displaced from Herat, the few items they carried on their back are the only remnants of their homes. For many, this is not the first time they leave their homes and belongings because of drought. While news of peace talks and bombings in Afghanistan make the headlines, the IDP communities suffering chronic, long term displacement feel "forgotten" by their government and the international community. They desperately need long term assistance.