Ali (left in the picture above) is one of the nearly 763,000 Yemenites benefitting from our programmes in Yemen in 2017. Read the full story here.

We experienced across the board growth in the number of people reached by our programmes in 2017. Water, sanitation and hygiene set-ups (WASH) were by far the most active programmes, reaching close to 2.5 million people. In addition, camp management and food security activities grew quite substantially.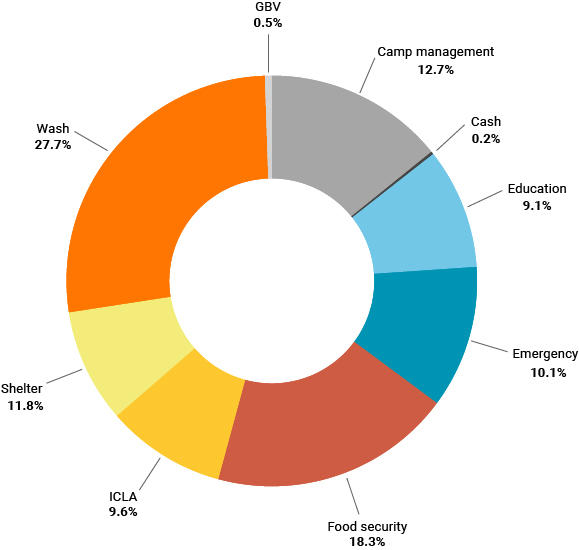 This growth reflects many factors, says Magnhild Vasset, our Director of field operations.
"Partly, we have been scaling up in many of our regular programmes," Vasset explains. "Furthermore, in certain contexts there is a higher focus on emergency aid with shorter, but life-saving, interventions, such as food drops, shelter, distribution of blankets and household items and water, sanitation and hygiene set-ups."
NRC reached 8.7 million people in 2017. This represents an increase of nearly 2 million people from the year before.

Seven emergencies and number of people reached in 2017:
SYRIA #672,523
2017 has been characterised by yet another long series of emergencies in Syria. We have provided emergency education, food, household items, information services, water and sanitation services and shelter to hundreds of thousands of those internally displaced all over Syria.
YEMEN #763,000
The crisis in Yemen became significantly worse in 2017, with over eight million people at risk of famine by the end of year. Despite substantial access and security difficulties, our teams succeeded in scaling up the emergency response, delivering assistance in eight of the country´s 22 governorates.
DR CONGO #592,000
Multiple new crises emerged in the eastern part of DRC, leading to the highest increase in displacement in the world. This surge brought the total number of displaced to 4.1 million by the end of year. We responded to many of these crises with our emergency teams and provided hundreds of thousands of people we reached with education, food security, legal assistance and information services and emergency responses.
SOMALIA #791,000
In Somalia, wide-spread drought displaced almost one million people, bringing the total number of internally displaced people to more than 2.1 million. However, the crucial early release of funding by donors, a large-scale response and sustained prevention efforts helped fend off a famine. Our organisation reached more than 790,000 people in Somalia with assistance in 2017.
SOUTH SUDAN #648,000
In 2017, the deepening humanitarian crisis in South Sudan spread, with conflict intensifying in new locations. Our organisation has responded to the crisis both with mobile emergency teams and operating from permanent bases.
ETHIOPIA #453,000
In Ethiopia, hundreds of thousands of people were displaced by ethnic violence and drought. Our teams have responded to these emergencies, partly through our programme that distributes unconditional cash transfers, helping build resiliency among those in need.
AFGHANISTAN #383,000
Afghanistan experienced new, conflict driven displacements in 2017, about a quarter of whom are in hard-to-reach areas. We are a leading emergency response actor in Afghanistan and maintain a permanent presence among the high number of internally displaced residing in insecure provinces.
Total number of beneficiaries by country in 2017

Numbers of people benefitting from our programmes and services by country:

Afghanistan: 382,739
Cameroon: 15,517
Central African Republic: 199,564
Colombia: 72,038
DR Congo: 592,420
Djibouti: 31,446
Ecuador: 2,407
Eritrea: 1.824
Ethiopia: 452,555
Greece: 6,919
Honduras: 5,724
Iran: 54,076
Iraq: 2,044,731
Jordan: 187,907
Kenya: 399,439
Lebanon: 497,324
Mali: 253,501
Myanmar: 143,653
Nigeria: 149,960
Palestine: 121,213
Panama: 3,195
Somalia: 791,219
South Sudan: 647,722
Syria: 672,523
Uganda: 130,072
Ukraine: 53,960
Tanzania: 23,915
Venezuela: 1,544
Yemen: 762,531

TOTAL: 9,009,474