"It is disgraceful how Europe is treating people who came to us for protection," said Alain Homsy, Head of NRC's operations in Greece.
Since European neighbours closed their borders to Greece almost nine months ago, and with the additional strains of the EU-Turkey deal, thousands of refugees and migrants have been stranded in Greece, while new boats continue to arrive, nearly 2000 people just in November.
NRC was already in March warning against the European political deals, that have resulted in large camps on European soil.
Many are still living in tents, warehouses and barracks. Temperatures have dropped to zero, there is snow and lack of proper heating.
"Camps are never an ideal solution, especially not long term. Many of the camps in Greece are also far below humanitarian standards. There is an urgent need to ensure that people are moved into proper housing facilities, and that they receive necessary support, health services and education opportunities," said Homsy.
In one of the camps in the north, Oreokastro, the conditions are now so appalling, that NRC, with ECHO funding, will accommodate some of the most vulnerable people in hotels.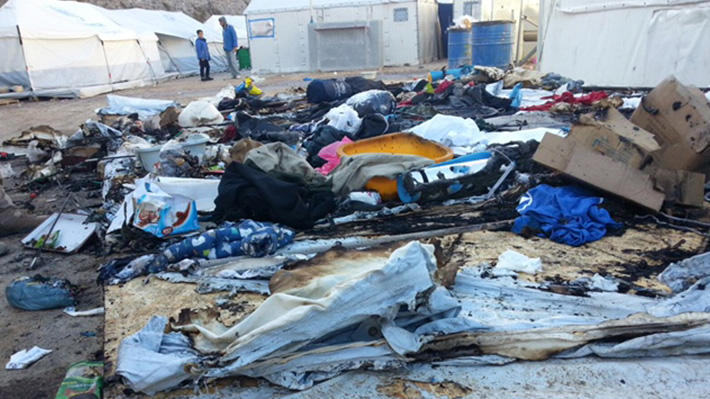 Molotov cocktails and large rocks were thrown at refugees and migrants at Souda camp in Chios, Greece, earlier in November. Photo: NRC.
"The Oreokastro camp is currently lacking proper heating and electricity. We know the authorities are working to get this in place, but the situation is now so urgent that we have decided to implement emergency measures and provide the most vulnerable families with hotel rooms," said Homsy.
At the Greek islands, NRC is very concerned about the security situation for refugees and migrants in the camps. Recently, Molotov cocktails and large rocks were thrown at people living in Souda, a camp at Chios island.
While the Government of Greece is responsible for upholding humanitarian standards, the solution to the situation is European, and other European countries have to step up their support. According to a relocation agreement, many of the refugees stranded in Greece should be moved to other European countries to ensure better European responsibility sharing. However, the relocation has been terribly slow, and so has family reunification.
"NRC and other humanitarian actors are trying to fill the gaps, but the truth is that many of the current facilities are not a suitable places for families to stay, and should be closed," said Homsy.