Between July and September 2015, a record number of Afghan families fled their homes in the north-western province of Faryab. More than 15,000 displaced families have been forced to escape conflict, the majority believed to be trapped in remote, inaccessible areas while others have fled to the capital, Maimana city.
Many reported that armed militants forcibly confiscated their homes and assets. Other families who have returned to their villages found their homes burned down, property and assets stolen, and family members missing.
The conflict, having resulted in deaths and injuries of mostly men, has left women particularly vulnerable. "They killed my husband and son," says Khadijah, 60, a woman whose home and land was also destroyed in the conflict. "We had ninety-seven sheep - they took all of them."
NRC staff, who visited displaced families door-to-door, discovered devastating conditions including lack of food and livelihood opportunities, poor living conditions, and no access to schools for children. With the majority of families used to earning a living from farming, families living in Maimana city are having difficulty earning enough money to survive, especially women, children, and the elderly. Most were forced to leave household items behind, leaving them with little means to survive while in displacement.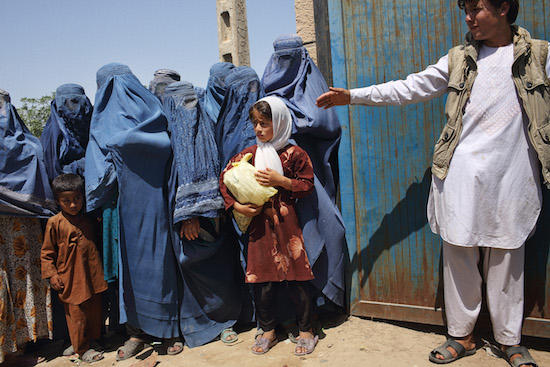 Internally displaced people in Afghanistan. Photo: NRC/Andrew Quilty

Most families have taken to overcrowded living spaces resulting in unsanitary living conditions and increased illnesses. Despite three to five families sharing rental costs, most report not having enough to pay their rent. Children in particular have been strongly affected. Signs of trauma and anxiety are being seen and without activities such as school, children spend their days idle.
In a joint effort to provide emergency assistance to the displaced families, a number of humanitarian agencies including NRC, Save the Children, WFP, UNHCR, and the Department of Refugees and Repatriation (DoRR) have assessed and verified 1,899 families as being in need of assistance in accessible districts of Faryab; 565 of these families in Maimana City alone.
NRC, through generous funding from ECHO, has been able to provide cash assistance of 8,000 AFN (130 USD) to 305 of these families while an additional 42 families, identified as extremely vulnerable, received 14,000 AFN (220 USD).
"Giving cash will alleviate their biggest burdens such as shelter and food," says Abdul Samad Kohi, NRC Emergency Field Assistant in Maimana.
Habibullah, 46, who lost his farm and livestock, said "We are very grateful for the assistance. It is an enormous help for us."
The most urgent needs include shelter and with the snow season approaching, winterisation support. "Meanwhile people are just waiting for the security to get better," says Kohi. "They just want to go home."
Established in 2004 and employing 44 staff members, NRC's field office in Maimana is dedicated to assisting Faryab province's most vulnerable displaced families through emergency, legal assistance (ICLA), literacy and vocational training programs. NRC's emergency program alone has helped 3,251 individuals affected by conflict and natural disasters in Faryab since the start of 2015. As one of the strongest INGOs operating in the region, NRC is committed to continuing its humanitarian support to the most vulnerable in Faryab and throughout Afghanistan.