The campaign was launched in Oslo Wednesday, where street artist Martin Whatson graffitied a wall of shoe boxes filled with special edition TOMS shoes that will be sold in stores to raise money for NRC's activities for Syrian refugee children. In addition, 60,000 pairs TOMS shoes will be distributed in refugee camps in Jordan and Iraq as part of the project.
"The money raised in this project will help thousands of children who are affected by our world's worst humanitarian disaster. The needs are huge, all efforts count," said Secretary General Jan Egeland, who also got to try out as a street artist when the campaign launched Wednesday.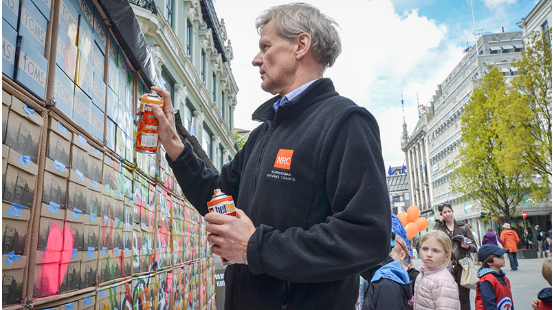 Jan Egeland's debut as a street artist. Photo: NRC /Hanne Eide Andersen.
NRC and TOMS have teamed up with Norwegian street artist Martin Whatson for the campaign. He encourages everyone to find a way they can contribute to helping Syrians in need.
"Like many others, I am also concerned about what is happening in the world today, with millions of people displaced by war and conflict. I understand that not everyone has the opportunity to contribute. But the vast majority can do something, and many can do more than what they are doing today. It will make a big difference if everyone made an extra effort," said Whatson.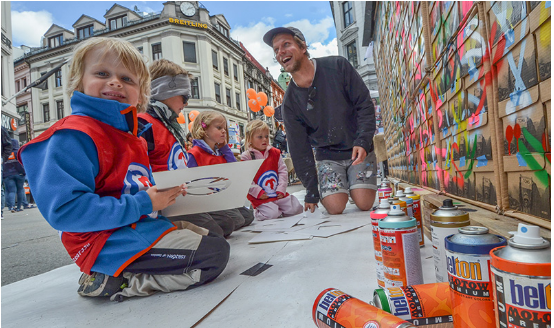 Norwegian children helped street artist Martin Whatson graffiti a wall of shoes boxes when the campaign launched this week. Photo: NRC/Hanne Eide Andersen
Close to four million Syrians have fled to the neighbouring countries, and there is insufficient funding to meet their needs. While the needs have mushroomed, humanitarian funding has not been keeping pace, resulting in less aid for every Syrian civilian in need. One of the consequences of this funding shortage is that many Syrian children are not able to go to school. NRC is working to provide education to Syrian children.
"We are deeply grateful for the commitment and all the work both TOMS and artist Martin Whatson put down to raise funds for our work for Syrian refugee children," said Jan Egeland.
Created art with refugee children
Earlier this spring, Whatson made a trip together with TOMS representatives to Zaatari and Azraq refugee camps in Jordan to meet Syrian children and see how NRC works. NRC runs several school projects for Syrian children and adolescents in the camps. The trip made a strong impression on Whatson.
"It is striking to see how many children live there. Very little happens in the camps, and there is an enormous need for education and other activities," he said.
In the camps Whatson made a series of pictures together with Syrian refugee children. The pictures they made together will be auctioned off, the proceeds going to NRC's educational activities. Drawing also helps the children deal with their trauma.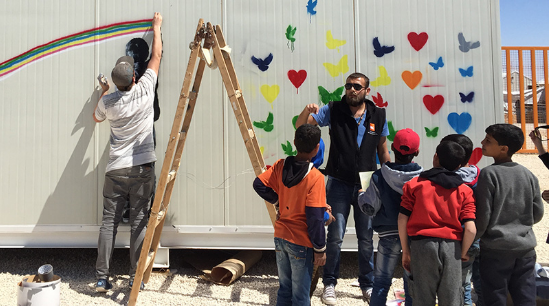 Martin Whatson together with refugee children from Syria in Zaatari refugee camp, Jordan. Photo: NRC /Annicken Saxlund
"Some of the children drew flowers and happy people, others drew very strong scenes they had experienced in the war. They're all different, like us, with a lot of character, even if they find themselves in a similar situation as refugees," said Whatson.
For Martin Whatson it is important that the project involves the refugee children themselves.
"I wanted to do something that doesn't cast refugees in the role of passive recipients, but allow them to actively contribute and use their resources to improve their situation. It feels right that they themselves are involved in the work," he said.
Will provide long-term support for NRC
NRC is TOMS' first shoe giving partner in Norway. On May 28, a limited edition of TOMS shoes, designed by Martin Whatson, will go on sale in Norway. A third of the retail price will go to NRC's work, a total of about NOK 300,000. In addition, TOMS is giving away 50,000 pairs canvas shoes and 10,000 pairs of winter shoes to Syrian children in Jordan and Iraq.
"We want for our cooperation with NRC to provide a long-term support for NRC's work. Syrian children are going to need help for a long time, and so we will also work to give a more reliable sponsorship to NRC activities," said Otto R. Holmen from Why Not, TOMS Norwegian distributor.
About TOMS
TOMS was founded in 2006 by Blake Mycoskie. From its inception, the company has had a One for One philosophy - for each pair of shoes purchased, a pair of shoes is donated to a child in need. Since its inception, TOMS has given away over 35 million pairs of shoes in over 70 different countries.

About Martin
Martin Whatson (b. 1984) is a Norwegian born and based stencil artist. While studying Art and Graphic design at Westerdals School of Communication, Oslo, he discovered stencils and the urban art scene. After following graffiti and its development, he started his own stencil production 10 years ago in the winter of 2004.