Each day, the solar project enables NRC to provide potable water to 16,000 refugees. The water output has made it possible for every targeted beneficiary in Hagadera camp to receive a minimum of 20 litres of water every day, meeting both requirements of the UNHCR and Sphere Minimum Standards in Humanitarian Response.
"We have done a cost-benefit analysis and the results have shown that the new solar-powered water system is more economical and presents a better water supply option in a camp situation like Dadaab", says John Macharia, the Project Coordinator for Water, Sanitation and Hygiene in Dadaab.

The solar project enables NRC to provide potable water to 16,000 refugees every day.
"The diesel-powered solution is energy intensive, cumbersome and expensive. Diesel generators produce noise thus polluting the environment and tend to break down regularly, resulting in high costs of maintenance. We will be able to accumulate a saving of 23,725 US Dollars annually or 65 US Dollars daily".
The solar-powered water project is funded by the European Commission Humanitarian and Civil Protection (ECHO) and the Norwegian Ministry of Foreign Affairs (NMFA), while the solar pumping equipment is from Lorentz, a German-based solar water pumps manufacturer. It has been a big success and has inspired ECHO to continue partnering with NRC in establishing a third project of a similar nature that will further increase access to sufficient and reliable water supply to the refugees in Dadaab. The following stories were narrated by refugees in Hagadera, who are benefiting from the project:

"Water means everything to me"
Amina Aden is a mother of eight and a refugee living in Hagadera's Block B4 in Dadaab: "I first arrived at the camp in 2011 when the water shortage was acute. That has changed, now I am able to receive at least 200 litres of water every day".
She can afford to smile because there is sufficient water supply: "I am able to manage the water in my house, take care of the wellbeing of my family and myself".
"Water means everything to me. It is my number one priority", she says.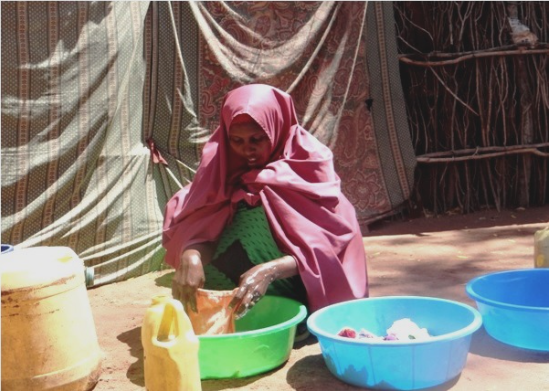 Amina is able to access 200 litres of water per day. Photo: NRC/Kenya
Amina also takes care of her nieces who became orphans following the demise of her sister. This has increased the demand for water in her family. "I can now wash all my clothes including those of my children and my late sister's children every day," she notes. She relates the increase in water supply to the solar-powered water pumping system established in February 2015.

"I have taught my children how to wash their hands"
Another refugee benefiting from the solar water project is Halima Abdi from Hagadera Section B: "My wish has always been to ensure that my children live a healthy life. Previously, that was never the case since the only water available was only enough for drinking and cooking", explains Halima.
"I can now wash the hands of my children, and also teach them how to wash hands by themselves in order to make them safe from diseases like diarrhea".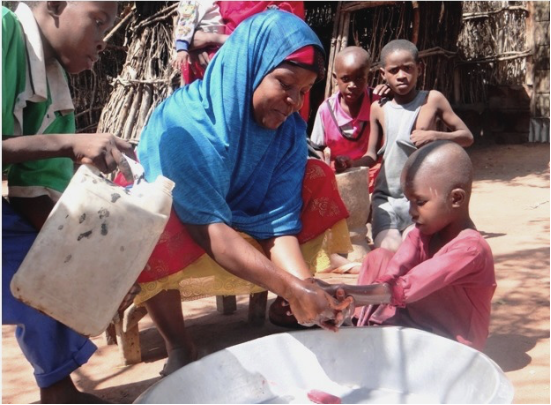 Halima Abdi and her children. Photo: NRC/Kenya
Unlike in the past, refugees are now able to get the minimum quantity of water as required by both the Sphere and UNHCR guidelines. A good example is Amina who receives 200 litres of water for her whole family, which comes down to an average of 25 litres per individual. In addition, the solar project is creating a positive impact on the environment; it is less noisy and produces no smoke since the solar energy is converted into electrical power. This results into less carbon emission and less pollution in the surrounding environment.