Sometime in March this year, Salima left her house in Yemen amidst heavy bombing from the Saudi-led coalition: "I packed a small suitcase and ran away with my husband and five children. From our hometown of Husseyn in the Hadhramaut Governorate, we managed to travel by road to the port of Bab al Manded. There, we bought passage for the whole family to cross over to Obokh in Djibouti on one of the local fishermen's boat", she narrates.
"We initially settled in a local orphanage under construction arranged to welcome refugees. With five four young children and a new-born, I used to spend most of my days indoors, washing clothes and taking care of my family", she explained as her last born son Mohamed slept peacefully in his makeshift crib, a hammock built with materials found at the construction site.
Born in the middle of a tragic war, the baby became a refugee at 14 days old. He looked as perfectly happy and serene as possible, and maybe even more. His mother was very weak and ran a high fever on her arrival in Djibouti, with childbirth amidst an ongoing war and running for her life across a devastated country having taken a heavy toll on her body.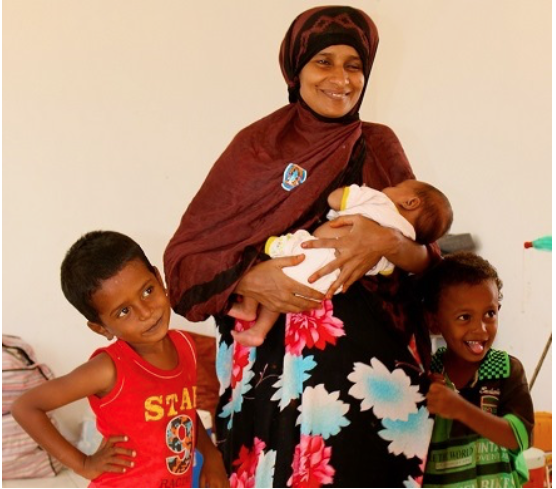 The conflict in Yemen has escalated significantly in the past few months and has resulted in many civilian casualties and new, large-scale displacement of the population. As many as 150,000 persons are internally displaced in Yemen and according to International Organisation for Migration (IOM) and the Djibouti Government 12,989 people displaced by the conflict are now in Djibouti. 5,455 displaced people are Yemenis, of which 1.688 are registered as refugees. Majority of these refugees have been staying in the Markazi camp and the Al-Rahma orphanage in Obock.
Mohammed Ahmed, Salima's husband had relatives in Obock and he often used to leave the orphanage to spend the day with them or other local people. But Salima felt isolated, knowing that her brother had fled Yemen too although she had no way to contact him, and the rest of her family members were still in Yemen: "I don't have my sisters here in Djibouti – I have no one in Djibouti. All my family and loved ones are still in Yemen, and all I want is to return to be together with them again", she says.
Back in Husseyna, Salima was working as a tailor, sewing clothes for children and young girls. "Now I am just waiting for the war to end, but as I watch the news, the situation looks horrific", she says. Looking out the window in the direction of the sea, she longs for her country, 30 nautical miles away across the strait. So close and so far altogether.
But all is not lost. NRC was among the first responders to the influx, moving available emergency stock to Obock. NRC constructed 64 temporary communal latrines creating a ratio of 1 latrine per 4 families. In addition, NRC has been overseeing sanitation and hygiene and is currently in the process of constructing 60 bathing facilities in Markazi.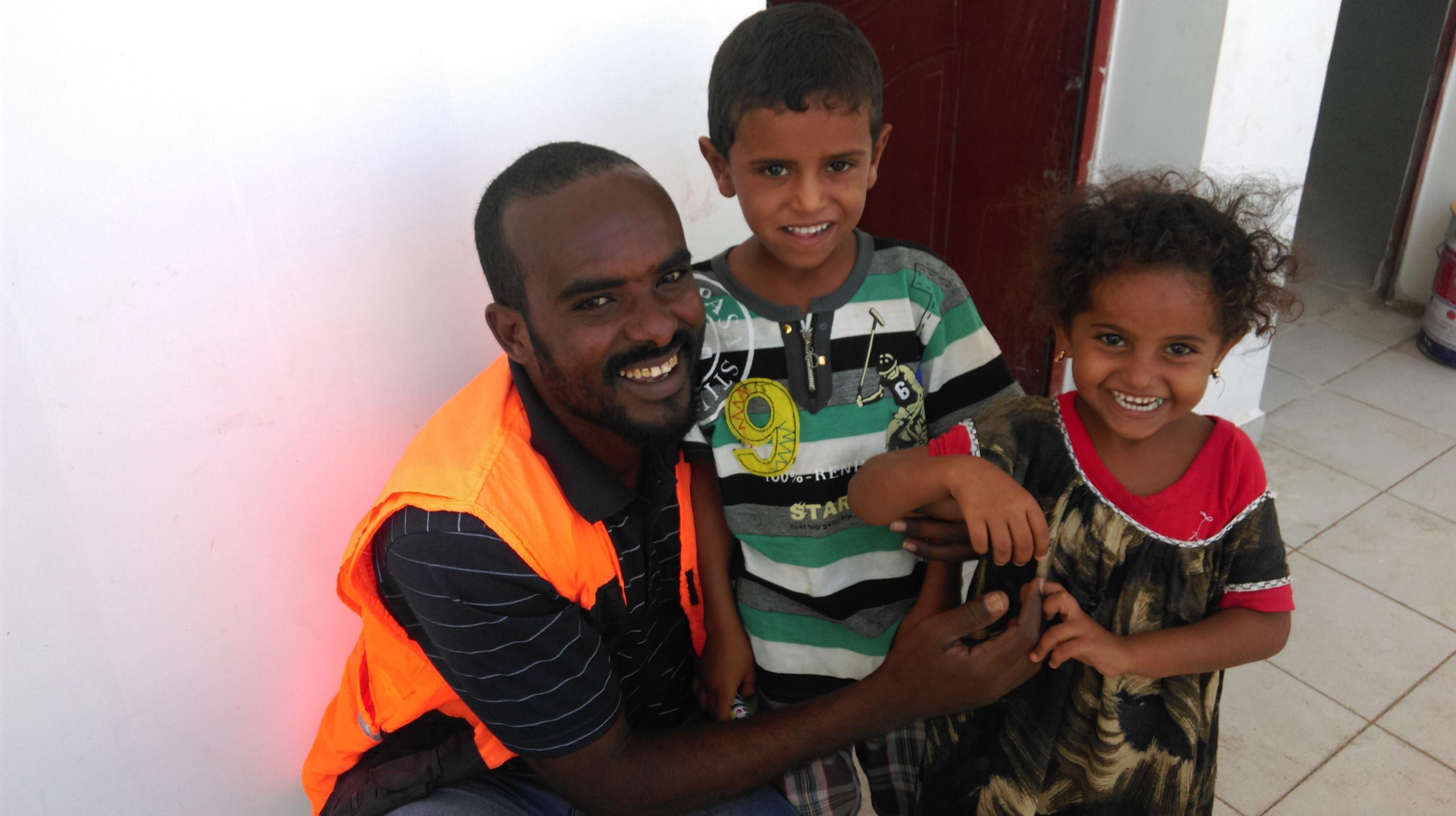 NRC staff share a moment with children at the Al Rahma orphanage in Obock. Photo: NRC/Sofie Liesker
NRC has recommended investing in household Urine Diversion Dry Toilets technology, commonly known as UDDT, an elevated latrine which requires minimum digging into the ground. UDDT is an innovative sanitation technology suitable for locations with high water tables and/or rocky ground conditions.
Another advantage of this type of construction is that it can be emptied, and the solid waste can be used as a soil enhancer for example in reforestation initiatives.
Salima and her family were among refugees who were later transferred to Markazi Camp, on the border of the village of Obock where NRC has started building 150 upgradable transitional shelters thanks to a funding from the Swedish Government.
Starting from a basic temporary structure of wood and plastic sheets, the households will be able to start improving their shelter as soon as they move in as they will be given the materials to build a cement floor. If they are still here after two months, they will receive the blocks to build the walls and so on. This process allows the refugees to upgrade their temporary tents to a semi-permanent home in six months that local people can take over when the refugees leave the area.