Children make up 52 percent of the 59.5 million people displaced by war today, according to the new Global Trends Report from UNHCR, which was launched earlier this week.


"We are failing"
«Millions of children are attacked, displaced and let down by the international community. We are failing in protecting them from violence and abuse, and we do not provide them with the assistance they need to cope in some of the world's most hazardous conflict areas», says Secretary General Jan Egeland, urging for humanitarian access to reach more and increased support to scale up humanitarian operations targeting displaced children.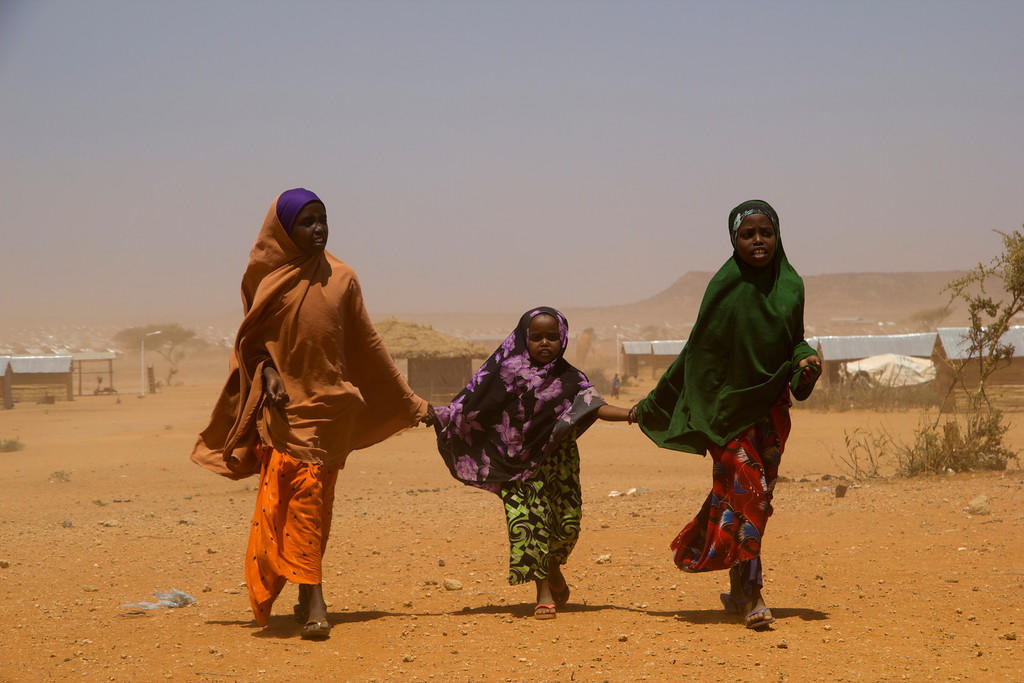 The cousins Hawa (11), Nadifa (11) and Nadifa's younger sister, Hamdi are refugees from Somalia, living in Kobe camp in Dolo Ado, Ethiopia since 2011. Photo: NRC/Ingrid Prestetun


From Chad to Nepal
The fear and sadness in the eyes of the boy holding in his weapon in Chad. The comradeship among the Maoist child soldiers in Nepal, the emptiness in the eyes of the 6-year old girl with burns on half of her small body after an air strike on her home in Herat, Afghanistan. The two siblings standing alone outside their family hut by the border between Liberia and Sierra Leone, in need of physical contact more than the toys they had been given.
Stener Vogt has met all of them. Seconded by NRC´s emergency roster NORCAP, Vogt has been working with children in conflict areas all over the world, such as Iraq, Afghanistan, Rwanda, Chad, Nepal and Liberia. In Norway he is head of department in the social welfare authorities for children in Bærum municipality, providing services and care for young, unaccompanied refugee children.
Although being one of NORCAP's most experienced experts in protection of children in emergencies, meeting the children behind the statistics never stops to make a deep impression on him.
«I do not think there is any child in any emergency that I have meet, that has not affected me, some way or other», he says.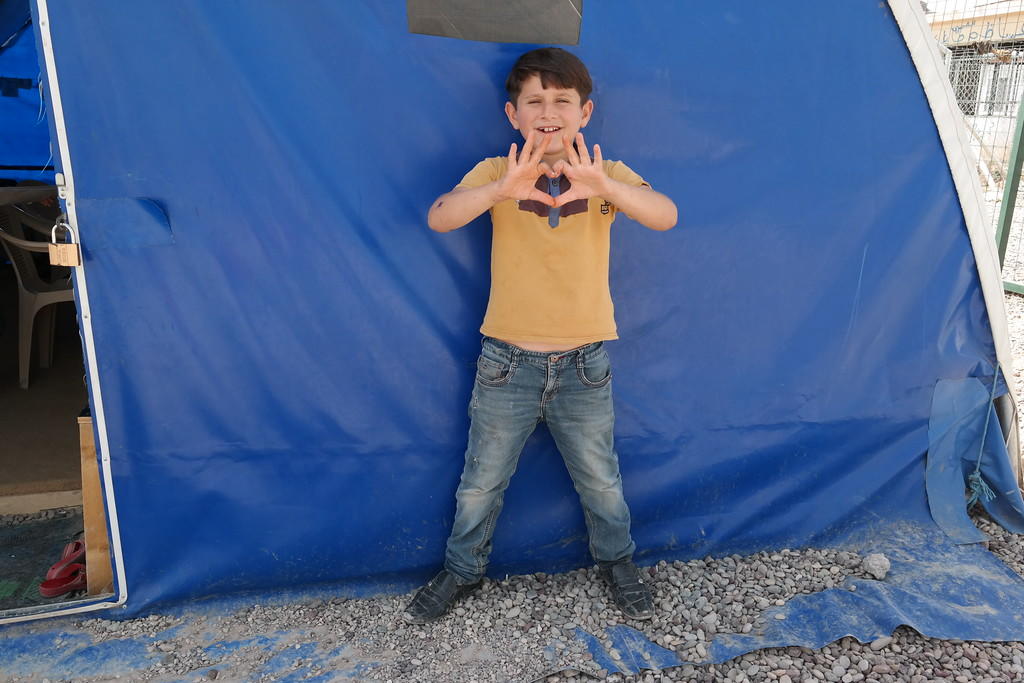 Abdul Latif attend NRC's school support centre in Harshm camp for internally displaced in Erbil, Northern Iraq. Abdul used to attend 6th grade in school back home in Sinjar where he comes from. His mother tells that her son is traumatised from the scenes he witnessed when fighting broke out in Sinjar and they were forced to flee. Photo: NRC/Becky Bakr Abdulla


Ticks and body pains
Everywhere Vogt observes the same psychosocial reactions in children who have been exposed to war and displacement. Physical reactions like ticks and body pains are common.
«Changes in their thinking - like not understanding or trusting the world, changes in emotions, like becoming happier or more aggressive without reason, and changes in behaviour, like becoming more passive or active, are also common», he says, pointing out that children's reactions will vary according to their individual experiences.
«Separation from family, severity of experience and past experiences are all matters that will affect their ability to cope with the circumstances,» said Vogt.
Nearly all displaced children show some changes in emotions, behaviour, thoughts and social relations in the short term. «Mild or moderate mental health problems will always increase slightly after an emergency. These reactions are normal, and with access to basic services, support and security most of children will regain normal function,» he says.
Sadly, millions of children in conflict areas are denied access to such support. In large-scale humanitarian crises such as Syria, Iraq, Afghanistan, Central African Republic and South-Sudan, lack of funding and security hampers the efforts to provide the necessary help to children as well as other people in need.


Missing out on schooling
Children in conflict areas also miss out on education, being overrepresented among the children who are not attending school in the world today. A new report from UNESCO shows that children in conflict areas make up 36 percent of all those 58 million children who are out of school in the world today. This is up from 30 percent in 2000.
"The international community made the promise that by 2015, all children should have their right to education fulfilled. Instead millions of girls and boys are still out of school, many living in conflict areas. The international community has failed our most vulnerable children", says NRC's education advisor Silje Skeie.
«This is not only against our most basic values of compassion and solidarity. It is also dangerous for ourselves and for our children's safety because it will lead to a more unstable world, says Secretary General, Jan Egeland.
"When children lose their faith in a better future, we are all getting more vulnerable. The consequences of abandoning millions of young people in despair will haunt us for generations".
---
World Refugee Day Special:

The children behind the statistics

30 million children. Each and every one with their own unique story about how war and displacement has affected their young lives. NRC gives humanitarian assistance to children in more than 20 conflict zones all over the world. Here you can learn more about some of them. The pictures with children sleeping is part of a ongoing documentary project.


Iraq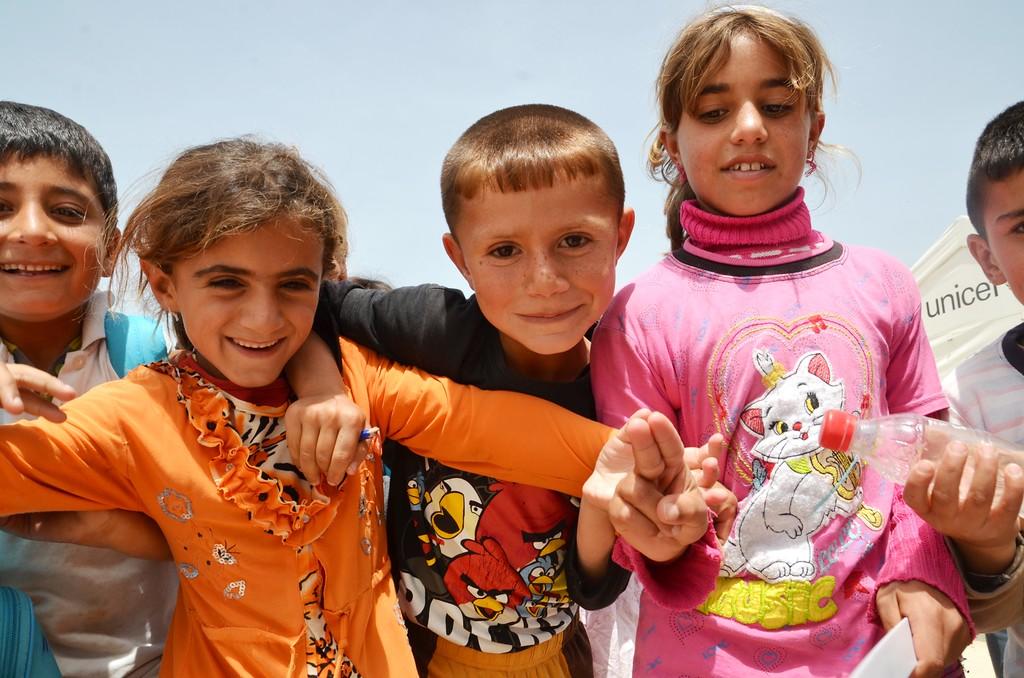 Internally displaced children, Bajet kandala camp, Dohuk in Northern Iraq. In the KRI, the IDP population reached over 1 million people in December 2014, of which 47,300 IDPs are children under 5 years old and 274,000 are under 18 years old, very few of them have access to education. In Iraq 75% of all IDP children (487,500) are out of school and not attending formal education.
Central African Republic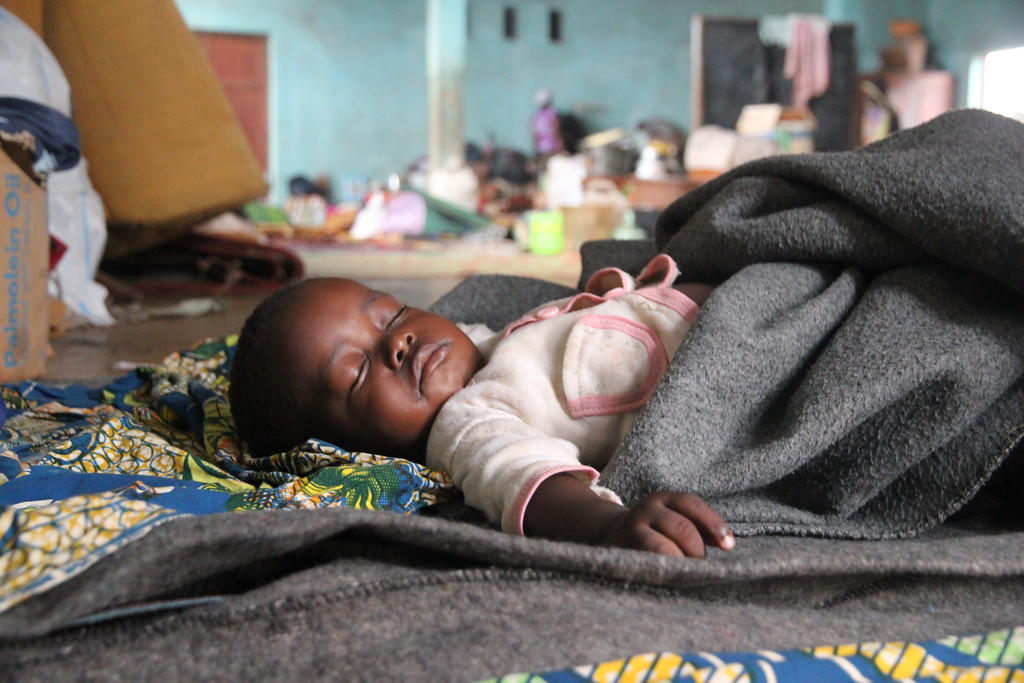 Aboubakar is 1 year and 5 months old and one of thousands of internally displaced children in the district of Carnot. He has been living with his mother Asmaou in the local, Catholic Church area since they had to flee their home town due to escalation in violence five months ago. Photo: NRC/Ingrid Prestetun
Afghanistan
Children at a community based school run by the NRC in the Behsud District of Nangarhar province, just outside the provincial capital, Jalalabad In Afghanistan. The majority are from families originally from Kunar province but due to ongoing conflict there are unable to return. Photo: Andrew Quilty for NRC.
Ethiopia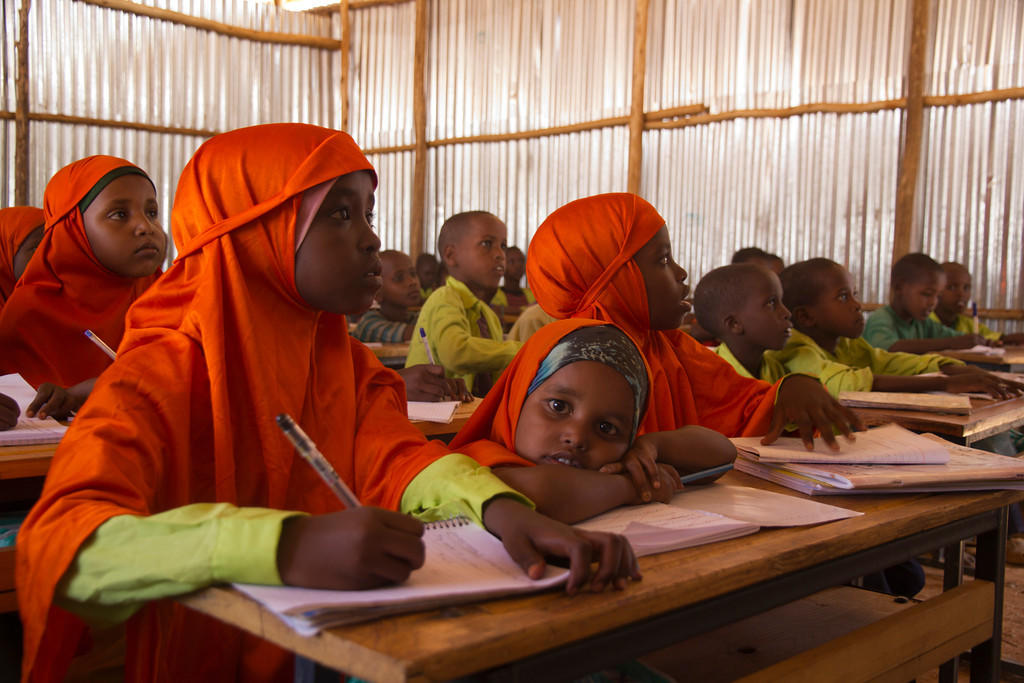 The cousins Hawa (11), Nadifa (11) and Nadifa's younger sister, Hamdi, at school in Kobe camp in Dolo Ado. Hawa recalls when she fled with her family to Ethiopia in 2011. "We walked for three days. I feared for my life since there were armed groups and wild animals on the way. I saw dead bodies lying on the ground and injured people crying for help. I gave them water. Civil war, famine and hunger forced us to flee. My brother, Mohamed was shot. We saw him die in our arms. The war split our family. I miss my siblings in Somalia. I miss my friends too, I don't know whether they are dead or alive. I hope to become a doctor one day.'' Photo: NRC/Ingrid Prestetun.
DR Congo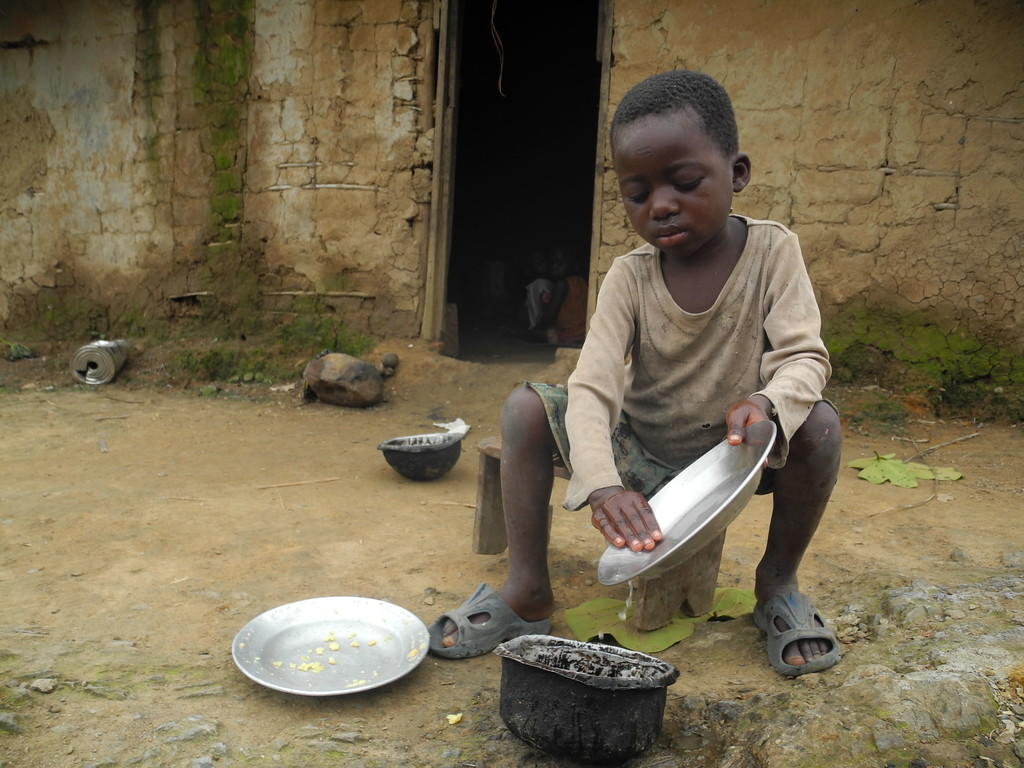 7-years old Judith Kisuba is one out of hundreds of thousands of children who have been repeatedly internally displaced in DR Congo over the past decade. Judith experienced displacement for the first time in her life in November 2012 when internal conflicts turned into violence. Their village was attacked a number of times. After that they have been forced to flee several times, never being able to return to their own house. Photo: NRC/Odette Asha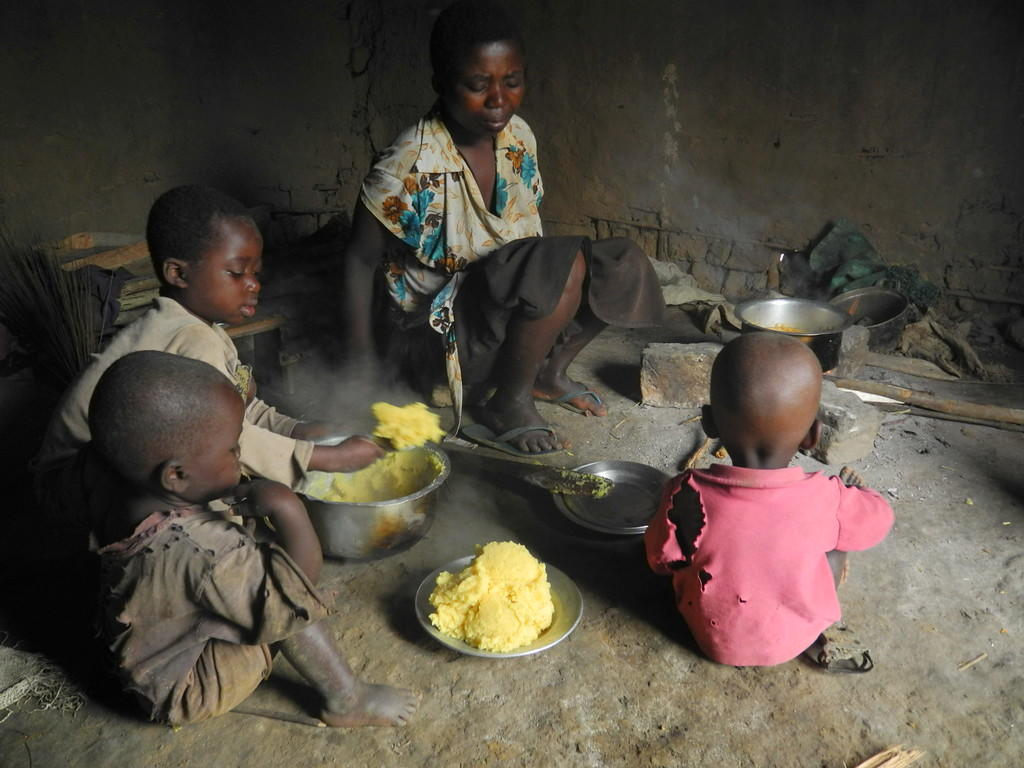 Judith, her siblings and their mother. The little family are striving to keep themselves safe and alive from day to day. Their father disappeared during a period with intense fighting in the surrounding areas. Only a week ago they lost a brother who died from malnutrition.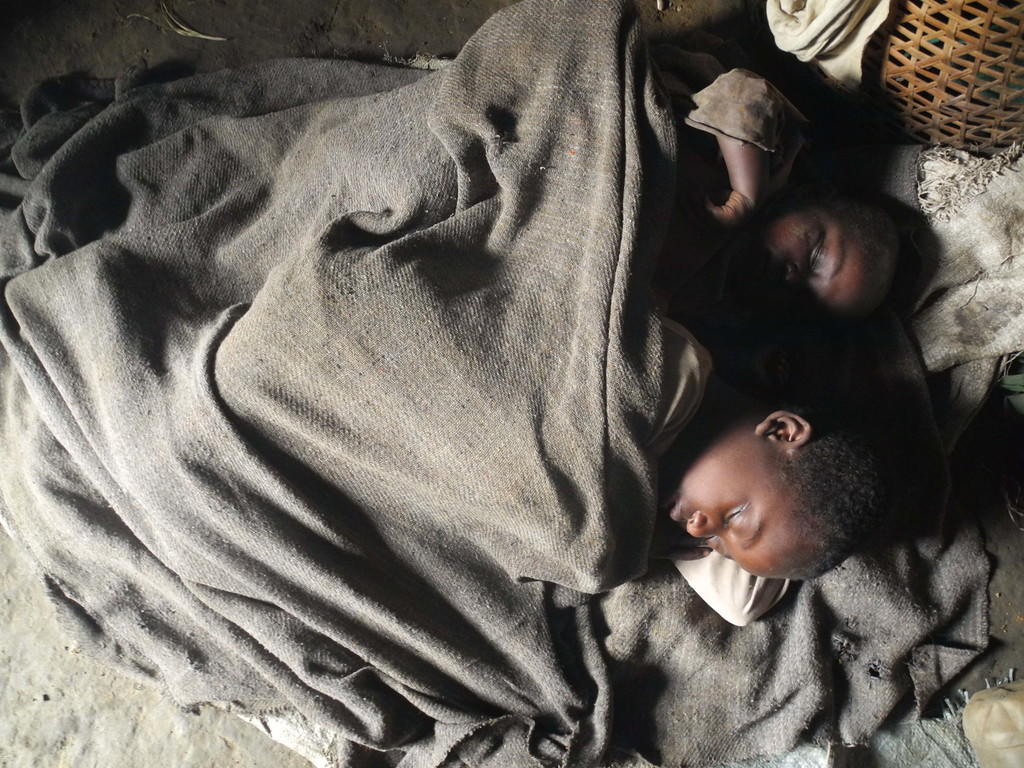 Once a day full of work has come to an end. Judith sleeps together with her younger sister Hekima (5) «I do not know what happened to my father and no one wants to talk about him. Not even my mother. I hope that I will get the opportunity to go back to school one day. I want to become a nutritionist to prevent other children from dying of malnutrition" said Judith. Photo: NRC/Odette Asha
Ukraine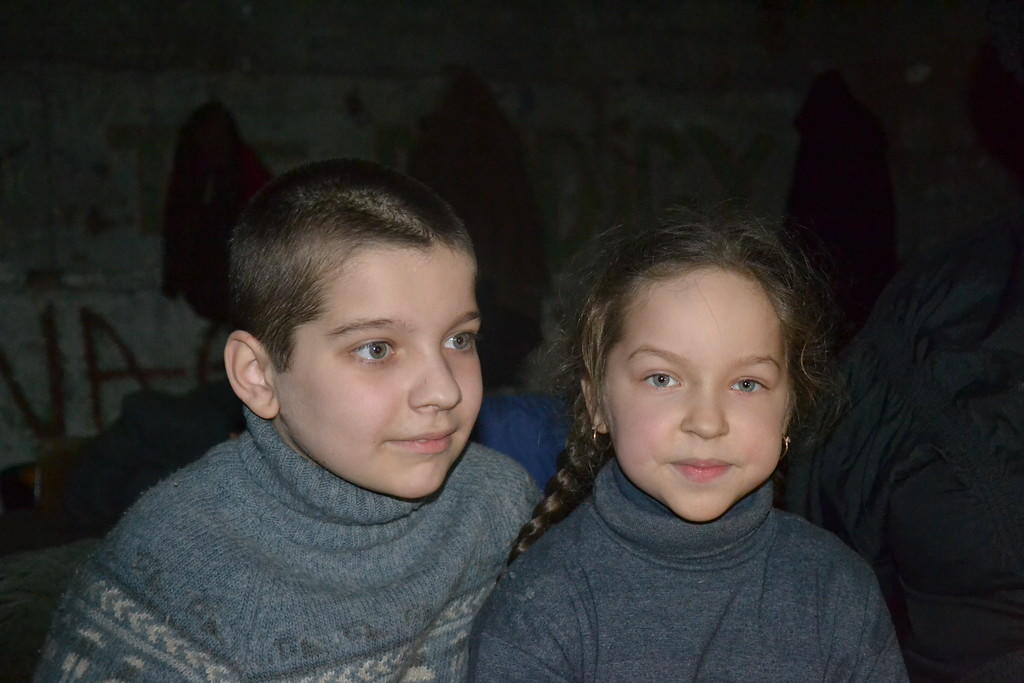 Alyosha (10) and his sister Sasha (6) have taken shelter with their family in a basement in the town of Novotoshkovka in Eastern Ukraine. NRC's monitoring centre for internally displacement, IDMC, estimates that there are at least 1,332,600 are internally displaced in Ukraine as of May 2015. Photo: NRC/Ane Høyem
Colombia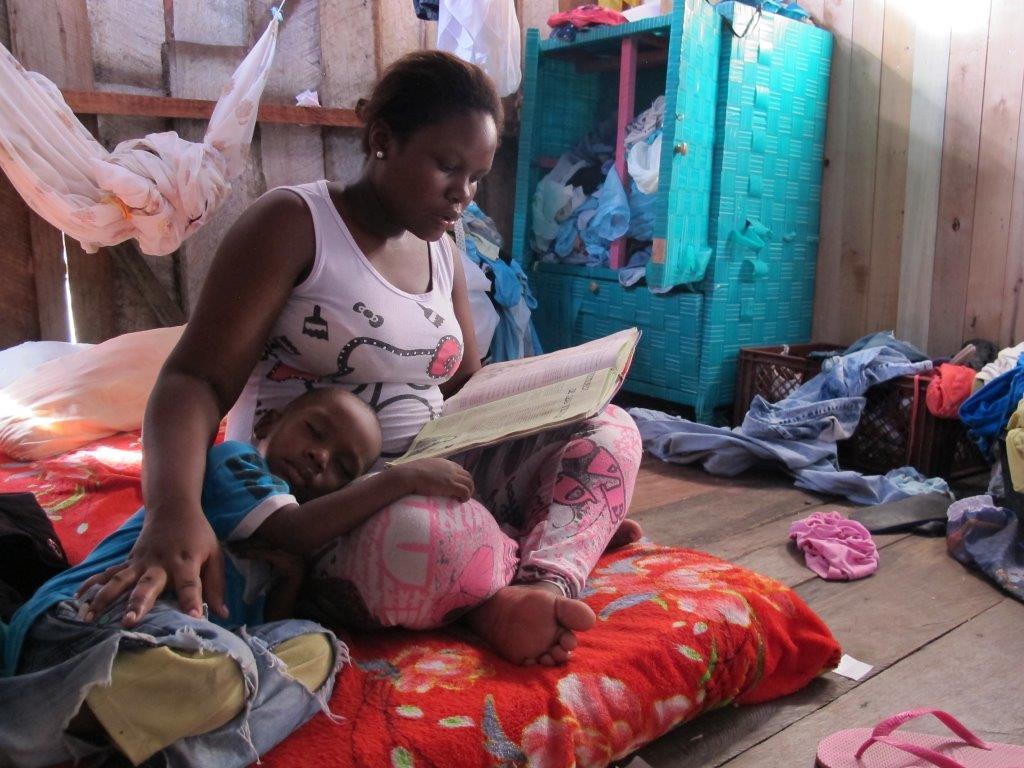 Soft-spoken and with strong legs from the long periods of time he spends playing football, Alex Biojo runs as he was born for it. When the 4-year-old finally stops, he lays down next to his mother Janeth and falls asleep while she studies. The little family has fled their home after a massacre nearby in the Nariño Department-Colombia. Photo: NRC Colombia
Palestine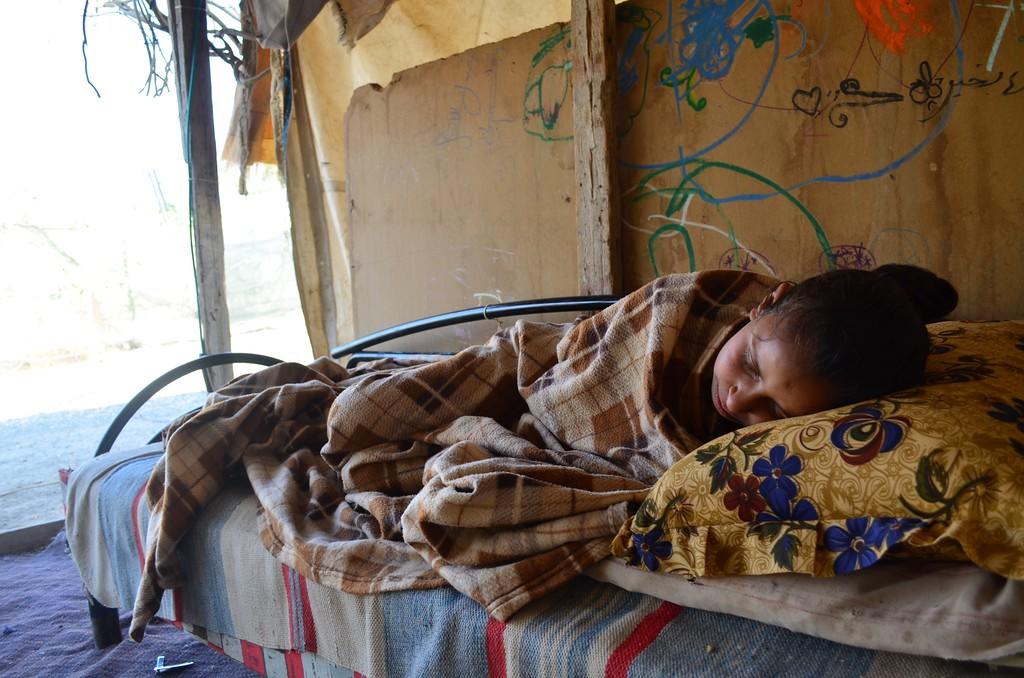 Iman is a 10 years old Bedouin girl living in a Bedouin partial outdoor structure near Jerusalem. She lives with her family who are Palestinian refugees from 1948. In the summer she likes to sleep in the outdoor part of their house, and when it's cold she sleeps inside. " When I go to bed, I can't fall asleep immediately, so my oldest sister tells me a lot of stories. My favourite story is "Joha", a classic Arabic folktales character, known for his wit, humour and wisdom. The tales trace back to the 9th century. "I love sleeping outdoors, and talk to my sister until we fall asleep." Photo: NRC/Sahar Issawi
Côte d'Ivoire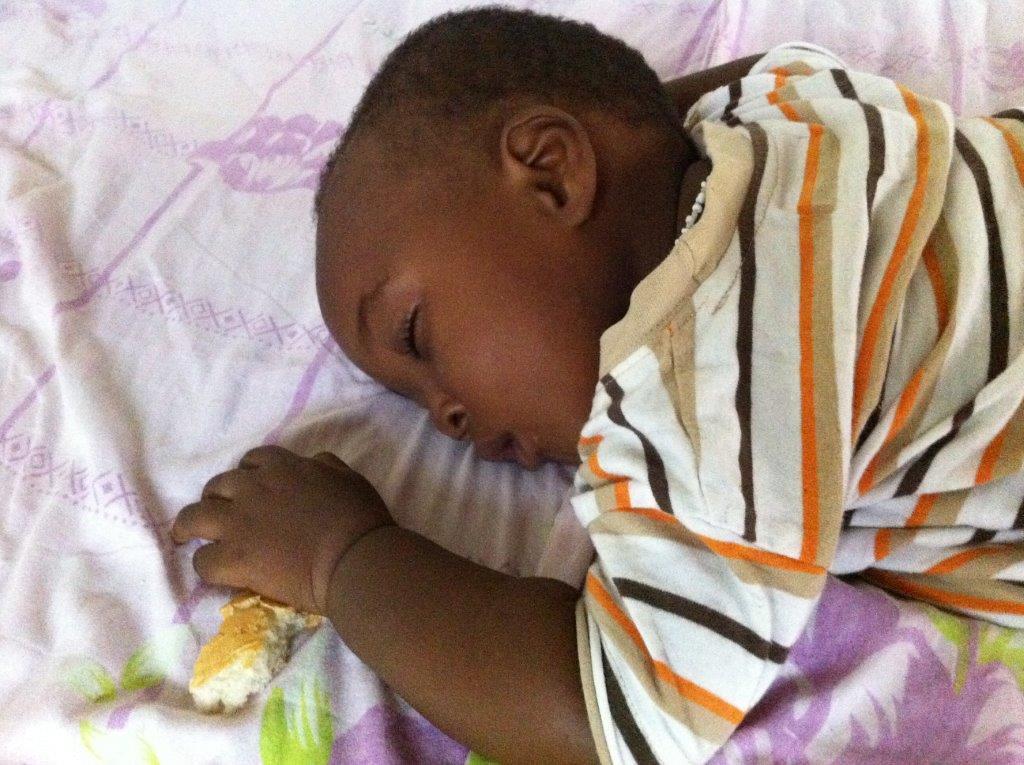 Prince Armand was born 11 months ago. "His birth was very difficult for me, I had to be transferred to a better equipped hospital, located more than 80 kilometers of my residence where I gave birth to my child that after a coma of 2 days. " Damy Nadia, a 17-years old returnee. Photo: NRC Côte d'Ivoire