In February, The Norwegian Refugee Council opened a photo exhibition in Lebanon titled "I am here and I exist," a display of powerfully emotional portraits of refugees from Syria and their children born in Lebanon. The photographs offer a glimpse into the importance of birth registration, a process that ensures a child's key right to legal identity, but which has been particularly difficult for many refugees in Lebanon to accomplish.
Currently, close to 1.2 million Syrians are registered as refugees in Lebanon, and the real number of people who have sought refuge in Lebanon due to the conflict in Syria is significantly higher. For their children born in Lebanon, access to legal identity remains an ongoing challenge due to limited legal status, lack of necessary documentation, limited financial resources or inadequate information about the process. When a child's birth goes unregistered, it makes it more difficult to access basic services and to avoid the threat of statelessness, setting a child up for a life of structural social marginalization and lost human potential.
NRC assists parents who have fled the conflict in Syria to register the births of their babies who are born in Lebanon through awareness-raising, legal information and legal counselling.
"Every month, the NRC team meets hundreds of refugee families who have recently or will soon become parents. Being displaced in a country that is not home, they are often worried about how to pay for healthcare or rent for their homes and, understandably, do not always prioritise birth registration," says Dalia Aranki, advisor for the Information, Counceling and Legal Assistance Programme.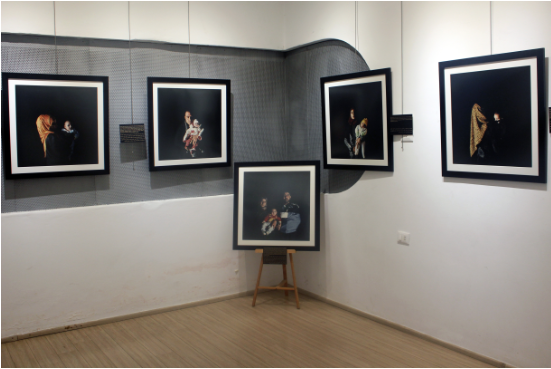 "The team is able to assist families with registering the births of their babies in Lebanon and, at least get a birth certificate to provide the baby with a legal identity which will be essential for the rest of their lives. The exhibition is a chance to visualise and understand the stories of refugees who, despite the challenges they may face, continue to plan and hope for the furture for their children".
The exhibition "I am here and I exist" opened at Dar al-Mussawir in Beirut on February 9 by NRC Lebanon Country Director Niamh Murnaghan, to the accompaniment of traditional music, played by Syrian oud-player Samer Abou El Nour. It was attended by UNHCR, donors, non-profit organisations, aid workers, journalists, and photography enthusiasts.
Now the exhibition will be touring the field offices.
The photographs were shot in north Lebanon and the Bekaa Valley by acclaimed documentary photographer Felipe Jácome, whose work has focused on issues of human mobility and human rights.
Read report: The challenges of birth registration in Lebanon for refugees from Syria