Somalia
Total # of refugees from the country:
1,072,777
Total # of refugees to the country:
24,368
Total # of internally displaced:
1,107,000
New refugees from the country in 2016:
27,417
New refugees to the country in 2016:
3,444
New internally displaced in 2016:
112,000
Source: UN Refugee Agency (UNHCR) and Internal Displacement Monitoring Centre (IDMC). The figures are from the beginning of 2017.
Facts
In 2016 NRC reached
306,740
Individuals, with education, food security, shelter, ICLA and WASH.
Humanitarian and political background
Nearly five million people are in need of life-saving humanitarian assistance and livelihoods support in Somalia. The humanitarian situation in Somalia is rapidly deteriorating and renewed famine is a strong possibility in 2017, with a larger percentage of population at risk compared to the famine in 2011 that led to the death of nearly 250,000. Those most in need are found in the southern and central parts of the country.
The displacement crisis persists, with 1.1 million people internally displaced within the country. Drought induced displacement is on the rise. Since November 2016 over 683,000 people have been displaced. Meanwhile, a growing number of Somali refugees are beginning to spontaneously return to Somalia from other countries in the region.
NRC has been in Somalia since 2004.
Extreme drought and insecurity
Conflict, access constraints, long-term displacement, and recurring natural disasters have all afflicted Somalia. They strain agricultural production, and disrupt markets and trade.
Drought continues to devastate communities in Puntland and Somaliland and parts of South Central region. This has negatively impacted lives and livelihoods further deteriorating the precarious humanitarian situation.
Nearly 385,000 people in Puntland and Somaliland face acute food insecurity while an estimated 1.3 million people are at risk of slipping into acute food insecurity if they do not receive assistance. Overall, 5 million Somalis (more than 40 per cent of the country's population) do not have sufficient food.
More than 300,000 children under 5 years old are acutely malnourished of whom 56,000 are severely malnourished and in need of medical treatment and therapeutic food.
Lack of basic services
Access to public services remains poor for a large part of Somalia's population. Only half of the population have access to safe drinking water and just 37 per cent have access to sanitation facilities.
These poor conditions lead to outbreaks of waterborne disease, and continue to drive up rates of malnutrition. Nearly two million children are out of school. Most of them are internally displaced. In displacement settlements, gender-based violence against children and women is widespread.
Conflict and instability
Violence continues to plague much of the country. Many internally displaced Somalis are forced to flee again because of military operations, clan-related conflicts, roadside and improvised explosive attacks, suicide bombings and crossfire incidents.
The violence is likely to force more people to flee in the future, and to impede the humanitarian agencies trying to reach them.
People we helped in Somalia in 2016
73,257
people benefited from our education programme
78,113
people benefited from our food security programme
17,481
people benefited from our shelter programme
22,038
people benefited from our ICLA programme
115,458
people benefited from our WASH programme
NRC in Somalia
Through our Somalia programme, we provide a combination of short, medium and long-term responses. We provide lifesaving assistance, build resilience and create opportunities that support durable solutions.
We meet the needs of communities affected by displacement, saving lives and helping them rebuild their futures.
NRC's country office is in Mogadishu. We have sub-offices in Dollow, Dhobley, Baidoa, Mogadishu, Kismayu, Hargeisa, Erigavo, Bossaso, Galkayo and Garowe.
We deliver emergency assistance to Somalis who have recently been forcibly displaced. To those in protracted displacement situations, we provide long-term support – particularly in the settlements of internally displaced people (IDPs) in Puntland and Somaliland.

Education
I look forward to a new beginning and hope to make the best use of my hairdressing skills here in Mogadishu.
Maryan Mukhtar (18), a Somali returnee in Mogadishu and graduate of NRC hairdressing course in Kenya's Dadaab refugee camp.
We want all displaced Somali children and youth, and including the communities that host them, to go to school.
Our education teams:
Find out-of-school children and help them with catch-up classes, to ensure their transition into the formal school system.

Engage with young people through our youth education programme, which helps young adults find opportunities to create their own businesses and cooperatives.

Conduct trainings for teachers.

Construct and rehabilitate classrooms, in coordination with our shelter teams.
Food security
The state of food security in Somalia remains poor. Climate, conflict and the struggling economy continue to compromise people's ability to produce and buy food. The Food and Agriculture Organization of the UN warns of an imminent food security crisis.
Against this background, our food security teams:
Make cash transfers to families so they can purchase food and household goods.

Raise awareness of and give trainings on good nutrition practices.

Give support to farm and non-farm based livelihoods with capacity building on alternative livelihood opportunities.

Support communities' environmental conservation.
Shelter
We provide temporary, semi-permanent and permanent shelters to internally displaced people in Somalia. Our shelter projects provide housing to Somalis in Puntland, Somaliland and South Central.
Our shelter teams:
Construct temporary, transitional and permanent shelters, depending on the displacement situation.

Construct community latrines and water storage tanks, in coordination with our WASH experts.

Distribute emergency household kits, including solar lamps.

Construct and rehabilitate classrooms, in coordination with our education teams.
Information, counselling and legal assistance (ICLA)
As displaced Somalis have limited prospects to exercise their rights, they struggle to attain the basic resources they need to build a livelihood. Limited access to land and insecurity of tenure still undermine the chances of finding long-term solutions.
Our ICLA experts:
Maintain a Protection and Return Monitoring Network in partnership with UNHCR, which allows us to monitor the concerns of moving populations. We then work to raise awareness for the rights of the displaced among local authorities and communities.

Provide information and legal counselling on housing, land and property rights (HLP) for displaced Somalis and Somali refugees who have returned to the country.

Maintain an emergency hotline and call centre to provide immediate legal advice.

Assist displaced Somalis with secure land tenure.
Water, sanitation and hygiene (WASH)
A lack of clean water and proper sanitation poses a great challenge to displaced communities in Somalia. Through our WASH programme, we ensure that people affected by displacement have improved access to safe water and that they are aware of common public health risks.
Our WASH teams:
Build household and community latrines, in coordination with our shelter experts.

Install and rehabilitate water systems.

Promote sanitation and hygiene in settlements.

Guide communities to adopt measures that prevent the deterioration of hygienic conditions.

Train communities on how to use and maintain WASH facilities and waste management.
BRCiS Consortium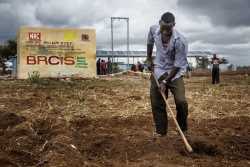 BRCiS is a humanitarian Consortium that takes a holistic approach to supporting Somali communities in developing their capacity to resist and absorb minor shocks without undermining their ability to move out of poverty. Read more at www.nrc.no/brcis
Budget 2016
230 million NOK
Field offices
Mogadishu, Dollow, Dhobley, Baidoa, Hargeisa, Burao, Erigavo, Bossaso, Galkaiyo, Garowe
Budget 2015
223 million NOK
Resources

FACT SHEETS:
NEWSLETTERS: