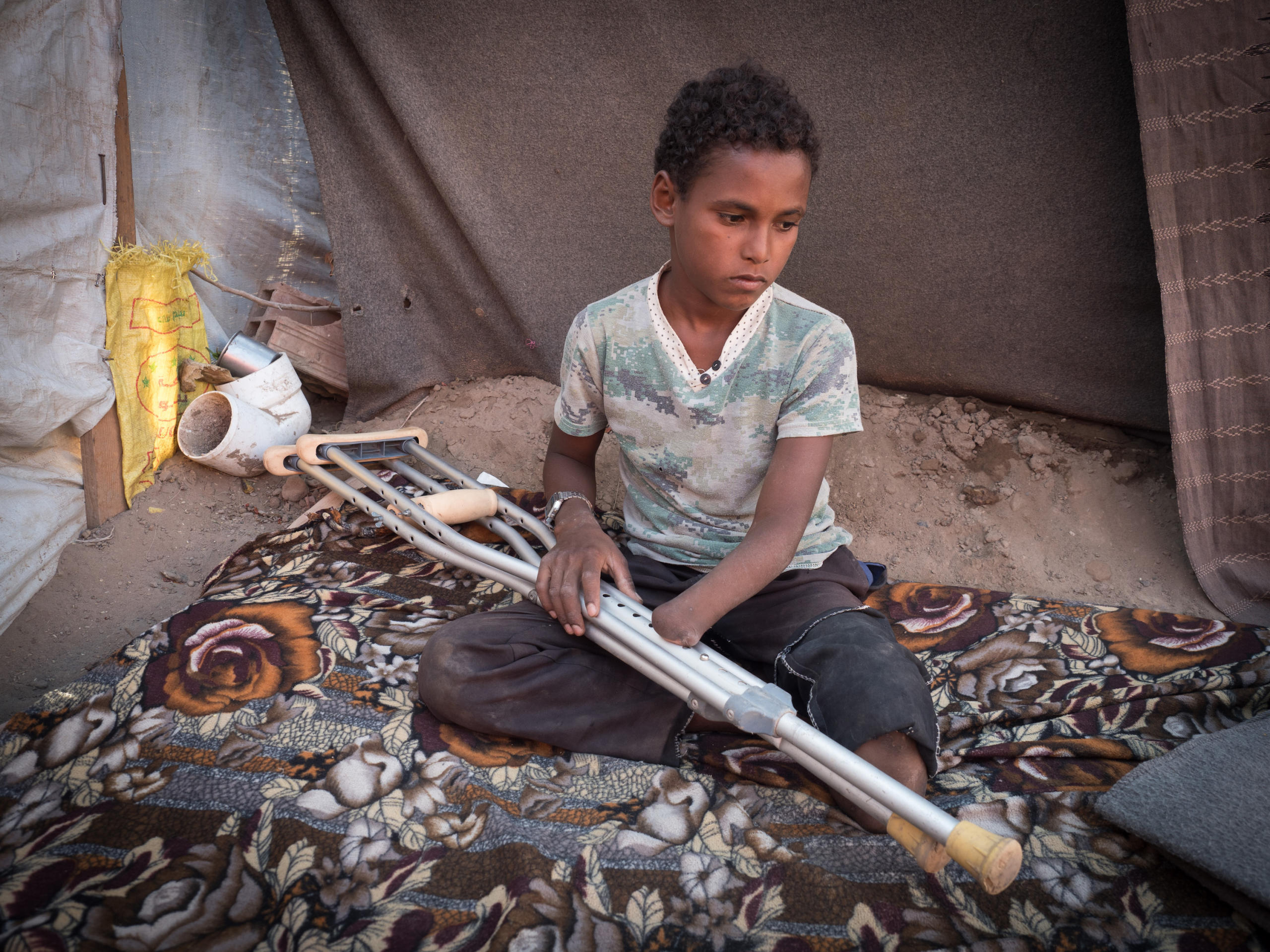 The heat is scorching. It's only February, but the temperature is getting close to 30 degrees, and the sun is roasting through the thick layer of sand that has settled in the air.
This war is so unfair. People die. Mothers and fathers die.
Salah, 13
"My dream is to become a doctor so I can treat people in need," he says. "But I'll need a car, because I get very tired from walking."
Salah needs crutches to get around, which is extremely exhausting in the heat. Soon, it will get even warmer.


One day, he and two of his cousins were out herding sheep in the valley. One of the girls found an unexploded shell. They started playing with it. Salah kicked it. Then, everything went black.
"I didn't know it would explode," he says.
Salah injured his stomach, and had to have his hand and a leg amputated. One of the girls injured her hand. The other died.


After a month, he was released from the hospital. That day, he decided to leave the city, together with his older sister and her husband. His parents didn't want to leave their house. They stayed behind.
"I want to go back home, but there are still unexploded bombs and shells there, and I can't move freely. One of them might explode on me again."


It's been one and a half years since Salah, his sister and his brother-in-law arrived in Al-Mishqafa displacement camp. Salah lives in a small tent next to his sister's. It was important to Salah that his sister and her husband could have their privacy, so when the Norwegian Refugee Council (NRC) built a new tent for the family in November, he made his own small home underneath a piece of tarpaulin.


In the camp, we've built tents and latrines for hundreds of families. But the conditions in the camp remain harsh: It's cramped, and there is no sound proofing between the tents. The heat is almost unbearable, it's windy, and the air is sandy. There are insects, snakes and scorpions.
The people in the camp lack many things: "We need more food, water, blankets, mattresses and better tents. This war is so unfair. People die. Mothers and fathers die," Salah says.


"I want to live like other children. It's difficult for me to play. I just want to play like the other children."
The longing in his voice is clear when he talks about all the things he won't ever be able to do again.
Some of the things Salah misses the most is playing football – and riding his bicycle.