Ukraine
Living on the frontline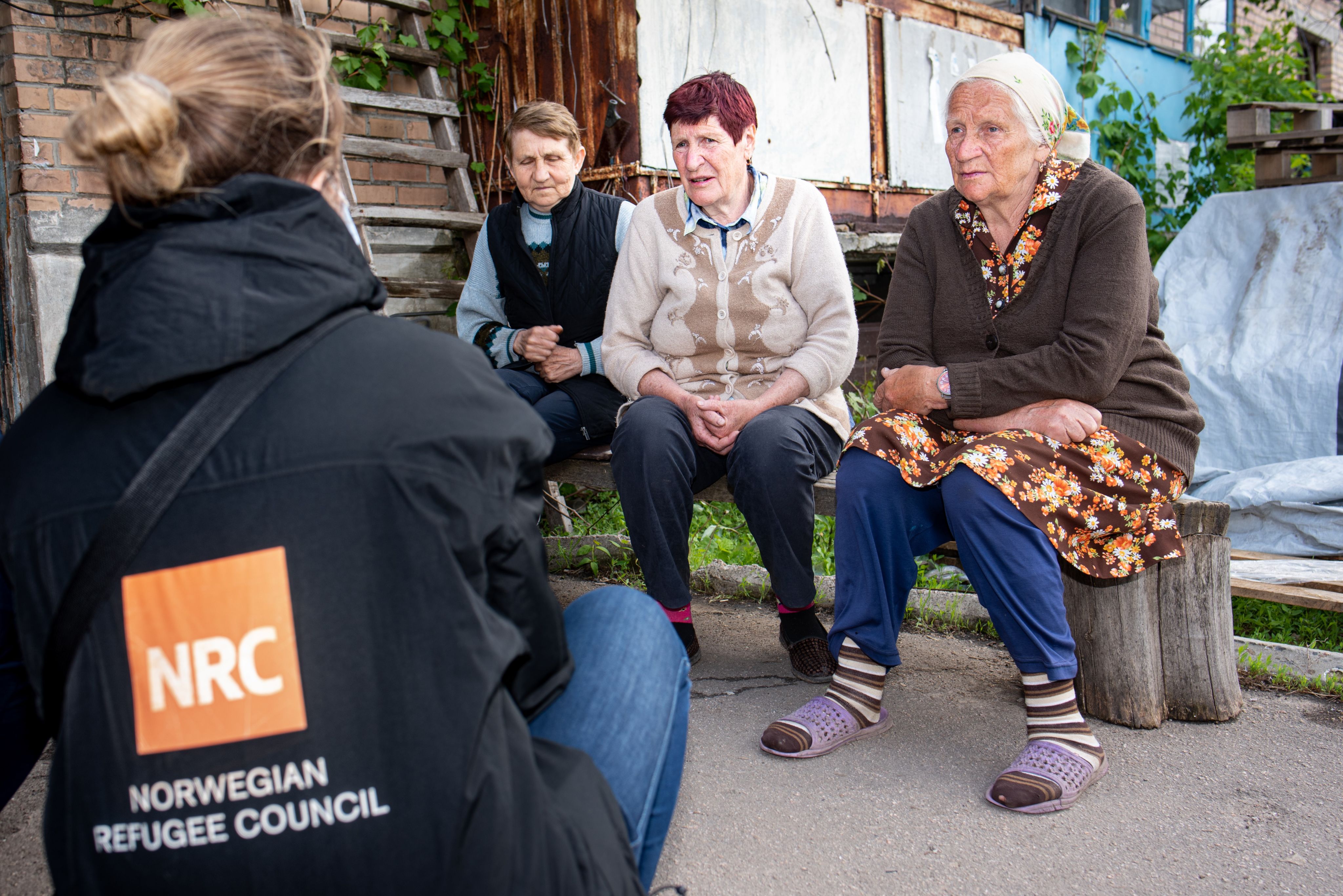 Opytne is a frontline village. Before the war, it was home to 850 people. Now only 37 remain in the few houses that are still standing. Photo: Christian Jepsen/NRC
Regina, 37, and her granddaughter Flavia, 5, with Ezo church in the background.
Opytne is a frontline village. It lies in the government-controlled territory opposite the destroyed Donetsk Airport in eastern Ukraine. Before the conflict, the village was home to 850 people. Now only 37 remain in the few houses that are still standing.
Without transportation and isolated during the winter period, the villagers, mostly older people, have no choice but to live in a constant state of hardship.
The villagers have been living without electricity for seven years. In 2021, the Norwegian Refugee Council (NRC) helped resupply electricity and has previously helped rebuild some of the homes.
3 out of 10
people in need are elderly
Oleksandr shows how his damaged home has deteriorated due to harsh weather conditions and lack of repair. Photo: Christian Jepsen/NRC
Oleksandr shows how his damaged home has deteriorated due to harsh weather conditions and lack of repair. Photo: Christian Jepsen/NRC
Ukraine is known as the "oldest" humanitarian crisis in the world, as about three out of ten people in need here are elderly.
Oleksandr Nikonorov, 63, lives with his wife in Opytne. His home was severely damaged during the hostilities.
"Well, at the moment, we live in the basement. The house, like me, has been here since 1958, that is, 63 years old," says Oleksandr.
He cannot repair his house due to the costly delivery of materials, ongoing conflict and absence of builders in the village.
The civilian death toll resulting from Ukraine conflict has topped 3,000, with over 7,000 people injured since 2014. Over 50,000 houses have been damaged or destroyed.
The frontline
A 427-kilometre-long "contact line" separates government-controlled areas from non-government-controlled areas.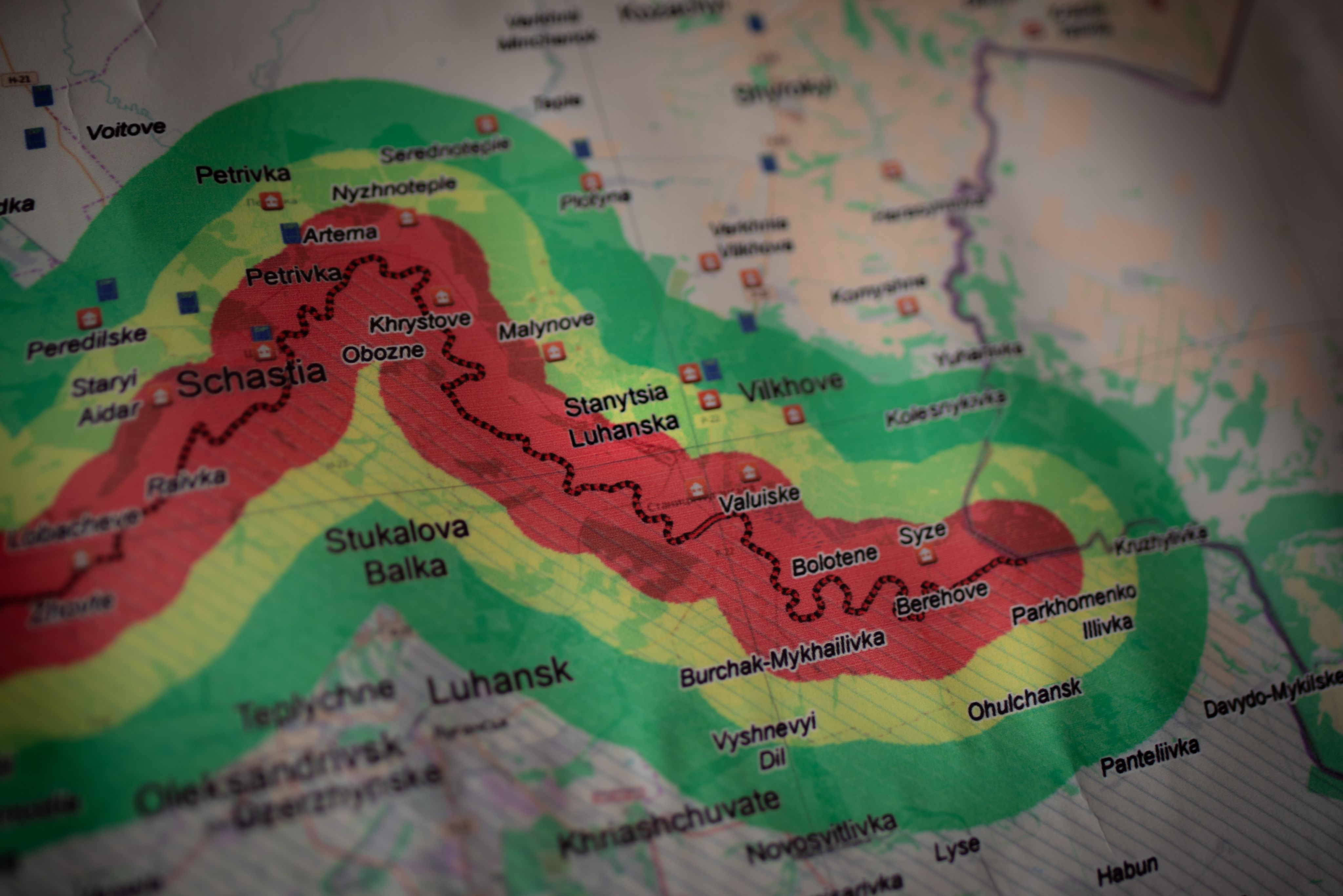 Eastern Ukraine is divided by a 427-kilometre-long front line with seven crossing points. Photo: Christian Jepsen/NRC
Eastern Ukraine is divided by a 427-kilometre-long front line with seven crossing points. Photo: Christian Jepsen/NRC
The "contact line"
Eastern Ukraine is divided by a 427-kilometre-long "contact line" separating government-controlled areas from non-government-controlled areas. The line has seven crossing points, but since March 2020, movement across the line has been significantly restricted. The number of crossings has decreased by over 90 per cent, from over 1.2 million per month before the Covid-19 pandemic to fewer than 100,000 per month today.
Natalia met with Jan Egeland, Secretary General of NRC, on his visit to Ukraine in February 2022. Photo: Tiril Skarstein/NRC
Natalia is volunteering as a paralegal with NRC. She helps displaced and conflict-affected people in the city of Krasnohorivka to access their pensions and other social benefits.
"For more than two years I have not been able to cross the contact line to see my daughter and grandchild in the non-government-controlled area," she says. "Many people who had jobs at the other side have lost their jobs, because they cannot cross," she adds.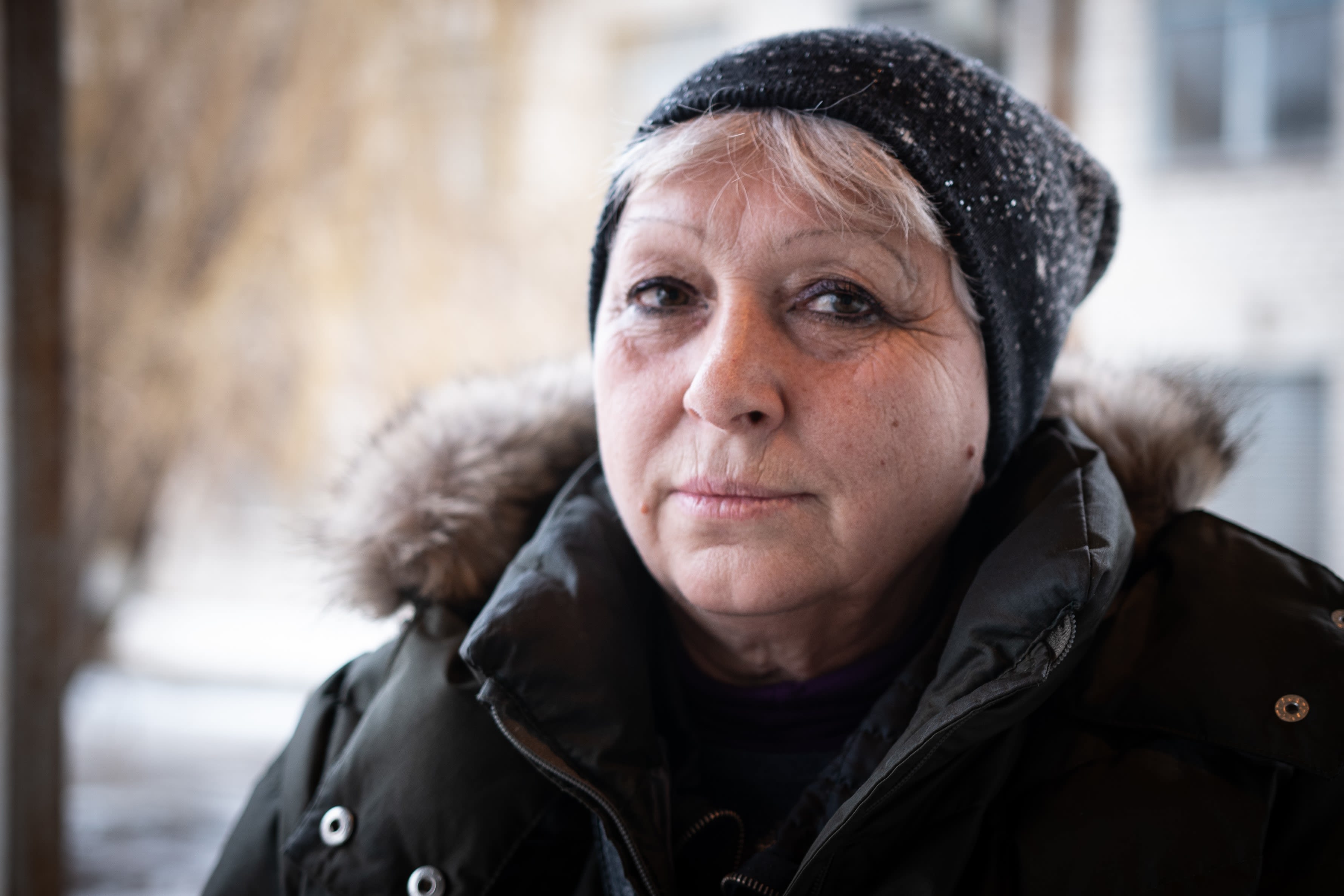 Iryna's home in Krasnohorivka was destroyed by shelling in 2016. Photo: Tiril Skarstein/NRC
"People are scared"
The home of Iryna, 59, in Krasnohorivka was destroyed by shelling in 2016. She is now renting a place while applying for compensation and hopes to be able to buy a new home for herself and her daughter.
"Luckily I was at my granddaughter's birthday party and was not at home when the building was hit. When I went back there, the house was burning," she says.
"The ongoing conflict makes life hard. We want it to be over as soon as possible. We are exhausted by years of conflict."
She lives close to the conflict line and explains that she can hear shelling in the distance almost every day. 
"People are scared by the increased tension. We cannot see any escalation, but we hear about it, and it makes us scared," Iryna says.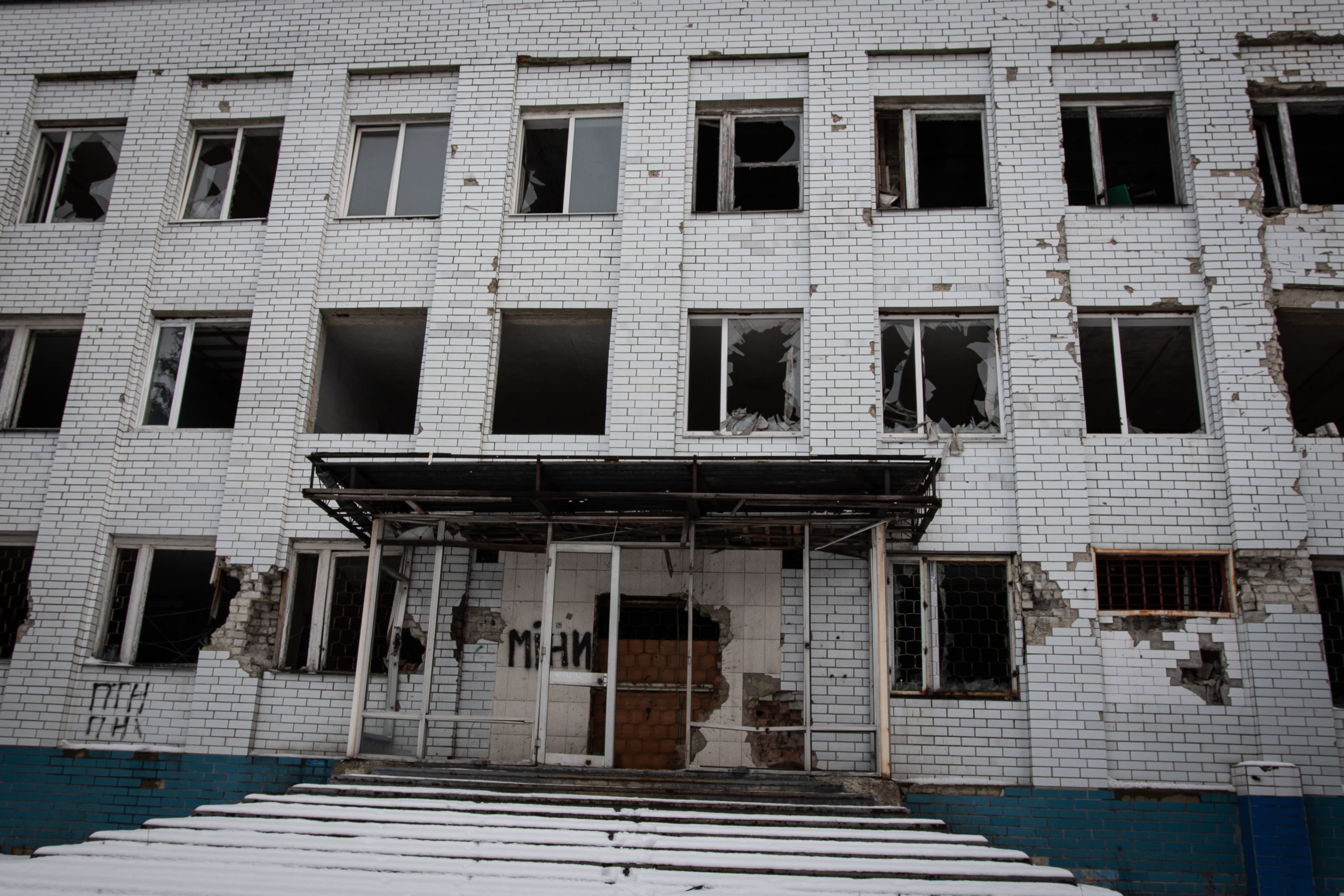 An apartment building in Marinka, eastern Ukraine, that has been destroyed during the conflict. Photo: Tiril Skarstein/NRC
"We hope for peace"
"I have no interest in politics, but I pray for peace and for all those children here who are already deprived of their rights and the elderly who are already struggling to survive," she continues. 
"We hope for peace. If there is no conflict, young people will be able to stay and get job opportunities and settle down with their families here."
Up to two million people living in a 20-kilometre zone on both sides of the contact line in eastern Ukraine would be under increased threat of violence and displacement if the conflict escalates.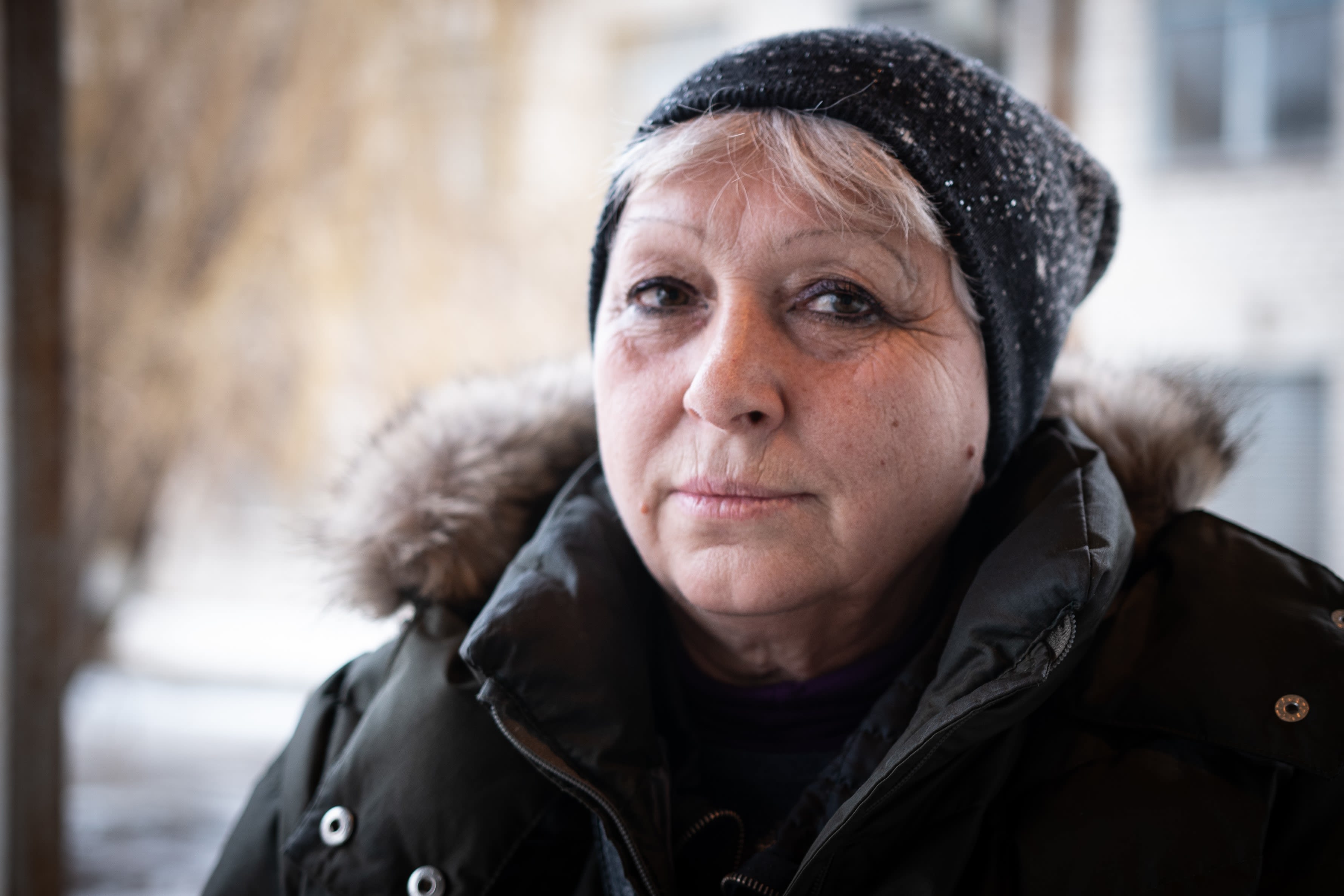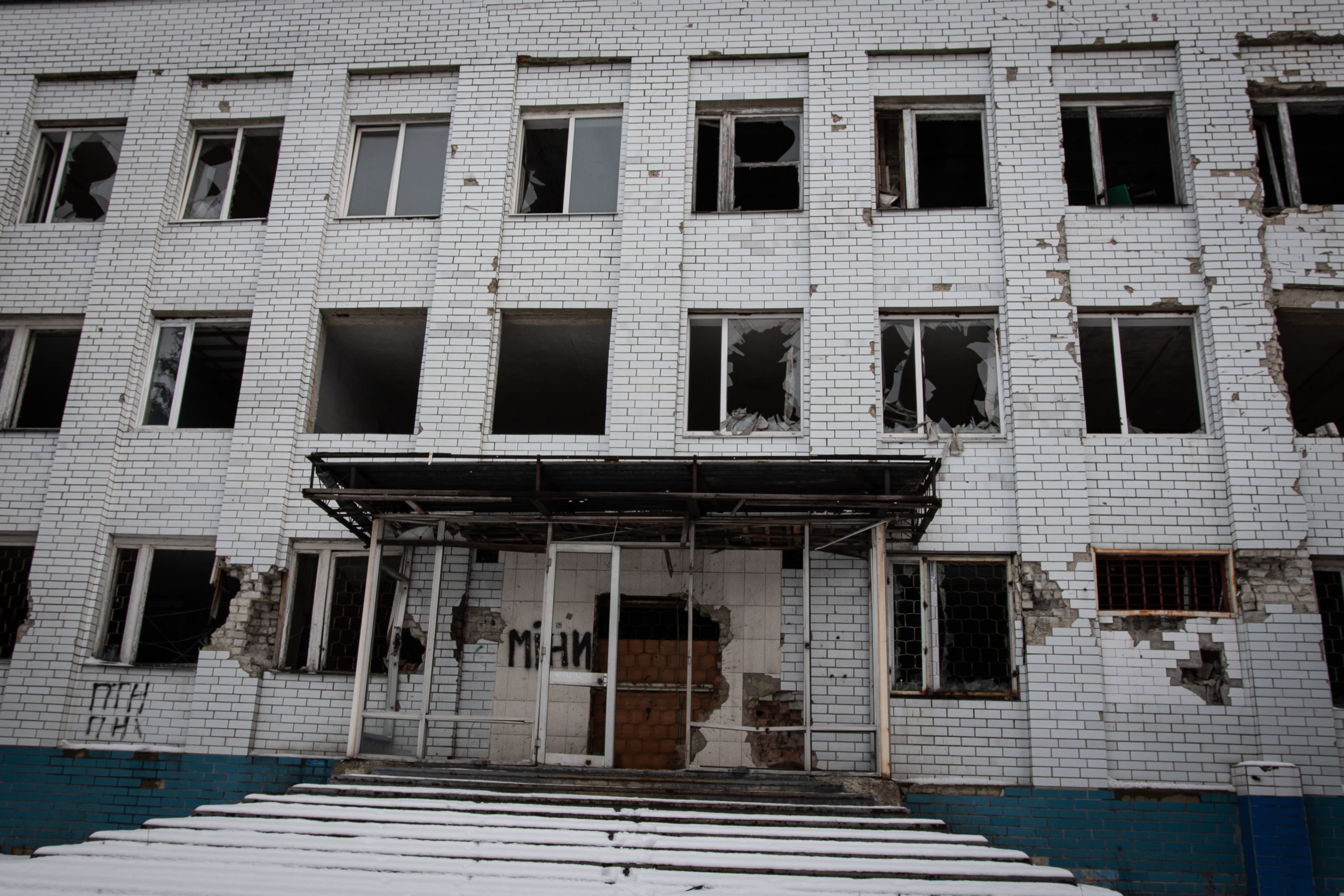 Humanitarian overview
The armed conflict in eastern Ukraine, which began in 2014, has remained unresolved despite diplomatic efforts and numerous ceasefire agreements.
Some 5.2 million people have been affected by the conflict.
About 850,000 people are still displaced from their homes.
Over 3,000 civilians have been killed.
Eastern Ukraine is one of the most mine-contaminated areas in the world.
Nearly 3 million people living on both sides of the contact line need humanitarian assistance.
---
Here are 10 things you should know about the crisis in Ukraine.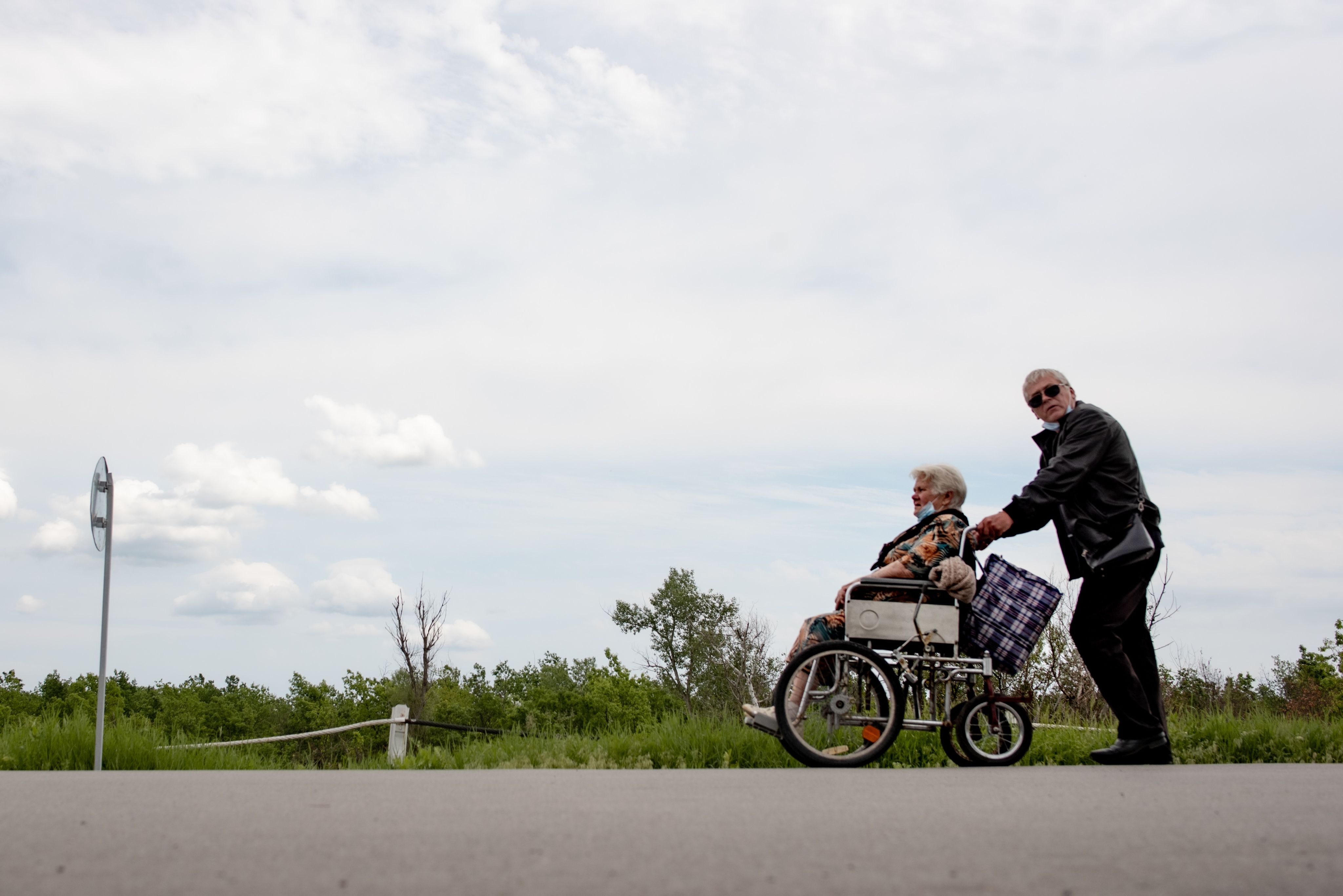 Civilians living along the contact line, which divides the government-controlled areas from the non-government-controlled areas, are considered the most vulnerable.
Here, access to essential services and livelihoods is very limited. Communities often have little or no access to stable electricity and water supply.
Our work
NRC supports communities affected by the conflict in eastern Ukraine.
We focus on the most vulnerable people living in isolated settlements along the contact line, and people who have been forced to flee their homes.
We help people meet their basic needs by providing legal aid services, improving the sanitary conditions of public infrastructure, supporting vulnerable families with essential food items during the winter season, and cash assistance.

Read more about our work in Ukraine here.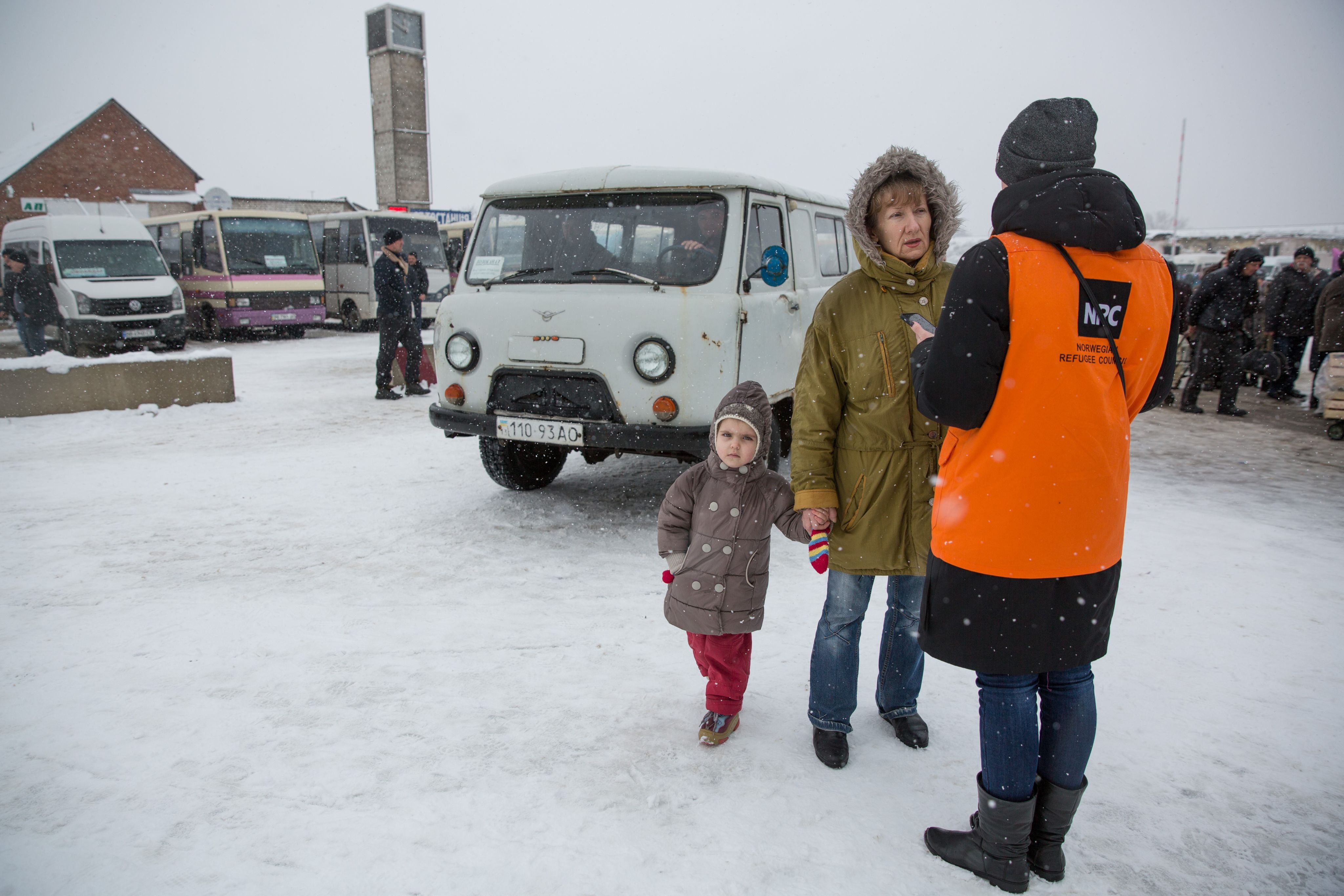 Due to the volatile situation, NRC Ukraine maintains the capacity to react to evolving humanitarian needs rapidly.
At the same time, we work to reduce the risk of long-term displacement, advocate for systemic changes in policies and legislation, and propose approaches that offer lasting solutions for displaced people and their host communities. 
Livelihoods and food security
We work to promote continued access to food for the most vulnerable in eastern Ukraine and contribute to restoring their economic security.
Our objective is to ensure that conflict-affected populations and people living in the isolated communities along the contact line have access to food and are able to revive their agricultural livelihoods to meet their basic needs.
Our team provides cash transfers to conflict-affected families so that they can buy food. We also provide agricultural assistance to restore production capabilities.
We support local government to improve the employability of displaced and other conflict-affected people.
In 2021, NRC Ukraine supported 8,357 individuals to restore their food security and economic security.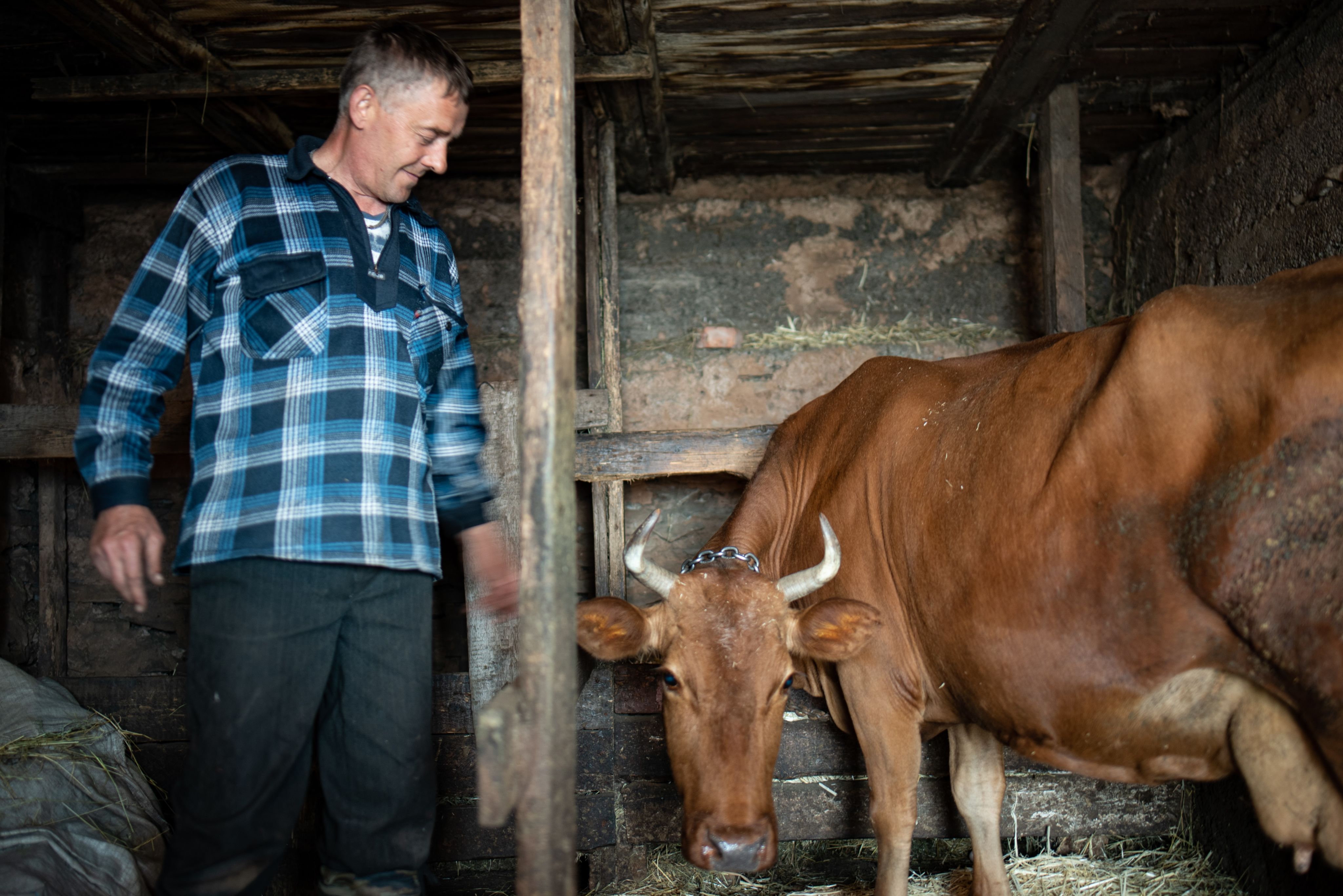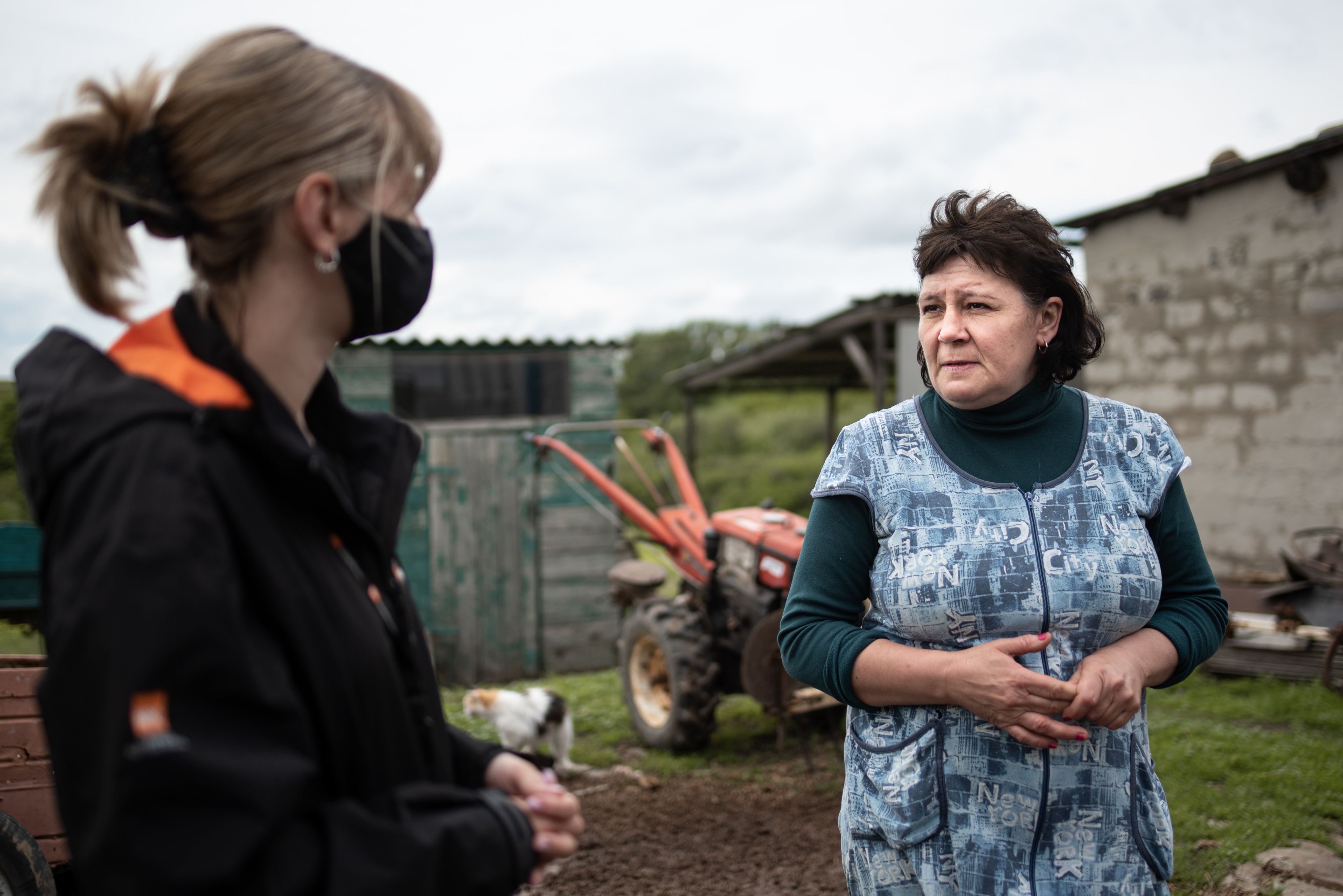 Recovering livelihoods
Viacheslav, 52, lives in the frontline village of Troitske. He and his wife used to work in a local enterprise that was destroyed due to the conflict.
"The war, in general, cut all our hands and feet, one might say. They bombed us here, and we had everything here. And so, we stayed. Now we are slowly trying to survive somehow and start a new life," says Viacheslav.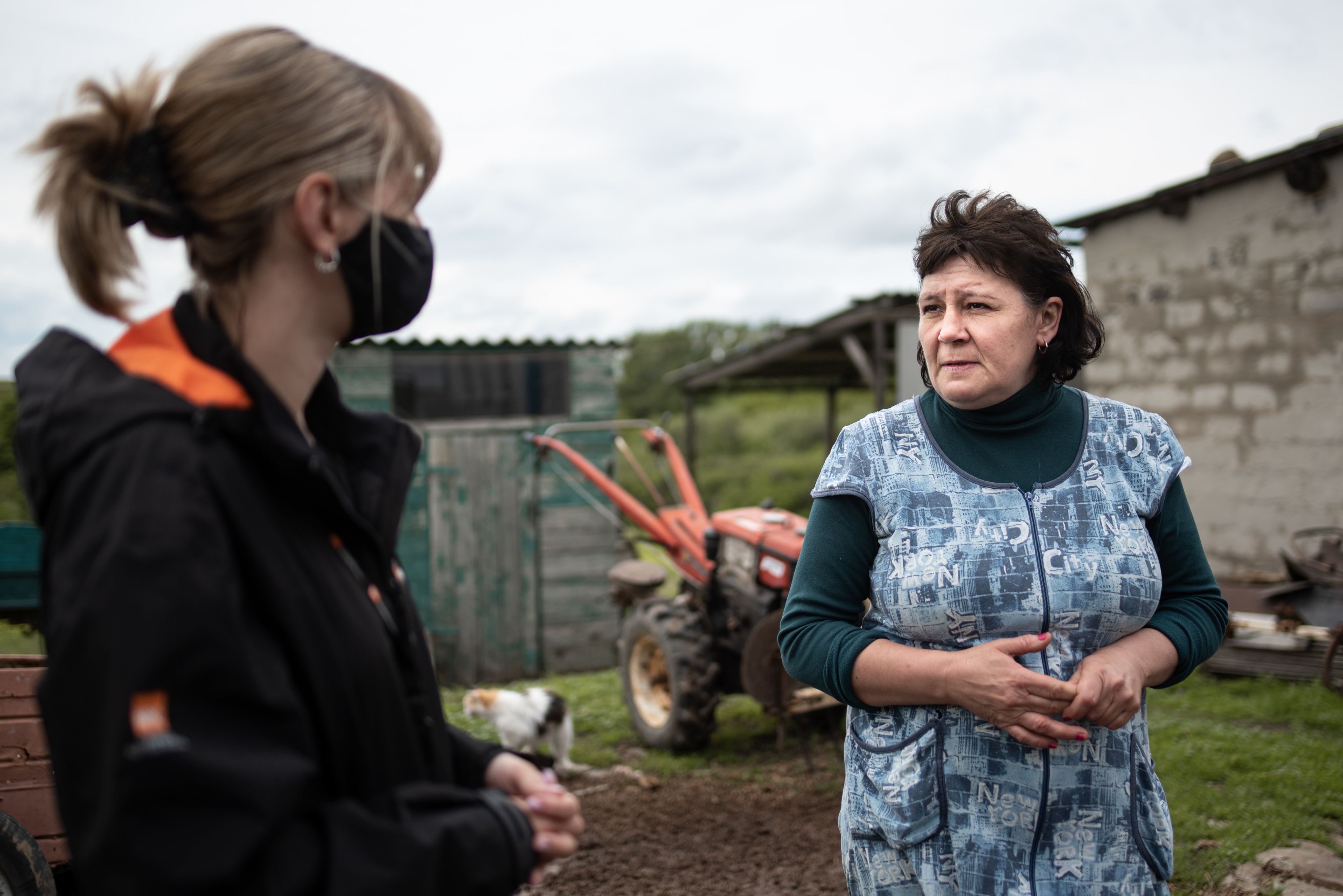 Viacheslav's wife talking to NRC's Svitlana Hlazunova. Photo: Christian Jepsen/NRC
In 2021, Viacheslav received cash assistance from NRC for agricultural material to help him recover his livelihood.
Many people in eastern Ukraine rely on agriculture. Yet, they struggle to recover their livelihoods because of critical damage to the infrastructure. The destroyed roads and poor transportation system prevent people from accessing markets.
Information, counselling and legal assistance
We provide legal aid services to people affected by the conflict.
We work with local partners to help them protect and promote the rights of people affect by the conflict.
We also help to remove the remaining protection and legal barriers preventing displaced people from reintegrating in a sustainable way.
In 2021, NRC assisted 13,984 individuals with its direct legal aid and capacity-building activities.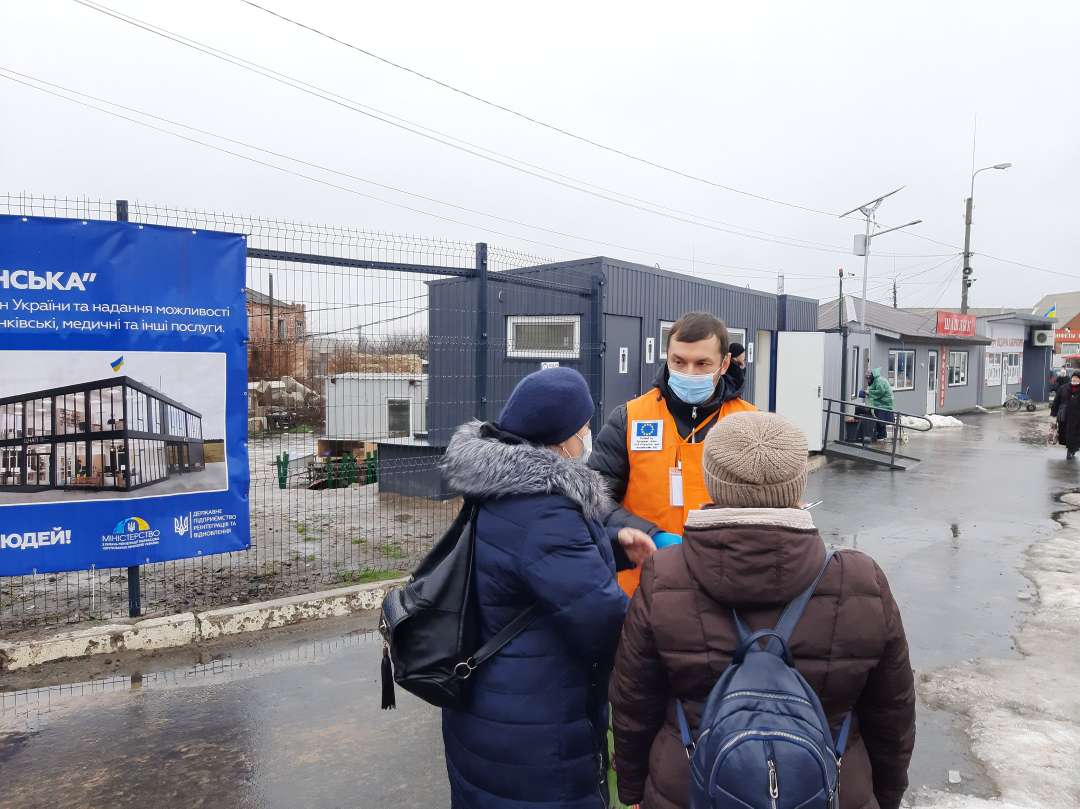 The volunteer paralegals
Since 2020, NRC has been delivering free legal aid services in communities along the contact line, via volunteers called "paralegals". These paralegals provide essential information and counselling for people living in remote and isolated communities.
Svitlana Shavlinska is one of a team of volunteer paralegals in the Luhansk region of eastern Ukraine. Photo: Andrii Turiiev/NRC
Svitlana Shavlinska is one of the volunteer paralegals. "I started providing paralegal services, including Covid-19 awareness-raising sessions, after completing an NRC training course on legal and protection issues. Some topics are very close to me, as a displaced person with similar pressing issues," she says.
Yuliia Tanasova, NRC's paralegal in Troitske. Photo: Christian Jepsen/NRC
Yuliia Tanasova is another paralegal. She lives in the village of Troitske. This is an area with a high number of older people and displaced people.
"As a volunteer, I help the displaced and older people to solve their problems in obtaining subsidies, housing, targeted assistance and pensions."
Volunteering offers local people, like Yuliia, a chance to share their existing expertise and skills to benefit their communities.
Water, sanitation and hygiene
We ensure that vulnerable conflict-affected populations, including displaced people living in hard-to-reach areas and other locations of high need, have access to basic services including water and sanitation.
We also promote increased ownership of local authorities over these services.
In 2021, NRC Ukraine supported 121,064 people with water and sanitation assistance.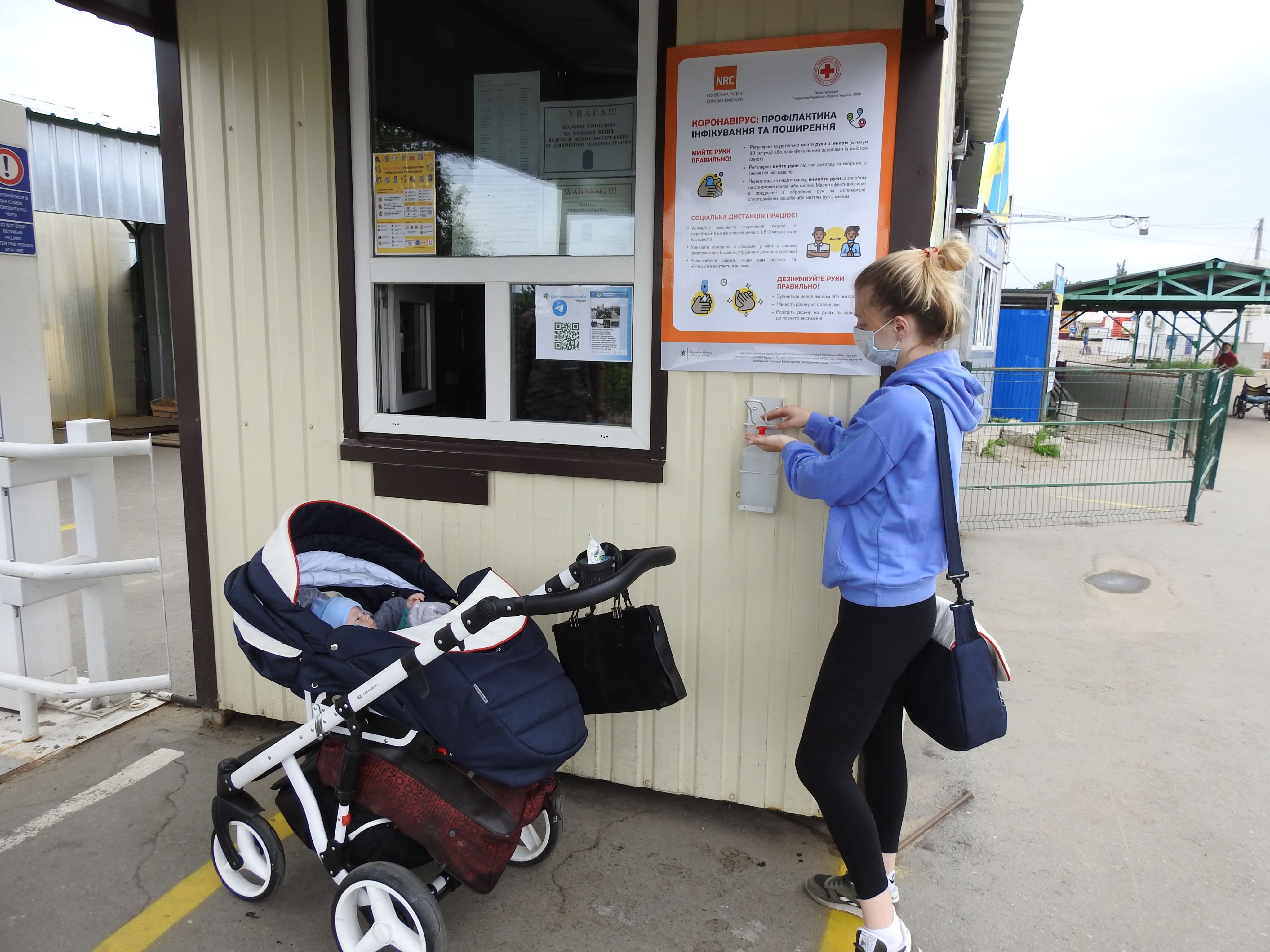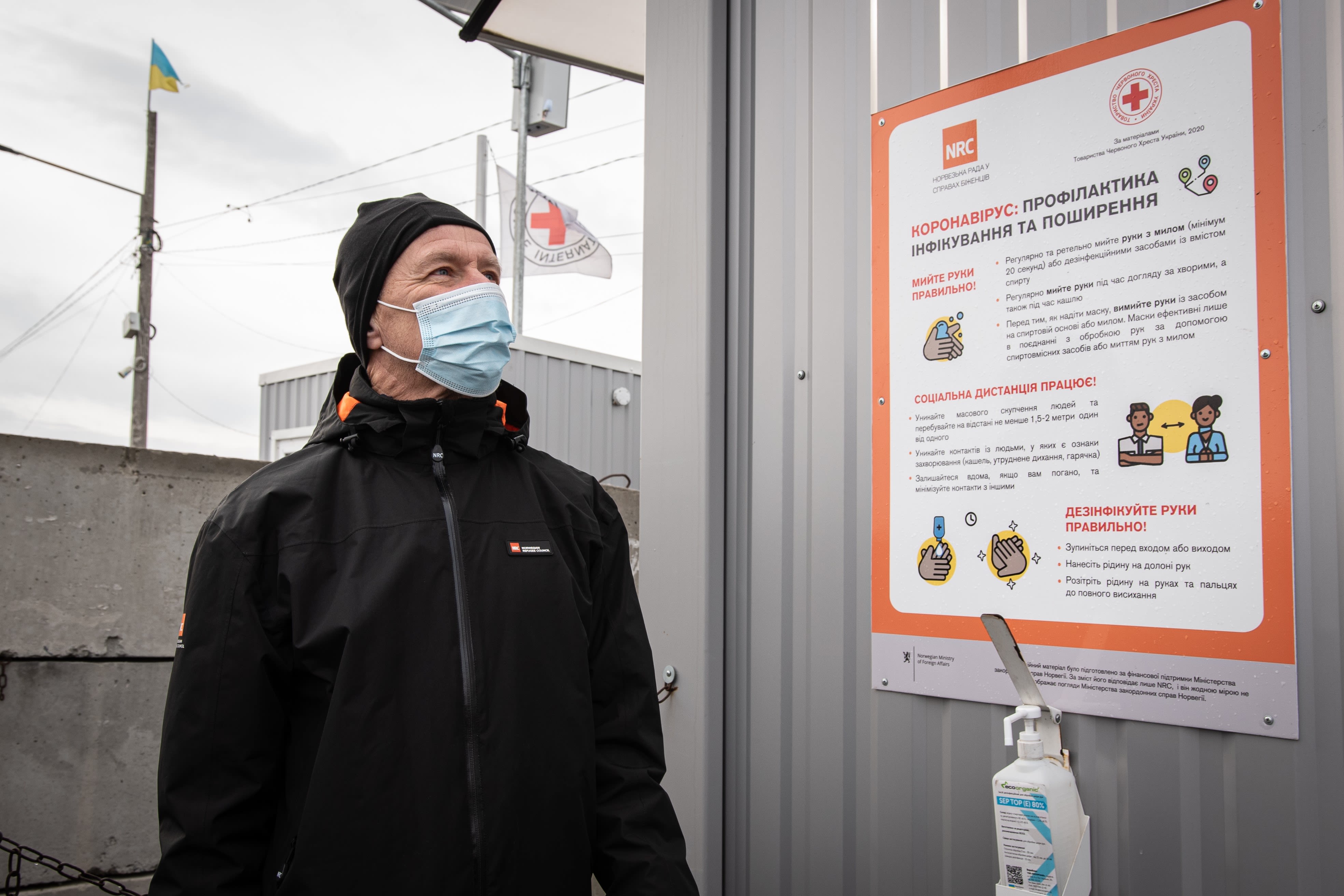 Damaged water infrastructure, lack of funding and an inability to make repairs due to the ongoing hostilities mean that water supply networks tend to malfunction. As a result, people living in conflict-affected areas often lack access to drinking and household water.
Delivery of pumps to Avdiivka's water supply company. Photo: Violetta Shemet/NRC
The water supply for Avdiivka and the surrounding area depends entirely on the Donetsk Filtering Station, located in the so-called "grey zone". Various reports regularly flag the station's malfunctioning which causes the city's water supply to be cut off. In 2021, Avdiivka's residents spent a total of 51 days without water.
"We provided the most critical equipment, including water pumps and booster pumps as well as consumables, needed to normalise the water supply in the community," says Goran Zuber, NRC's Area Manager.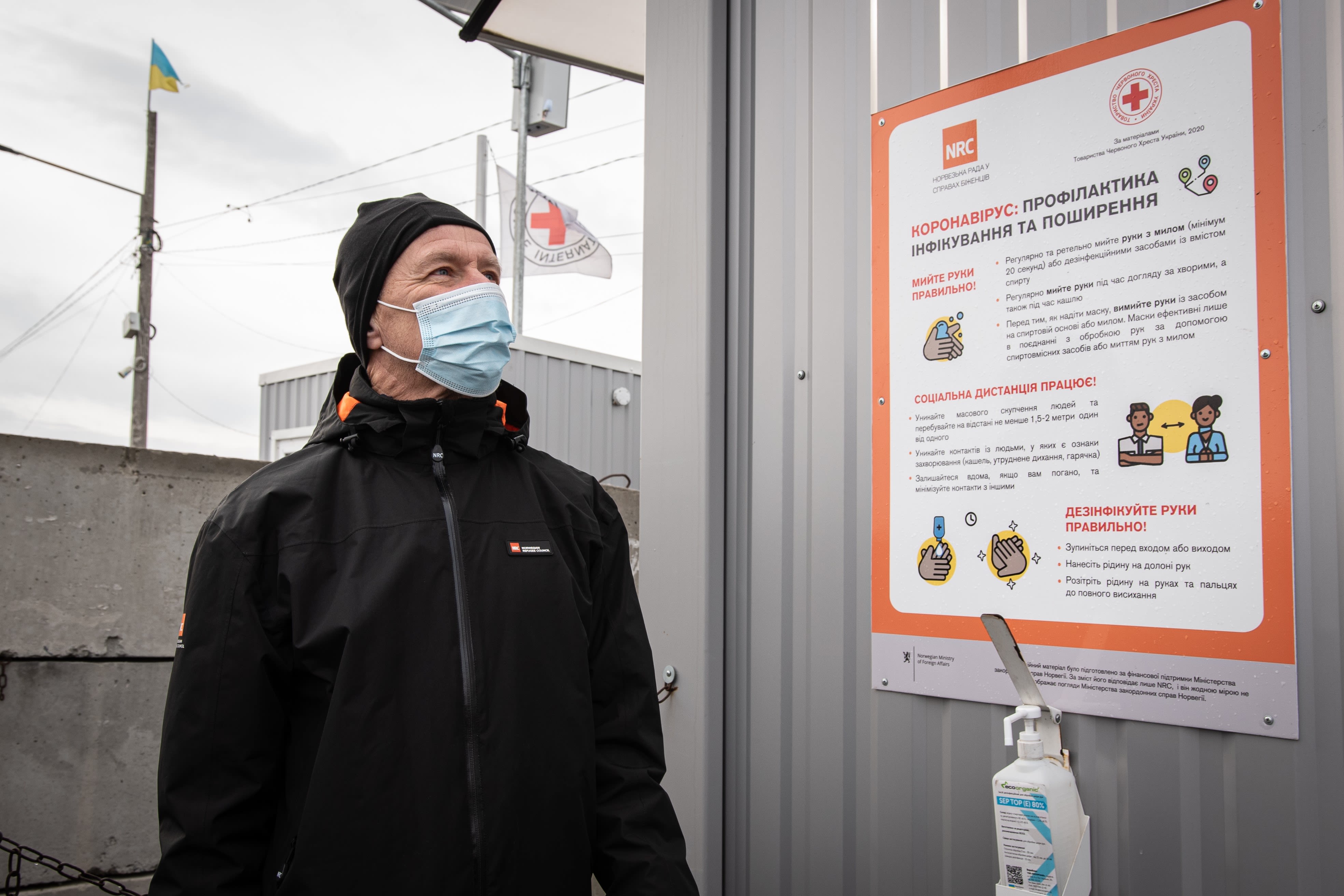 NRC's Secretary General Jan Egeland at Stanytsia Luhanska crossingpoint. Photo: Tiril Skarstein/NRC
These efforts will allow the city to reserve water in silo in the event of a total water cut. This will ensure access to water for about 10,000 people living in multi-apartment buildings, as well as three schools, a municipal hospital, and a fire station.