A story of resilience
"Life may disappear here"
A view of the West Bank village of Zanuta in September 2021.
A view of the West Bank village of Zanuta in September 2021.
Weddings are often the happiest of occasions for families. But for Asser, 57, a Palestinian resident of Zanuta in the southern West Bank, sadness has defined the weddings of each of his three sons. 
In this tiny village, marriage brings goodbyes.
Newlyweds leave the village due to a lack of available living space. As a result, tight-knit families who have traditionally lived in close proximity for generations are torn apart.
There simply is no room left for growing families in Zanuta due to an effective ban on Palestinian construction in Area C of the occupied West Bank. The ban has been imposed by the Israeli Civil Administration (ICA), a branch of the Israeli Defense Ministry that administers the military occupation.  
Area C, which comprises 62 per cent of the occupied West Bank, is directly administered by the Israeli military. In many ways, Zanuta is a microcosm of how Israeli policies affect the hundreds of Palestinian villages throughout Area C.  
"There is no room"
"In 2017, I witnessed my first two sons leave for the nearby town of Adh Dhahiriya following their weddings. In 2019, the third left," says Asser. He also expects his remaining young sons and daughter will have no choice but to leave Zanuta once married. 
"Where can my married children live? There is no room for them," says Asser, who lives with his wife and three children in their one-room home which measures just 20 square metres. 
---
---
Since its occupation of the West Bank in 1967, Israel has coerced Palestinians into increasingly crowded urban areas to allow for the establishment and expansion of Israeli settlements. 
Israeli authorities have designated less than 1 per cent of Area C for Palestinian development, a precondition for issuing building permits. In contrast, they have designated over 19 per cent of Area C for Israeli settlement use.  
Between the years 2000 and 2016, the Israeli Civil Administration (ICA) approved just 245 out of the 6,532 Palestinian applications for Area C building permits, or less than 4 per cent. 
Displacement intensifying
In August 2012, according to data from the UN Office for the Coordination of Humanitarian Affairs (OCHA), the ICA demolished 18 structures in Zanuta. It was the biggest demolition the village had witnessed in a decade. In 2017, the Israeli High Court prohibited the 27 families in the village from adding any new structures to the 22 already standing. 
This reality is made worse by the lack of proper water and electricity networks, as well as the unpaved roads and subpar living conditions. 
It is estimated that Zanuta is inhabited by 144 residents today. According to several community members, some 700 to 800 residents lived in the community in the early 1980s. 
"Our population is declining," says Asser. 
The situation today is a stark reminder of all the village's residents have gone through, says Issa, 67, another resident of Zanuta.  
"Since the mid-1970s they have been trying to displace us from our village," Issa says, describing how Israeli forces used to come to destroy and confiscate their tents.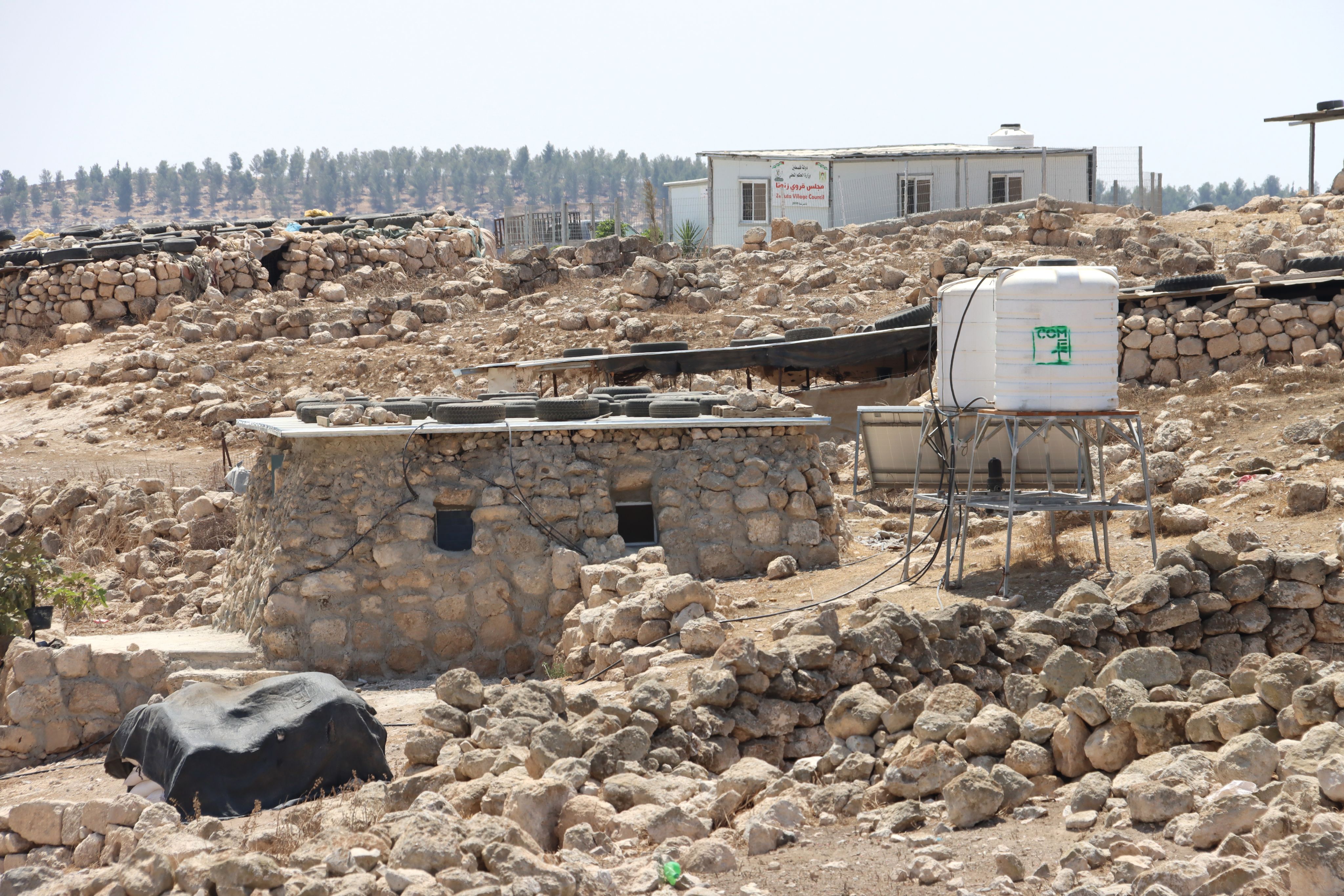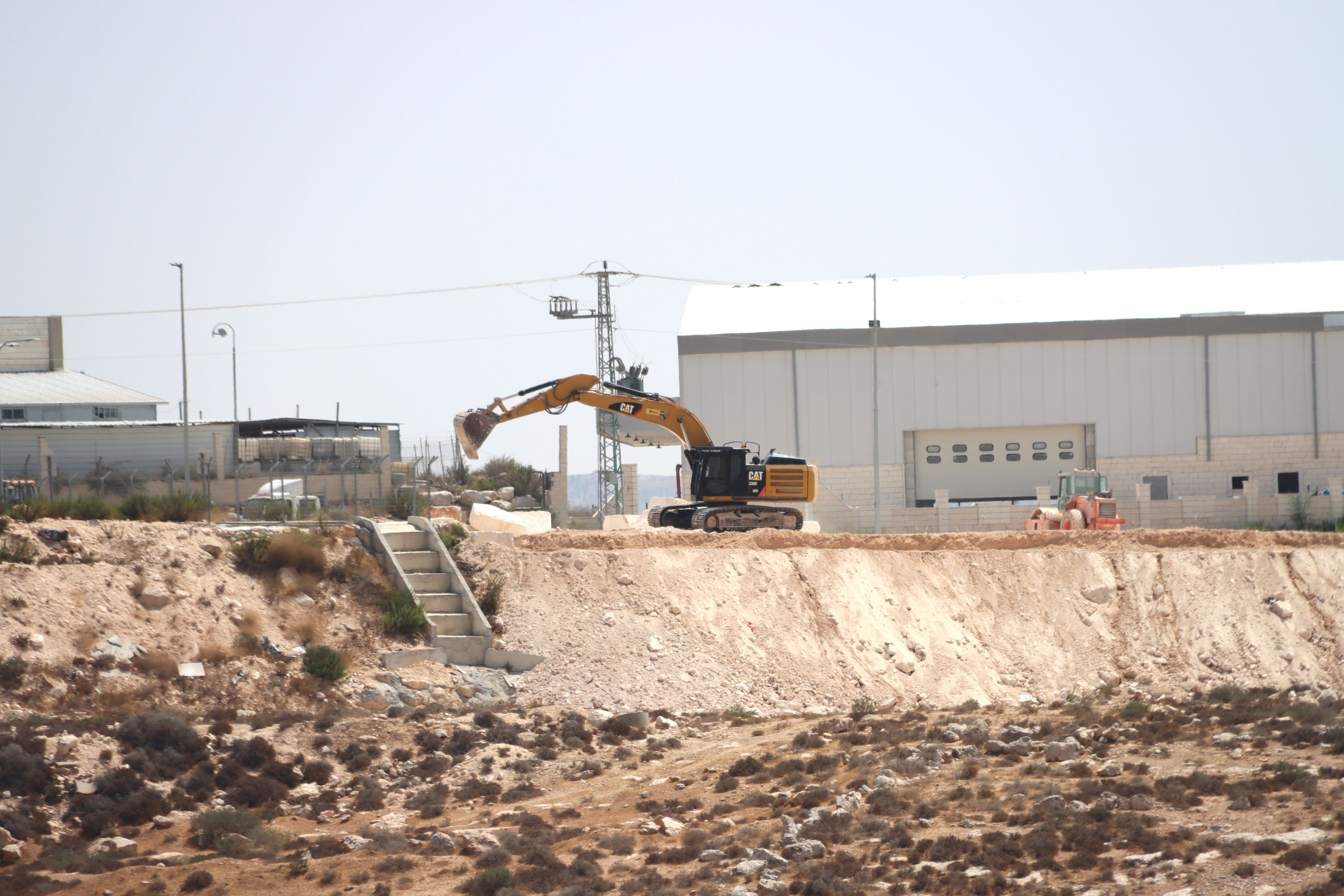 Cramped, unsafe living
Residents who decide to stay despite the ICA's construction ban must adapt to life in cramped living spaces. Next to Asser's one-room house, for example, three of his married brothers and their families share two rooms. One family lives in a room of 20 square metres, while in the larger room, only a curtain separates the two other families totaling 14 people.  
"For older generations, it was okay to give up some privacy within our houses. For newly married young people of this generation, this is not possible," says Asser. 
The homes in Zanuta were classified as "bad" in a June 2020 assessment completed by the Shelter Cluster, an inter-agency mechanism led by NRC. 
Frame materials are not able to support the weight of the roof, window units are not sealed from rainwater and wind, and roofs are not suitable to control heat, according to the report. Houses have plastic roofs secured with iron plates and tires. Sheep pens are built from everyday metal, tires, stones, and sometimes tents. 
Demolitions: the numbers  
Over the past 10 years, according to data from the OCHA, Israel has responded to Palestinian construction without permits by:  
demolishing 6,806 structures in the West Bank, including East Jerusalem 
displacing 9,822 people 
affecting the livelihoods of a further 112,505 people  
The number of structures demolished reached a four-year high of 854 in 2020. The spike in demolitions indicates an attempt to erode the ability of Palestinian communities in Area C to withstand coercive and forcible transfer to urban areas. 
Today, around 475,481 Israeli settlers live in Area C of the West Bank in around 150 settlements. One of them is the Israeli settlement of Shim'a, which was established in 1985 one kilometre east of Zanuta.  
In contrast to the Palestinian population of Zanuta, the Israeli population of Shim'a has increased rapidly – by nearly 50 per cent between 2016 and 2021, from 591 residents to 884. The settlement has expanded closer and closer to Zanuta, as close as 600 metres away. Within a three-kilometre radius, there are four other Israeli settlements and settlement outposts.  
"In the 1970s, no settlers were here. Now they're everywhere around us," says Issa. He says he observed that the Israeli settlers were provided with the services they needed from the day they arrived. 
"I know the Israeli aim very well. I'm not leaving," he says. 
Declining livelihoods
Traditionally, Zanuta residents have made a living from farming and livestock. But now even this is under threat, making it even more difficult for younger generations to stay put.  
"Our presence here is mainly dependent on grazing, which has not recently been financially viable," says Zayed, 28, the only brother out of seven who stayed in Zanuta to support his parents with grazing and farming work. 
Since he was a child, Zayed says he has watched neighbours sell livestock and move permanently to the nearby town of Adh-Dhahiriya or to Hebron, the largest city in the West Bank. Today, Zayed's family owns around 250 animals, down from 700 eight years ago. 
The threat of home demolition is only one of the factors driving people out of Zanuta. Israel's separation barrier, built in 2004 just over a kilometre from the village, restricted access to grazing areas.
Animal disease and limited support from the Palestinian Authority's Ministry of Agriculture have also made it difficult to make a living from livestock in the village. 
"Life may disappear here, believe me."
Lack of amenities  
In addition to not being allowed to build homes and other structures like schools and medical clinics, many villages in Area C are not connected to basic infrastructure like water, electricity and paved roads. 
Zanuta residents depend on wells for their drinking water throughout the year. However, in years with poor rain, they have no choice but to buy water for themselves and their livestock.  
Around 20,000 people living in herding communities in Area C of the West Bank are not connected to a water network. They have access to only about 30 litres per day (the World Health Organization recommends 100 litres per person per day), at a cost ten times higher than it would be through the network.  
Zanuta only got electricity in 2016 when a local NGO installed solar panels. 
"Difficult life conditions have pushed residents to leave the village," says local council member Adel. He says the council tries to cooperate with local and international NGOs to improve conditions as much as is permitted by the Israelis.   
Humanitarian work challenged
Palestinian residents are not the only ones facing Israeli restrictions in Zanuta. International humanitarian organisations are also challenged. 
Fadi Shamisti, the coordinator of the Shelter Cluster hosted by NRC, says: "We can't add any new residential units. We just rehabilitate the existing ones." He notes that such a strategy is not providing a lasting solution to those who are leaving the community due to lack of housing units.  
In 2018 and 2019, a school, a village council room and a clinic were built using metal caravans. The three EU-funded structures receive demolition orders from the Israeli Civil Administration, and the school was demolished twice. 
"Israel realises these projects are supporting people's existence, so they don't want them," says Adel. 
As Israeli policies continue to create a coercive environment against Palestinians in Zanuta and other communities in Area C, residents see no hope for a better future.   
Read more about NRC's work in Palestine