Afghanistan
A deadly combination of drought and conflict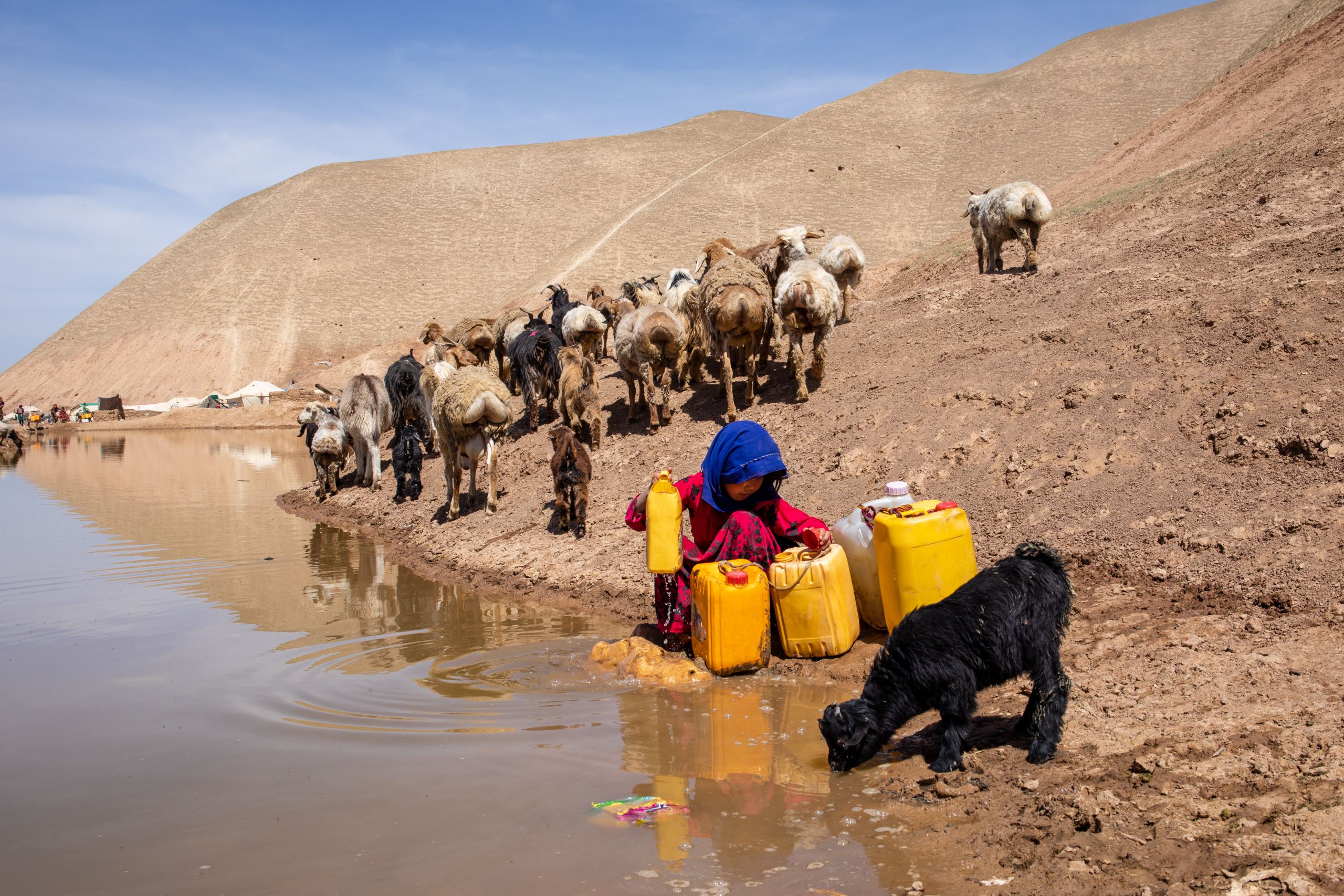 Displaced people and livestock use the same water source at this displacement site in Badghis. Photo: Enayatullah Azad/NRC
Displaced people and livestock use the same water source at this displacement site in Badghis. Photo: Enayatullah Azad/NRC
More than three million Afghans are expected to be acutely affected by a drought crisis this year. Meanwhile, the third wave of the pandemic is wreaking havoc once more, and conflict is escalating across the country.
A deadly combination of climate change and conflict is afflicting western and northern regions of Afghanistan, where millions are still struggling to recover from the crippling effects of the last drought just three years ago.
The little remaining water at this displacement site in Badghis is now drying up. Photo: Enayatullah Azad/NRC
The little remaining water at this displacement site in Badghis is now drying up. Photo: Enayatullah Azad/NRC
The New Arrivals
As of June 2021, the early impacts of this year's drought have already forced 5,880 people to flee their homes in search of food and clean water. Yet even at sites for displaced people, humanitarian assistance is limited.
New arrivals live in makeshift shelters or the same tattered tents that were distributed to drought-displaced people three years ago. Families support one another, sharing their limited resources not only with each other, but also with the animals they've brought with them as their only assets.
In many areas of Badghis, families rely on the water from winter snowfalls and spring rains to sustain them throughout the year. But this year, below-average rainfall and snowmelt have meant that reservoirs and wells have already run dry.
Saatullah, 67, has fled from his village in Badghis to the provincial city of Qala-e-Naw for the second time in three years.
"Just when we thought things might get better, we have been forced [to leave our homes] yet again," he says. "The drought this year is going to be even more devastating than it was three years ago, because we haven't recovered from the previous losses and there are no jobs and no assistance."
As he flattens a space to pitch his tent in the Chakiran displacement site, Saatullah tells us: "No water or food can be found back in the villages. Half of my family have already arrived here, and the other half will come over in two weeks' time."
---
Do you want to help people forced to flee? Support our work today.
The fields here still look green, but in neighbouring districts the wheat crops are failing. Due to the lack of rain, it won't be long before these crops fail too.
Women alone
Zarafshan, 43, arrived at the Sinjitak displacement site on the outskirts of Qala-e-Naw city in early May. She and her ten children came in search of food, drinking water and health care. Her husband, meanwhile, travelled to Iran in the hopes of finding work and sending money back to his family.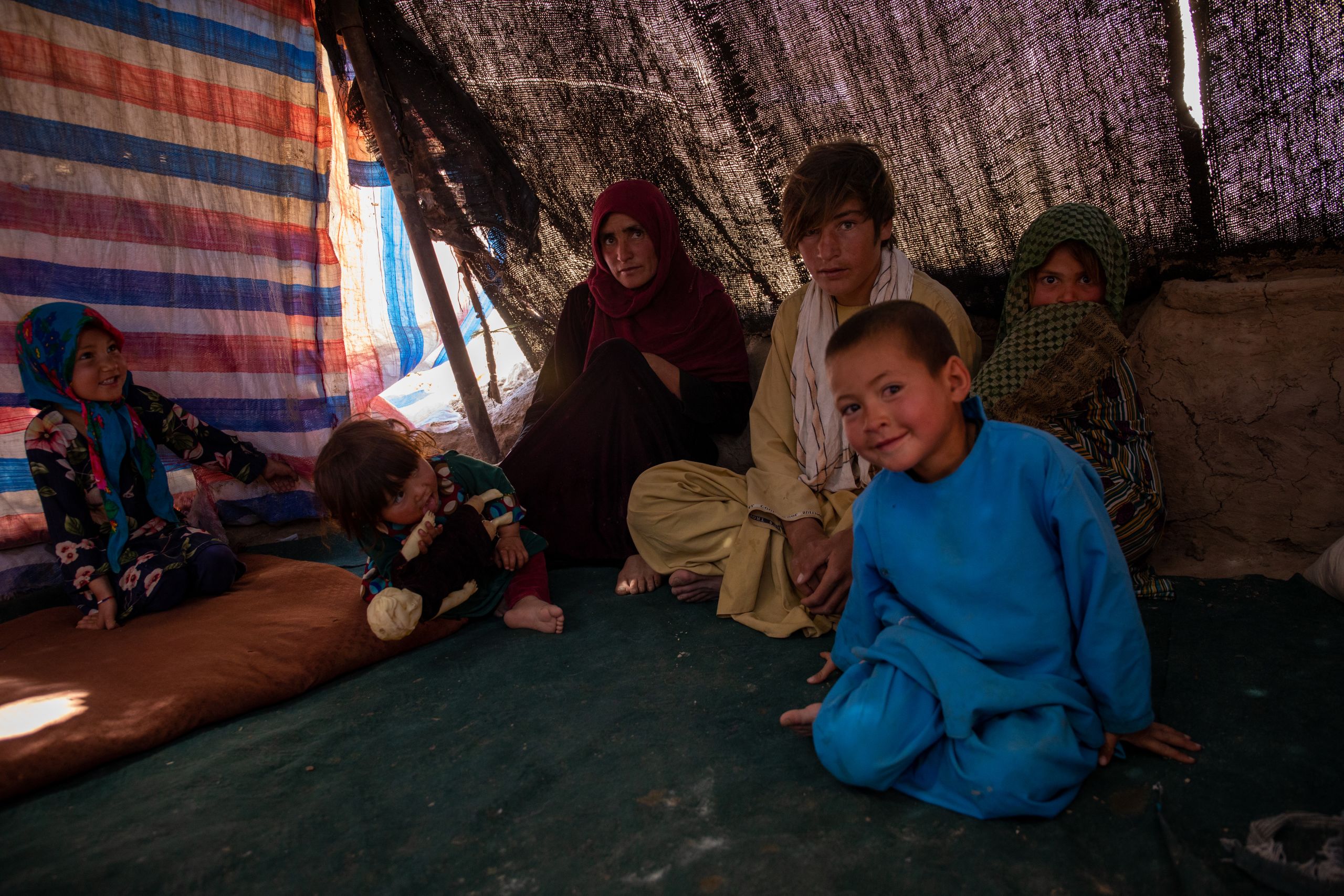 Zarafshan with five of her ten children inside their tent. Photo: Enayatullah Azad/NRC
Zarafshan lives without any close relatives nearby and is pregnant with her 11th child.
"Most of the men, and in particular the young and able-bodied men, have gone to Iran for work. It has been two weeks since my husband left, but I know nothing about his fate or whether he has arrived safely in Iran or not," she says.
"We go hungry and thirsty most of the time"
Sitting inside a tent, her female neighbours nod their heads in agreement as Zarafshan continues: "We go hungry and thirsty most of the time during the day. I do not have enough wheat flour and rice to feed my children."
"I have also lost two brothers in the war. I've developed mental health problems since their deaths and suffer from anxiety. This cruel situation makes things worse.
"My children are sick most of the time. They have diarrhoea, and they cough a lot and can't sleep properly."
The situation is equally devastating for those who were displaced three years ago and have been unable to return to their homes. They were already struggling to cope with what little assistance humanitarian organisations could provide. Now, in the wake of funding cuts, they are just battling to survive.
Some of these families have sold all their belongings, including their farmland. They have nothing left.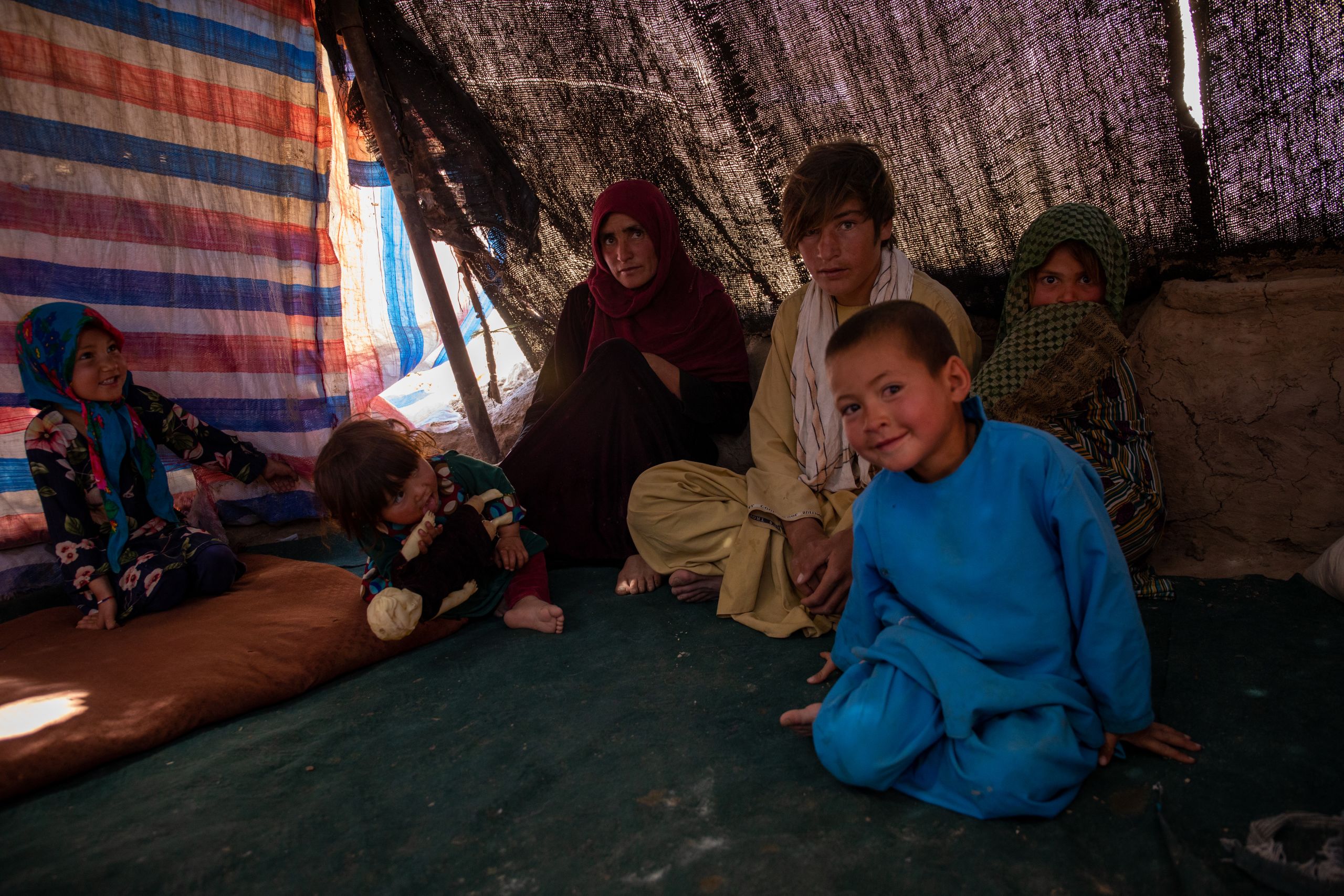 Fighting for survival
Shahrak-e-sabz, an informal settlement on the outskirts of Herat city, is home to more than 12,000 families. Many of the residents have been here ever since they were forced to flee their homes three years ago. For them, little hope remains.
"It's a miracle that we have survived here."
"It's a miracle that we have survived here," says Mohammad Rafiq, 45, one of the residents. "Life could not be more difficult than what we are living now. If it gets harder than this, then that will be the death of us."
Rafiq's brothers returned to Badghis last year but fear they will be forced to flee again by this year's drought. "We've lived miserable lives these past three years. I tell them not to think about coming to the camp again, if at all possible," he says.
Rafiq's neighbour in the camp, Daud Barakzai, was also forced to flee drought and conflict. "I had fields, horses, cattle and my own house," says Barakzai. "Now, I have nothing left."
"People are frustrated and exhausted in the camp. They can't get a piece of bread for their families. There is not enough clean water. Even doomsday won't be as hard as living here in this camp," he says.
"This is a preventable disaster"
"This year's drought will be the final straw for millions of Afghans struggling to survive after decades of conflict and more than a year of the Covid-19 pandemic," says Astrid Sletten, the Norwegian Refugee Council (NRC) country director in Afghanistan.
Memories of being uprooted from their homes during the 2018 drought are still fresh in the minds of hundreds of thousands of people in the country.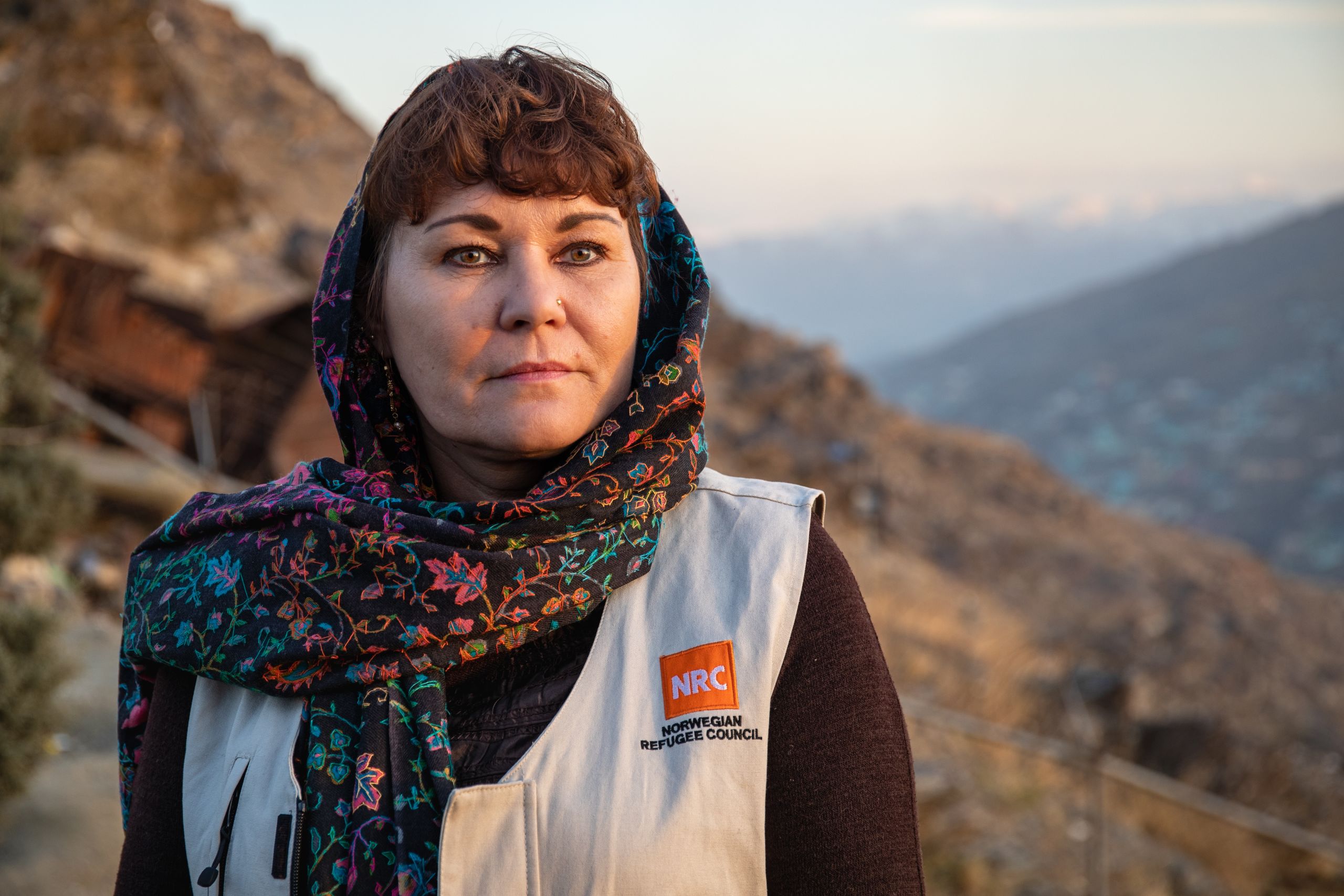 "This is a preventable disaster. If we have the funding to prepare ahead of time, and the support of local and national authorities, we can help prevent countless Afghans from being hit hard by drought again," she says.
23% funded – and running out of time
Aid organisations on the ground have learned from previous experience how to support people where they live to prevent displacement, while helping those who do need to leave their homes to stay alive.
Yet, we are running out of time to prepare because of limited funding and ongoing conflict. Halfway through 2021, the humanitarian response plan for Afghanistan is only 23 per cent funded.
---
Do you want to help people forced to flee? Support our work today.
The impact on children
These droughts will have a long-term effect on the country's children. Mohammad, 11, has been living with his family in Zaimati displacement site for three years now.
There's no formal school in the camp, only one informal class. This has meant that Mohammad has been in grade one for three consecutive years.
"I wish there were more classes available for us so that we could continue our lessons further," he says. "I've fully memorised my lessons now as I've been studying the same book."
In February this year, Wakil Ahmad, 16, and his nephew Saifullah, 10, went out to the hilltop close to their house to collect firewood when a landmine went off. Wakil lost both his legs and survived, but Saifullah died from his injuries.
The family's winter harvest had been wiped out by the drought. Wakil's family, along with hundreds more, loaded their belongings on the back of a truck and left their home for the third time in the past three years. The family was barely settled in the displacement site when Wakil and Saifullah decided to go to the hilltop and the life-changing incident occurred.
"It has been three months since I was injured. I feel a lot of pain in my body," says Wakil. "We can't afford the drugs and we have no-one to support us. We have received nothing since the incident and not a penny since our displacement. They have not done the operation very well in hospital here and I can't go to Herat for my treatment."
As Afghanistan faces yet another season of uncertainty, disaster can still be averted. But time is running out.
Funding is needed at this critical window, along with the support of local and national authorities, so that humanitarian organisations can prepare and respond early. Only then can we prevent total disaster hitting those Afghans affected by drought once again.
The full report, Running out of time – A looming drought in Afghanistan, is available here.