Covid-19 and conflict:
a deadly mix
How has Covid-19 affected people forced to flee?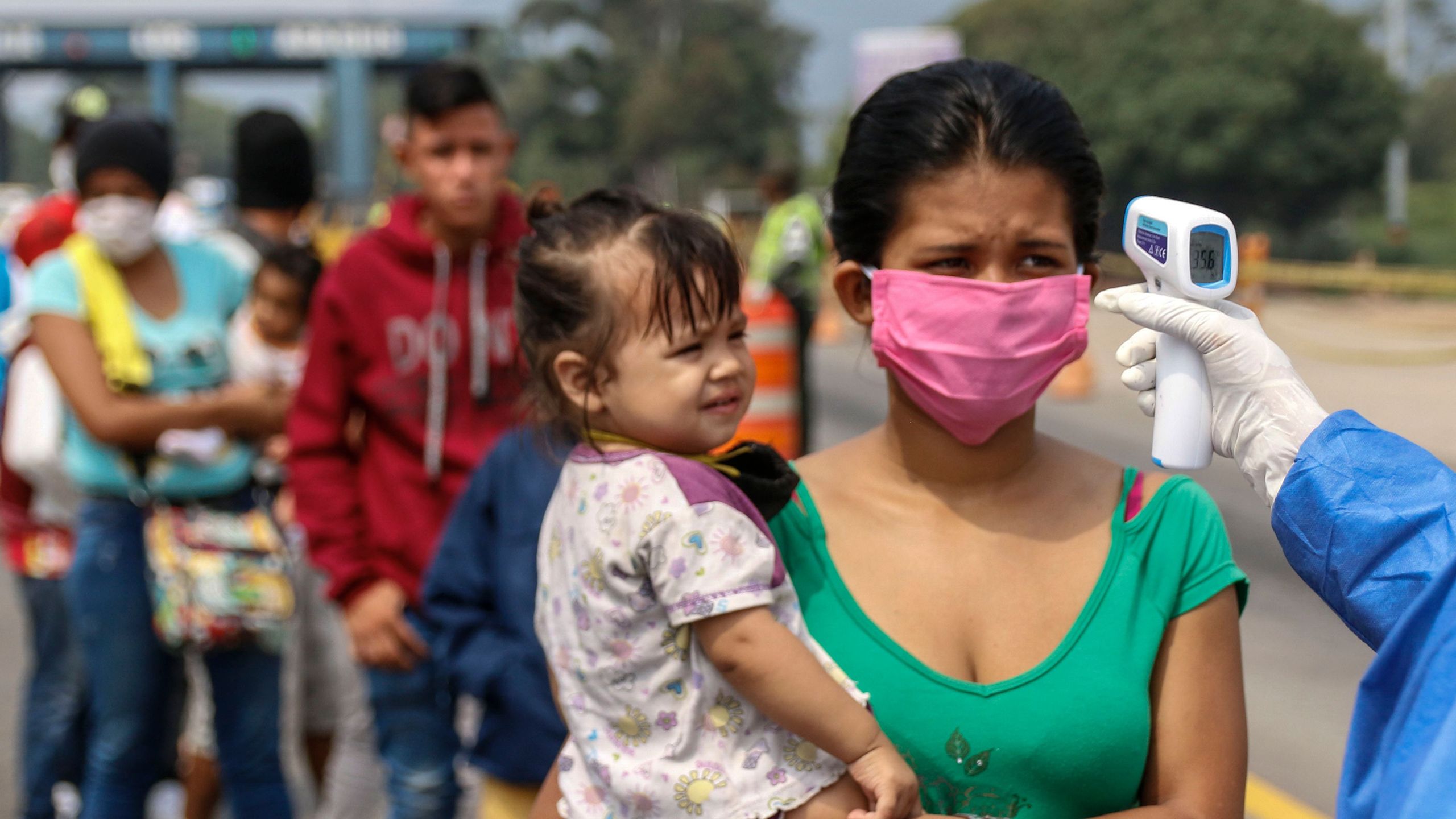 Venezuelans returning home from Colombia have their temperature taken at the border, as a preventive measure against the spread of Covid-19. Photo: Schneyder Mendoza/AFP/NTB Scanpix
Venezuelans returning home from Colombia have their temperature taken at the border, as a preventive measure against the spread of Covid-19. Photo: Schneyder Mendoza/AFP/NTB Scanpix
"It is time to put armed conflict on lockdown and focus together on the true fight of our lives."
So said UN Secretary-General António Guterres in March. He warned that the Covid-19 pandemic was a threat to peace and security and urged all warring parties to enter into a ceasefire to fight the virus.
Conflict and pandemics are a deadly mix.
Despite the Secretary-General's call, 660,000 people were still forced to flee their homes in 19 countries between March and mid-May 2020. This makes it more difficult to mount a systematic fight against the coronavirus. Cooperation – both nationally and internationally – is not only desirable, it is absolutely necessary.
Refugee camps can become infection hotspots
It goes without saying that overcrowded refugee camps can quickly become hotspots of infection if measures are not quickly put in place to prevent the virus spreading.
Good hand hygiene and social distancing are not easy in such settings, where health services are poor and water and soap are often in short supply. And in many countries, shielding the elderly is not an option. They are not in an institution. They rely on their families to survive.
In the crowded camps where Rohingya refugees live in Bangladesh, there has been an outbreak of Covid-19. Humanitarian aid organisations are doing their utmost to prevent further spread.
In these camps, there can be as many as 90,000 people per square kilometre. People are terrified and Covid-19 comes in addition to the feeling of general hopelessness. Many are vulnerable to human trafficking. In May, the Bangladesh Coast Guard rescued 396 refugees who had desperately tried to flee to Malaysia in a fishing boat.
Water and health services are vital
The Covid-19 pandemic could also have serious consequences for the large refugee camps of the Middle East. Here, displaced people already have limited access to water and health services. Years of war in countries such as Iraq and Syria have destroyed many hospitals and public health centres.
In the crowded camps, it is nearly impossible to maintain social distancing, and regular handwashing requires an adequate supply of water. Refugees and displaced people are therefore highly vulnerable, and it is crucial that they be included in the various countries' emergency plans.
The situation in war-torn Yemen has been further aggravated by the pandemic. In addition to the fighting, which has taken many lives and destroyed much of the infrastructure, the population is at risk from outbreaks of cholera, malaria and Covid-19. The UN said in May that they feared the virus had spread widely in Yemen.
Fleeing from crisis to crisis
Millions of displaced people do not live in camps, but in informal settlements in large cities. Many of them live a hand-to-mouth existence on the street.
For these people, it is impossible to stay indoors. Shutdowns of entire cities to fight the spread of Covid-19 have devastated many people's daily lives. They can no longer find work and are also looked down upon as potential carriers of infection. There is no social safety net.
This is why more and more Venezuelans are leaving Colombia and returning to crisis-hit Venezuela – where the healthcare system has long since collapsed. Others are trying to survive in Colombia. But without help, they end up in a desperate situation. Many turn to prostitution or end up being recruited by criminal gangs.
Refugees are also returning home in other parts of the world – even though it is not safe. Between 8 and 14 March this year, as many as 53,000 Afghans returned from Iran. That's an average of 8,000 people per day. By comparison, 1,400 people returned daily in 2019.
The pandemic has hit Iran very hard, and many refugees have left voluntarily due to fear of infection. There is no system in place to test those returning to Afghanistan. The humanitarian response has been largely focused on hygiene measures and public information campaigns.
New epicentre in Latin America
In May 2020, infection rates rose rapidly in Latin America. The World Health Organization described the region as the new global epicentre of the Covid-19 pandemic.
The consequences of the pandemic could strengthen criminal organisations in many parts of the world, not least in Central America. In April, Mexican drug cartels in the border town of Matamoros began supplying food, medicines and aid packages to the elderly and sick in the area. The packages carried a picture of the dreaded drug baron Joaquín "El Chapo" Guzmán.
Many companies in the region are in danger of going bankrupt, and for every businessman in need, there is a cartel ready to invest. If the authorities wait too long to offer assistance to companies in crisis, it will be too late.
Affecting the poorest and people forced to flee
In addition to weak commodity prices in Latin America, there has been a collapse in tourism and a massive decline in money transfers to families from relatives in the US and Europe.
The International Monetary Fund (IMF) and the United Nations Economic Commission for Latin America and the Caribbean are predicting a steep decline in these countries' GDP. They believe that the proportion of people living in poverty will rise to 35 per cent by 2020. The number of people in extreme poverty will increase by 16 million – to 83 million. These are bleak figures for a region of the world that already has the greatest inequality between rich and poor.
Government measures to stop the pandemic have made it harder to reach people with humanitarian aid. It has also become more difficult for displaced people to get into neighbouring countries because the borders are closed.
Even so, many are still trying to flee from the violence in El Salvador and Honduras. But Mexican authorities are arresting migrants and asylum seekers and sending them back to the Guatemala–Mexico border. Many who have spent time in detention centres near the US border have also been sent back by Mexican police.
The consequences will hit children hard
Although Covid-19 seems less deadly to children, they could become the big losers in the longer term. Major economic setbacks and continuing armed conflicts will cause millions of children to end up in extreme poverty. These children don't have enough food, they are deprived of education and medicine, and they are at a higher risk of violence and abuse.
NRC's list of the world's most neglected displacement crises highlights ten countries already in crisis before the Covid-19 pandemic. Nine of them are African. The world must not forget these crises.
UN Sustainable Development Goals at risk
The World Bank issued a forecast in April 2020 saying that the countries in sub-Saharan Africa would experience a recession for the first time in 25 years.
Current indications suggest that it will be extremely difficult to reach the UN Sustainable Development Goal of ending extreme poverty by 2030. Without a major escalation of emergency aid and general financial support in the years to come, the consequences for Africa will be dire.
Fortunately, the number of confirmed Covid-19 cases in Africa is relatively low (as of June 2020). Half of the cases have been registered in North Africa, which is closer to countries such as Spain and Italy than to sub-Saharan Africa.
We know that age is an important factor when it comes to who is most severely affected by the coronavirus. Africa has the youngest population in the world, which may make it less susceptible to the worst effects of the illness itself.
In several African countries, the authorities were also quick to implement measures to prevent the spread of Covid-19. In countries such as Uganda, South Sudan and Rwanda, measures were put in place even before the first cases were confirmed.
In addition, a number of countries in Africa have learned from each other in the fight against previous epidemics. During the Ebola outbreak in 2018, the Democratic Republic of the Congo was able to benefit from the experience of other West African countries in their fight against Ebola a few years earlier.
Nevertheless, there is great uncertainty about what will happen next.
In the shadow of the coronavirus
Poor health systems and societal vulnerability mean that many countries in, for example, Africa and Latin America, are left without the same toolbox that wealthy countries have at their disposal to curb coronavirus. They have little capacity to map, prevent and manage a pandemic. There are far fewer doctors and a lack of essential medical equipment.
For example, in March this year, the Central African Republic had only three respirators for five million inhabitants.
In many places, the healthcare system has not been prioritised. Where there has been large-scale privatisation, good health services are often only available to those who have money.
Because the epicentre of the Covid-19 pandemic was initially in Europe and the United States, there is reason to fear that the most vulnerable countries will be left without the equipment they need when the crisis strikes them.
Without active international cooperation, there is a danger that purchasing power rather than needs will determine where equipment and medicines end up.
We need solidarity across borders
The question many people asked in the spring of 2020 was whether the world would be able to work together to solve a common problem or whether countries would prefer to manage on their own. We have seen tendencies toward the latter and attempts to politicise the crisis, but the hope remains that reason will prevail.
Refugees' rights have been put under additional pressure. There is no contradiction between safeguarding refugees' rights and protecting the local population at the same time. On the contrary. Providing proper health care and preventing the spread of infection among displaced people will also benefit the communities where the refugees live.
Billions and billions of dollars have been injected into the economies of rich, industrialised countries, while displaced people lack water and soap.
A pandemic knows no borders. The only solution for all of us is international cooperation, solidarity and the inclusion of all vulnerable groups. Including refugees.