Displaced as an older person
When the heart longs for home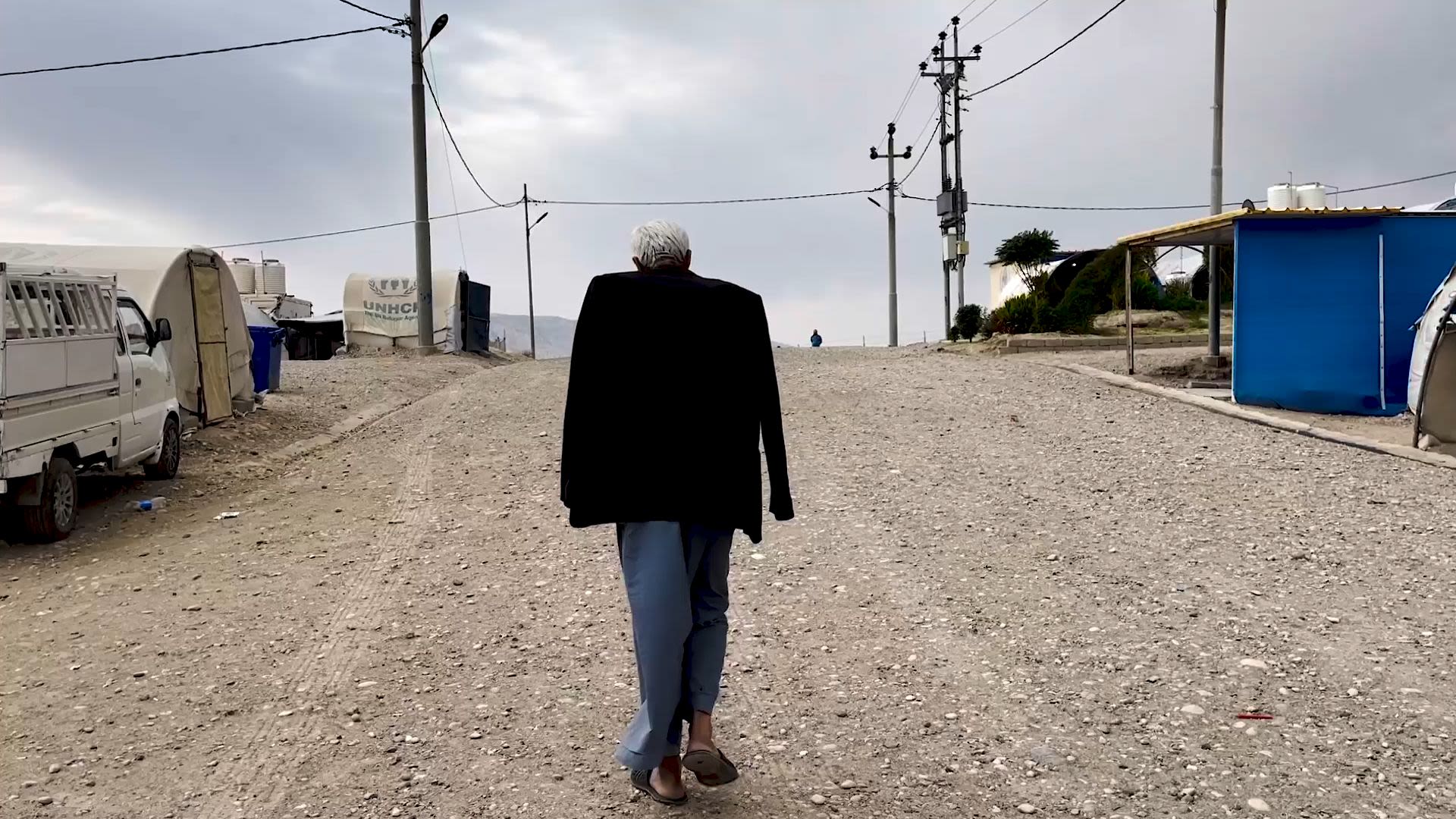 "Leaning against the walls of a tent provides no support for an old and sore back," says Mohamed, a Syrian Kurd. For more than two years, he, his wife Najah and son Shamal have lived in Bardarash refugee camp in the Kurdistan Region of Iraq.
---
Mohamed, 65, puts his coffee cup down on the saucer, and the gentle clang of the porcelain lingers in the air – a kind of sad accompaniment to the clothes dangling from a line under the tent ceiling. On the floor are a couple of foam mattresses and a carpet.
He misses his books. History, literature. Now, all he has to read is his mobile phone.
He sighs deeply and says:
"Our suffering began a long time ago. Long before the Syrian conflict started in 2011. For thousands of years, we Kurds have been subjected to oppression and murder."
"For thousands of years, we Kurds have been subjected to oppression and murder."
His hair is chalk white. He is wearing a long, light-grey jellabiya and a brown knitted vest. Next to him sits his wife, Najah, 61, wearing a black shawl and a dark dress. She holds a paper towel in her hands. Then there is their son Shamal, 33, in a red and blue tracksuit.
Mohamed continues:
"I blame the international community for the way things are. In politics, there is no humanity. No human rights. The world is allowing us to be attacked, to become homeless, to be forced to flee."
Rojava
Following the outbreak of the conflict in Syria, the security of Kurdish communities was threatened by violence and instability. The main threat was the Islamic State (IS) group, which conquered and occupied territory next to Kurdish areas in Iraq and Syria in 2014. Kurdish fighters in northern Syria engaged in fierce fighting against IS, and quickly proved to be some of the most effective ground forces fighting against the armed group.
The war gave the Kurds in Syria room to fight for autonomy. In 2013, the Kurdish-dominated area in the north-east was self-declared an autonomous region, Rojava. But this happened without international recognition.
National epic: tragic love
The Kurdish poet Ahmede Khani (1650–1707) was one of the first to write in the Kurdish language, rather than Arabic and Persian. He was an intellectual, a mystic and a Muslim scholar. His epic work "Mem and Zin" from 1692 is a love story and is considered the Kurdish national epic.
Here is a summary of the story:
Mem and Zin are in love, but the evil Beko Ewan from the Bakran clan, who holds an important position at the court of Mir Zeydin, conspires to keep them apart. Beko spreads rumours about Mem, causing Mir Zeydin to throw him in jail. Both Mem and Zin fall seriously ill: Mem in the prison and Zin in the castle. After a few years, Zin finally receives permission to marry Mem, but by then it's too late – Mem is already dead. When Zin hears of her beloved's death, she too dies. She is buried with Mem. The prince says: "Mem, now you have your Zin." Then we hear from Mem's dead body: "Hail! Hail!"

Beko is killed for destroying the love between Mem and Zin. He is buried at the foot of the grave of the two lovers. A thorn bush grows out of Beko's grave and separates Mem and Zin – even in death.
There are different interpretations of the poem. In the 20th century, for example, Kurdish nationalists perceived "Mem and Zin" as a clear expression of Kurdish nationalism: the thorn bush that grew out of Beko's grave evoked oppression and how the Kurds were separated from each other.
Source: The Great Norwegian Encyclopedia

"When we heard the explosions, we could hardly believe what we were seeing with our own eyes – they were bombing our village. We were told by Kurdish fighters to leave, because they said they would fight there. When we left, we thought it was only temporary, so we didn't take any of our belongings with us.

"The whole family went to the city of Al-Hasakah. We stayed in a school there for ten days. But people said that the area was going to be taken, so we took a bus to Qamishli. There, we talked to people smugglers. We asked for help to come here to the Kurdistan Region of Iraq (KRI). We had imagined that KRI was a beautiful place. But we were shocked when we saw this camp and the tents. We didn't think it would be like this! Here, we had no extra clothes, no bathrooms. But later we received food. Simple food. Beans.

"I would never have imagined this."

Najah looks resigned.
Mohamed adds:
"Yes, we didn't drink tea for four days. Conditions were really humble. Still, they helped us. They did their duty and we thank them."
Najah's eyes fill with tears. She wipes them with her paper towel and says:
"It is very, very difficult when you see planes in the sky attacking your city. When you see tanks. And when you see children fleeing over the mountains."
Happy in the village
"I come from Zeyda," says Mohamed and straightens his sore back a bit.
His village is located near the town of Ras al-Ain in Al-Hasakah Governorate, in north-east Syria, on the border between Syria and Turkey.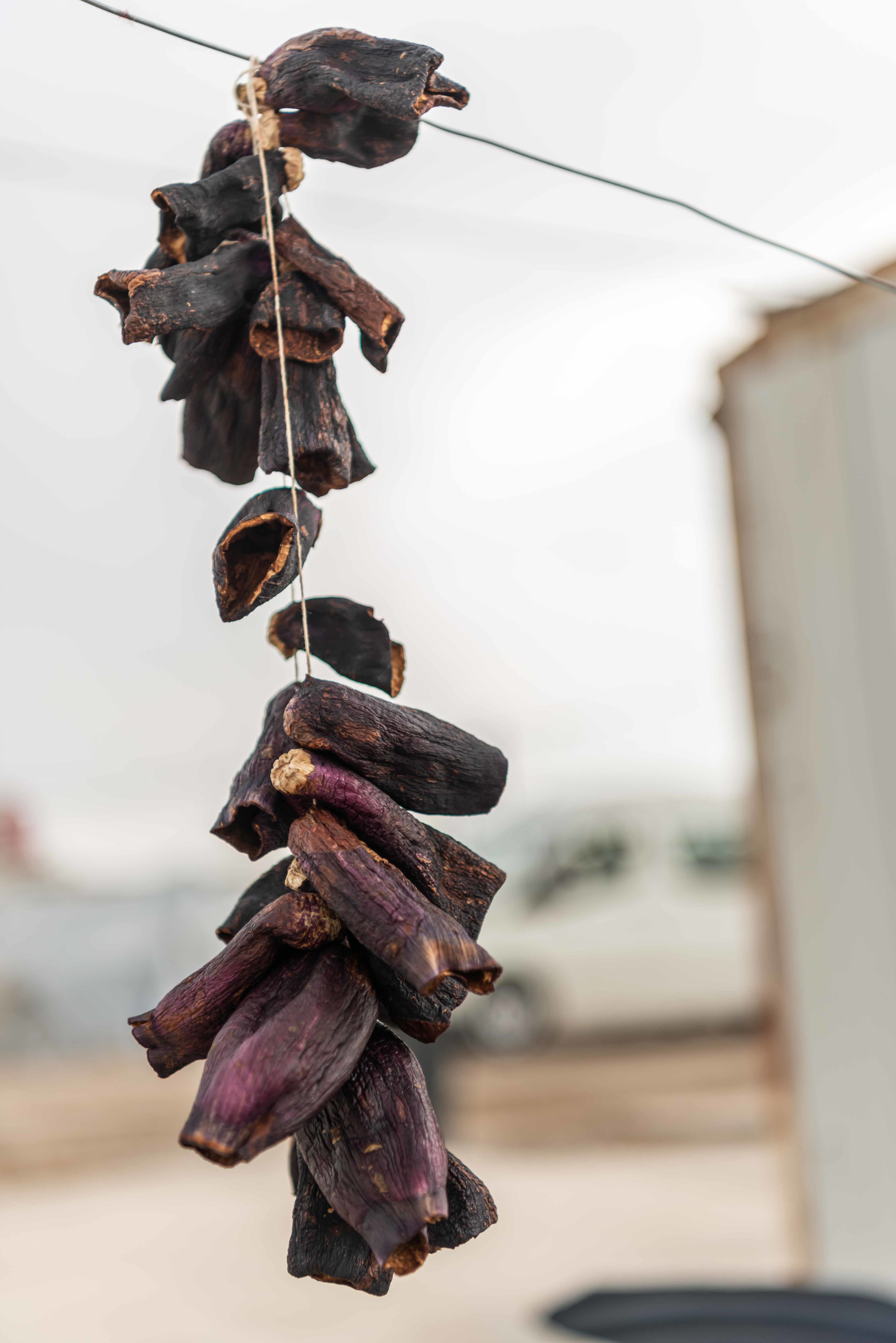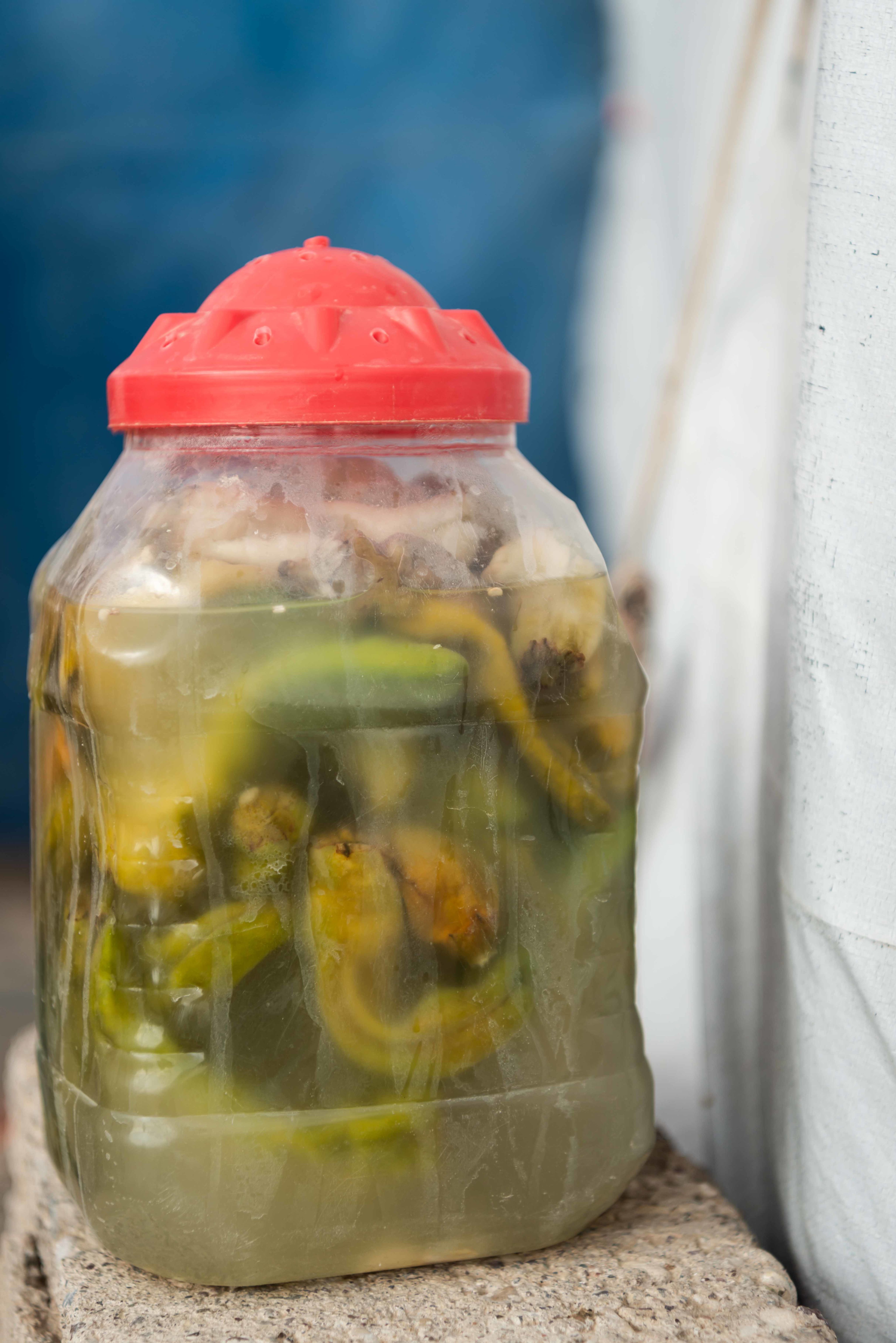 "Zeyda is located on the flatland, where we grow wheat. We have a view of the mountain ridge, which we Kurds call Qazvan [Abdulaziz in Arabic]. In the spring, from March to June, we have a tradition of bringing the sheep up into the mountain pastures.
"We are five brothers and five sisters. I'm the oldest. My parents are still alive: my father is 90 years old and my mother is 85. They came with us here to Kurdistan – they had a tent next to ours. But they eventually returned home to Syria.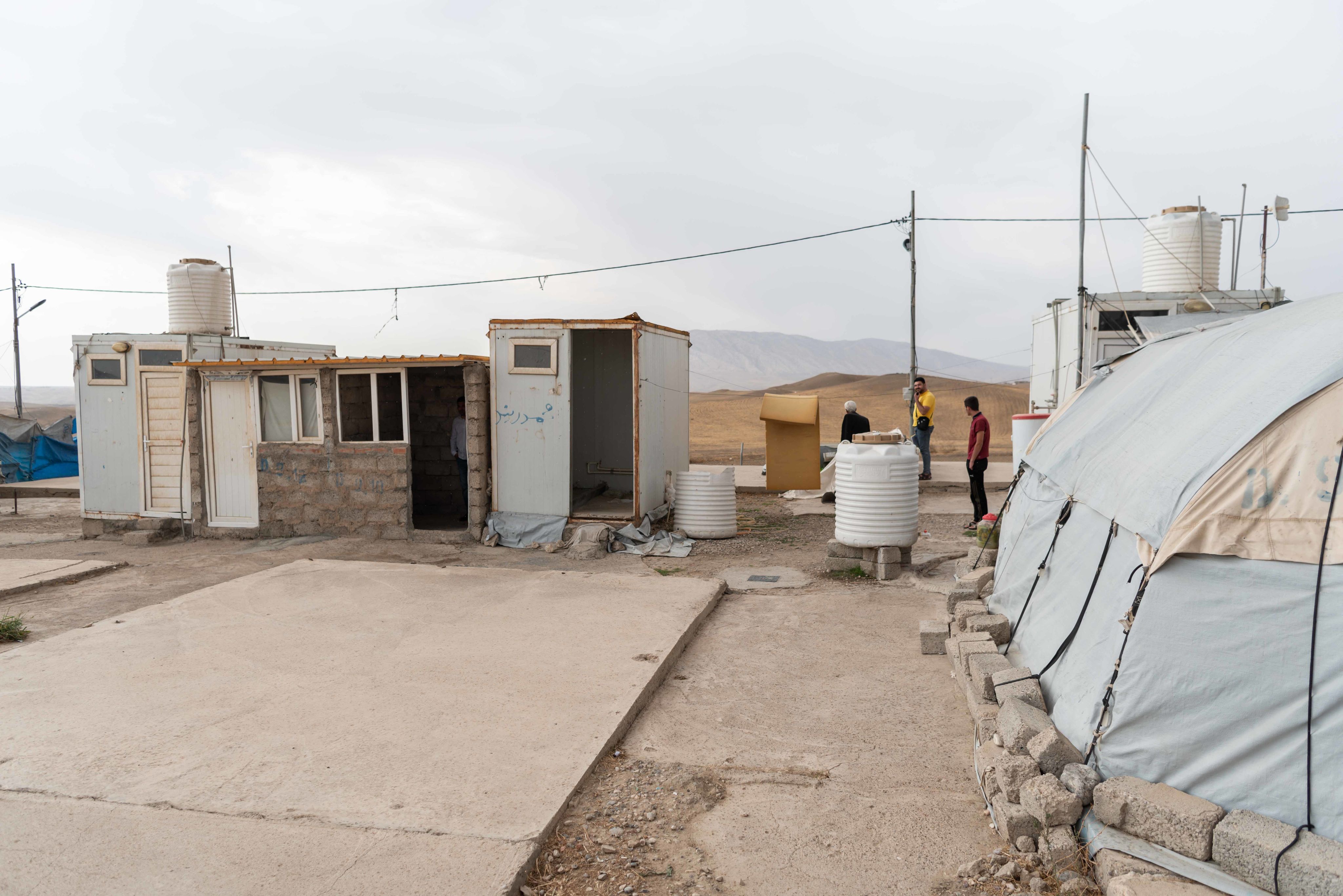 "We grew grain. Later cotton. I had a happy childhood, we played a lot – we played marbles! In the summer, when they cut the grass, we would jump in the hay. And of course, we tended the sheep.
"I had a happy childhood, we played a lot – we played marbles!"
"There was a river about four kilometres from where we lived. All the families in our village had donkeys, and we would fetch water from the river with our donkey. Our houses were made of clay and with thatched roofs. Every year, the houses had to be repaired and prepared for the winter. We children would help, too.
"Every Friday and Saturday, which were holidays, we would walk up the mountain to enjoy good food. Kebab, Coca-Cola, dolma [stuffed vine leaves], chicken or turkey.
"As an adult, I worked the same way my parents did: I supported my wife and five children by cultivating the land and keeping livestock. I also owned two generators: one for water and one for electricity.
"But now they have taken everything from us."
Hard to find work

More than a quarter of a million Syrian refugees currently live in the Kurdistan Region of Iraq. The fact that the refugees and the Iraqi Kurds have a common ethnic identity has contributed to a high degree of social and cultural integration.

The Kurdish Regional Government (KRG) authorities have given the Syrian refugees the ability to obtain residency and the de facto right to work. But Iraq is struggling economically due to a number of factors, ranging from the aftereffects of Covid-19, the conflict with IS, and fluctuating oil prices.

In a recent report, NRC examined the barriers that refugees face when trying to gain access to work.

Read the report
Running a shop
White tents line the streets of Bardarash refugee camp. Outside the camp, the landscape is rocky. On the horizon are the Kurdish mountains.
A grey suit-jacket hangs loosely over Mohamed's shoulders. He sits on a breezeblock in the doorway of his shop and watches the street life. The car of one of the humanitarian aid organisations drives by. Children and adults walk along the road. Some stop to have a chat or to buy something.
The shop, which NRC has supported financially, consists of a small tent, two refrigerators and some tables of goods for sale. Mohamed and his son Shamal sell fizzy drinks, sweets, crisps, padlocks and household items such as soap, washing powder, biscuits and tinned food.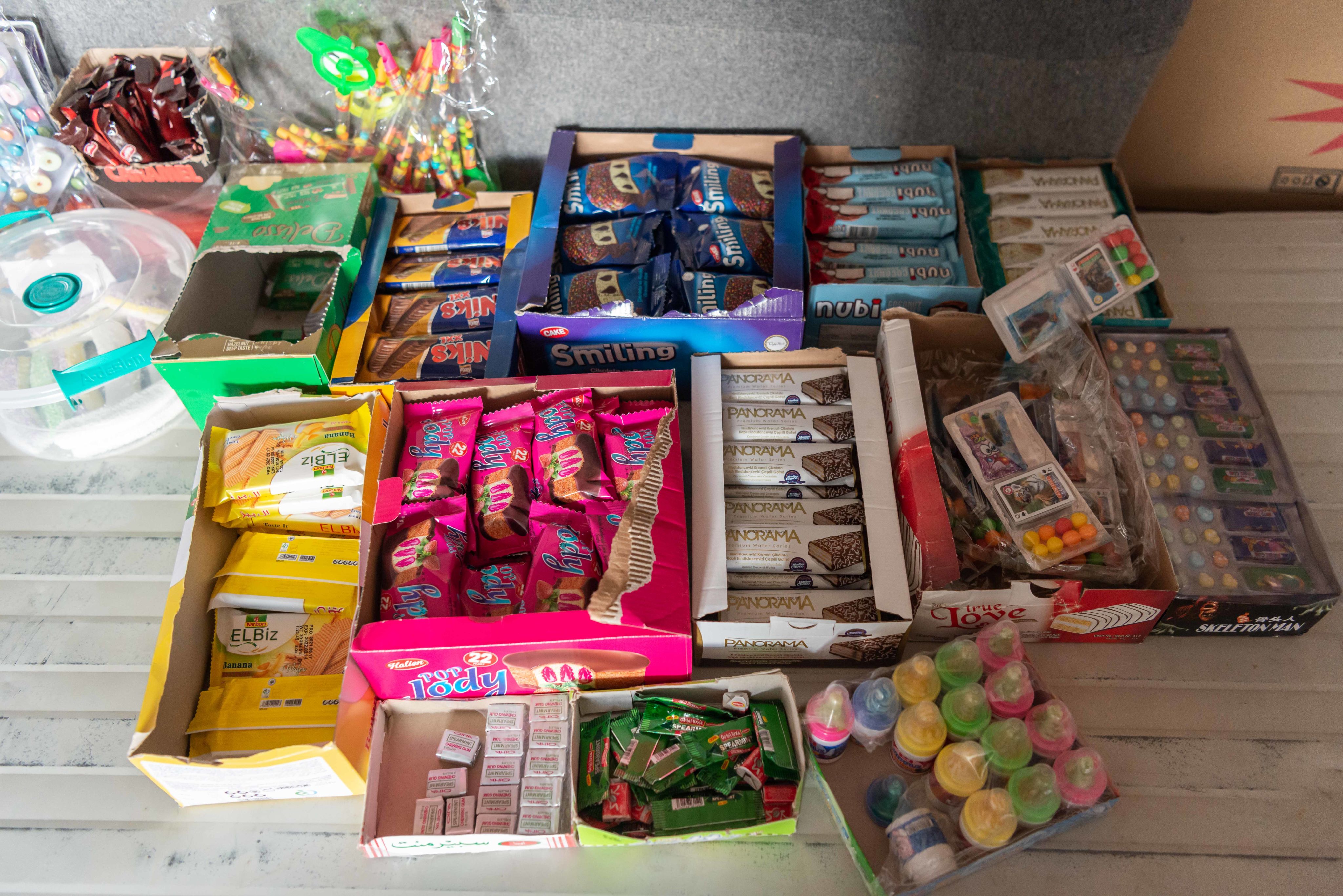 "We had nothing when we came here. Today, we are able to support ourselves thanks to the shop. Shamal and I work here, while Najah takes care of the housework at home – with the help of one of our daughters, who also lives in the camp. Housework is hard work. And Najah has both heart and back problems," says Mohamed.
He says that the health centre in the camp is closed.
"We no longer receive medical help. Shamal should have been examined by a doctor. He has a disability and we don't know what kind of medicine he needs. Najah is in pain. And then there's my back."
Some people leave, new people come
Bardarash camp was originally set up for displaced Iraqis, but was used to help Syrian refugees when Turkey launched its operation in 2019. Some 17,000 Syrian Kurds came here, according to UN figures. Some of them have returned to Syria. But many say it's too dangerous. They hope to rebuild their lives in Iraq or another country.
Today, 4,052 Syrian refugees live in Bardarash, according to the UN refugee agency (as of January 2022). Recently, 260 families came to the camp from Syria.
Missing their children
"What about the future?"
Najah starts to cry.
Najah: "We can't expect so much from it. The future for me is to see our whole family reunited."

Mohamed: "When people ask 'How are your children?', I answer 'Don't ask!' because I only see them on my mobile. They live in other countries. I haven't seen our other children in six years. I'm old and could die at any time. Separation is the most difficult of all."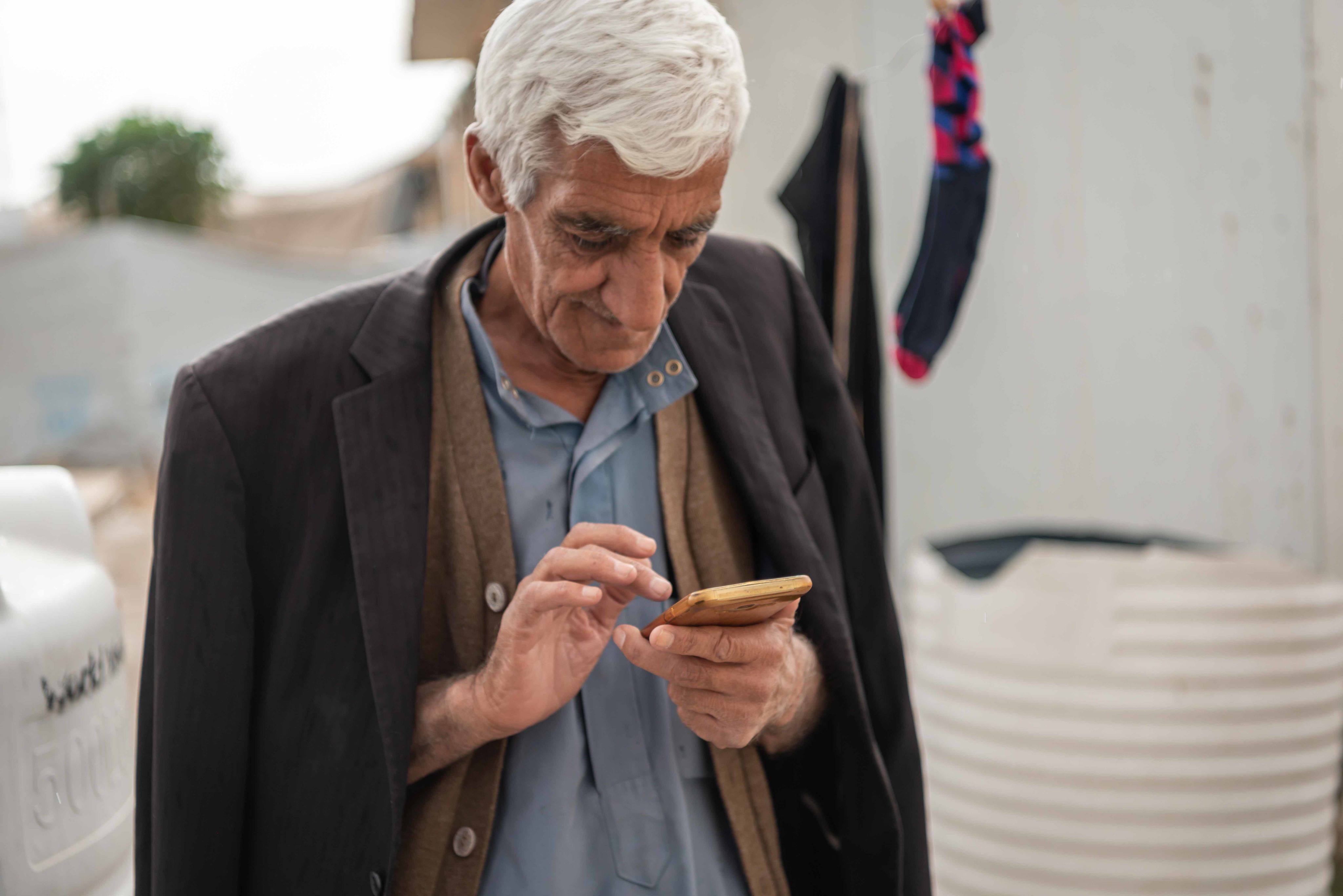 "Will you return to Syria one day?"
Najah: "We think about that 24 hours a day. But we can't go home. Our house is gone and we can't afford to rent a house. If we had money, we would have rented a house in Al-Hasakah."

Mohamed: "Life is difficult in Syria. There is little food and poor public services. And not to mention security. It's not good. There are still people there who support IS."
"Is it safe to be here in Bardarash?"
Mohamed opens his arms:
Mohamed: "Yes, this is after all Kurdish country."
---
Writer Kristine Grønhaug and photographer Beate Simarud.