What does it take to defy the odds?
Determination, ambition, and a hammer or two.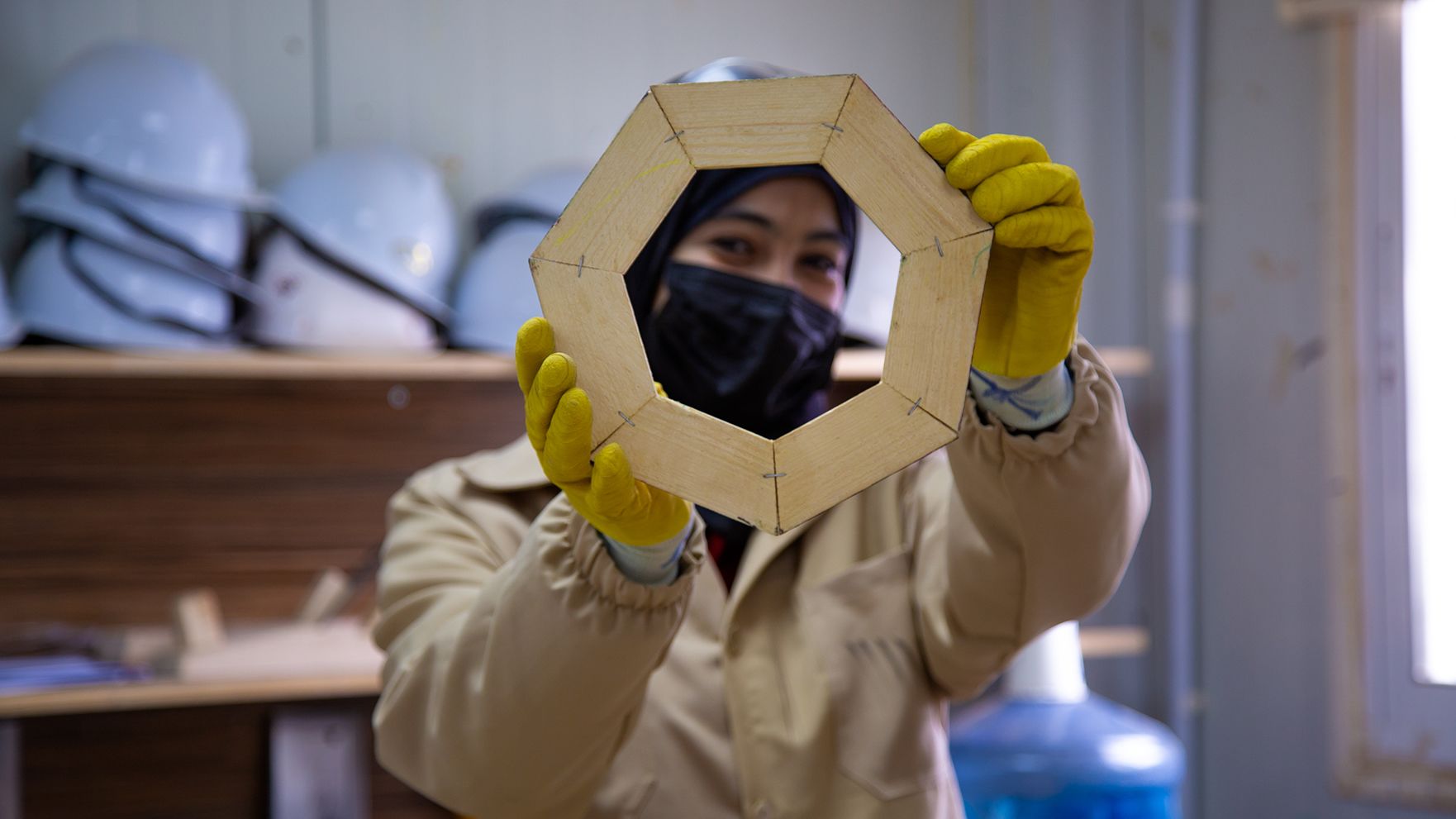 In two refugee camps in Jordan live two exceptional young women. Batool and Eman have defied the expectations of their communities to become skilled carpenters.
Equipped with their new skills and a newfound independence, they are already looking forward to more challenges and opportunities ahead.
Eman's story
---
Over 80 kilometres to the south-east of Zaatari lies Azraq Refugee Camp. Among Azraq's 43,000 residents is Syrian refugee Eman, 17, the eldest of six siblings.
"I'm in 11th grade now," she says, "and I'm determined to obtain my Tawjihi certificate. I'm the eldest among my siblings. At first, I thought it would be difficult to take on that responsibility and that perhaps my father would benefit from an eldest son instead. I don't have the same freedom to work in any field that a man would have.
"That being said, I'm grateful to be the eldest. I am able to support my parents…[they] depend on me for various things, such as helping my siblings with their education."
Eman also fled Syria with her family at the young age of twelve. 2016 saw them leave their hometown of Ar Raqqa behind, and venture towards safety in Jordan. Being the eldest daughter, a lot rests on her shoulders. Eman is determined to prove herself in the eyes of not only her father, but society at large.
"It's not easy being regarded as a refugee in general, but as a refugee living in a camp it's particularly difficult," she says.
"In the beginning, my father wasn't too fond of me going out on my own. He felt that, because of the unfamiliar camp environment, it wouldn't be appropriate for me to come and go as I pleased. I was restricted to simply going to and from school. But I was able to prove to him that I could look after and stand up for myself. He began to trust that I was capable of moving around independently."
In a world with no barriers

If there were no barriers and nothing stopping you, Eman, what would you choose to be?

"A doctor."

Why a doctor?

"It would be amazing to be able to heal people, and have people come to me when they need help. I was told it would be difficult for me to pursue that profession. I still have hope of becoming a doctor though."

What's the alternative plan, Eman?

"Becoming a lawyer."

Why a lawyer?

"I know it would suit my personality. I have a strong personality and I know I can excel in this role."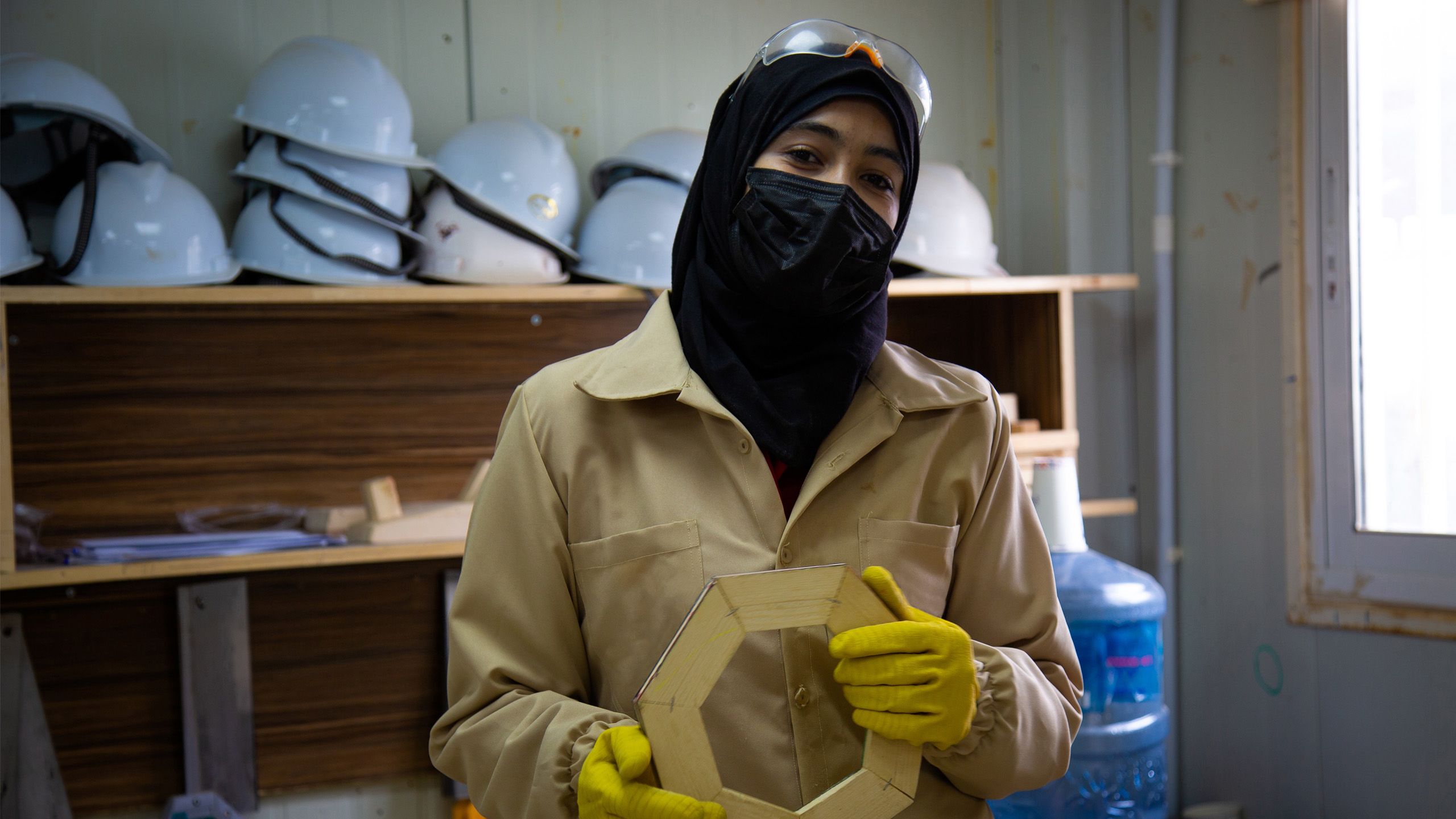 It takes a village
As well as sharing a common life story, Batool and Eman share an unwavering ambition and a vision for a brighter future. In their pursuit of skills that would equip them for whatever might come their way, they registered for NRC's carpentry course, newly opened for women.
Among the Syrian refugee communities in Jordan, traditional values are still the norm. Therefore, it is unusual for women to participate in traditionally male-dominated industries. But for NRC's youth team in Jordan, the decision to open up these courses for women was an easy one to make.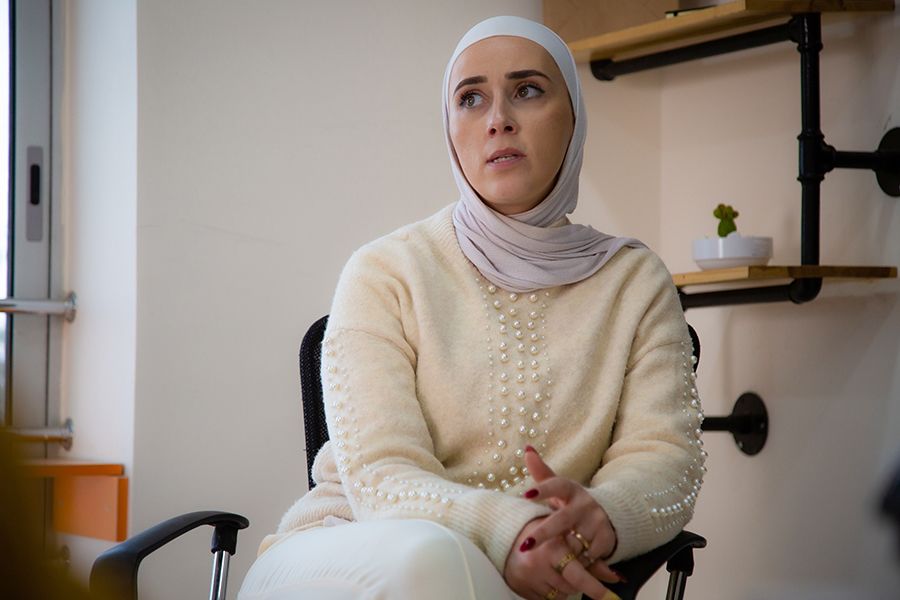 Leena has been working with NRC's youth programme since 2015. Photo: NRC
"We were approached by various women at the youth centre who inquired about courses to help them maintain their homes," says Leena, NRC's youth project manager in Jordan. "We were unable to help at the time, because we did not have any courses of that kind open to women."
NRC's youth programme offers vocational training opportunities to young Syrian refugees in camps, as well as preparatory courses for further education and/or employment.
With enough interest garnered, the first electrical wiring course for women was established in 2018.
The carpentry course followed in 2021, and Batool and Eman were among the first to register.
NRC's youth centre at Zaatari Refugee Camp. Photo: NRC
"It's important to mention that women who engage in such courses know exactly what they need," continues Leena. "Out of all the courses open to them – tailoring, International Computer Driving License (ICDL), hairdressing – they chose the carpentry course.
"They're participating in these courses because they want to prove themselves, whether they're doing it for their own self-empowerment or to contribute to their communities."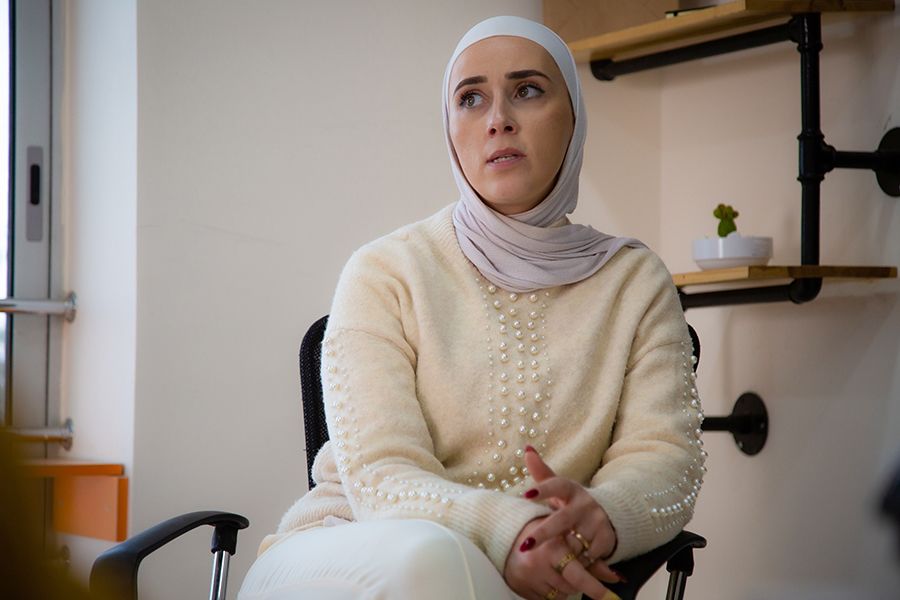 Batool's story
---
Twenty-year-old Batool lives in Zaatari Refugee Camp, Jordan. Home to more than 80,000 refugees, the camp is a mishmash of shelters, interlaced with bustling markets and dirt roads, all ringing with the voices of its residents.
Batool was only 12 years old when her family fled to Jordan. Not knowing her surroundings in the camp or what was happening around her, she closed herself off from the outside world.
"It affected me to the extent that I refused to go to school for an entire year," she says. "I was scared. I didn't know anyone. I didn't understand how school would even work in that context."
But Batool eventually did go back to school. It took her months to adjust to the new environment and to the girls in her class. It was difficult, but she persisted.
"I persevered through eighth, ninth, and tenth grade, up until I reached Tawjihi [the General Secondary Education Certificate Examination in Jordan], which I passed on my first attempt. I was the only one to graduate among my peers," she beams.
In a world with no barriers

If there were no barriers and nothing stopping you, Batool, what would you choose to be?

"A journalist."

Why a journalist?

"I love to write and I feel like it's a profession suited to my personality. Everyone keeps telling me that I should become a classroom teacher but it's just not for me. I met a lot of journalists here at the camp and I grew to love the profession through them."

What do you enjoy writing about?

"I mostly enjoy reflective writing."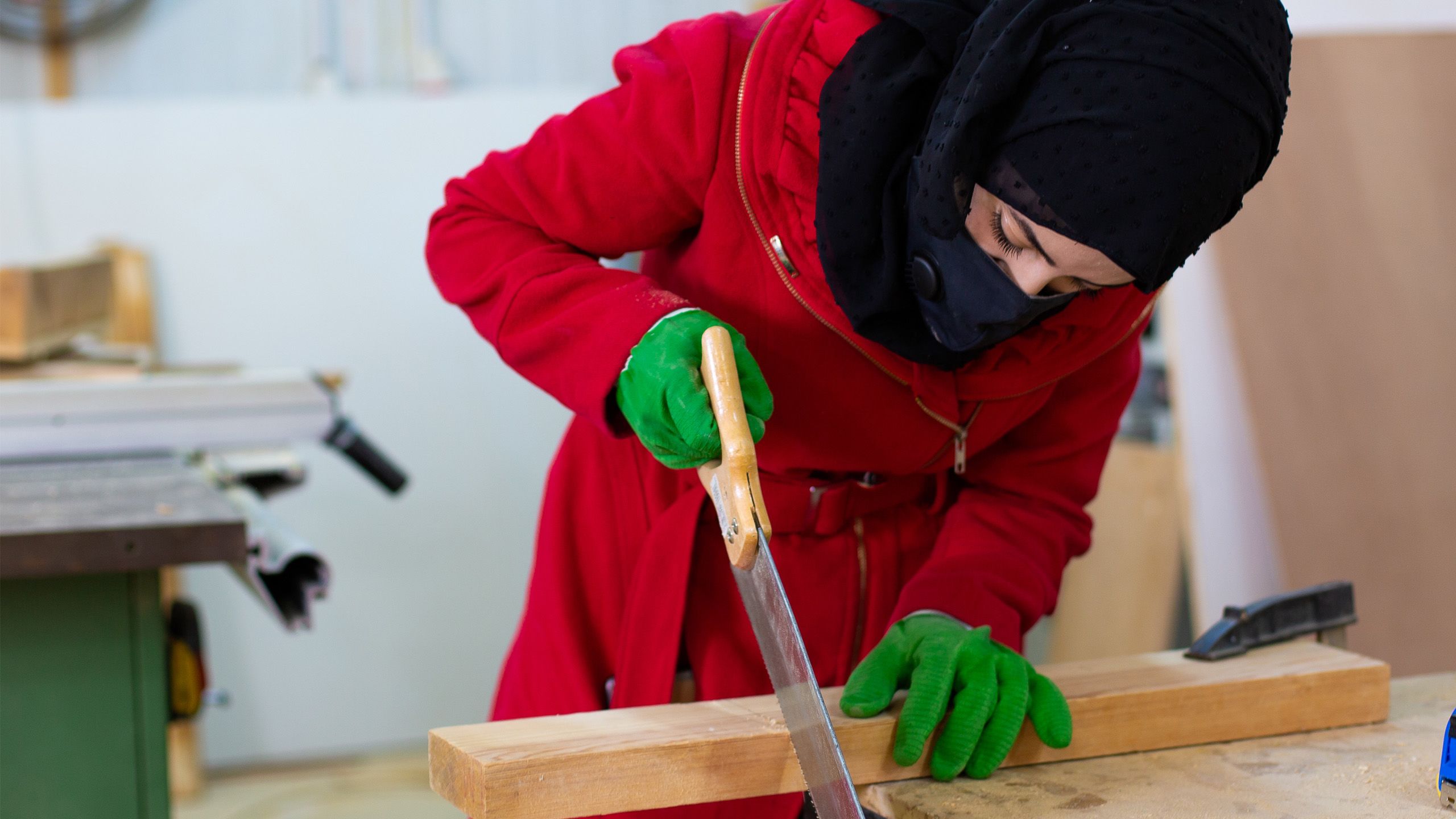 Progress, progress, progress
Batool was bewildered when she first heard about the opportunity.
"Carpentry? Women to register in a carpentry course?" she wondered. But she came around to the idea. "They encouraged me to try it out, and I agreed. It was something different."
Batool joined a cohort of approximately 20 other women.
"The course lasted a month and we were taught the fundamentals of carpentry, including the tools required, the varieties of wood available, and general safety protocols," says Batool.
"We had to take the course entirely online because of coronavirus regulations, but we were given the tools needed to complete our assignments at home."
Batool marks the point at which the plank of wood is to be cut. Photo: NRC
Batool marks the point at which the plank of wood is to be cut. Photo: NRC
"We had the freedom to design anything we liked with the concepts we were taught. I opted to build a table," Batool continues.
When asked about how she tackled society's scepticism, her voice rang with confidence.
"It was just something different," she says. "Something that would equip me as a woman to be more independent. I might find myself in a situation where I need to utilise these skills.

"My family was supportive of my decision as long as I was comfortable.

"Society might be against the idea of women taking up carpentry now, but perhaps in time attitudes might change. Especially when we start putting those skills to use. We acquired these skills to help ourselves.

"If I allow myself to be swayed by society, then my progress will stop."
Last woman standing
"I asked [one of NRC's instructors] how many girls were enrolled in the course. He said nine, and I would be the tenth," says Eman. "I agreed and went ahead and registered."
Unlike Batool's online study, Eman's course would be conducted entirely in-person.
"My father was against the idea to begin with. He said that carpentry would be too difficult for me as a girl," she says.
"So many people were against the idea of me joining the course. My friends would see me coming to the NRC site and ask me why I was here, questioning my reasons for registering for carpentry."
"I was sceptical at first too. How would this course benefit me as a woman?"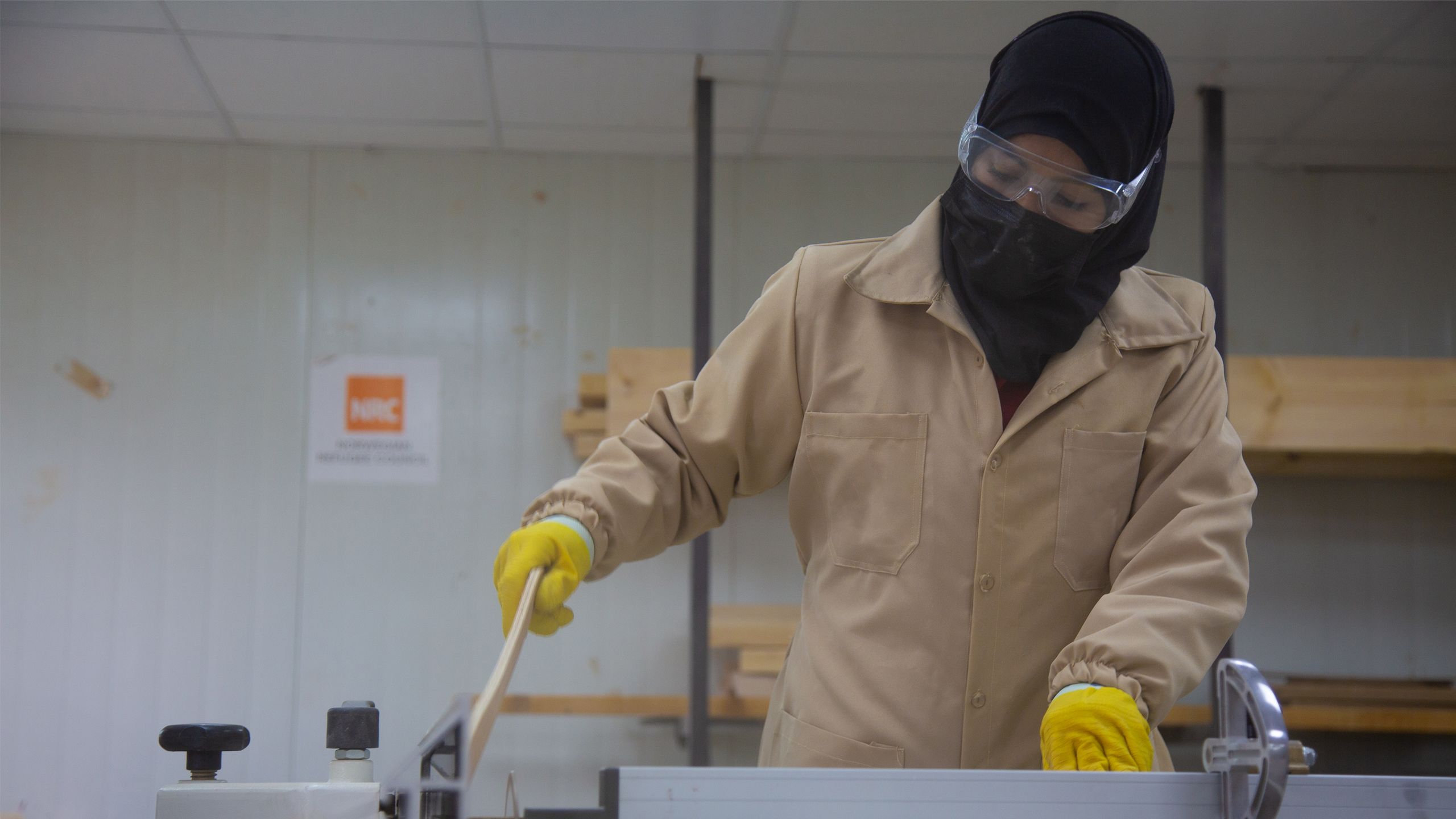 Eman cuts a plank of wood using a table saw. Photo: NRC
Eman cuts a plank of wood using a table saw. Photo: NRC
But Eman made her decision. Paying no heed to the cacophony of criticism surrounding her, she pursued her desire to attend the course.
"After taking a few practical carpentry classes, I found myself enjoying it enormously," she remembers fondly.
"I barely saw any of the other nine girls though. They attended maybe the first session or two and then they all dropped out."
Many of Eman's peers withdrew from the course because of societal and familial pressure. Being the only one left would discourage most people, but for Eman, it only strengthened her desire to complete the course.
"I enjoyed the class so much, and because I was the only student, I finished my assignments a week ahead of the boys' class. The youth team was really impressed by my progress. I was able to construct a medicine cabinet entirely on my own."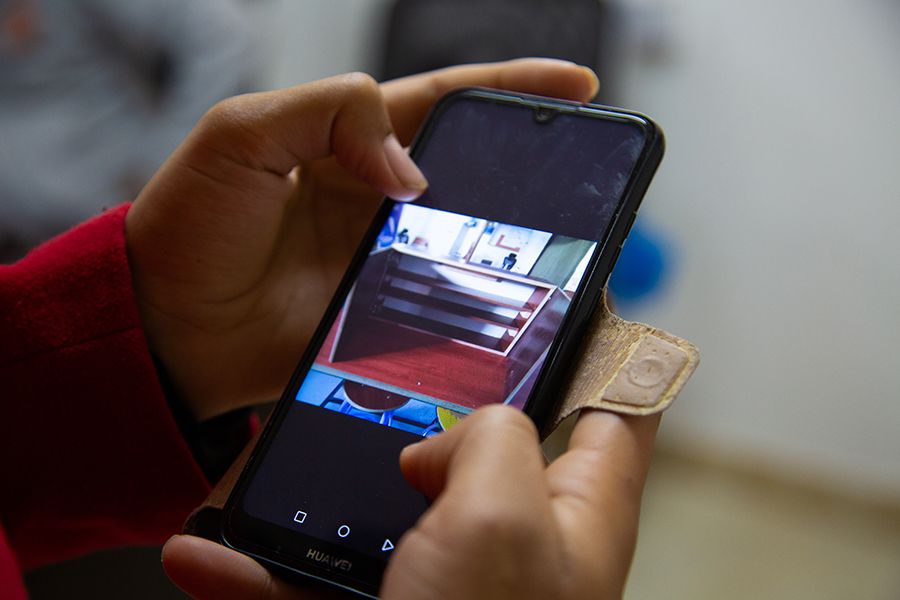 With all that strength, Eman still felt the occasional twinge of doubt and insecurity, until a turning point solidified the belief she had in herself.
"Since the course was segregated, I didn't have any boys in the class," she says.
"But their classes ran parallel to mine, and I would spot them often at the youth centre. The way they would look at me bothered me initially, again, questioning the validity of my being there and taking the carpentry course."
"That negativity was alleviated when my instructor showed the boys my work. I felt validated. I knew then that this course could be taken on by any girl, not just the boys."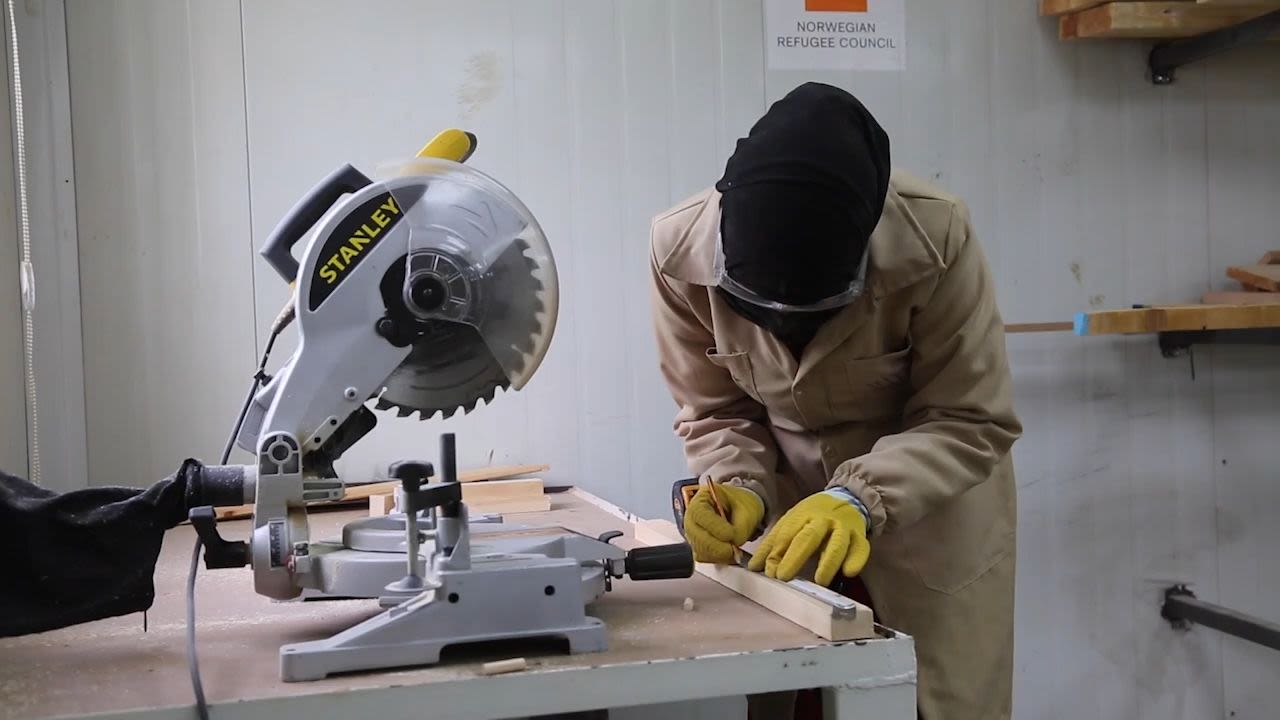 A meeting of minds
There's something so gratifying about seeing wood shavings emerge from the top of a smoothing plane. One by one they drop onto the work surface, forming a neat pile of curls, and leaving behind a perfectly finished, gleaming wooden surface.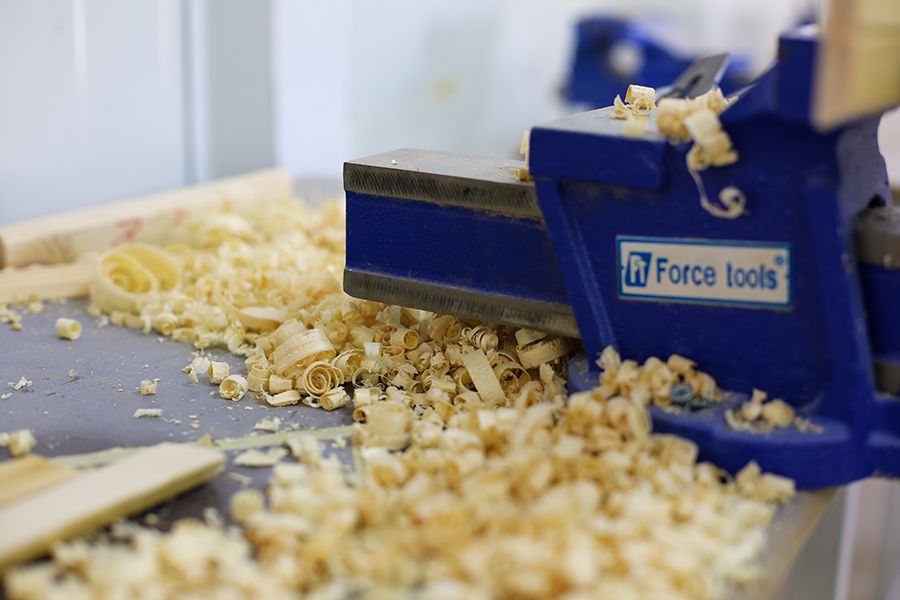 Then that wooden piece becomes part of a chair, a table, an ornament, a cabinet, a bookcase, a desk – the possibilities are endless.
Carpentry in this case represents more than just a simple vocation. It's an entirely new world of opportunity for women like Eman and Batool, who have an innate desire to challenge themselves and do more – be more – than is determined for them by society.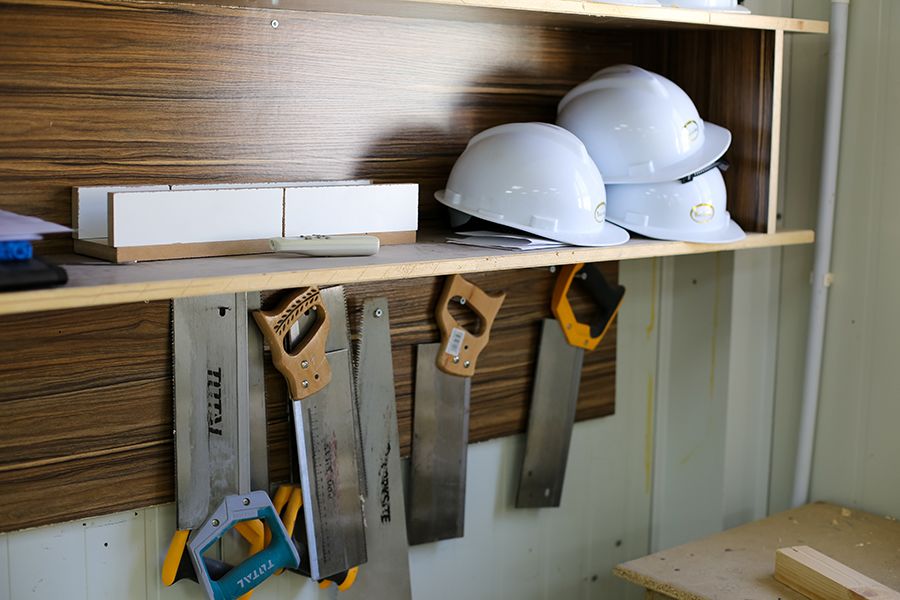 Batool and Eman's current situation means that their dreams of becoming a journalist and a doctor may seem out of reach – for now. But by successfully completing this carpentry course, they've shown they have what it takes to defy the odds and achieve their goals.
Separated by many kilometres, strangers, and yet deeply similar in outlook.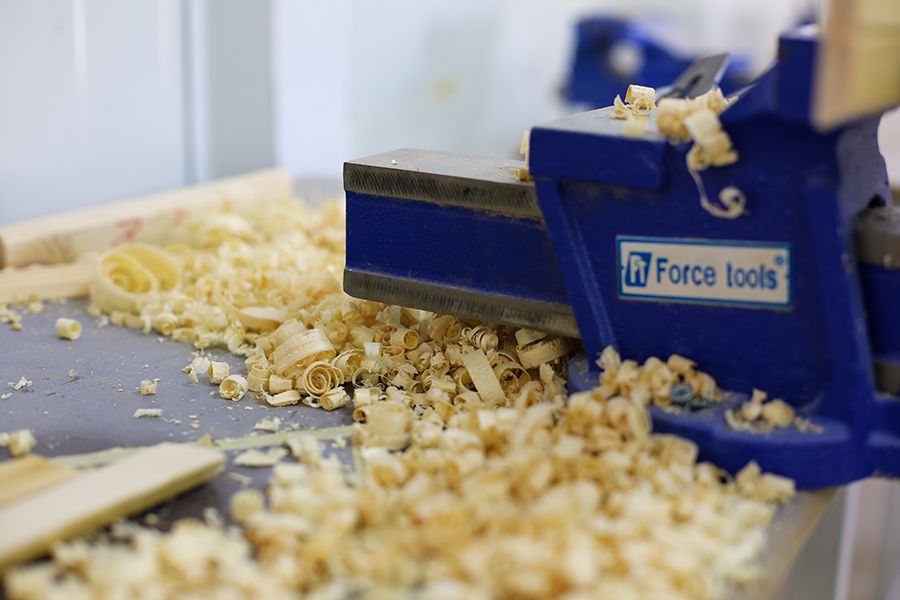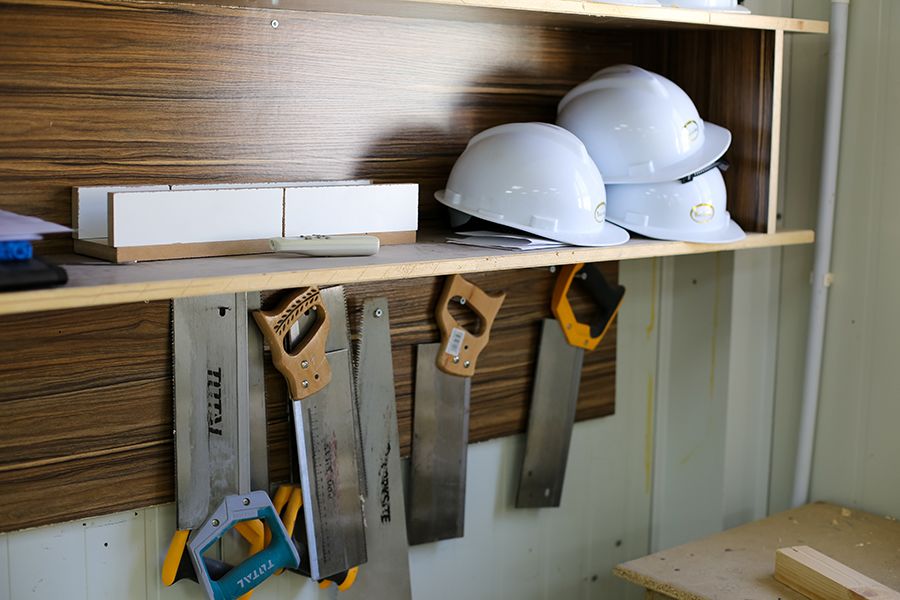 What would you like to tell the world, Batool?

"My advice for young women is to try. Try new things. We have nothing to lose. We don't know what's going to happen in the future and we might find ourselves in a situation where we're alone and need to rely on ourselves. We must develop both our thinking and our skills."
What would you like to tell the world, Eman?

"The message that'd I'd like to get across is twofold. First, don't allow anything to stop you from continuing your education. And second, no matter what study or profession you'd like to pursue, no matter what negative things people tell you, once you reach your desired goal, believe me, everyone's perception towards you will change.

"I never expected I'd take part in a carpentry course and earn a certificate of completion myself. I was repeatedly questioned for my decision. And yet, here I am, being given the space to get my message across to the world."