María's fight against violence
She was forced to flee violence from armed groups many times. And at home, she experienced domestic violence.
Then one day, she said to herself: "I've had enough. I am going to fix this."
María (not her real name) sits on a wooden chair at her new home in the town she recently fled to. She shares this house with her five children and granddaughter, as well as with four other families.
The room is dark. A few flickering lamps allow us to make out the surroundings. María is dressed in black shorts and a green t-shirt. When she speaks, she uses her hands freely and expressively to underline the words.
"No, darling. I wasn't able to bring anything this time. Nothing! Because we were out of the house when the shooting began. I heard the shooting. My TV was hit by a bullet, my refrigerator also got shot with bullets, and it is broken. My house was really damaged," she says.
"I want to make it through"
María is almost blasé when she talks about this most recent experience. To her, it has become almost "normal" to be forced to leave her home in this way.
"And anyway, when you're fleeing by canoe, there's very little space. You can only fit a handful of possessions, if you're able to grab them."
But when it comes to the safety and security of herself and the women in her community, María is anything but blasé. She looks me directly in the eye. Her expression is stern.
"I am not going to die or put my head down. I want to make it through."
Typical village life
Picture it.
You're at home in your rural village. Perhaps you've just picked some food from your land for tonight's dinner. Maybe you're washing some clothes. Or you've just waved goodbye to your children as they head off to school.
And then…BANG. The gunshots begin. There are two gangs. They're shooting at each other. But your world is in the centre. All it takes is one stray bullet, and you, or one of your children, would be dead.
You grab what you can in a split second and leave. You head down to the river and jump in the nearest boat heading to the town. You consider that perhaps the boat is too full. Will it make the three-hour trip with all these people in it? You have no choice but to take the chance.
You arrive at the nearest town. It's overwhelmed by others who have fled, but thankfully, there's space for you and your children in a temporary shelter. You have to all share one bed, and there are people everywhere, but at least you're safe.
The mayor of the town provides you with some food. But the food will not last long. A week? Two weeks? A month if you're lucky. You keep thinking about your crops at home that need tending to. The crops that ensure that you and your family never go hungry.
You hear that your village is safe again. You're overwhelmed with relief. The violence is over. So, you make the return journey, by river, back home.
The gunshot wounds are visible in the walls of your house. But at least you can begin helping it to heal.
And then, just a few months later, the same thing happens again. And then again.
For María, it has happened five times now.
Violence on the streets and in the home
Like most towns and cities in western Colombia, the town where María now lives sits on the riverfront and is surrounded by tropical forest.
Due to the security situation, we are unable to name the specific town.
Between January and mid-September 2021, more than 10,000 people were forced to flee to the town. As a result, the town mayor's office, the school and the hospital are all being used to shelter displaced people. The buildings are run down, without enough space, privacy or the right facilities for the displaced people to live with dignity. Among the thousands of people who fled here for safety are babies, elderly people and the disabled.
Military personnel patrol the streets holding heavy guns. But it doesn't feel like a war zone. On the surface, the town seems safe and calm. But there's an eeriness, as though it won't be quiet for long.
For women living in this region of Colombia, there's an additional risk that's even closer to home – domestic violence. ACAPS reports that in 2021, there was an increase in violence inflicted against women by their partners. However, due to the fear these women face, and the lack of support available, the issue is heavily underreported.
"We're ready to build"
María acts as an unofficial leader in her community. Her focus right now is on finding safe housing for the displaced women living in the town. There's an empty plot of land that they hope to occupy. A group of women has already started clearing the land.
"We're ready to build ourselves safe homes where we can grow our own food," says María.
It's unclear yet whether the women will be granted permission to build here. But no matter what, María will not stop trying. She will continue the fight for the women in her community.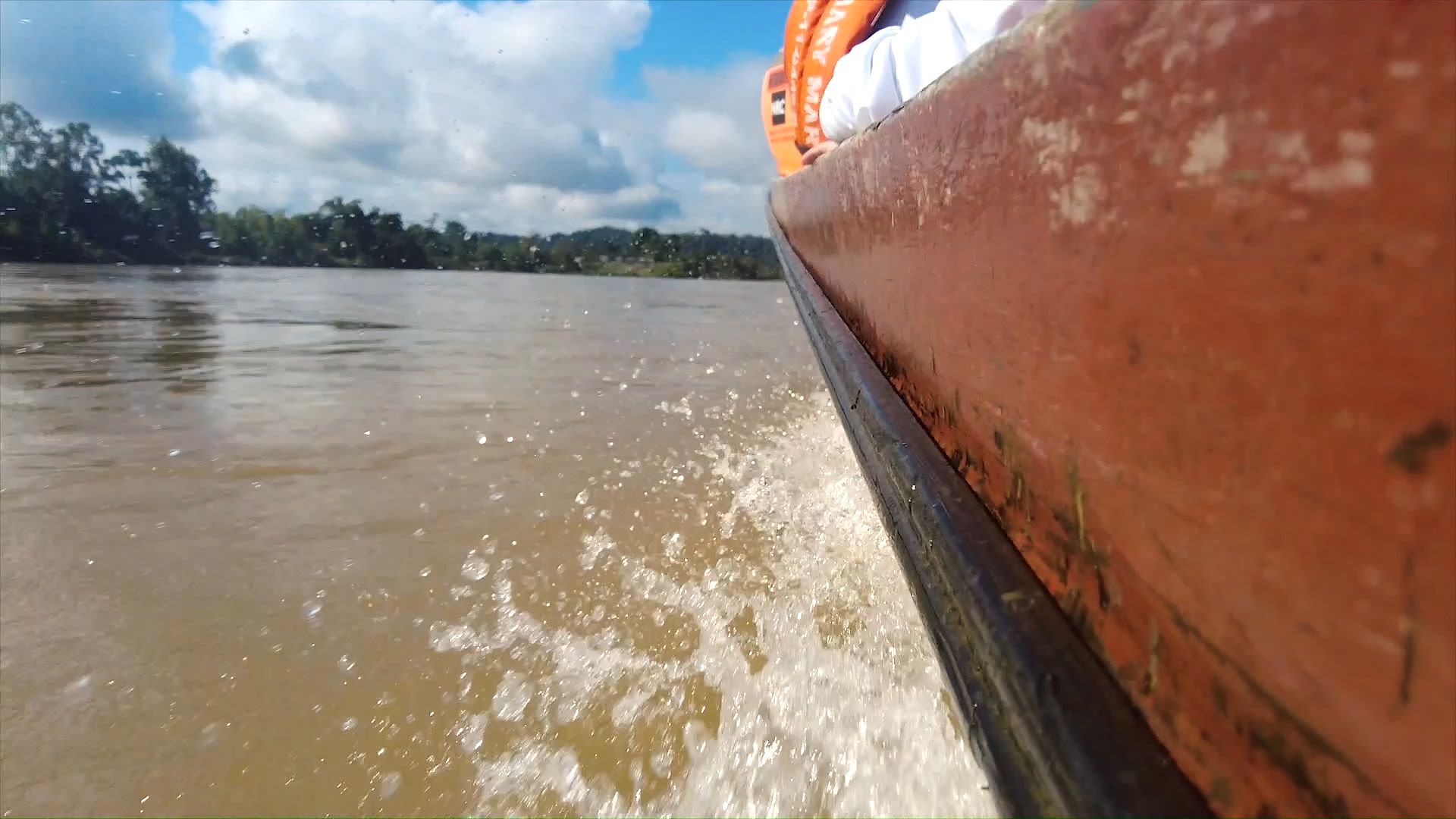 Why is the area so violent?
This area of Colombia has become widely known as a hotspot for displacement and humanitarian needs. But why?
In 2016, the Revolutionary Armed Forces of Colombia – People's Army (FARC) and the Government of Colombia signed a peace agreement, officially ending decades of armed conflict. However, peace did not last long.
This area of Colombia is rich in coca. Its rivers are a gold-mine for transporting drugs out to the Pacific Ocean. To an armed gang, this area is worth fighting for.
According to reports from human rights organisations, since the peace agreement, different armed factions have arisen. Where previously there was just one opposing force, now there are many. And they are all fighting for territory wherever they can find it, even if it means forcing people from their homes.
The groups also use intimidation to control those living in the area. They do this by planting landmines, preventing development and killing anyone who stands in their way – including community leaders, like María, who want to better their communities.
Why are the needs so great?
The humanitarian needs are great for a number of reasons.
Mass movement of people. There simply isn't enough space, resources or facilities to provide all the displaced people with dignified housing.
Food shortages. Most people fleeing their homes grow their own food. If there's any food left over, they will sell it for a small income. Without their crops, they have no income. And no food.
Location. It is an extremely rural area in the middle of a conflict zone. The lack of infrastructure is limiting humanitarian access.
The Norwegian Refugee Council has been providing legal counselling to enable displaced people to officially register as victims. We've also been delivering emergency aid to families in urgent need.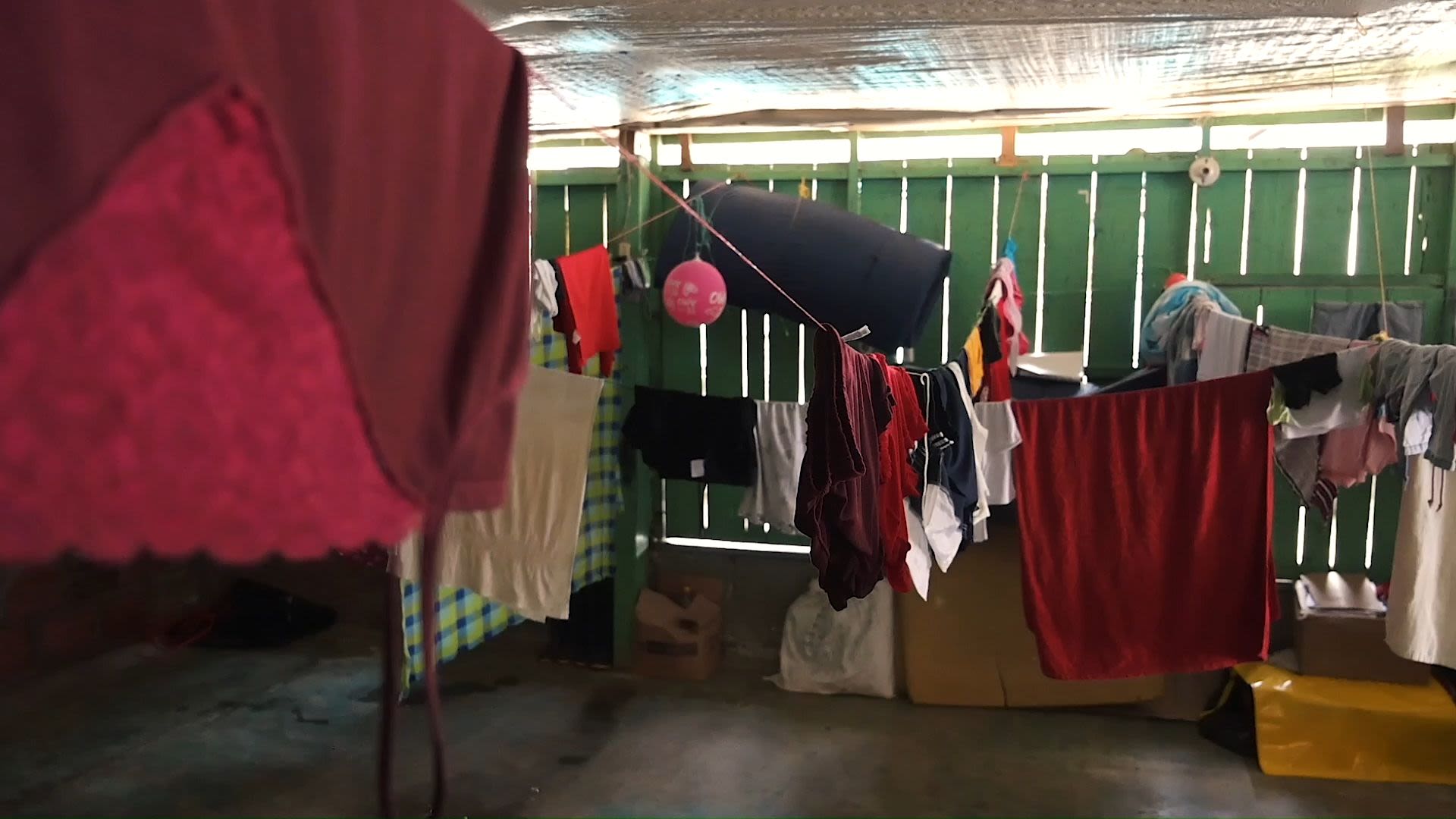 María is living in a shelter provided to her by the town mayor. It's a simple one-room structure on the corner of two quiet streets. The space for each family is divided up by bed sheets hanging from the ceiling. This provides a modicum of privacy. But to María, it's not private enough.
"It is uncomfortable. You know, I'm used to living in my own house. For a woman to get dressed, you need to be in a place where you feel comfortable," she says.
"But here, you know, if you're getting dressed and somebody sees, they see. If they don't, they don't. You know, in this place, we don't have any privacy."
A mother and a leader
María says that it's challenging being a single mother in such a chaotic situation. But she refuses to be defeated.
"Yes, I am struggling, believe me. I am having many difficulties. But I need to see if I can progress, if I can make it. I cannot rest and sulk," she says.
What is her role as a female leader?
"I tell people about the situation we women are facing. Like, right now, I'm talking to you. We are not receiving enough support from the organisations in charge. And we women, we have families to support," she continues.
"We cannot get jobs. How are we going to survive for our families?
"I also go into the communities. I gather people in the shelter and we plan activities, and we come up with conclusions. And then we go to an organisation and ask for something. Right now, what we are asking for is to get sleeping mats, food, water filters, cooking pots, etc."
"Over my dead body"
"I would like to get support for the leaders. Believe me. Because when there is no-one else there to support our community, we are there," says María.
"Secondly, there are many women in the communities here that are affected by violence. I mean, domestic violence. I would like to get support for us women who are abused."
María wants to include domestic violence in the conversation. She bravely speaks out about her own experiences.
"I left my husband when we arrived here. It is almost three months since we separated. I was being abused by him. He was very abusive, he mistreated me a lot.
"And well, he had promised that he would not beat me anymore. Whenever we had problems, he told me he would not beat me anymore.
"And we got here, and he beat me up twice. He beat me up twice, then I said this is the last time.
"He was going to damage my eyes, then I said: 'no more'.
"I talked to the municipal victims' liaison officer, and I told her that I am not going to live with him anymore and allow him to treat me this way.
"So, he left. He has come here to threaten me. He has told me that I must live with him until I am dead."
María looks me straight in the eye and says:
"But I said, 'over my dead body'.
"It's a decision I had already made."
María's story is the reality for many women living in this region of Colombia. Their lives are filled with violence and turbulence, and yet the issues are not widely acknowledged.
But María refuses to let their reality go unnoticed. She will continue fighting for peace and security for herself, her family, and the women in her community.