Even an anchor sways during a storm
It's said that "life goes on". But what if it doesn't?
---
In South Sudan's capital city of Juba, there are three UN camps for people who have been displaced within the country. A barbed wire fence encompasses the settlement, where more than 13,000 people live in small tin shacks and tents.
The camps have both a health centre and a school, and the shopping street is full of life, with eager children running around between the small markets – some of them on their way to play football.
One of the people who has made a home here is Majok Yien Wanjang, 48. He lives in a modest tent in a corner of the camp, with his wife Teresa, 38, and their five daughters.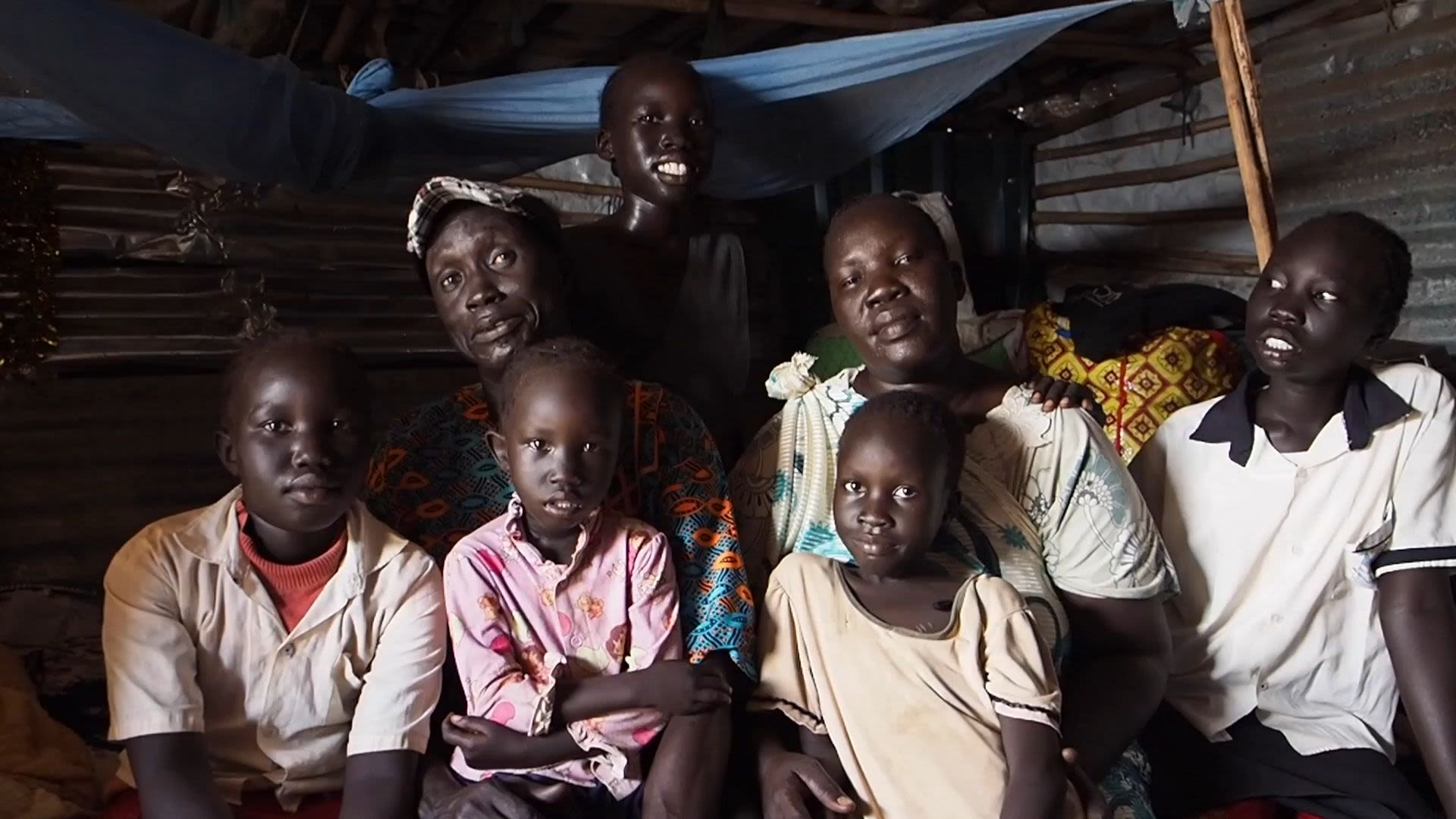 But while corner apartments often have lovely views of the surrounding neighbourhood, Majok and his family look out directly onto a barbed-wire fence on one side, and a watchtower on the other.
This camp – this little tent – has been their home for eight years. Their old home is only ten kilometres away.
---
The first time we met Majok was in 2018. Even back then, he and his family had been living in the camp for five long years. Although the shock of being forced to flee still affected their daily lives, they had begun to settle into their small home. The days went by, with new routines, while they waited for good news – news of peace.
---
Before 2013, Majok and Teresa lived a quiet life in the Sudanese capital Khartoum. The two met while they were students in the city. After their studies, both got jobs in the private sector. Life was good.
"I went to Khartoum to study, and married a lady from there," says Majok. "When the peace agreement in South Sudan was signed, we went back to Juba, to help rebuild the country. When we lived in Juba, we had everything we needed, and our children went to good schools."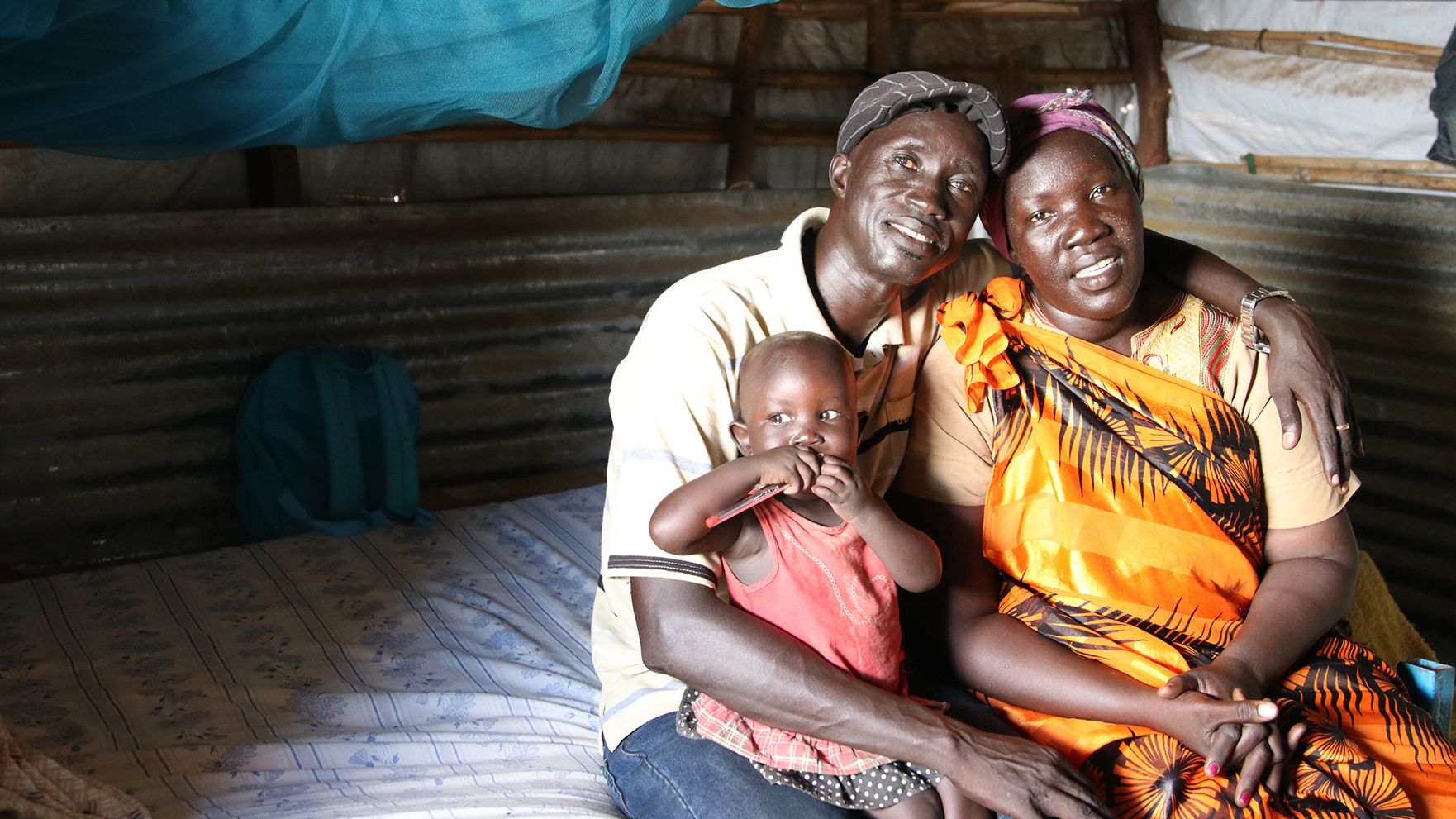 Majok and Teresa with their youngest daughter in 2018. Photo: Ingrid Prestetun/NRC
Majok and Teresa with their youngest daughter in 2018. Photo: Ingrid Prestetun/NRC
The conflict in South Sudan

In 2005, a peace agreement was reached between the parties in the north and south of Sudan. The agreement was signed after many years of bloody civil war – the longest continuous civil war in the history of Africa.

A few years later, in 2011, South Sudan seceded from Sudan. During the election held that year, 99 per cent voted for independence. Although the people of what became South Sudan were strongly in favour of separating from the north, little else was in place, and the new country would soon face problems.

As soon as independence became a fact, a conflict arose within the liberation movement. When Salva Kiir, South Sudan's first president, accused Vice President Riek Machar of attempting a coup, this split the liberation movement – and a civil war erupted in South Sudan on 15 December 2013.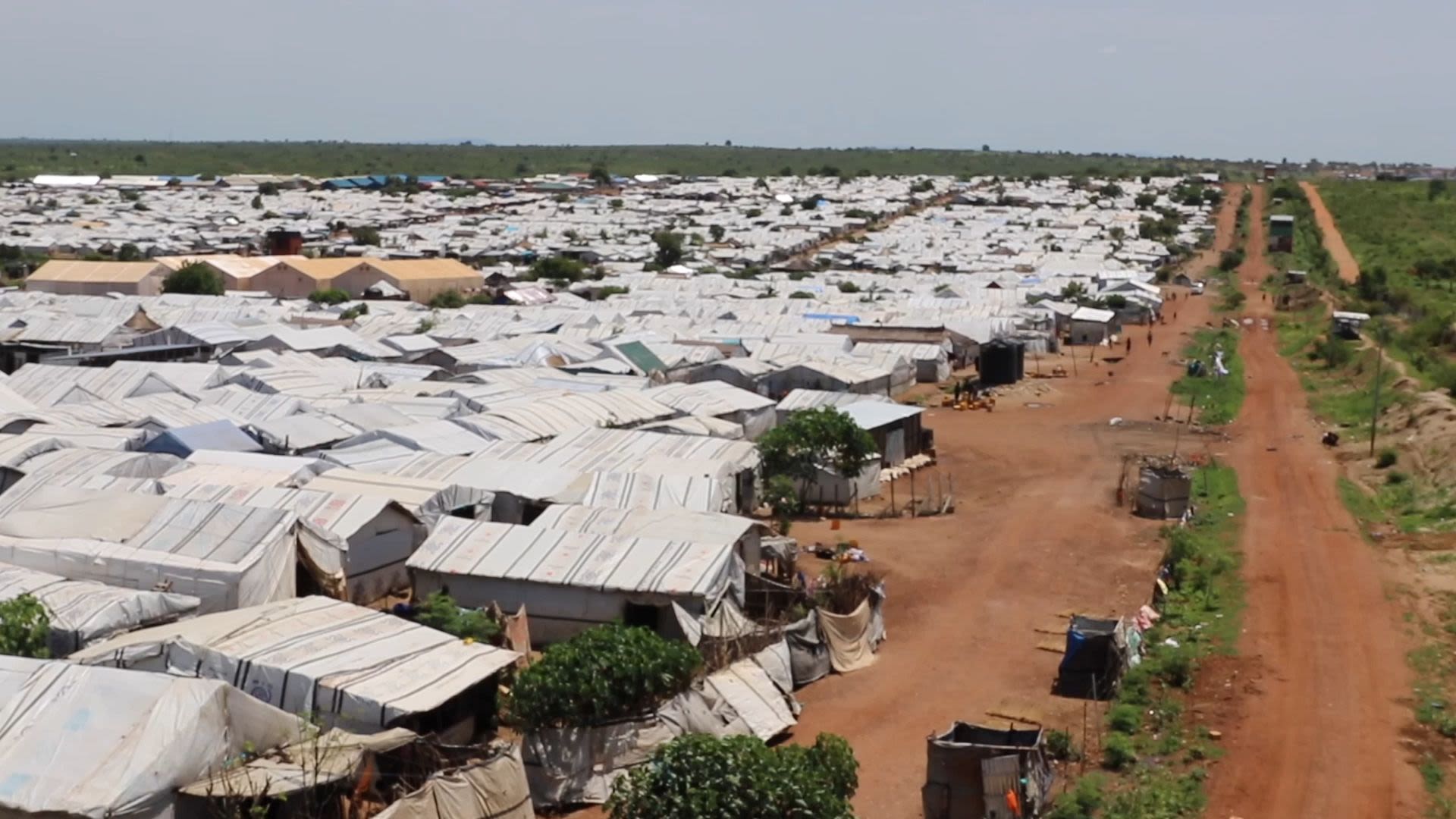 A new life
On a December night in 2013, the fighting reached the area where Majok and his family lived. They heard gunfire all through the night. They lay awake, terrified, listening to the shots and the sounds of people being killed. Early the next morning, they decided to flee.
"There was shooting everywhere," says Majok. "Many died, especially those who were of the Nuer people – it was they who were most vulnerable. When we finally arrived at the displacement camp, we were safe. I'm so glad my family is safe."
"I never thought that I would be forced to flee in my own country," says Majok.
"Both my wife and I are educated. We have university degrees, but there are no jobs here in the camp. So now I volunteer as a teacher at the primary school here, called Hope," says Majok. He was keen to create and maintain routines in a daily life that had suddenly become different.
He makes sure to be around people.
"It is not good to be alone, it is better to be with other people."
An anchor of support 
Majok is an important person in the camp. In addition to teaching at the camp's school, he is a youth leader and coach.
Wherever he goes, children and young people flock around him, and the sounds of laughter and children singing fill the street. Majok means a lot to many people here.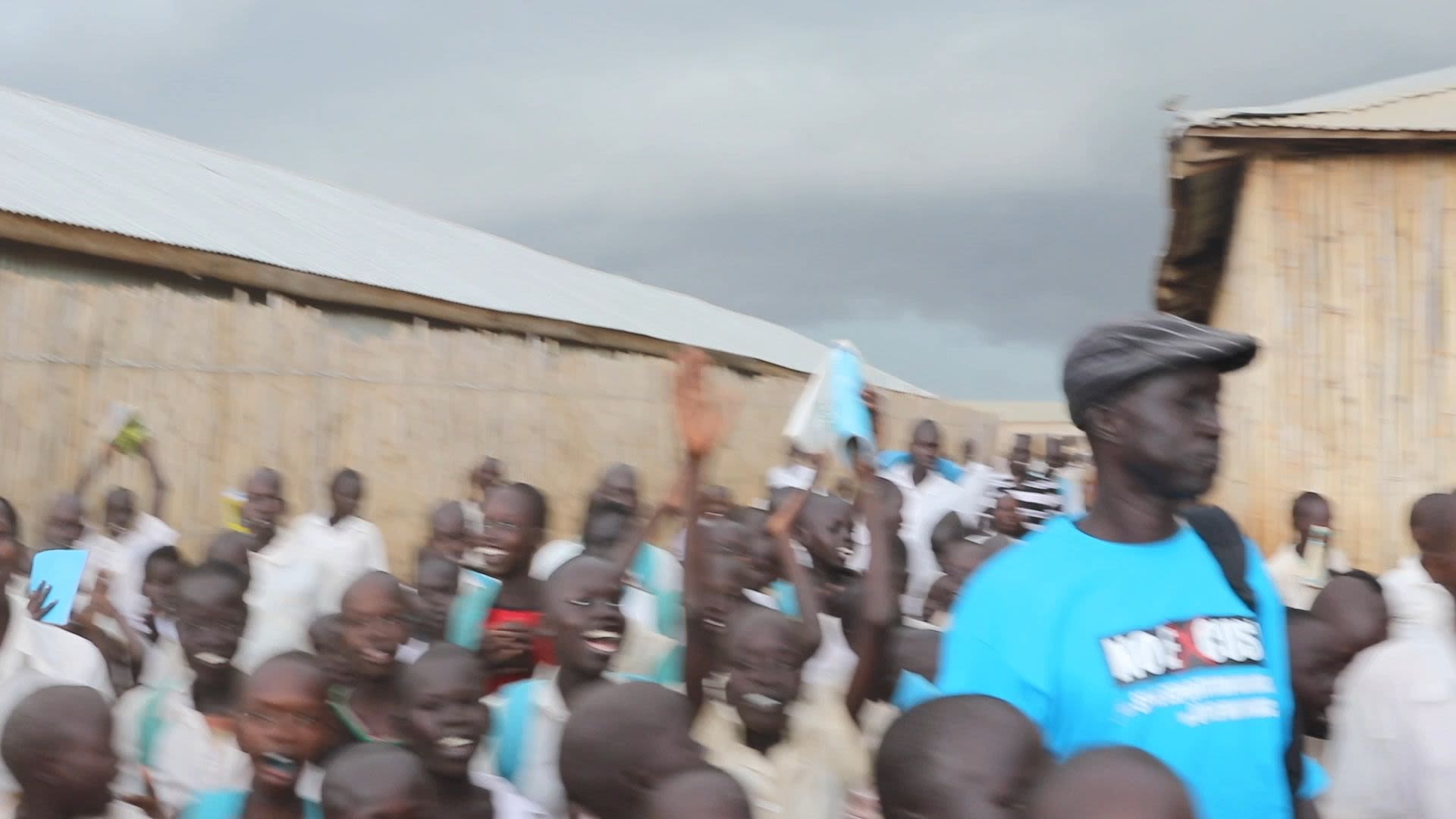 Many of the people here are living with traumatic experiences. They have seen and experienced things no-one should have to – especially not children. 
Many have lost family members – a sibling, maybe mum or dad…
They all need a sense of security in their daily lives, someone to lean on. To the children in the camp, Majok is an anchor of support.  
"I have a nice group of children. I coach them, both the girls and the boys," says Majok. "Sometimes we jog around the camp to clear our heads." 
"I try to give them a helping hand because they are just children – just like my children. If any of them tell me that they are ill or not feeling well, I try to help. I want them to be okay."
---
We met Majok again in 2021. There has been no news of peace in the passing years. The family still lives in their tent in the corner of the camp. Little has happened here during the three years since we last met – apart from the living standard in the camp being a little worse now.
The tent the family lives in is exactly the same. The "kitchen" is situated in one corner, with a bench, some pots and pans and a small table. The other corner is still home to the family's bed.
The only difference is that the children have grown.
---
The family in 2018: Majok, 45, and Teresa, 35, together with their children, Congo, 12, Nyapie, 10, Nyadak, 8, Nyamar, 5, and Buk, 2.
The family in 2021 – all three years older.
Majok still teaches at the camp's school. Being able to provide support for the children in the camp gives him motivation and joy in his daily life.
Majok explains that he usually greets all the children before he starts teaching in the morning. "We talk a little together, sing together, and sometimes we dance together," he smiles.
"They love me and I love them.
"Physically, I'm okay. I have a full schedule, I have routines."
"Why do some people live good lives while others don't?"
But even an anchor sways during a storm.
"Sometimes I'm fine, while at other times, when I'm alone, I start crying without knowing exactly why," Majok says quietly.
A lonely tear rolls down his cheek. He wipes it away.
"I often lie and think at night: why do some people live good lives while others don't?"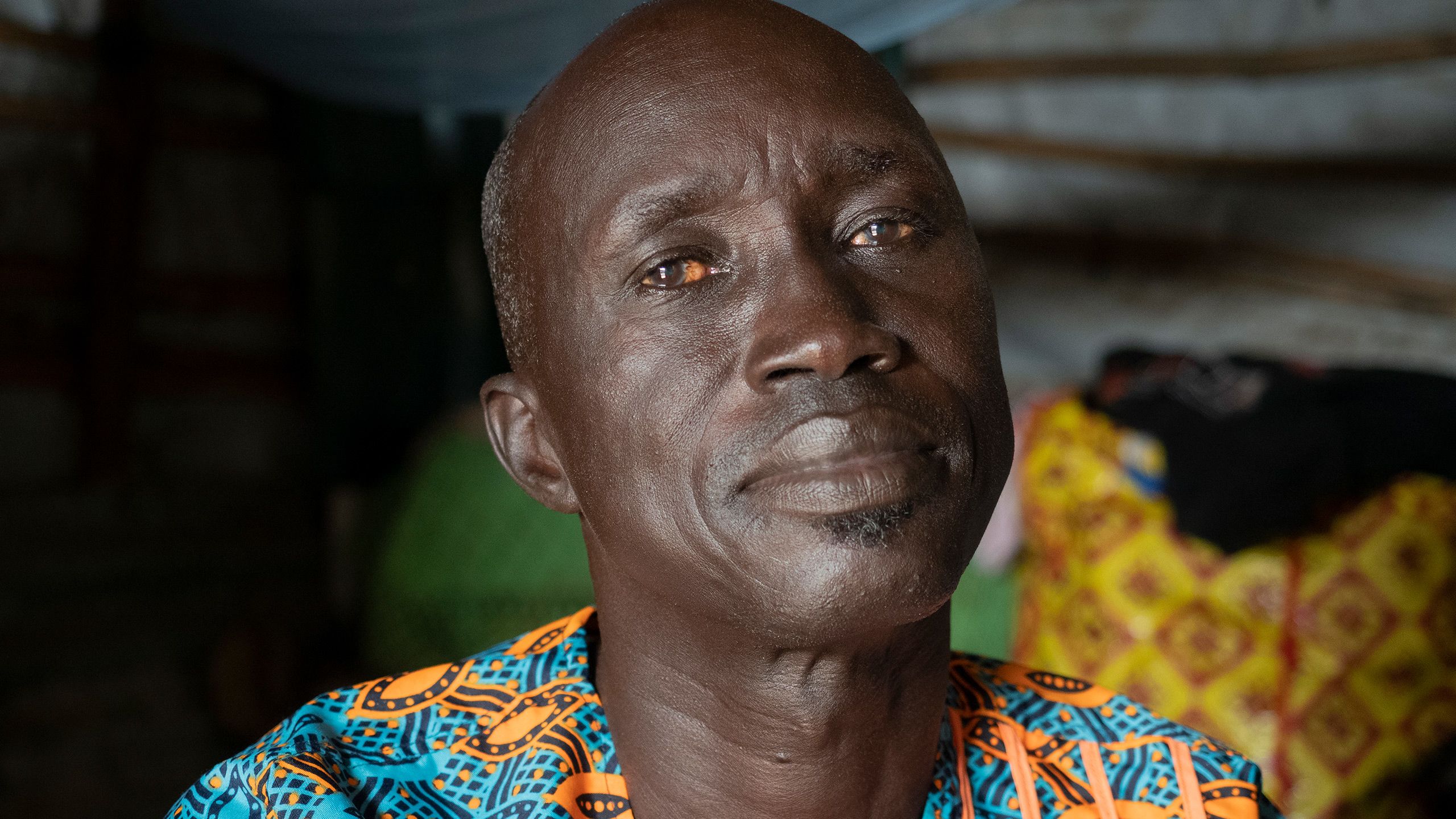 Majok often worries about his family and the future. Photo: Ingrid Prestetun/NRC
Majok often worries about his family and the future. Photo: Ingrid Prestetun/NRC
"As a father, the head of the family… not being able to make sure that your children have enough food...
"You see, my heart cries – because I can't give my children everything they deserve. It hurts so much not to be able to give your own family what they need. Even the children… that they had to leave their home…"
Majok tries to tell himself that he must be patient, he must be strong. It helps to be outdoors, to be with the children, and to tell stories. They laugh a lot together.
"I still love my wife, I still love my children – even though I have nothing."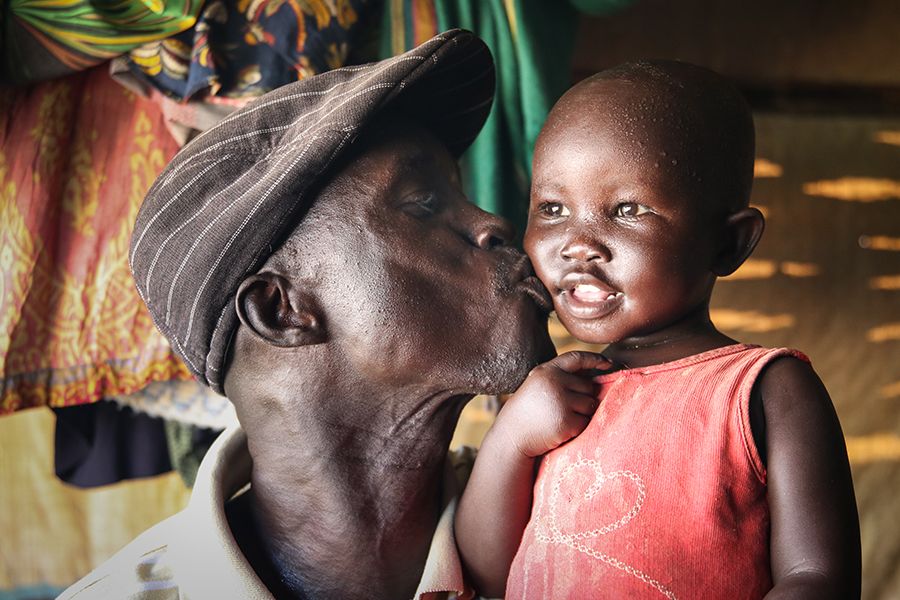 "My wife is a strong woman," says Majok. "She often says that this is a part of life, that I have to let it go, and one day the suffering will end." 
"But when you are a father, when you have children, a wife… and you can't even give your own wife flowers to show her that you love her…" 
Majok interrupts himself and looks down. He is quiet.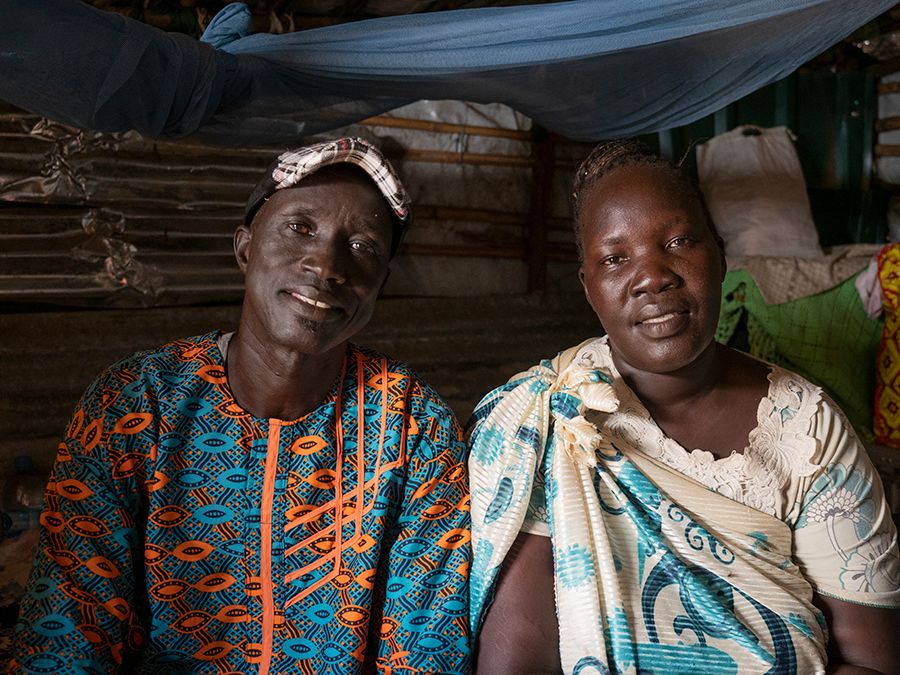 "One day, things will get better"
Next to Majok, on the bed, his five daughters sit and watch excitedly. As their father speaks, they sneak curious glances over his shoulder. They are shy, giggle and hide. Suddenly one of the girls bursts out laughing, and Majok laughs along.
Majok has a lot of love for his family. He says that being a father means everything. "If you have any dark thoughts, you will always be happy when you see your child," he says.
But Majok is worried about his children's future, that they will not get a good education. He dreams that one day his children will be able to return to school. That they will be able to stay healthy, and that they will have enough to eat.
Majok's greatest desire is peace.
"I hope peace returns to my country, so that the children can go to a good school – because they are our future leaders. What we need is peace, so that the people of South Sudan can come together again."
---
But as the years go by and the children grow, violence and hunger still ravage South Sudan. As one day slides into another in the camp, the people there cling to the hope that life will one day be as it was before.
"There is a time for everything in life. A time for happiness, and a time for misfortune," Majok says.
---
Back in 2018, Majok told us: "The reason I don't want to return to Juba is because it's not yet safe. Just last Sunday, two priests were killed by unknown armed men. If they can kill God's men so easily, it's not safe enough for us to go back. Unless our leaders sign a peace agreement, we will not go home."
The situation in South Sudan is the same in 2021 as it was in 2018, and brutal violence runs rampant in the country. "I need things to change in South Sudan. So many people are suffering," says Majok today.
"To me, independence means freedom," he continues.
"We were so happy when we became independent – we lived in harmony and peace. There was no murder or harassment, we went wherever we wanted without fear.
"We celebrated our independence by singing and dancing, in different languages. We also bought lots of food and enjoyed ourselves with friends. But since the crisis in 2013, we have not celebrated Independence Day. I won't celebrate it this year either, not until there is peace in South Sudan again."
---
It was five years after Majok fled when he told us about his dream of celebrating Independence Day. Now, three more years have passed.
The family still hasn't celebrated.
---
Majok is eager to contribute. "I'm still young," he says. "I can work, I can do anything. I don't want to just sit still and receive support. I want to be involved in developing my country. I want to participate."
He looks lovingly at his wife, who meets his gaze and smiles. Majok smiles back.
"I will never give up, because I have hope. One day things will get better. This is going to end."
---
The family's new daily life continues in the camp, as they have started on their ninth year away from home. And Majok has a message for the world:
"Don't just watch and do nothing. We need your support. We need peace."
In the meantime, the children in the camp and Majok's family need him.
Their anchor.
---