People reached in 2016
Total
94,798
people benefitted from our camp management work

In urgent crises and complex emergencies, a camp may be the only option. We see to it that camps are safe places, offering access to services, shelter and protection. NRC helps manage camps so that men, women and children can live with dignity after fleeing their homes.


What is camp management?

Large planned camps, spontaneous sites, collective centres and transit areas all require careful management and coordination. They are often located against a backdrop of danger.
Camp management is one of NRC's six activities in the field. Our teams ensure that displaced people receive camp services in a cohesive, effective way:
We support coordination so that programmes align with national and international laws, guidelines and technical standards.
We identify gaps and needs to ensure efficient assistance.
We gather information and use it to advocate on behalf of the displaced.
We include the displaced in making decisions about their life in the camp.
NRC's camp management house
NRC's camp management house illustrates our holistic approach: assistance and protection underpinned by international law and participation.

How does NRC manage and coordinate camps?

NRC has been a global leader in camp coordination and management for more than a decade. From Myanmar to Palestine, our work involves:
Supporting partners with site setup, structure and oversight.
Data collection and information management.
Upholding governance and community participation.
Monitoring services and gaps.
Community outreach programmes in non-camp settings.

Camp coordination and camp management make up one of the clusters in the global cluster approach. The international community uses the approach to better coordinate humanitarian aid. Since 2005, NRC has been one of the leading agencies in this cluster.
We also deploy experts with UN agencies and other organisations. From 2014-2015, nearly 200 camp experts deployed to more than 30 countries. Read more about our camp expert deployments.
The majority of displaced people reside outside of camps. So we adapt our camp approach to also help people in urban areas. Read our joint study on Urban Displacement Outside of Camp (UDOC), which finds ways to improve assistance for these displaced people.
Camp management toolkit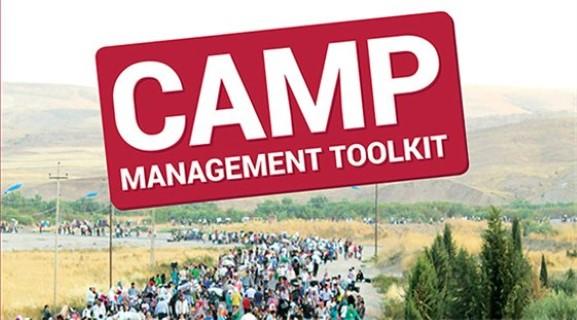 Since 2005, NRC has been one of the leading agencies in camp management. Drawing on our expertise, we were one of the few to help develop the Camp Management Toolkit. The toolkit gives official guidelines on the setup and running of camps and settlements, both in emergencies and long-term situations.
Read more about the latest toolkit, released in 2015.