"You play with your friends and suddenly, they are dead"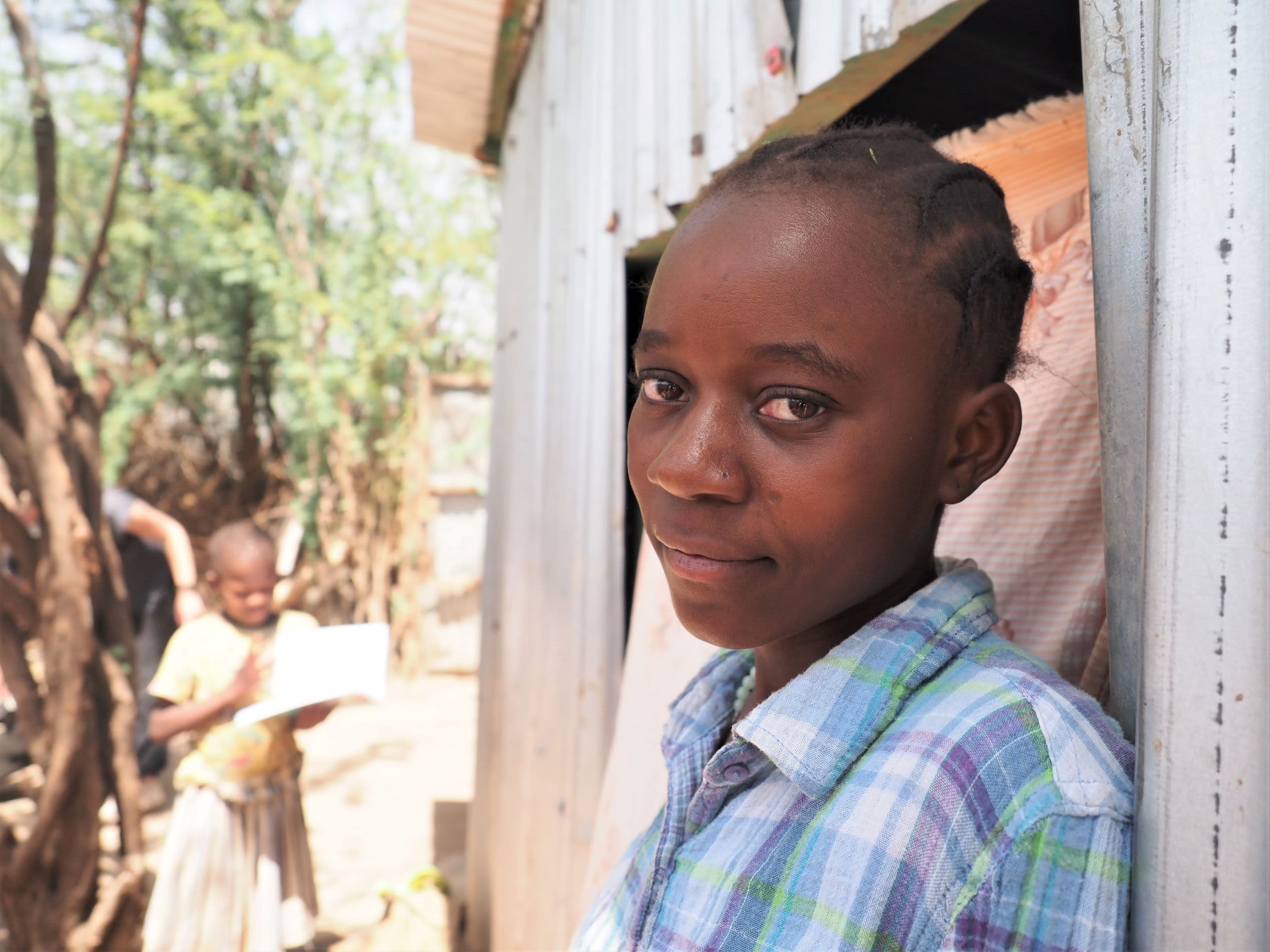 The Democratic Republic of Congo, 2019. Beatrice is 10 years old. Her father and grandfather are murdered. Her mother is gone.
One night, her grandmother goes to evening prayer at church. She and her siblings are asleep at home. Suddenly, the house is engulfed in flames.
"Their aim was to burn us inside the house," says Beatrice.
Beatrice (not her real name) is now 13 years old. She is living in Kenya after fleeing the violence in her homeland.
"The difference between Kenya and [DR] Congo is that in [DR] Congo you can play with your friends and suddenly, they are dead," she shares with a serious tone.
Beatrice sits in class wearing her neat, blue school uniform. Her bright brown eyes are wide open with curiosity while she listens closely to what her teacher is saying.
She is a keen student. She loves to learn, is on the school football team and is a role-model to her fellow students in her position as school prefect. "Beatrice is loving, caring, industrious and hardworking," says her teacher, Mr. Dapal.
She sits among her fellow fourth grade students in Kakuma refugee camp. Mr. Dapal has been trained by the Norwegian Refugee Council (NRC) in specialised techniques that help his students work through stress and trauma. This is important in Beatrice's class because, like her, many of the other children have experienced traumatic events. Being a witness to war and violence can be a heavy burden for a child's mind.
Subscribe to our newsletter to read more stories.
The traumatic night
Beatrice and her siblings were lucky to get out alive that horrific night in 2019. Luckily, when the fire erupted, the neighbours came shouting to wake the children up. A window was open, and they jumped through it to escape the flames.
But getting out didn't mean they were safe.
"I asked myself: 'Where can we go now?'," Beatrice's grandmother Marie-Jeanne remembers. "I came to realise that these people had a grudge with my husband, and they wanted to kill our whole family. Our neighbours explained to me that if we continued staying there, they will find a way of poisoning us and we will die."
The local church provided the family with some money for the journey out of town. Three days after the traumatic incident, they arrived in Kakuma and registered as refugees.
A new home
Marie-Jeanne welcomes us into her small home in the camp with a bright smile. The grandmother is excited to have visitors. Since arriving in the camp, she hasn't had any adult visitors in her home. She happily shows us around.
The home is made up of two buildings: one main room for eating and sleeping and another for cooking and storage. There's also a tiny outbuilding with a toilet and a coop for chickens and ducks.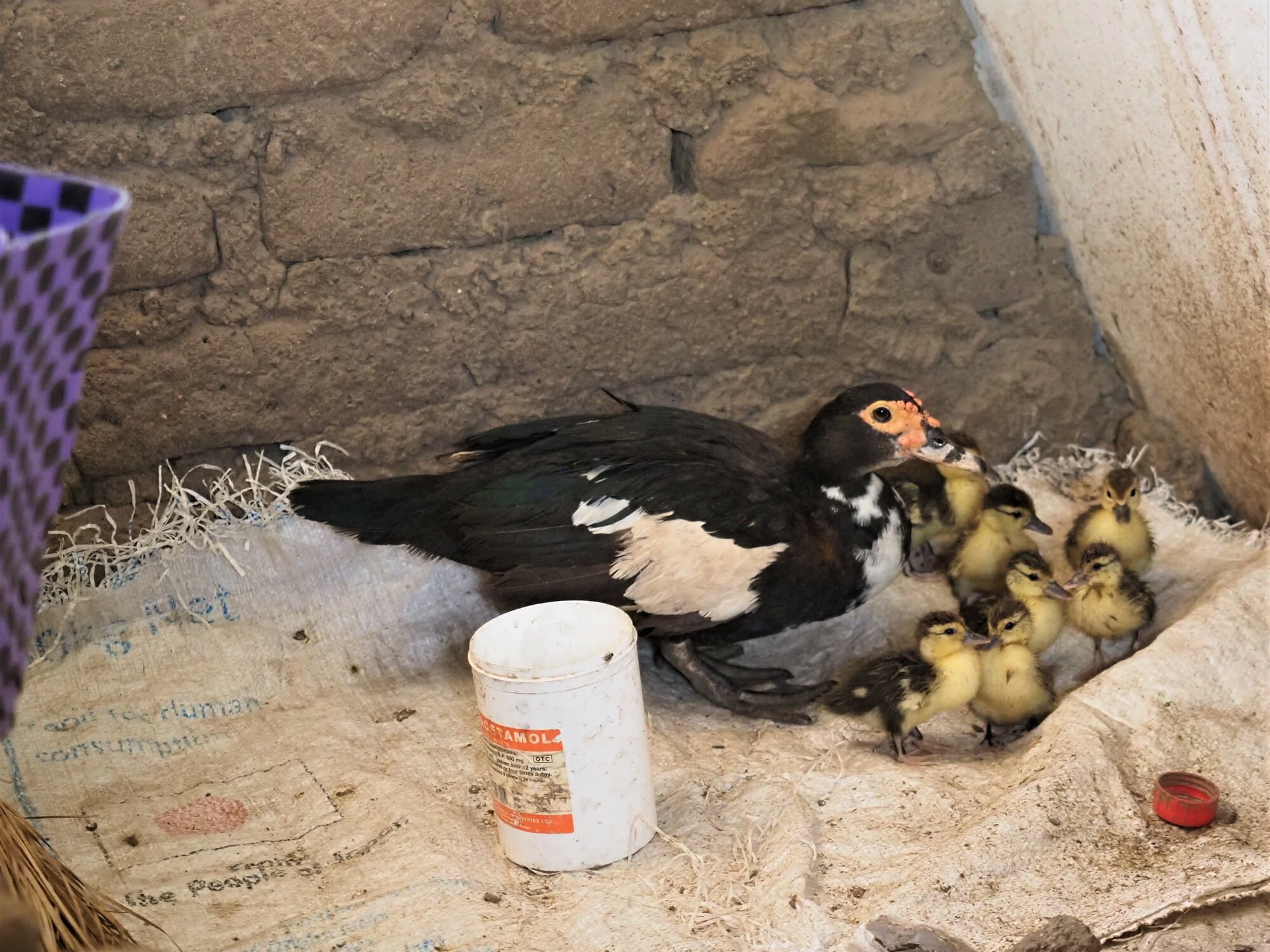 "We don't have a lot of friends because they think we are witches," says Beatrice. Accusations of witchcraft can be a problem in Kenya, often resulting in violence that disproportionately affects older women.
The family has also experienced things being stolen which causes additional stress. "I fear losing the scarce items we have," says Beatrice, "because I wonder where we'll get new things from."
Life in Kakuma
Kakuma is the third biggest refugee camp in the world, with over 220,000 inhabitants who are mostly from Somalia and South Sudan. It is extremely hot and dry and hasn't seen rain for almost three years. Since arriving in the camp, Beatrice and her older brother have experienced regular nose bleeds because of the hot sun.
It has been difficult for the family to find their place in Kakuma. Marie-Jeanne misses making her own money and being financially independent.
"I was a business lady and was travelling to Rwanda to purchase goods [cooking pans and African cloth] that I would sell in [DR] Congo. Now I don't have money to do such business. I just live the way I am.
"But Kakuma is better than [DR] Congo because I can move any way I feel like, and there are no sounds of gunshots."
Overcoming stress
The insecure environment that Beatrice is now experiencing in the Kenyan camp has worsened her stress levels, already high from the trauma she experienced in DR Congo.
"What gives me a lot of stress is my grandmother being accused of being a witch when she isn't one," she says. "Also, the fact that I don't have parents. I wish I could bring back my parents, so I could play with them and maybe have more siblings. I feel sad because my friends my age have parents to play with and I have none."
"I wish I could bring back my parents, so I could play with them and maybe have more siblings."
School provides some relief for Beatrice. Here, she's able to play with her friends and learn techniques that will help her when she's feeling stressed. The techniques are part of the Norwegian Refugee Council's signature Better Learning Programme. The programme is tailored to support children who have fled war and conflict.
"When I feel stressed, I have learned to breath in and out," says Beatrice. "I also play with both my teachers and friends. It helps me so much. I also feel so nice when I stretch after class."
Beatrice's friends are important to her, and they have built a good support network between them.
"I usually take my friends through what my teacher teaches me in regard to stretching. I tell them that our school is good, and that Mr. Dapal is a good teacher. We are learning many skills. My friends are happy when I teach them, and they are eager to join the school."
Want to know more about how we help children cope with trauma? Subscribe to our newsletter for more personal stories and the latest refugee news.
A solid support network of friends is something Beatrice was unable to rely on in her home country due to the frequent violence.
Moving forwards
Back in the family home, after school, we sit on the wooden chairs in the family home. Beatrice and her older brother complete their daily chores and wash their clothes.
Shortly after, a few of Beatrice's friends come over and they play outdoors. She leads her friends in a couple of games, they dance in a circle, and she shows them some of the breathing techniques she learnt at school. Everyone laughs a lot.
Beatrice is relaxed. Happy.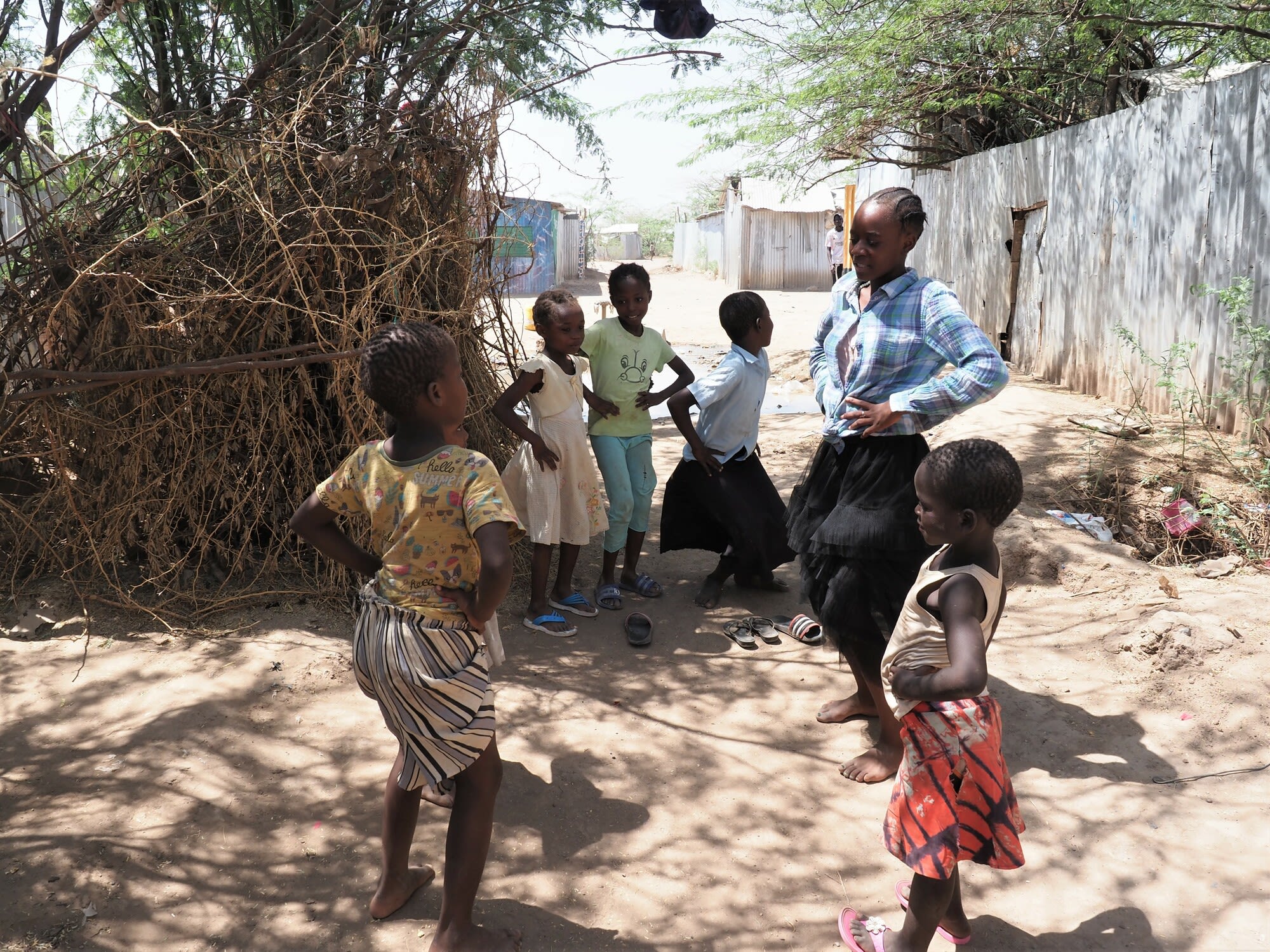 The burden of what Beatrice and her family have experienced will stay with them for some time. Perhaps for the rest of their lives. But they have begun the journey to healing and managing their stress.
Marie-Jeanne is at least pleased that the family is safe. They are no longer in DR Congo.
"For me, life in [DR] Congo is scary, I have nothing left there. I don't even dream of it."
***
Our education programmes in Kenya are made possible thanks to support from ECHO, UNICEF, Porticus, SIDA and NMFA.