Voices of the displaced in Somalia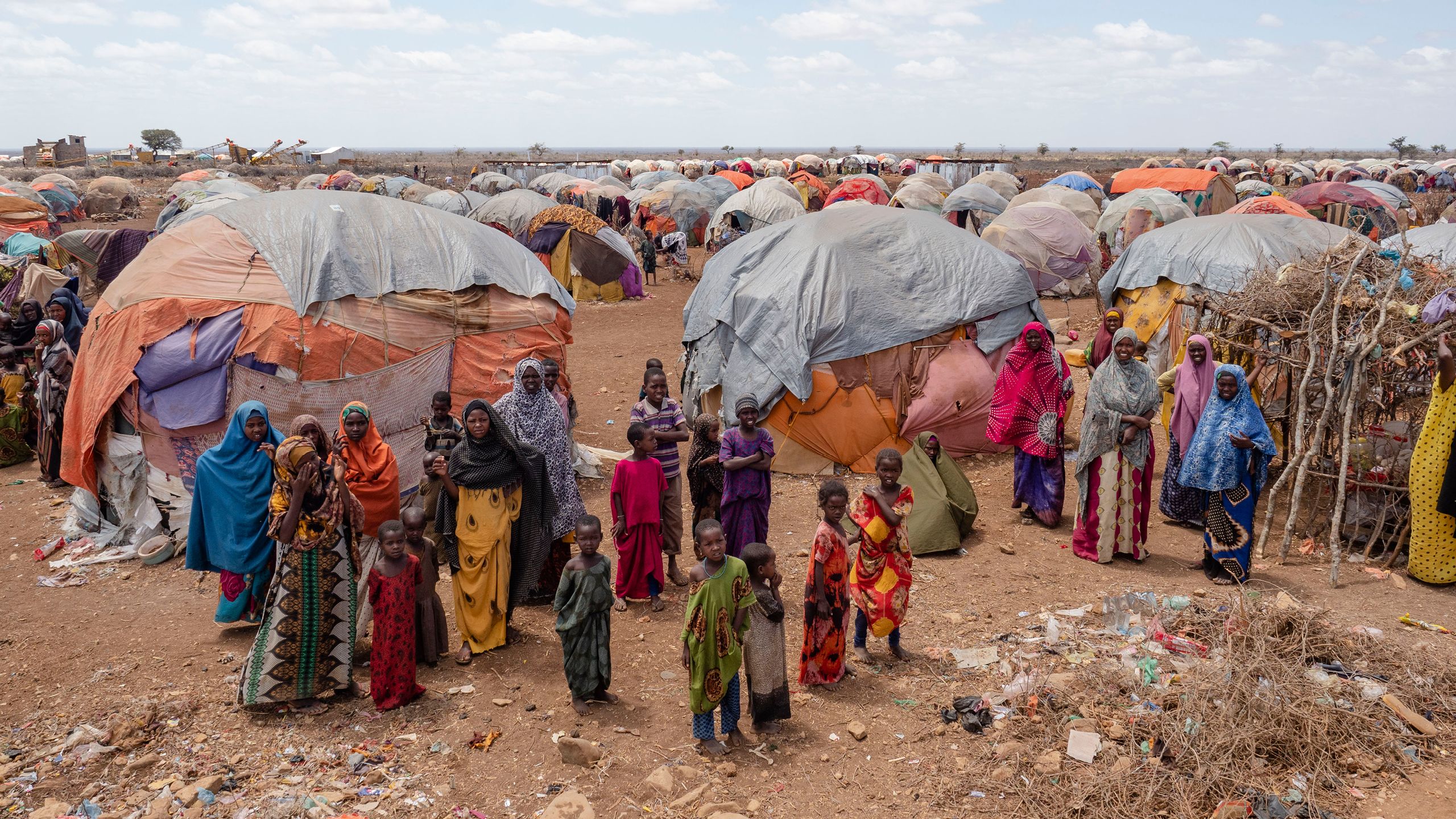 Somalia is one of the countries with the most displaced people in the world. More than 2.6 million people have been forced to flee their homes within the country by conflict or drought.
Often, it is the combination of conflict and drought that forces people to flee their homes. Because the security situation makes it impossible for humanitarian aid to reach people in many drought-stricken areas, people are forced to flee to cities for help.
What few people know is that this poor and war-torn country has also received more than 30,000 refugees from neighbouring countries – mainly from Ethiopia and Yemen.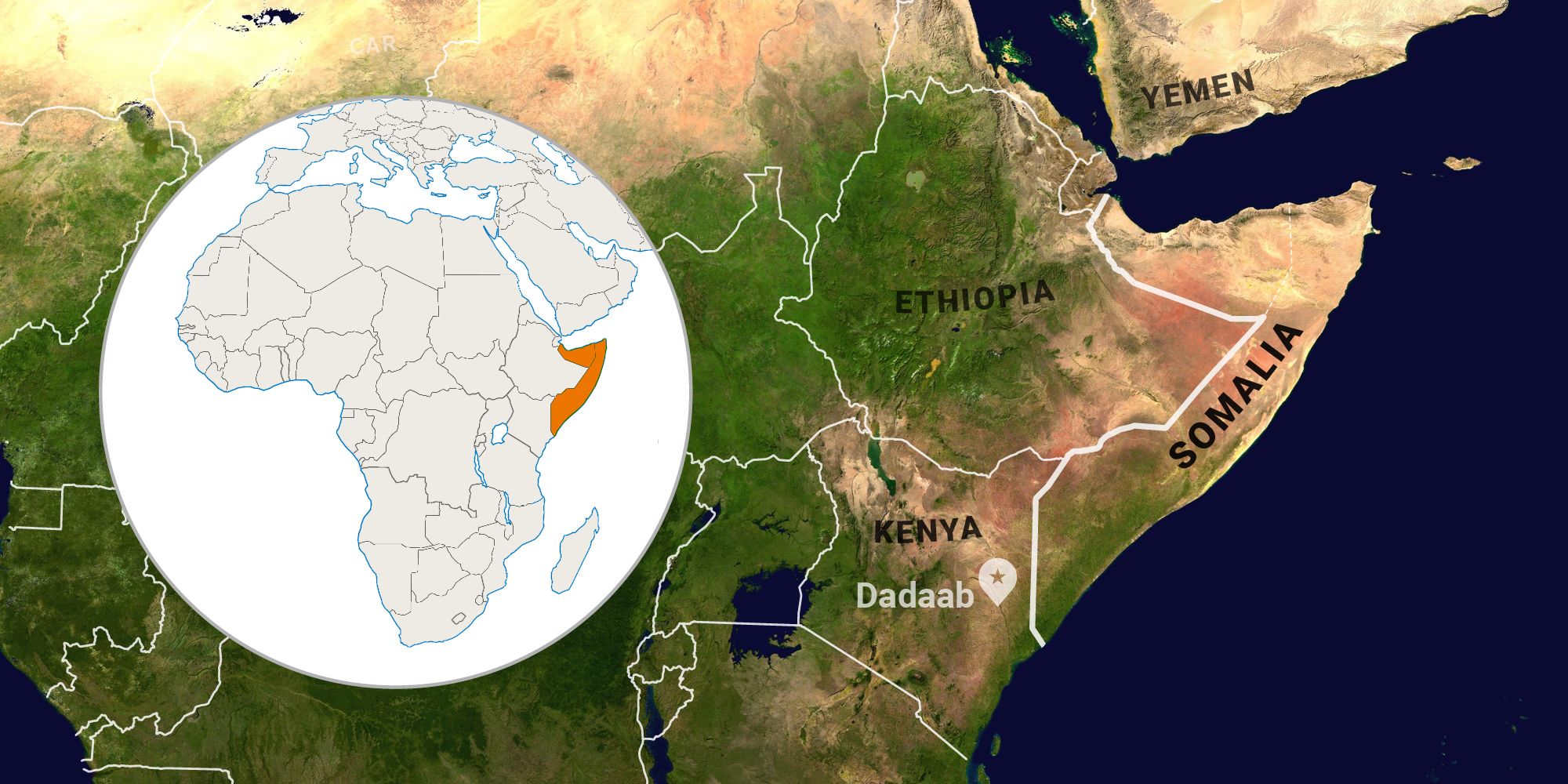 A large number of Somali refugees are also now returning to their homeland from elsewhere, despite the fact that the country is still ravaged by war and a prolonged drought that has destroyed crops for several years in a row. Many are returning home after nearly a generation in refugee camps in Kenya. Some travel home because they long to return to their homeland. Others feel pressured to return because Kenyan authorities are threatening to close refugee camps and because of cutbacks to humanitarian aid.
Many Somali refugees in Yemen have been displaced yet again because of the increasingly brutal civil war there. Most cannot return to the areas they fled from in Somalia because the security situation there is still intolerable. Consequently, they end up in camps with other displaced people who have fled their homes in recent years.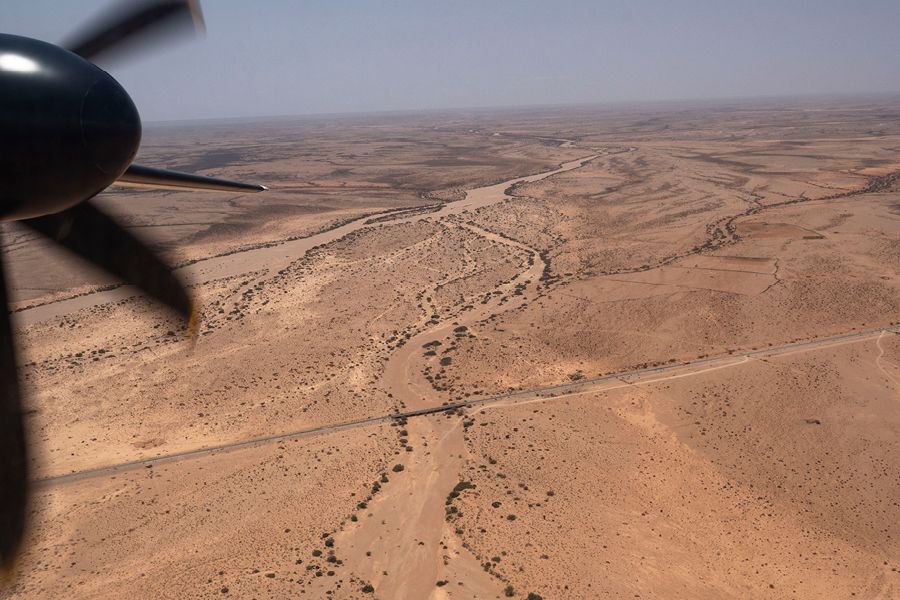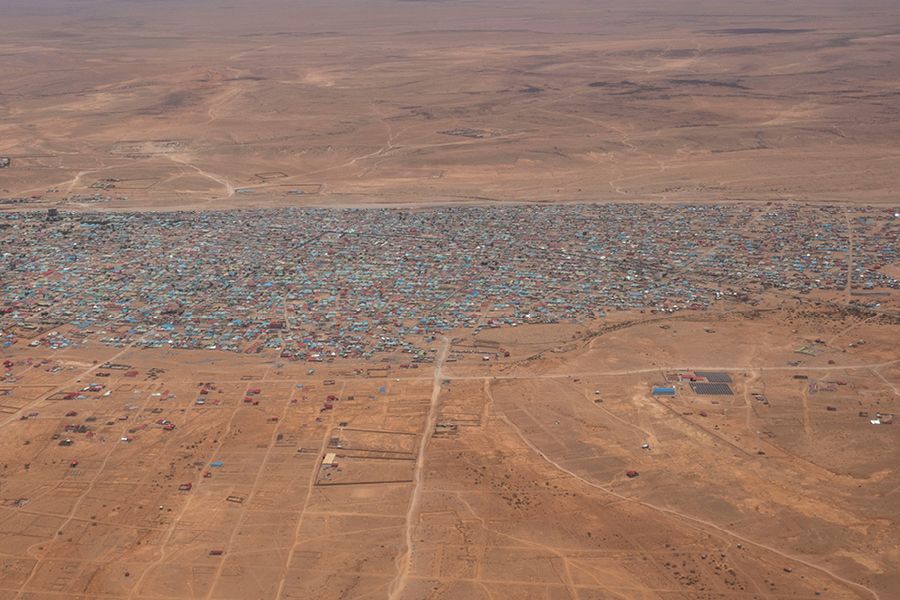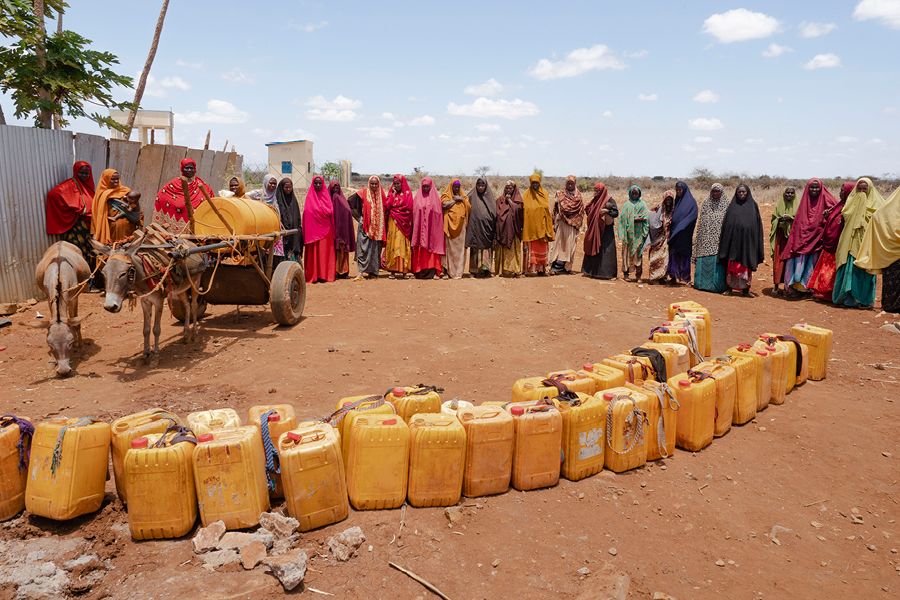 Here are the stories of some of the internally displaced people and refugees from Yemen and Ethiopia living in Somalia:
90 years old and displaced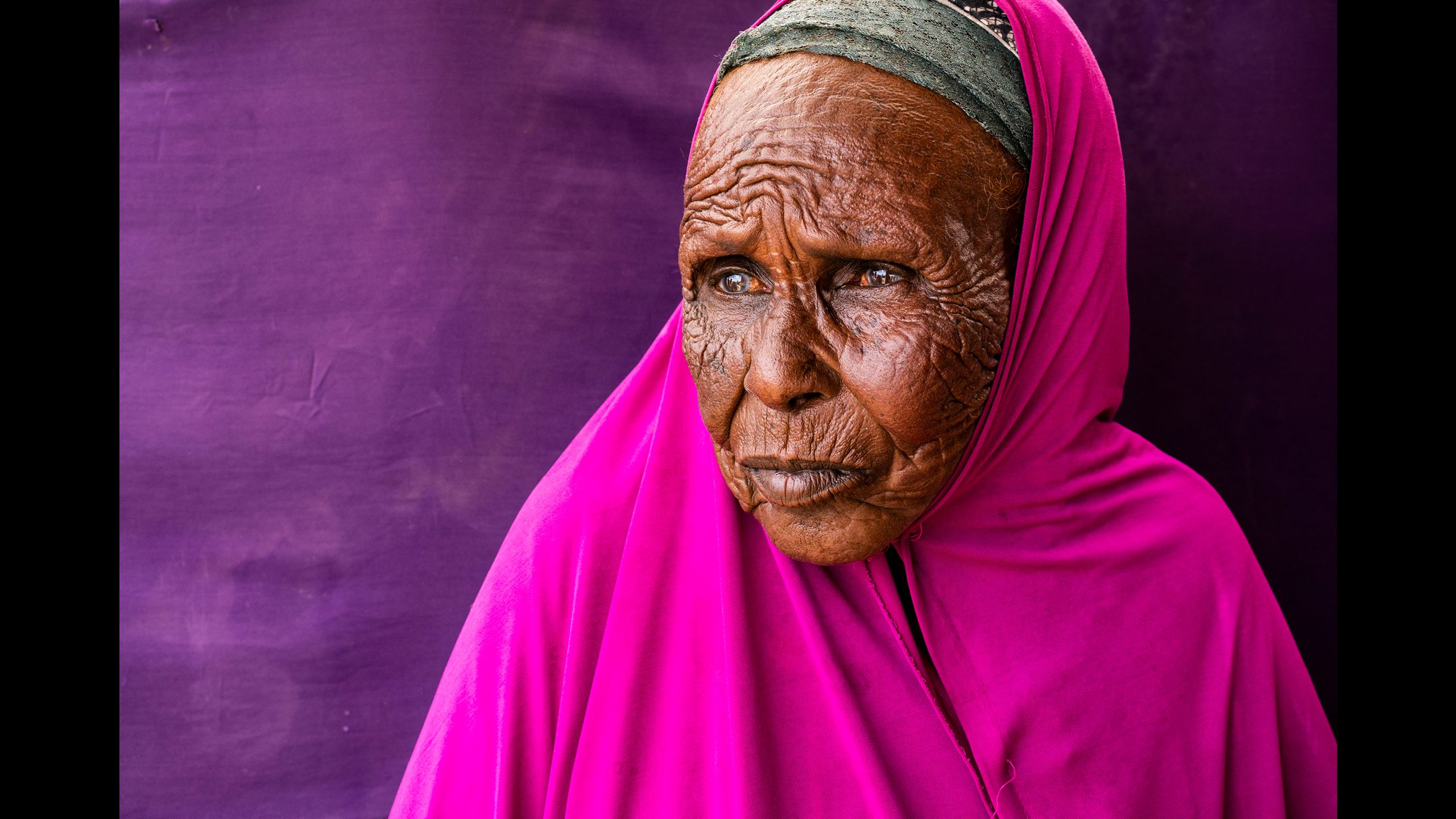 Dahabo Maxamuud Faahiye is 90 years old and lives in Jilab 4 camp outside of the city of Garowe in Puntland. She and her family used to keep livestock, but three years ago she lost most of her animals following a prolonged drought. She would gather grass in the mountains to keep her few remaining goats alive. One day, she fell and broke her arm and leg, and was hospitalised for a long time. Her family had to sell the remaining goats to pay the hospital bills.
Her son, a soldier in the Somali Armed Forces, used to help the family financially, but after he was killed a year ago, she had no way to pay for her medical treatments. Her other children are farmers who have also been severely affected by the drought.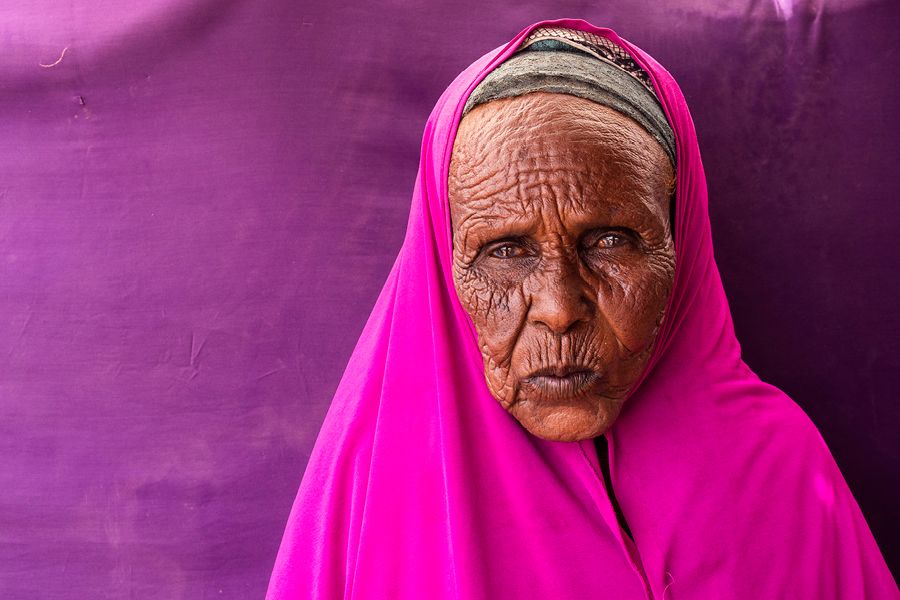 Dahabo saw no other way than to move to the camp for refugees and internally displaced people, where humanitarian aid organisations provide shelter, health care and education. She lives in the camp with her daughter and granddaughter.
"It is important for my granddaughter to have the opportunity to attend school. I want her to get an education." 
She is grateful for the support she has received from her neighbours in the camp. They have provided her with a walking frame, which she needs to move around after she broke her leg.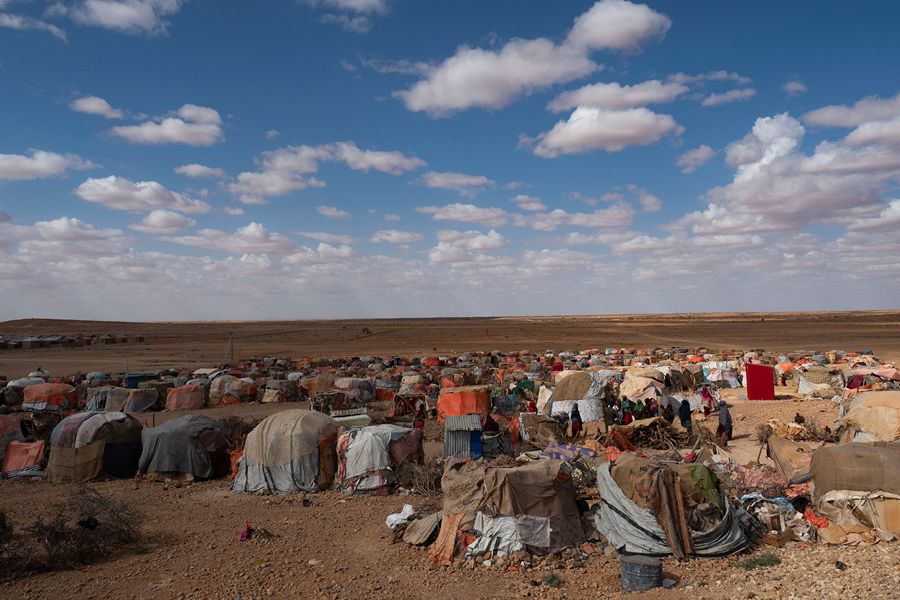 Afraid that the daughter she had to leave behind has been killed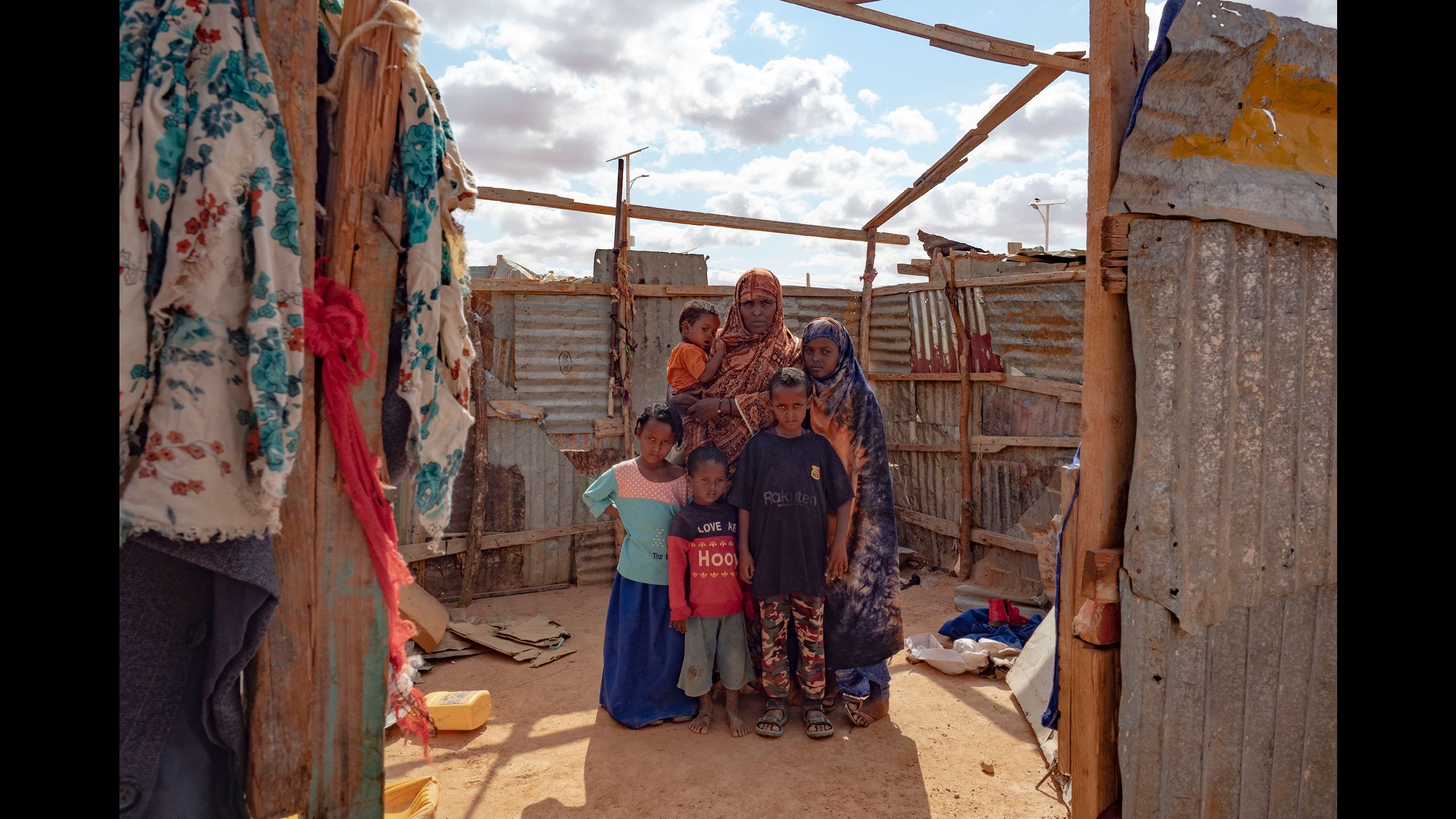 Farhiyo Iishaar Omar, 33, and her family fled from Kebri Dehar in the Ogaden region of Ethiopia three years ago, after their home was attacked by armed men. Two of her uncles were killed right in front her children.
They had no time to gather any of their belongings and fled with nothing but the clothes on their backs. Since they belonged to the Somali population in Ethiopia, they decided to flee to neighbouring Somalia. They had to walk on foot most of the way. The journey took nearly three weeks before they arrived at the refugee camp in Garowe.
Farhiyo's eldest daughter, who was 13 at the time, ran off when the house was attacked, and the family were unable to find her again before they had to flee. Farhiyo has contacted relatives who still live in Ethiopia. They believe her daughter was killed. Some had seen a dead body shortly after the attack, which later disappeared. Farhiyo fears that lions may have taken her daughter's body.
Life in the refugee camp is hard, and Farhiyo's husband is sick and unable to support the family. Recently, a man with a knife entered their hut in the middle of the night and attacked her. She was awake and nursing her youngest son when he came in. She is unsure if he was planning to rape her or steal from them.
When she screamed for help, he tried to stab her in the chest. She managed to twist away, but the knife hit the baby in her arms, and he suffered a nasty cut on one arm.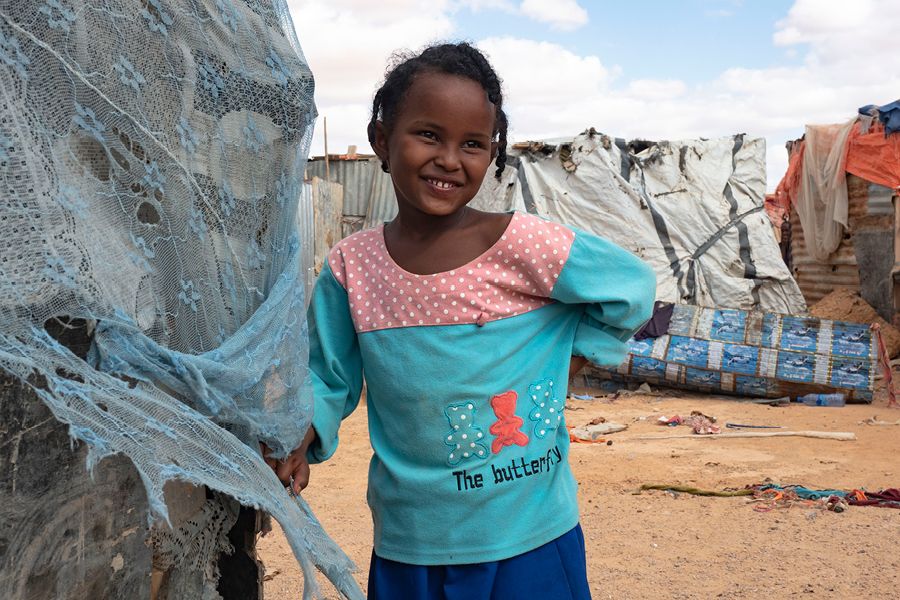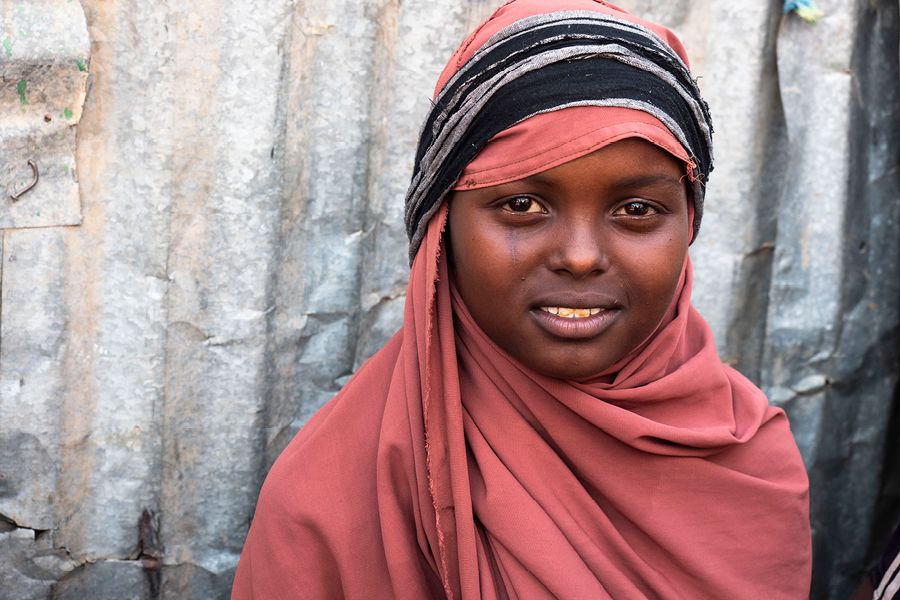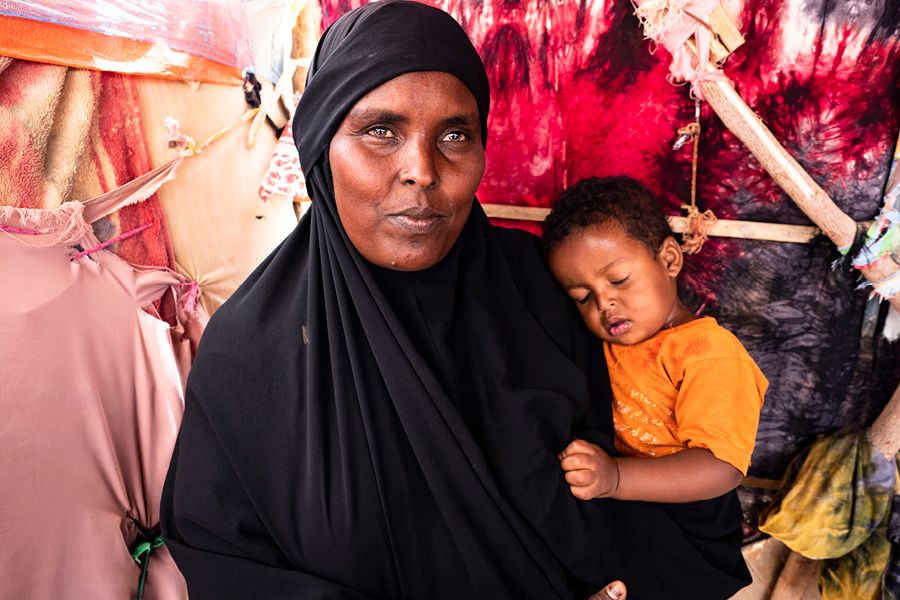 Ganun Abdirahman Abdi, 84, fled with five young children from Duba Gass to Baidoa due to conflict and prolonged drought. His wife died a few years ago.
Ganun used to be a farmer and cultivated durra, which is a common grain variety in Somalia, but due to the years-long drought, the crops have failed for many years in a row.
"I've been a farmer all my life, but the drought we've had since 2017 is the worst I've ever experienced. It's even worse than the severe drought in 2011," he says.
He didn't have his own livestock, and when the crops failed, he could no longer provide food for his children. Without access to food and drinking water, he saw no other option than to flee with his family to Baidoa, where they could receive humanitarian assistance.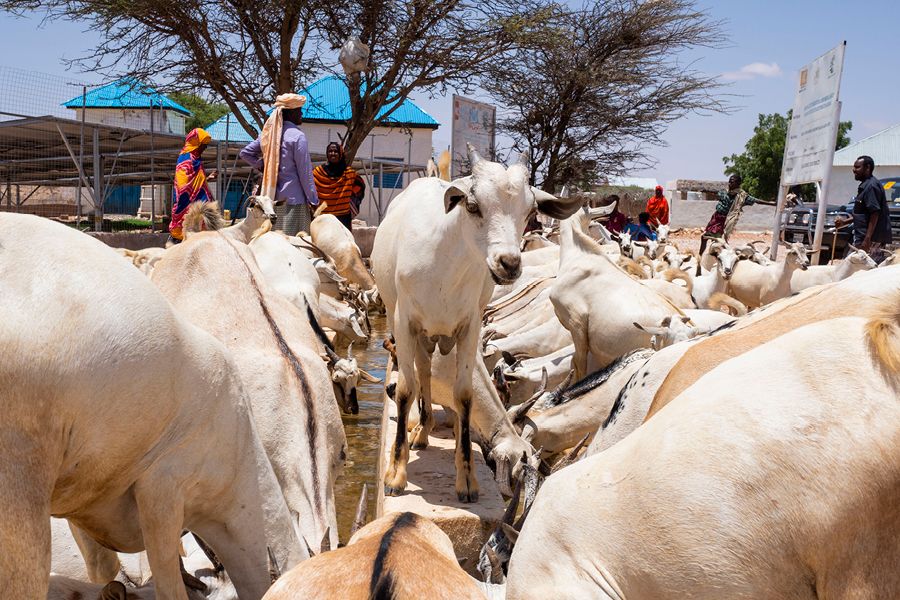 ---
Sick and alone
Like many Somalis, Qaali Mohamed Shire, 51, used to live a nomadic life with her livestock. She had camels, goats and sheep, but they all died during the years-long drought. Life has been tough for her family in recent years, and her husband died of illness a year ago.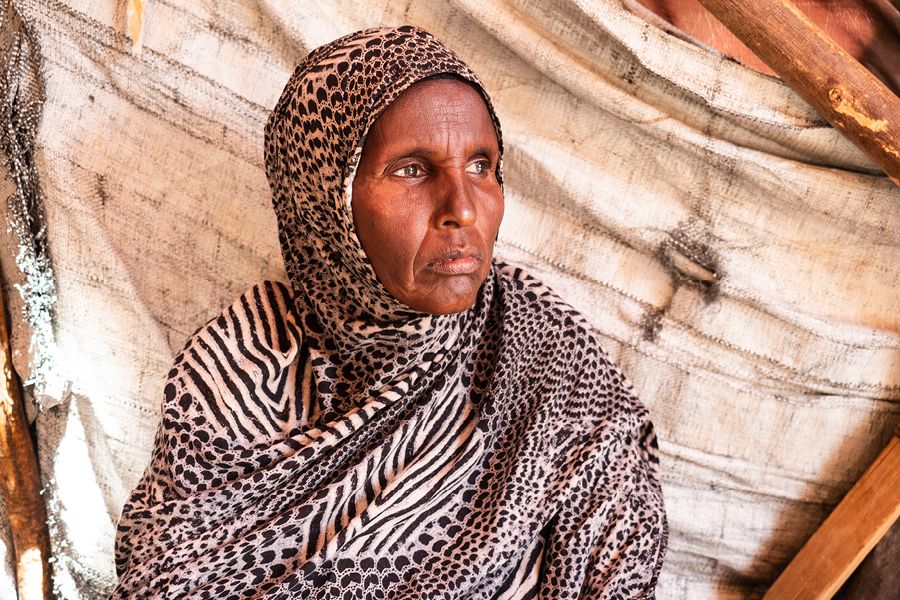 She herself fell seriously ill and was unable to care for her six children. With a heavy heart, she had to leave them in the care of her relatives. Now she is alone in the Jilab camp for internally displaced people outside Garowe.
"Living a nomadic life was never easy, but the prolonged drought in recent years made it even more difficult. The past year has been the worst. I don't want my children to have to continue to live like this," says Qaali.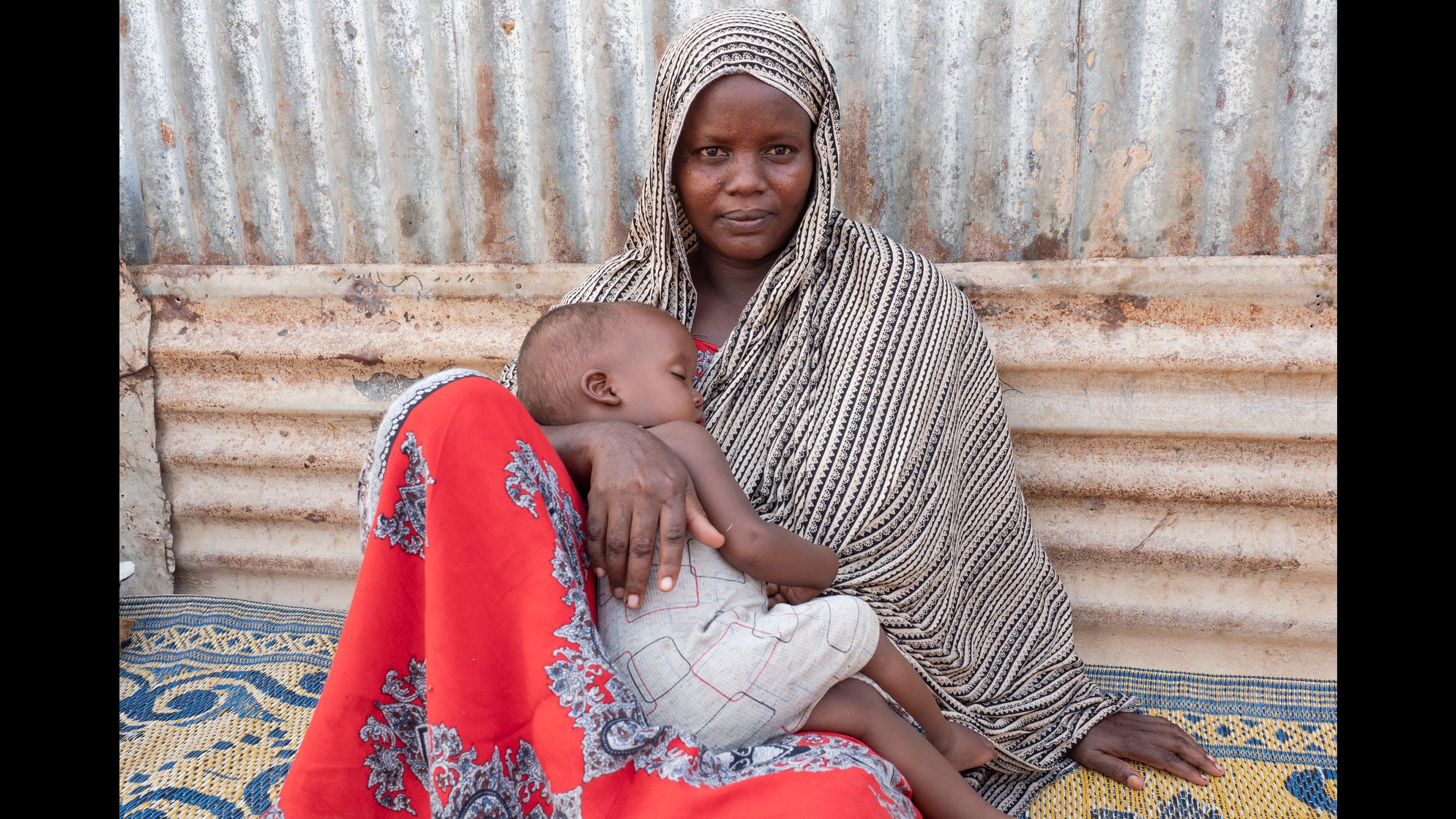 Their neighbourhood in Mogadishu was attacked by mortars. The family fled their home and managed to get to safety before it was hit and completely destroyed. After the attack, Mariam Farah Hussein, 40, and her family fled the capital. We met her two weeks after she arrived in Bosaso, in northern Somalia.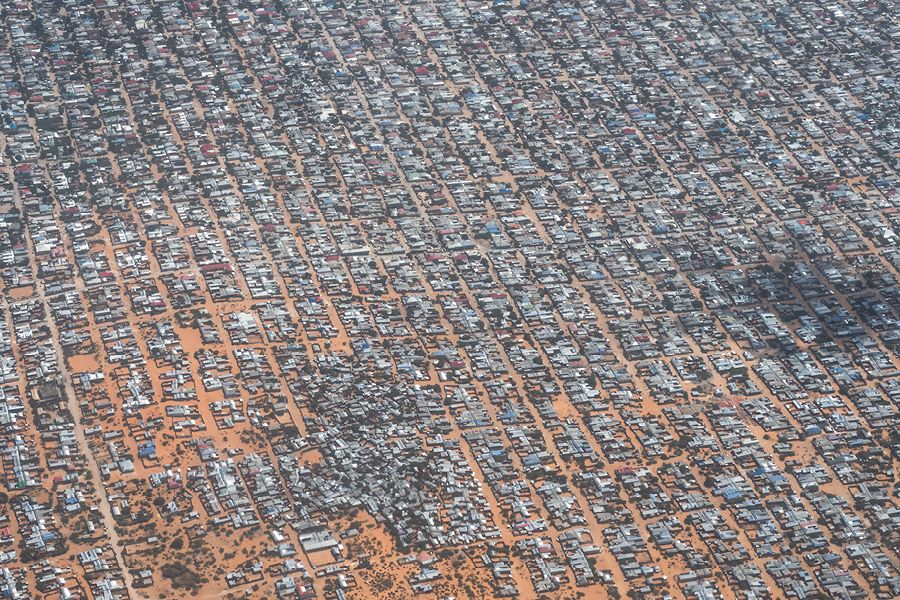 "In Mogadishu, I lived in constant fear. There were bomb attacks every day. Every day, people were killed. We fled because we were scared."
Mariam, her husband and their seven children have moved into a room lent to them by a friend in the refugee camp outside Bosaso. Their friend, who had fled Mogadishu earlier, persuaded them to come to the camp when they were forced to flee.
The journey from the capital was long and tiring, but Mariam doesn't regret leaving her home. Now, she finally feels safe.
"When the children went to school, I was afraid that they would be injured in bomb attacks. When my husband went to work, I was worried about him. And when I went to the market, I was afraid of being attacked myself."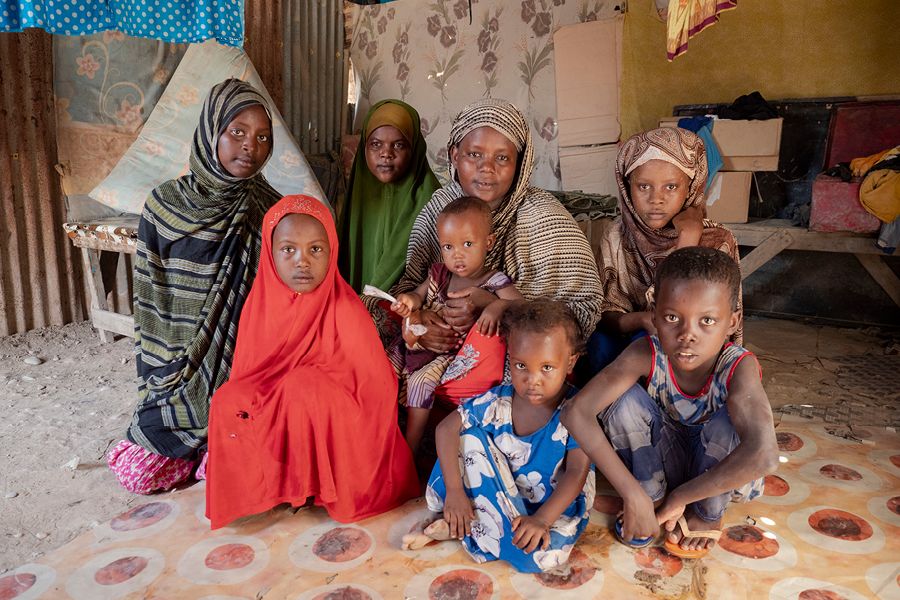 Her main concern now is whether her children will be able to go to school. When they went to the local school, they were sent home because they didn't have school uniforms. Her husband has not yet been able to find a job, but Mariam has managed to find occasional cleaning jobs. Now, she is saving money for uniforms for her children so that they can start school.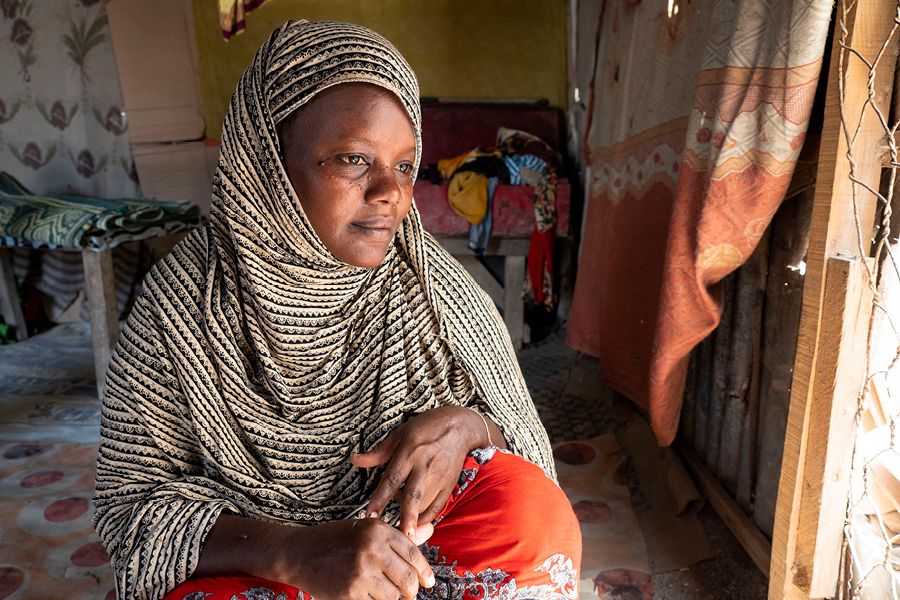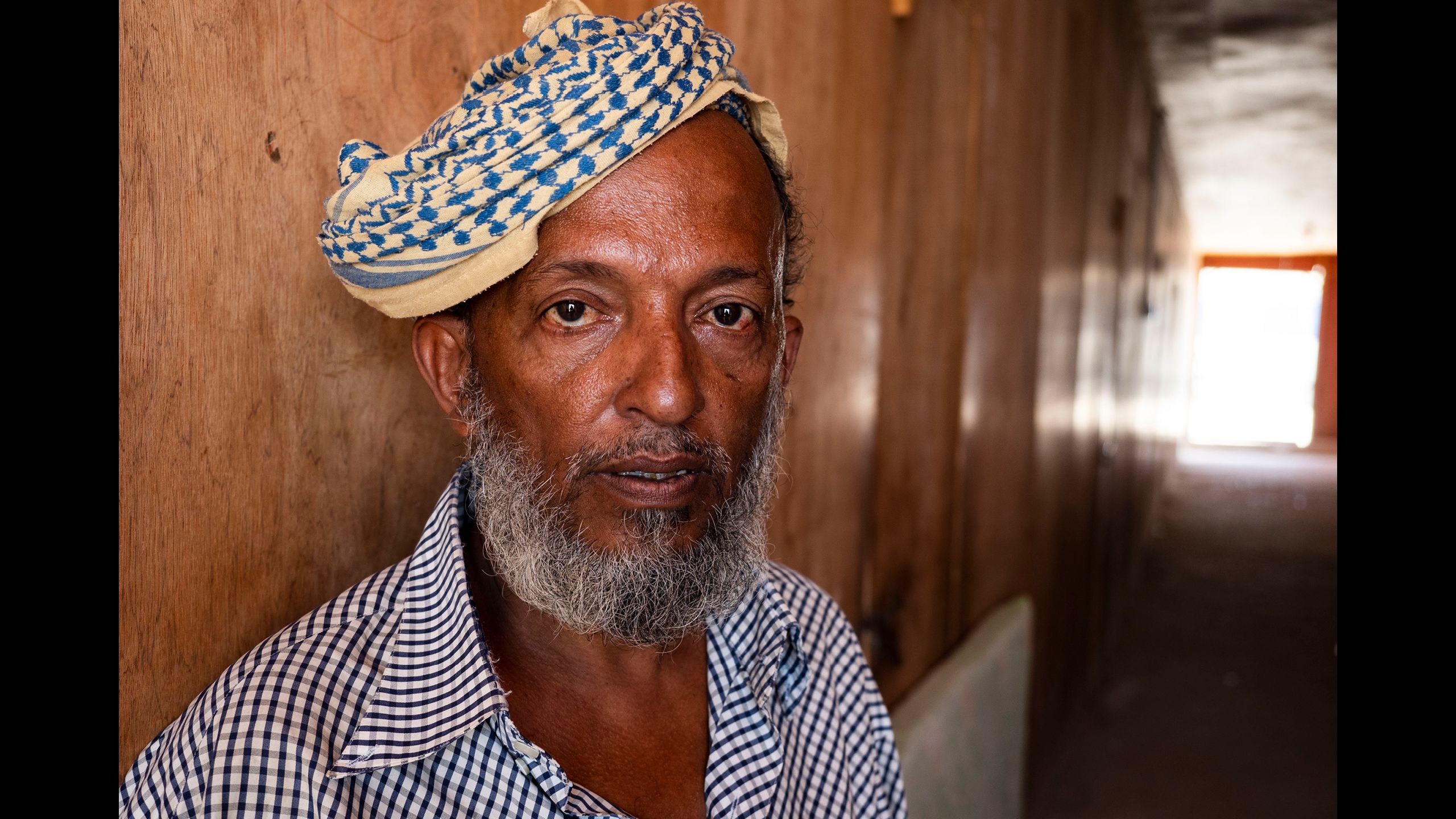 Four and a half years ago, Ali Abdulah Alamody, 46, fled the civil war in Yemen with his wife and four children. They fled to another country ravaged by conflict and ended up in one of the world's most dangerous cities, Mogadishu.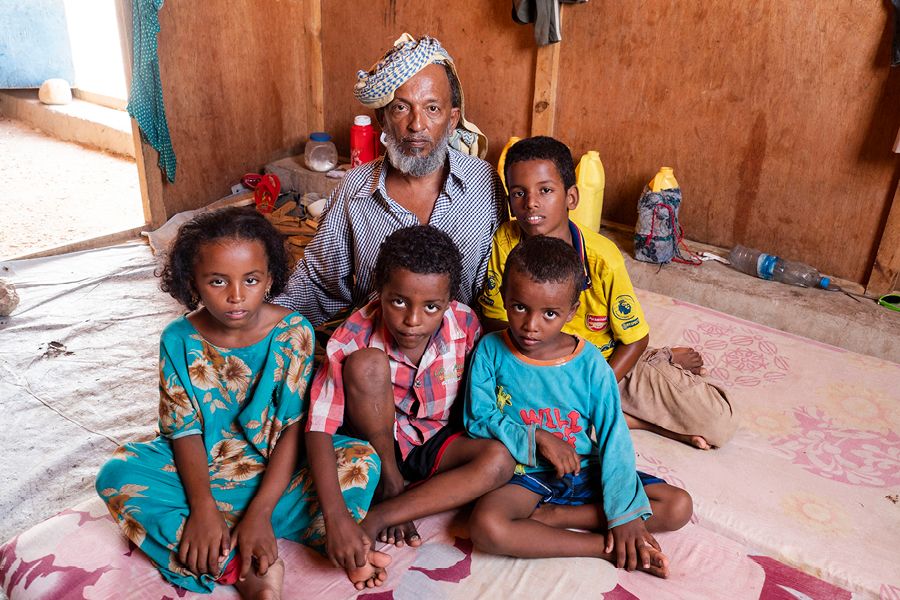 "In Mogadishu, we heard explosions constantly, and the children were scared. We fled from one war to another."
Ali suffered a serious injury as a child, which makes it difficult for him to work. As a result, the family were forced to beg on the street in Mogadishu to get food. He is grateful to the Somalis who helped them, despite their own difficult situation.
Two years ago, his wife died of cancer, and he was left with sole responsibility for his four children. It made life even more difficult. He finally received help a month ago when they arrived in Bosaso. He hopes that he will be able to stay and that his children will be able to go to school for the first time.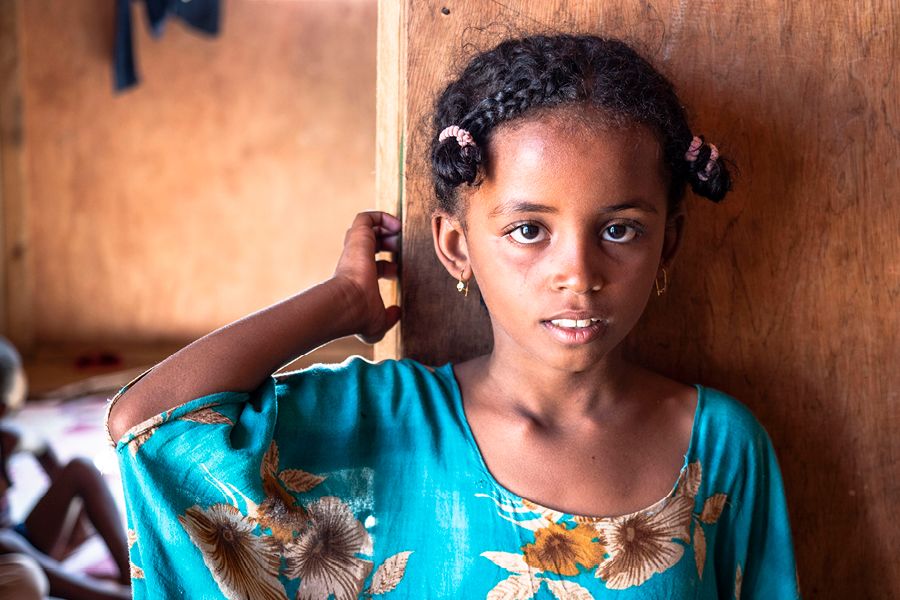 One thing is certain, Ali does not want to return to Yemen. Despite all the difficulties he has had in Somalia, life was even worse in Yemen.
---
Fled from country to country to give his family a new future
Shafici Ahmed Ali, 30, fled the Yemen civil war. He worked as a teacher in Aden, where he and his family had a good life before the war started. But the intense fighting forced them to flee to the capital Sana.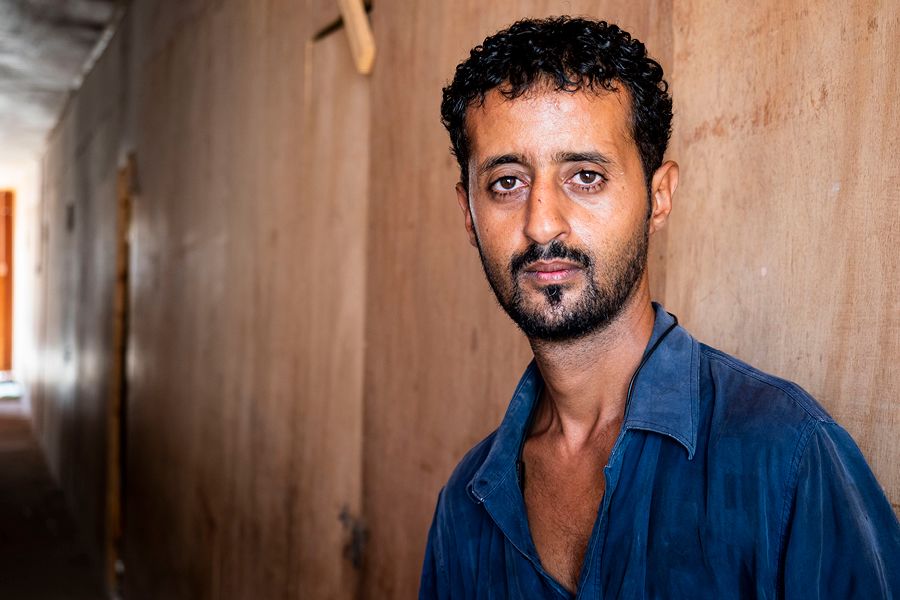 Shafici travelled to Kenya and Tanzania in hopes of finding a safe place for his family to start a new life, but both countries sent him back to Yemen. Now, he hopes that Somalia can provide security for his family. But after his first few weeks in the country, he is uncertain.
He lives in a refugee reception centre in Bosaso with other refugees from Yemen. But he doesn't feel safe when he leaves the centre. IS group has gained a foothold in the Puntland region, and the locals have become sceptical of Arabs, fearing they may be terrorists. On top of that, it's not easy to find jobs in an area that houses many internally displaced people in addition to refugees from neighbouring countries.
Shafici has begun to doubt whether he will be able to find a secure future for his family in Somalia. At the same time, the civil war in Yemen has gone from bad to worse and he's worried about the safety of his wife and two children still in Sana. Now, he hopes that he will find another African country where his family can be safe.
Faduma Abdinor Mohamed, 39, was pregnant with her youngest son when her husband was shot and killed in an armed attack. Previously, her father had also been killed in the conflict. The combination of armed conflict and prolonged drought made it difficult for Faduma to provide enough food and water for her livestock, and she struggled to find enough food for her children. When one of her sons fell seriously ill, she had to sell her last four goats to buy him medicine.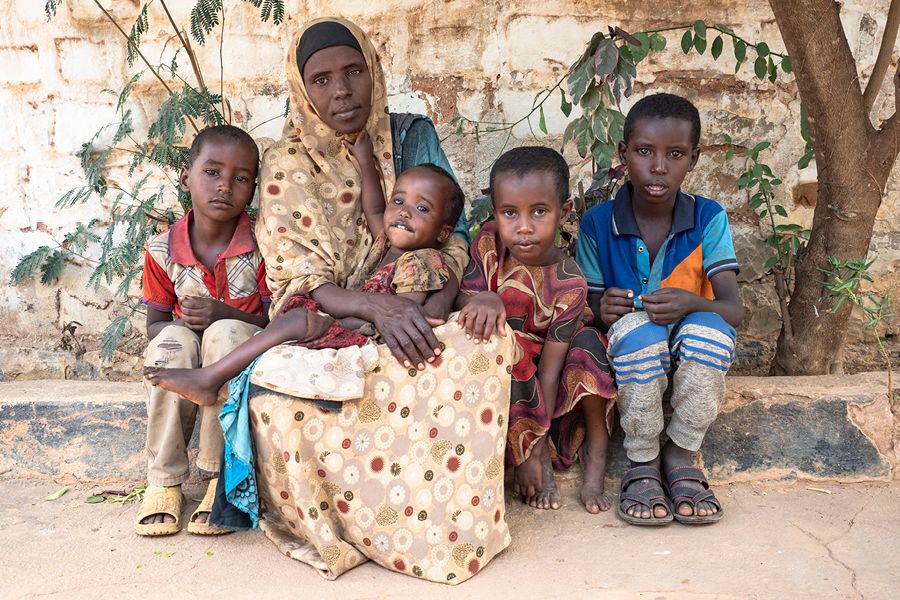 After her husband died, Faduma made some money by working for other farmers, but as the drought grew worse, it became impossible to cultivate the land and she could no longer find work. Finally, the combination of conflict and prolonged drought led her to flee with her children to the city of Baidoa, where she could receive humanitarian assistance.
"We have many problems and no family to help us. Last night, some of the others who live in the camp gave us some food, but today, my children haven't had anything to eat. I have nothing to give them," Faduma sighs.
Despite all the challenges, Faduma doesn't regret fleeing her village.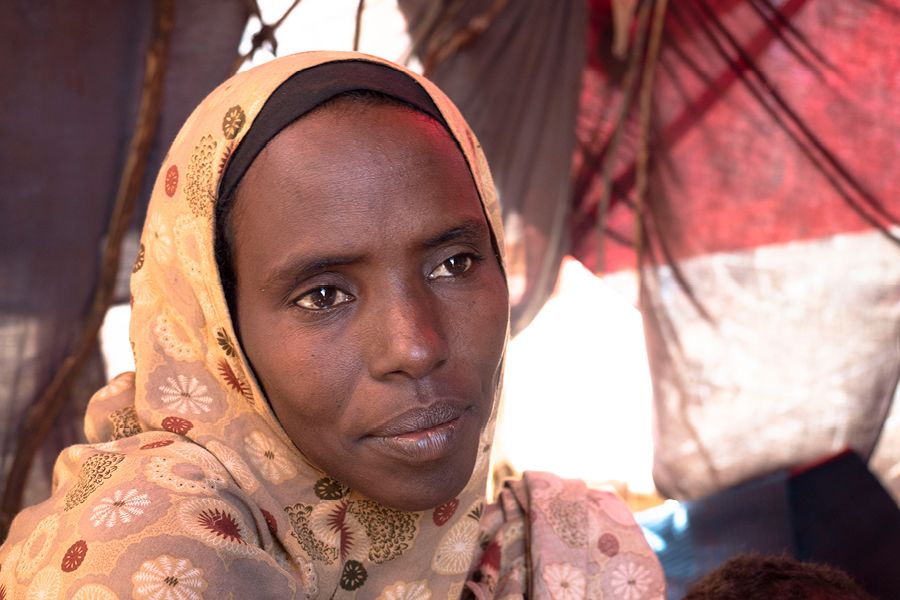 "In Somalia we have an expression: 'A snake blends into its surroundings.' I want my children to go to school and have the opportunity to live a different life to the one they had in our village, where there was only war and conflict. That's the main reason we fled," says Faduma.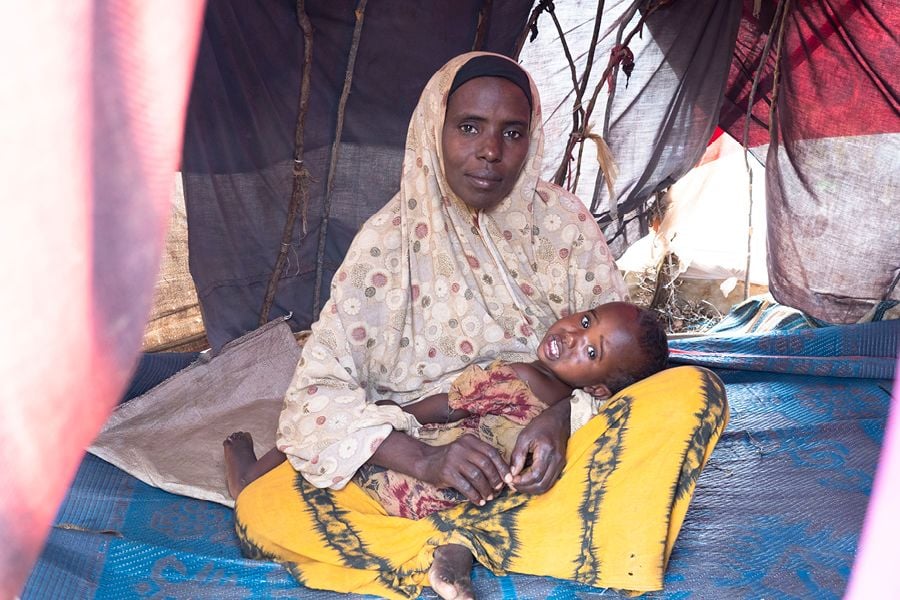 A homecoming with mixed emotions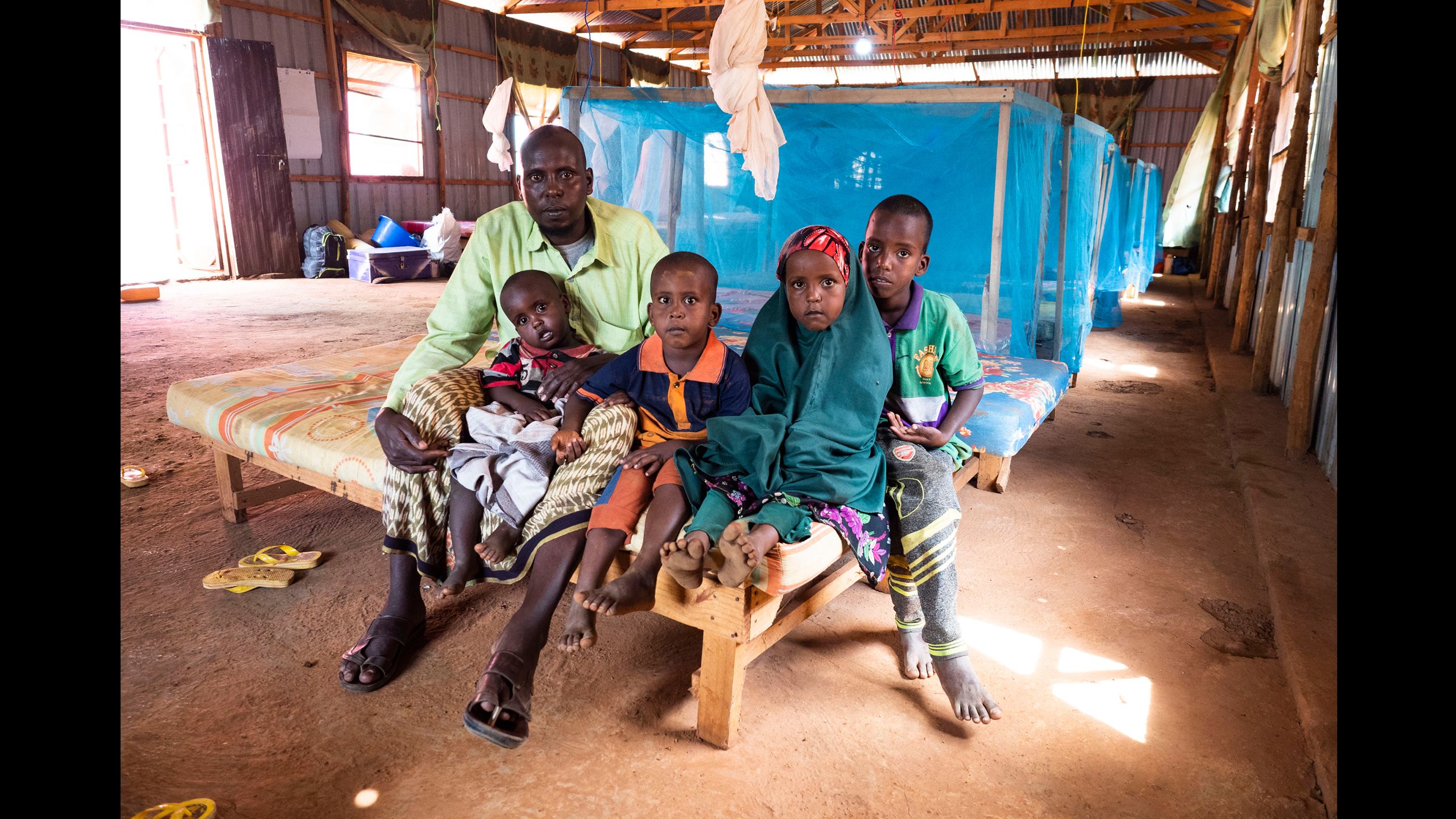 In 2011, Mohamed Ibrahim Ahmed, 40, fled from the village of Roohoole in Dinsor District to Dadaab refugee camp in Kenya because of the drought that hit Somalia. We meet him at a reception centre for returned refugees the same day he came back to Somalia with his wife and four children.
It's not safe to move back home to the village he fled from, so he's going to live with relatives in Baidoa. He is returning to his homeland as Somalia is once again hit by a severe drought that has forced millions to flee their homes.
"I think it's too early to return home because it's still not safe in Somalia, and the drought is making things extra difficult. But over the last three years, there has been increasing pressure from the Kenyan authorities for us to return, and there has been less and less help."
Coming home fills Mohamed with many emotions. He's happy to be back in his homeland and happy to finally see his relatives again, but he's worried about what the future will hold and whether his family will be safe.
One who is very happy that the family has returned is his 14-year-old nephew Abdi Bari. He hadn't seen his uncle since he was a little boy and has come to the reception centre to welcome him.
The war has left lasting scars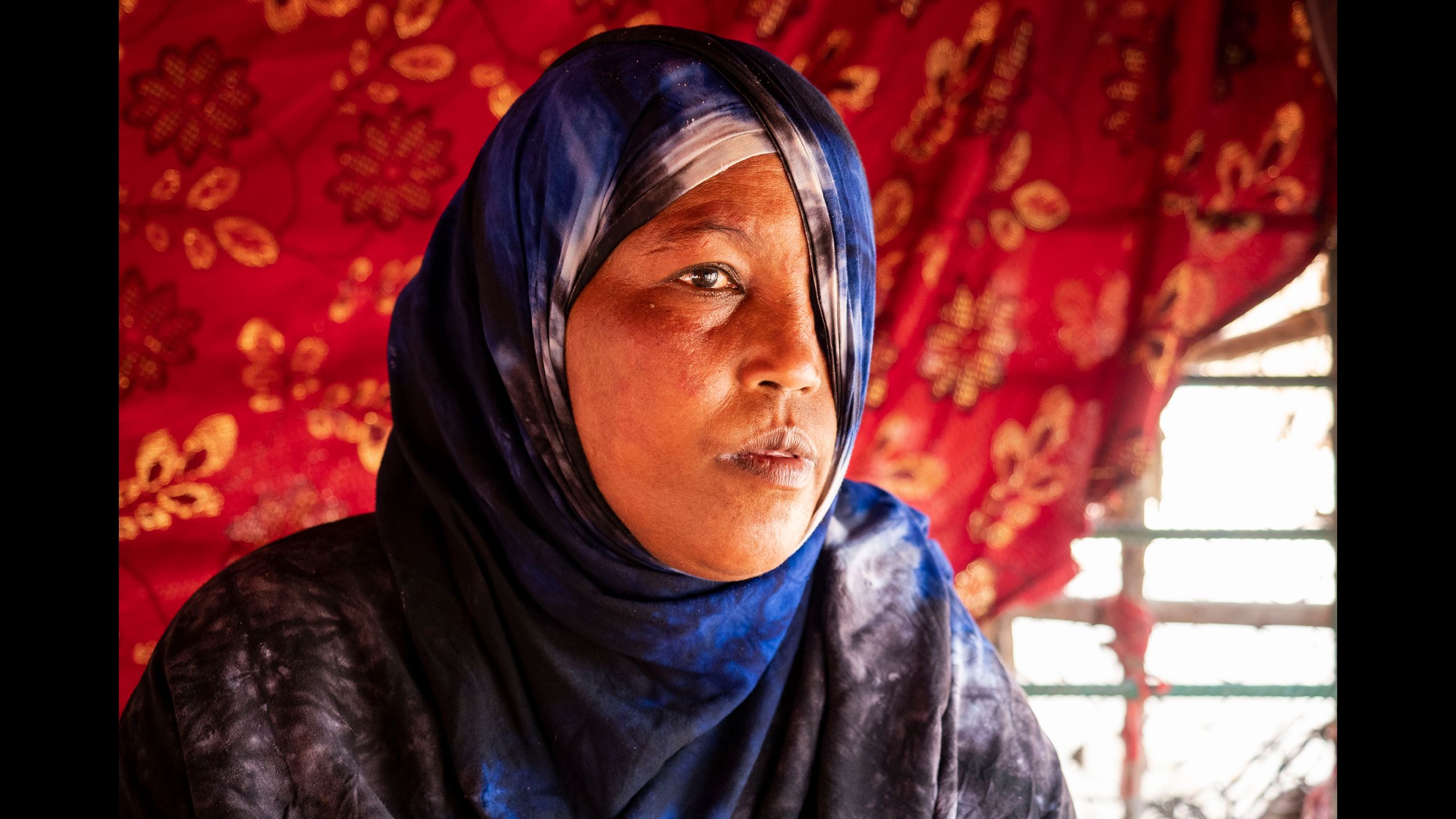 Nastelu Mohamed Elmi, 35, was seriously injured when her house in Mogadishu was hit by a grenade in 2008. She lost one eye and four fingers on her left hand, and her left shoulder suffered a serious injury. Both of her parents died in the attack.
After the attack, she fled to Bosaso in northern Somalia to escape the war in the capital. She and her six children live in a camp for internally displaced people. Since her husband left her, she has struggled to provide for her family. She takes cleaning jobs when she has the energy, but her injuries cause her so much pain that it's often impossible to work.
Due to the family's difficult financial situation, she cannot afford to send her children to school. It bothers her that her children don't have the opportunity to go to school like she did when she was a child.
We meet her seven-year-old daughter, Samia, who is taking a break from playing with her brothers and sisters.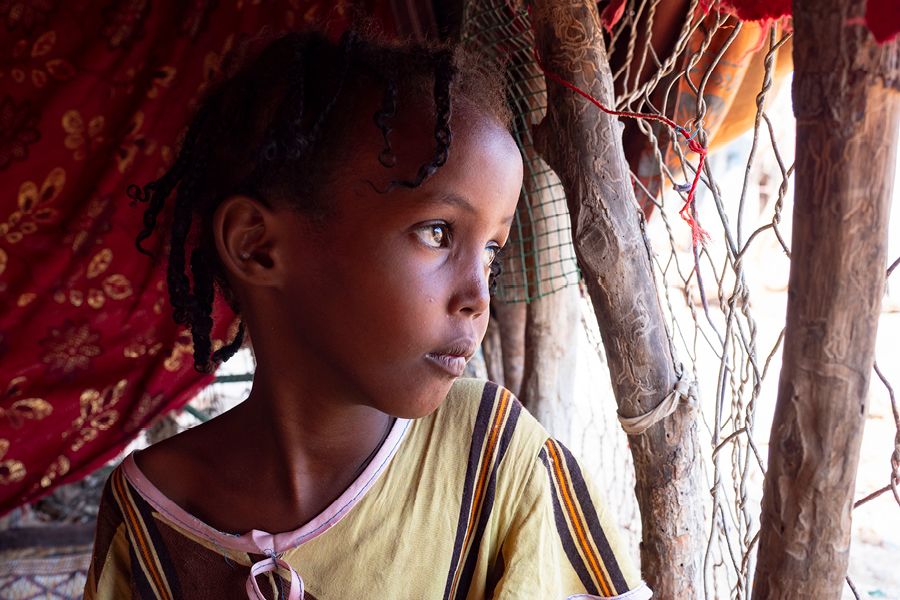 "I have many friends who also live in this camp, and we have fun and play together. But all my friends go to school, and it's sad that I can't go to school with them," Samia says.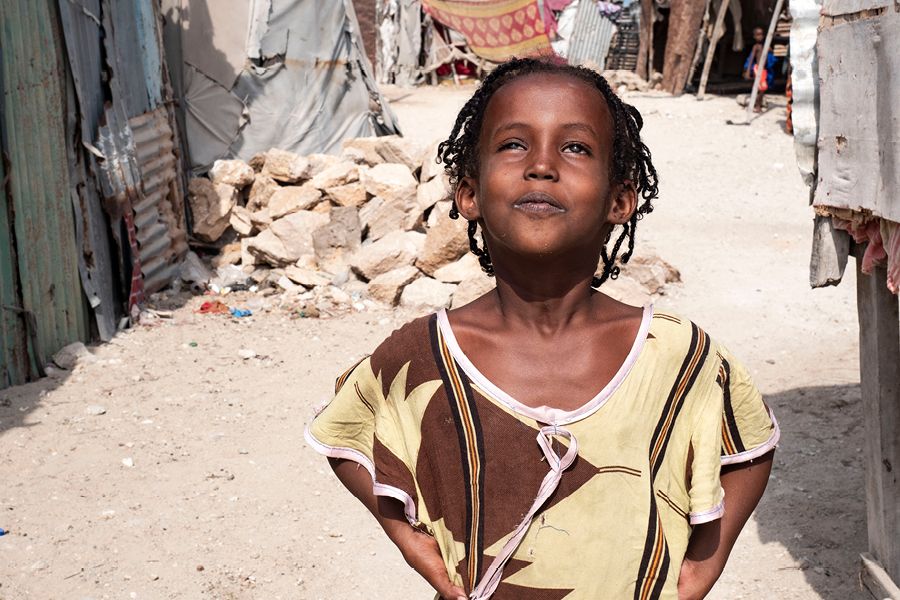 Elmi Dubat Alim, 77, fled from Ethiopia to Bosaso in Somalia three years ago because of the armed conflict. He is afflicted with a serious eye disease, and is now completely blind. He lives in a refugee camp where there are both refugees from Ethiopia and internally displaced Somalis.
Two weeks before we met him, his house burnt down after children in the neighbourhood had been playing with fire. He lives with his wife and ten young children. His brother, who is physically disabled and can barely walk, also lives with them. He's desperate because neither he nor his brother are able to rebuild the house.
Elmi prays to God that they will receive help from humanitarian aid organisations to build a new home, but because a large number of internally displaced people have recently come to the area, he fears it may take a long time before they get help.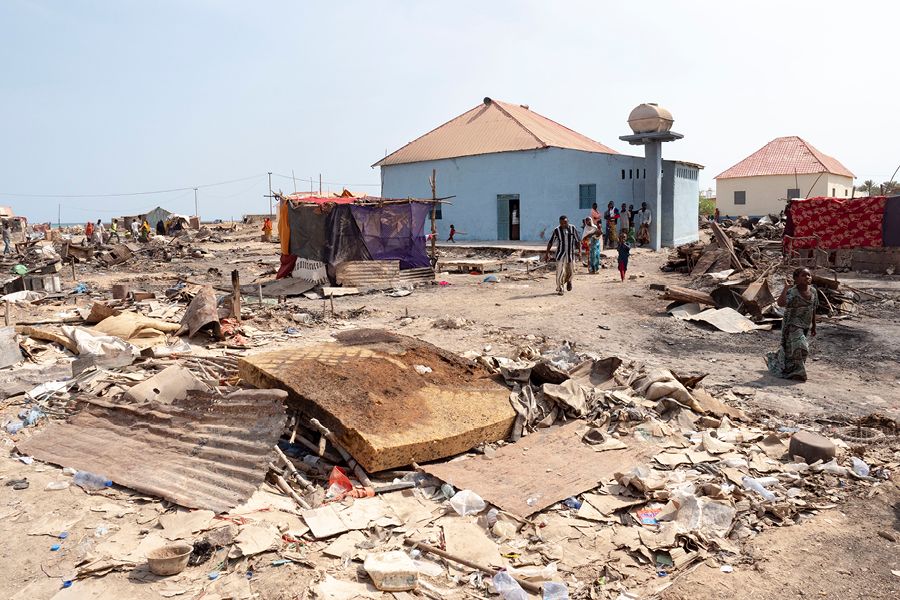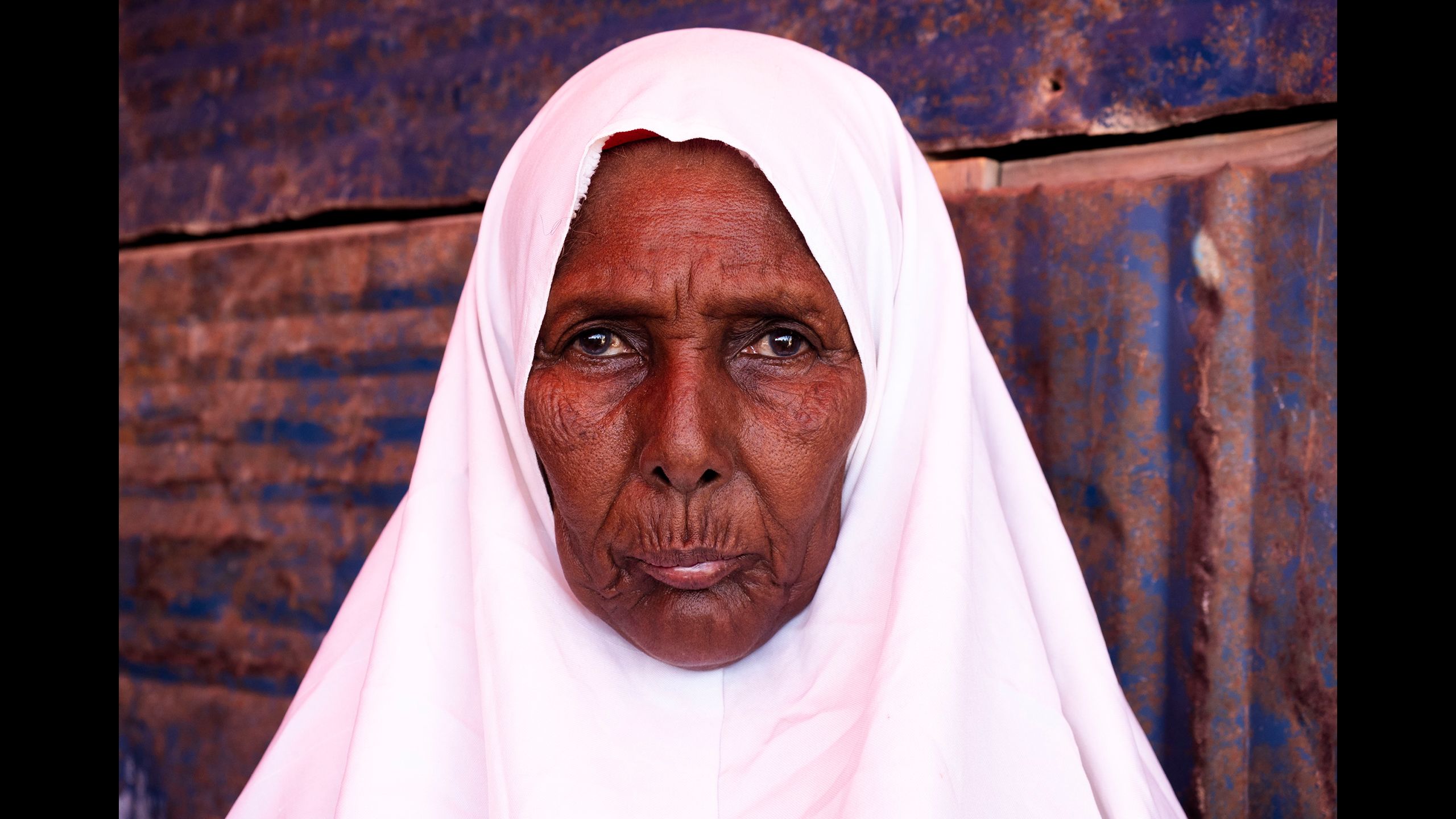 Faduma Jamac Diriye, 56, has been displaced for nearly her entire life. Until the civil war started in the early 1990s, she worked as a police officer in the capital Mogadishu. Then, she was forced to flee to the Puntland region. She has lived in several settlements for refugees and internally displaced people. Landowners have thrown her off their land three separate times – an unfortunately common experience for many displaced people in Somalia.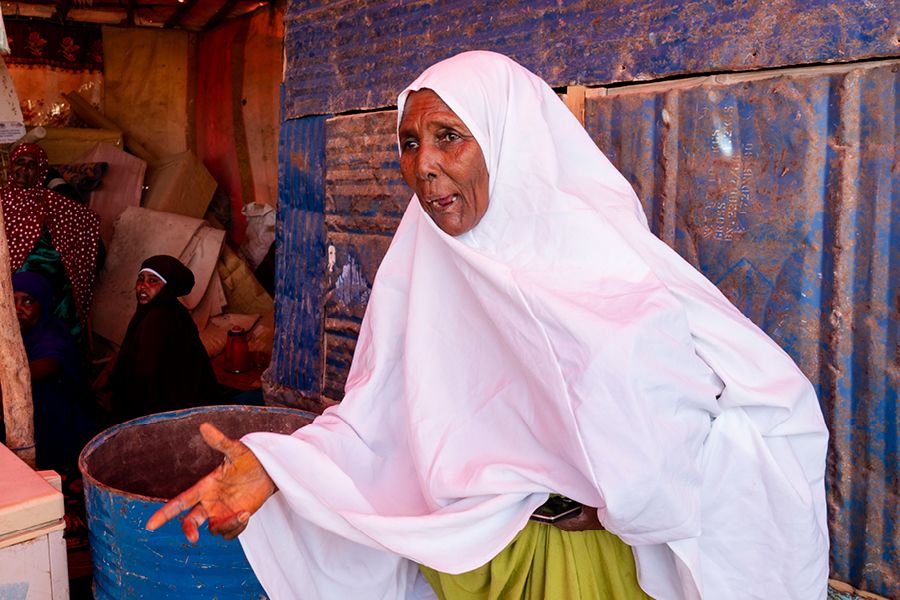 Now, she is the leader of the Ugbad settlement, outside Bosaso, and does everything she can to help people cope during this difficult time of extreme drought. A tanker delivers water to the camp once a week, and she makes sure to ration the water so that every family receives their share.
A single mother who has recently arrived from Ethiopia praises Faduma and says they wouldn't have survived if it hadn't been for her, pointing to a sack of rice that she has given them.
Faduma's great fear is that they will again be thrown out of the camp where they live, which is why her big project is to raise enough money to buy the land the camp is on. She shows us several businesses that she has started in order to raise money to buy the plot. Among other things, she makes concrete water tanks and braids baskets to sell at markets in the area. So far, she has managed to raise half of the money she needs to buy the land, and she prays to God that she will be able to get the rest so they are not thrown out again.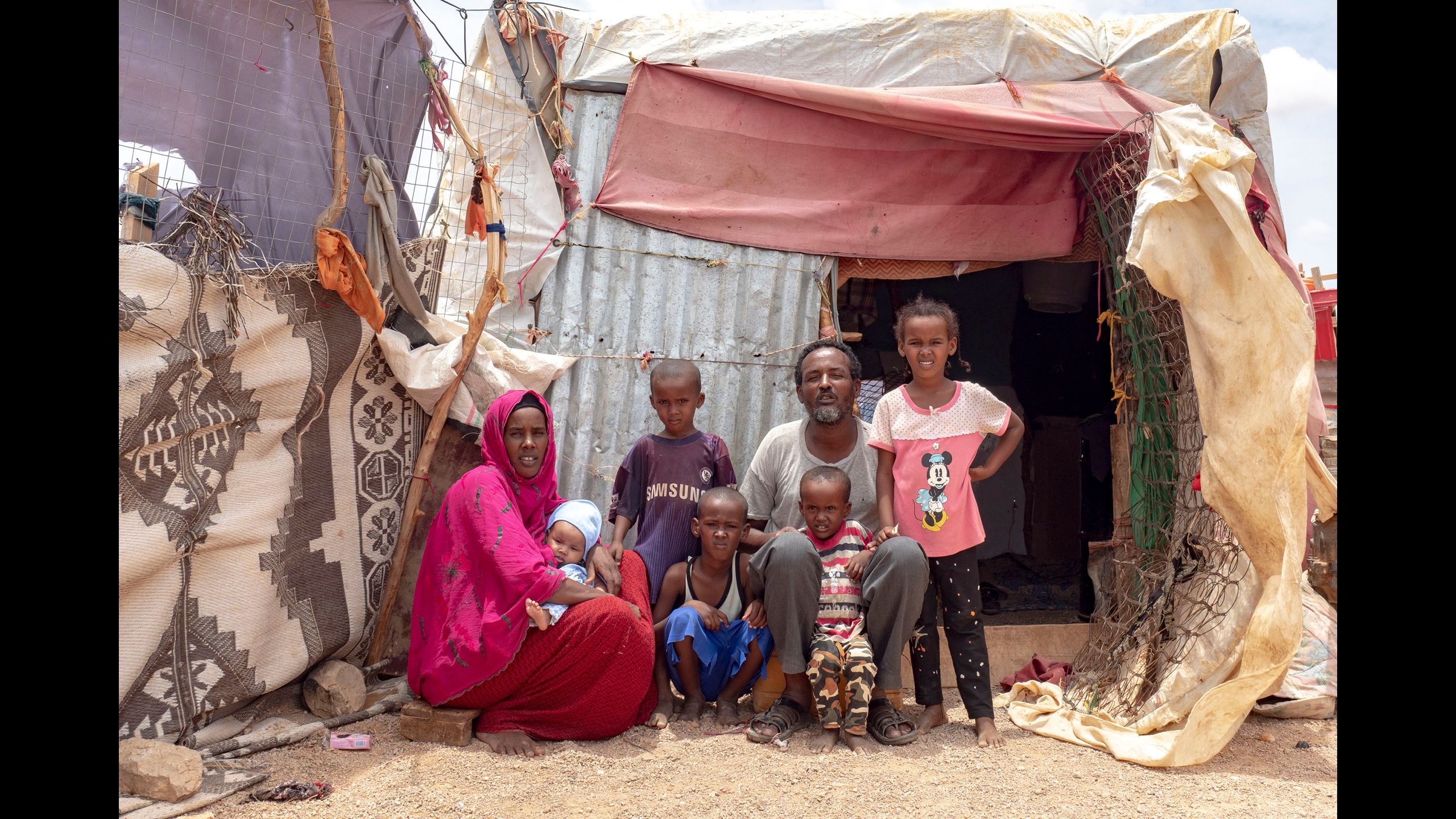 Ibrahim Saleban, 40, had a good and secure job as a car mechanic near the border with Ethiopia in Somaliland, where he lived with his wife Leila and their five children. Somaliland has been less exposed to war and conflict than the rest of Somalia, relatively, but here too people are being forced to flee.
Ibrahim says that a conflict broke out between two clans. The conflict had been going on for months on both the Somali and the Ethiopian sides of the border. Although he essentially had nothing to do with the conflict, he started to worry about his family's safety after 100 people were killed in recent months.
He made the difficult decision to leave a secure job and took his family to a refugee camp in Garowe, in the neighbouring province of Puntland. He says he notices that his children feel safe again. For him, that's what's most important.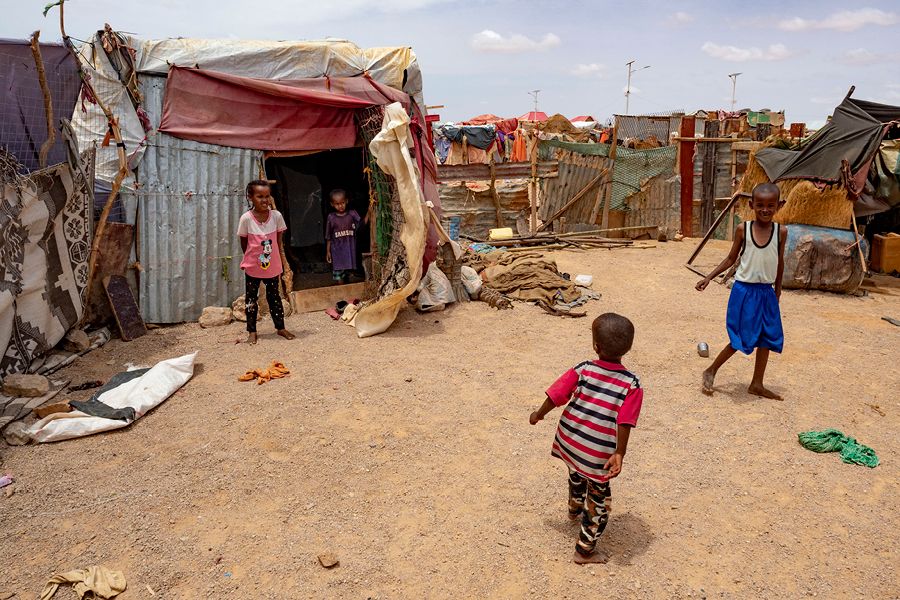 (These interviews were conducted before the outbreak of Covid-19)