Amidst the turbulence of decades of conflicts in Afghanistan, Homaira Khairandish and her team are working hard to restore dignity in the lives of the most distressed individuals in the area, through the All-female Shelter Programme.
"When there is a conflict in an area, women become very vulnerable and are affected at a wide range. Many women lose their husbands and are forcibly located to a new place, where they are not familiar with the people," says Homaira Khairandish.

Khairandish moved to Kabul in 2014 to lead the All-female Shelter team, composed entirely of national female staff members, which seeks out and empowers displaced women in female or widow-headed households, acutely in need of humanitarian assistance. It is rare in Afghanistan for an aid agency to have invested in building all-female field teams, although it makes all the difference in programming quality in reaching the most vulnerable.

The cultural norm in Afghanistan prevents women from interacting with non-relative males, which further intensifies their struggle of living in displacement. Through her previous work, Khairandish experienced the discomfort of women when speaking with a man in the room.

"I wanted to lead the female team in Kabul because, as a woman, I can understand our female beneficiaries. By honouring women, they are able to speak with ease and raise their concerns whenever they have any," she says.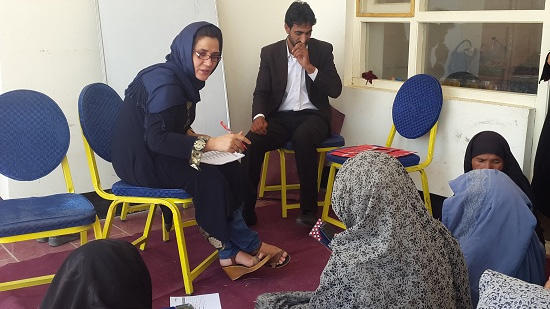 Homaira Khairandish has been leading the All-female Shelter team in Kabul since 2014. Photo: NRC

Giving women an identity
All female or widow-headed households are at evident risk in Afghanistan, as their lack of a male presence strips them from their credibility within the community, which severely reduces their access to livelihoods.

Razia, a 24-year-old widow and mother-of-three, was displaced to Kabul as the conflict intensified in the Maidan Wardak province, five years ago.

"I was living in an incomplete tent without walls. The roof consisted of a few wooden planks, some cardboard and an old plastic tent, yet I was paying more than I could afford to stay there," she says.

In Afghanistan, many solitary women are forced to live under these conditions due to a major lack of solidarity within the community. Khairandish claims that the community's distrust in women makes small steps towards improving their lives – such as acquiring a loan for shelter – an impossible task.

However, through NRC's All-female Shelter Programme, Khairandish and her team are able to vouch for female beneficiaries and help them build their very own shelter. Today, thanks to NRC's programme, Razia works as a cleaner and she is finally able to send her daughter to school.

"After I built my shelter, people knew me here, and they helped me too. I feel very secure nowadays and I think my shelter has granted me an identity in society. Now, people can trust me and provide me with job opportunities," says Razia.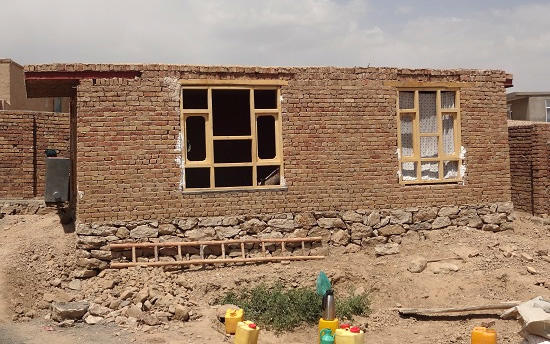 Razia's new shelter provides a safe-space and a brighter future for herself and for her children. Photo: NRC
Investing in female beneficiaries
While the All-female Shelter team has been very successful in implementing the programme, international budgets for shelter assistance in Afghanistan has decreased significantly, and is yet to be expanded to other provinces.

"The biggest challenge of the All-female Shelter Programme in Afghanistan is the equal assistance for male and female beneficiaries, while the needs are very different," explains Khairandish.

Most young widows displaced due to the conflict are unable to live with their relatives, as it is deemed inappropriate within the culture. Additionally, women face an immense struggle to legally hire labour, acquire construction materials and earn funds to build a basic house.

"Our female beneficiaries were in a terrible situation before we provided them with shelter assistance. They were homeless and we were the only ones who could help them," adds Khairandish. NRC seeks to assist the most vulnerable persons where it works.

In 2014, the All-female Shelter Programme provided 124 female-headed households with shelter assistance in Kabul, which has the largest population of displaced persons in the country. This year, unfortunately, due to a shortage of funding, the number of female beneficiaries assisted was 55 households only.

NRC maintains that by directly investing in the lives of vulnerable women affected by conflict, we can protect the most vulnerable, helping restore their dignity and enabling them to invest in the futures of their children too. Women are key to recovery from cycles of conflict.