We are leaving early in the morning. In a convoy of two cars, we are heading towards Sibut, a small city North of Bangui.
The security advisor tells us that we will surely be stopped at check-points along the way. He tells us to stay calm, avoid eye contact and make sure we take the time to listen to whatever authority or armed group member we have in front of us.

Hectic atmosphere
The team has been up for hours collecting information from different sources before finally taking the decision that the risk of fighting is so low that it is considered safe for us to go. As we grab our bags, my colleague, who will be in a separate car, tells me to avoid any quick movements and show my hands at all times when we stop at the checkpoints.
The atmosphere is a bit hectic as there has been a mix up of messages and we are apparently leaving an hour behind schedule. We know that the peace keeping forces will have a convoy on the same road a few hours later, and to maintain our neutrality we want to be well ahead of them to avoid the impression that we are travelling together.
We pass a busy market in the outskirts of Bangui where there is an official checkpoint and our papers need to be verified.
My driver seems almost amused by the apparent stress that I am showing. He tells me that he goes back and forth on this road all the time and that we will be fine.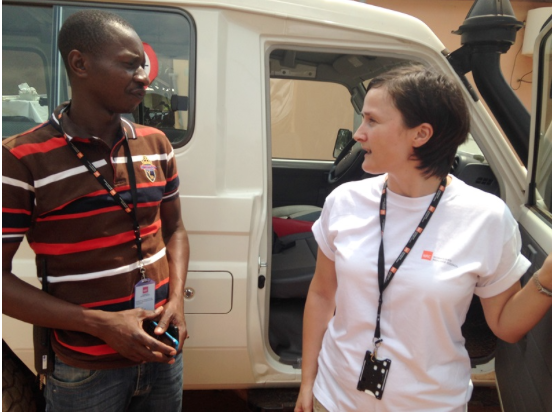 NRC's Regional Protection and Advocacy Adviser, Torill Sæterøy describes how she experienced a field trip to the Central African Republic. Here with colleague Ngamana Allain. Photo: NRC

Displacement crisis
Today is the anniversary of the "battle of Bangui", the day when an armed group known as Anti-Balaka mounted a major attack against the Seleka who had occupied the city. Reportedly the clashes led to more than 1000 civilian deaths and marked the beginning of the most serious displacement crisis that has ever hit CAR as nearly a fifth of its population remains displaced.
A young man comes up to the car and talks to the driver in Sangho, the local language. He is clearly intoxicated, saying that this is apparently a day to "celebrate".
To the majority of the civilian population in CAR it is quite the contrary.
They continue talking in Sangho and finally the young man walks off with a small wink towards me.
"He was asking me for money, I told him I did not dare to give him anything because of you", my driver tells me. Then we both laugh.
We pass our first checkpoint smoothly and I do not even notice the armed men until my driver tells me "they are armed –didn't you notice?"

Machetes and machine guns
As we continue, I begin to see it: All the men with weapons - they are everywhere! Some only carry machetes, which are mainly used for farming, but are also dangerous, readily available weapons. Then there are those with hunting rifles and machine guns hanging carelessly on their shoulders.
Besides those with guns, we pass numerous groups of young men hanging around without any apparent objective. I understand the attraction that armed groups may represent to these young men, giving them a purpose and an easy income.
We are halfway to Sibut when we stop in a village for the "kiss", where the cars from each base meet half way to swop passengers before returning to the base they came from.
The car from Sibut is a bit late so we are waiting by the road outside a small village when we suddenly hear a loud detonation. We do not know if it is part of the same "celebrations" that the young man from earlier had talked about, or if it is a sign of unrest.
As our colleagues arrive, they tell us that they have had some troubles on the way. Their car was surrounded by five or six armed men that were harassing them, asking for money.

Threatened at gunpoint
My colleague from Sibut brushes it off, saying it was nothing serious. But then she goes on to tell us that during the activities the day before, as she and the other colleagues were providing assistance to displaced persons and host families, they had been threatened at gunpoint by a member of an armed group.
The man had pointed at them with a machine gun in an attempt to force them to hand over a part of the assistance that was meant for the displaced population. The team had refused and then retreated, but decided to wait the situation out as the local population intervened to mediate. They had finally been able to escape safely and without any of the items being looted, but had been given quite a scare.
As my colleague continues to Bangui for a well-deserved break, I am left to reflect on her story, anxiously awaiting trouble at every checkpoint we pass. This time we get through without any further trouble.
For an humanitarian organisation such as NRC, acceptance of the community is our best protection strategy.
This strategy is however not always enough in a context such as in the Central African Republic, where ties of solidarity within the communities have been affected by the crisis. Many of the armed groups have loose hierarchies where individual members are operating more or less on their own.
Knowing that we are there for the benefit of the community is not necessarily enough for a young frustrated man with a gun who sees NRC and its activities as an easy way to enrich himself.

Close call
The answer for NRC is to continuously stay in contact with those that we are there to help, including their political and religious leaders, and the leaders of the different armed groups. We must ensure that they are well informed about NRC's work and convince them to fulfil their responsibilities to protect the access of the affected population to protection and humanitarian assistance.
Luckily, the situation that my colleagues experienced was resolved, largely due to the community acceptance that NRC benefits from. Still, it was also a close call and a reminder of how dangerous humanitarian work can be in situations where war and crisis have ruptured social ties amongst the population.
PS. The week after the incident, NRC received a letter of apology from the man who had pointed a gun against the NRC staff –at least that is one step in the right direction!